By now, you know I'm a super fan of season reading.
There's just something so fun about letting the content of your book match the changing seasons or holidays going on in real life.
I've shared my favorite Halloween picture books and beloved October read-alouds and perfect picks for adults to read in October and even my favorite Halloween board books but I've never shared a list of Halloween books for beginning readers.
The ten books on this list are perfect for reading aloud to a preschooler or kindergartener just getting the hang of listening to slightly longer stories but maybe aren't ready for a 200 page novel.
Many of them are also great for readers who want to attempt a Halloween book solo and want something a little above a picture book but not so overwhelming as trying to dive into Harry Potter.
My library categorizes these books in the "Intermediate Fiction" section and they're all between about 60-120 pages.
I hope you'll find something just right on this list of Halloween books for beginning readers!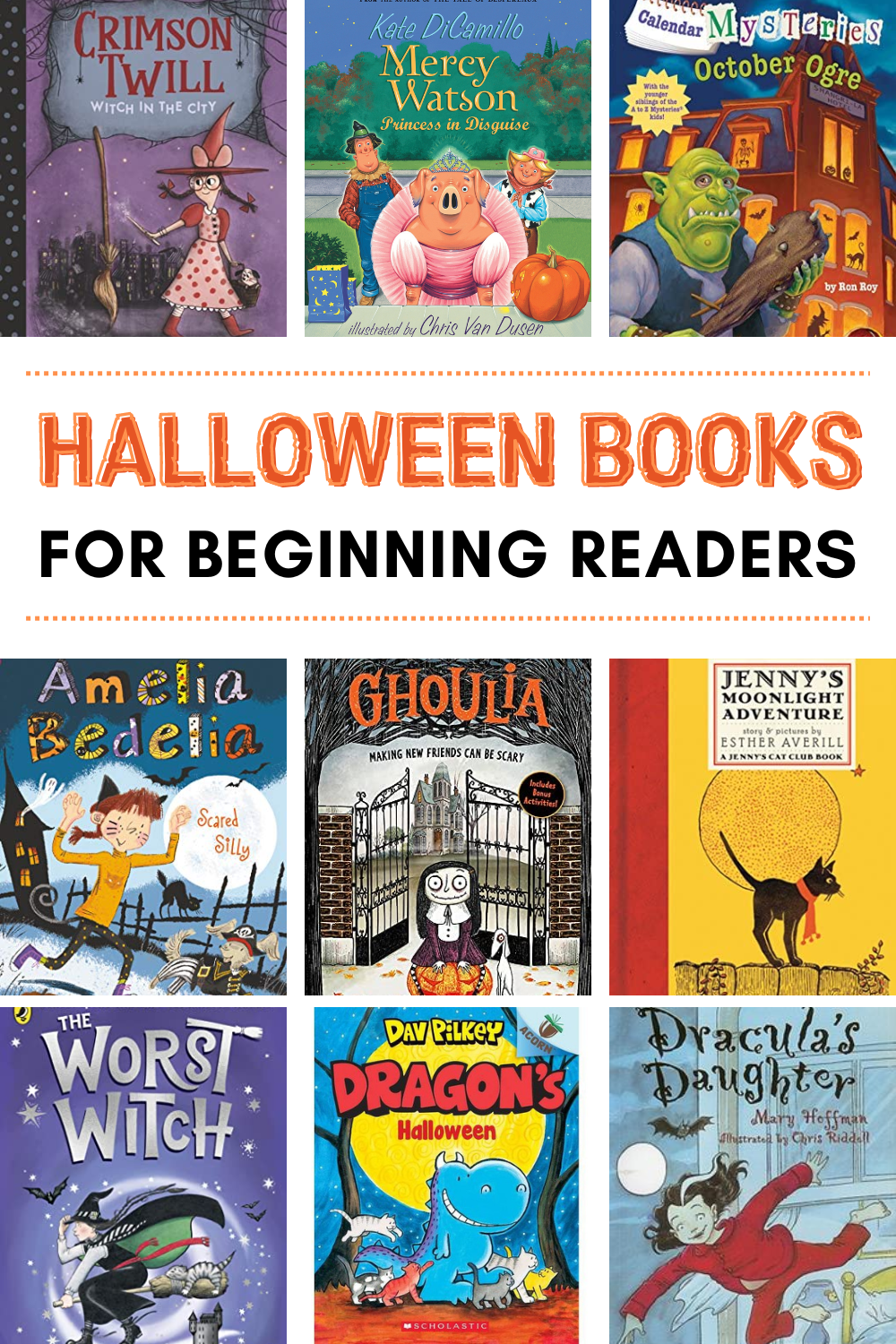 10 Halloween Books for Beginning Readers
Mercy Watson: Princess in Disguise by Kate DiCamillo, illustrated by Chris Van Dusen 
I mean, how can you not love this delightful pig? When the Watsons decide that their beloved Mercy must be a princess for Halloween, Mercy goes along with it only because of the promise of treats. But as usually happens when Mercy is around, there are some tricks that happen too! This is a perfect book for a short read aloud or for a new reader to do on their own.
Oliver and Amanda's Halloween by Jean Van Leeuwen, illustrated by Ann Schweninger
I've thought this was one of the best Halloween books since I was a child, and I finally ordered myself a copy of this one a few years ago. I couldn't be happier to own these sweet stories of my favorite pigs picking costumes, making homemade donuts, and heading out to trick-or-treat. Oliver and Amanda forever! (I didn't mean to have two pig books in a row!). 

Dracula's Daughter by Mary Hoffman, illustrated by Chris Riddell 
I just read this one to Tally (who is a kindergartener) a few days ago and she was delighted by it. I was worried this story about a little baby left on a doorstep with a mysterious note might be too scary for her, but she wasn't a bit fazed by it, even when Count Dracula appears to collect her from her adoptive parents, years later.
Calendar Mysteries: October Ogre by Ron Roy, illustrated by John Steven Gurney 
My girls have loved the Calendar Mysteries (they're about the same level as the Boxcar Children) and this one is perfect for Halloween. The series goes from January to December, but like the Boxcar Children, you really can read them in any order.
Amelia Bedelia: Scared Silly by Herman Parish, illustrated by Lynne Avril
If you've loved the Amelia Bedelia easy readers, these longer chapter books about Amelia Bedelia as a child will tickle your funny bone. They are on the lengthier side, clocking in at 130 pages with black and white illustrations every 8-10 pages.
Crimson Twill: Witch in the City by Kallie George, illustrated by Birgitta Sif
This is the first book in a new series (it just came out this summer!) and it's charming. Crimson Twill is a young witch, but she's not into black dresses or ugly hats – she loves happy colors and pretty clothes. And tonight she's going a big adventure, riding her mother's broom all the way to New York (er, New Wart) City.
Dragon's Halloween by Dav Pilkey
My girls have all been huge fans of the Dragon books and I'm right there with them – they're just laugh out loud funny as Dragon tries to figure out what's going on around him. In this one, he goes to a Halloween party, carves pumpkins, and gets lost in the woods, all to amusing ends.
Ghoulia: Making New Friends Can Be Scary by Barbara Cantini 
This was another one I read with Tally this year. The full color illustrations follow Ghoulia who is a zombie living with her aunt in a house on the edge of town and they never leave the house for fear of being run out of town. But on Halloween, with everyone dressing up, it seems like the perfect chance to sneak out and pretend to be a normal little girl dressed up as a zombie. Will it work?
The Worst Witch by Jill Murphy
This book kicks off a seven book series, so if you want something you can really dive into, The Worst Witch is hard to beat! It follows Mildred Hubble who is starting her first year at Miss Cackle's Academy for Witches. And it's not going well – she's messing up everything she possible could, including making an enemy out of the teacher's pet. (I'll be reading this one to my girls as soon as we finish our current read aloud!). 

Jenny's Moonlight Adventure by Esther Averill
This book is from the 1940s and definitely has a classic old-fashioned feel to it. Based on the author's own cat, Jenny's adventures on Halloween night include a nose flute, twin cats, and a giant pile of leaves. Plus a problem that only Jenny will be able to solve, if she's brave enough to attempt it.
And if you'd like a printable copy of this Halloween beginning reader book list that you can take to your library or screenshot on your phone for easy access, just pop in your email address below and it'll come right to your inbox!
if you liked this post about halloween books for beginning readers, you might also like these other posts: