Looking for a copy of the reading Halloween Countdown Calendar? Pop in your email below and it'll come right to your inbox!
Today I feel like jumping up and down like a little kid!
Because the third annual Halloween countdown calendar is here!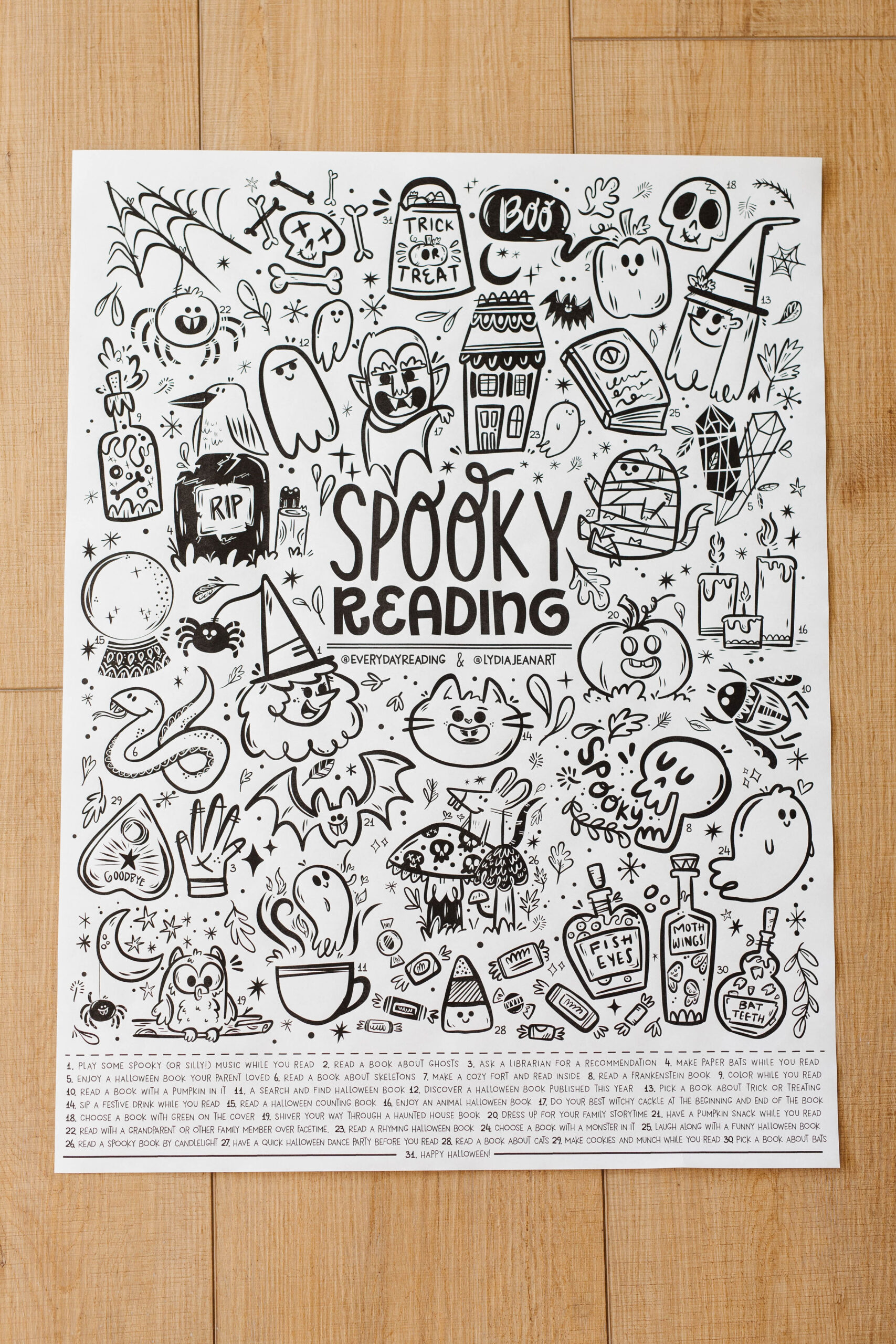 There's something just so delightful about Halloween – it's the beginning of the holiday season, there are low expectations for Halloween, and it's just so. ridiculously. fun.
One of my favorite parts is pulling out my beloved Halloween book collection and having a reading Halloween countdown calendar to go along with those books makes it even more delightful!
This is the third year I've released one and I was immediately charmed by Lydia Jean's work (check out her whole shop here) and was absolutely thrilled when she agreed to work together on this year's Halloween countdown calendar.
I love the perfectly spooky and delightful look of this year's Halloween advent countdown calendar and I hope you love it just as much!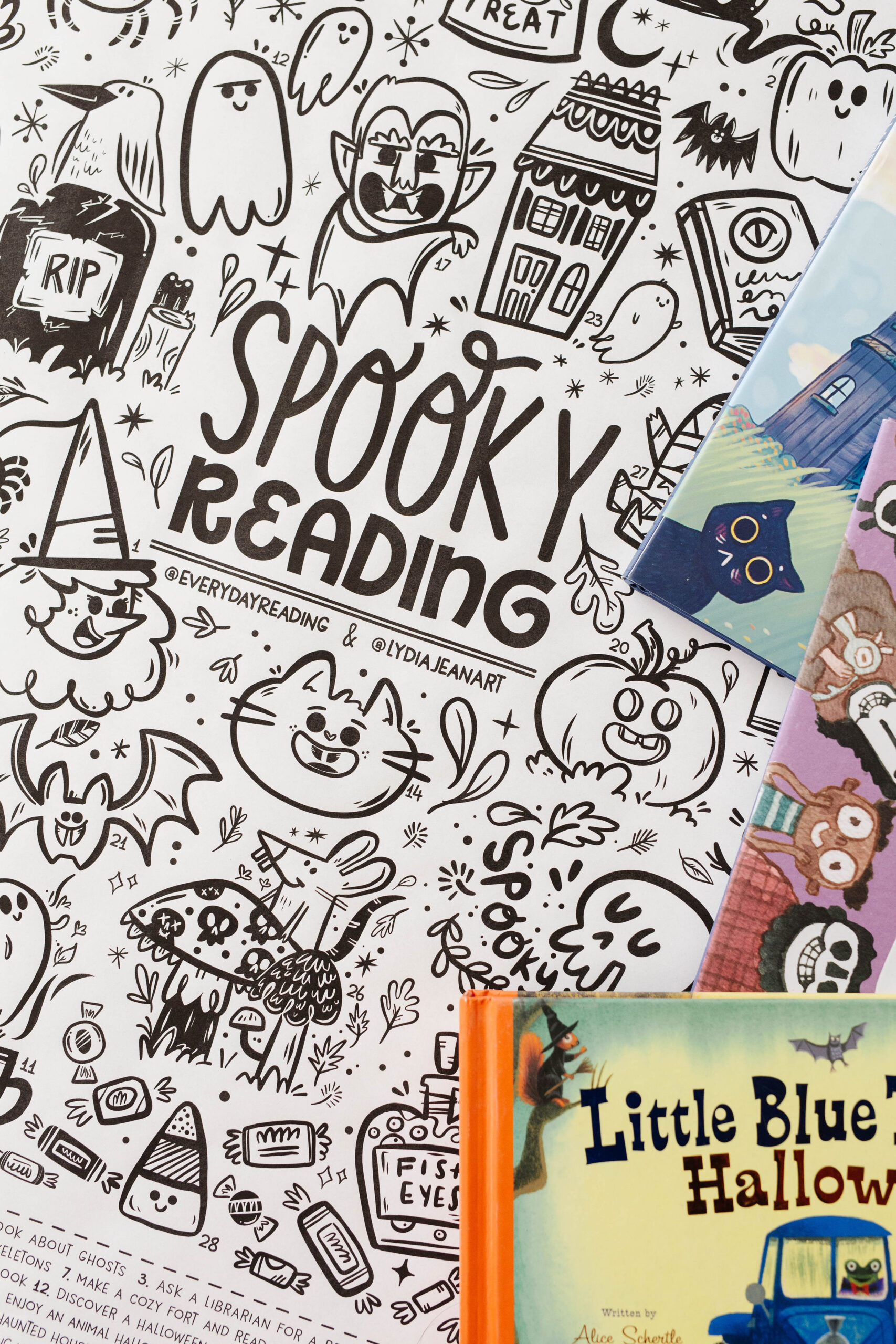 HALLOWEEN COUNTDOWN CALENDAR
Let me tell you a little bit about this Halloween countdown calendar:
It's absolutely free! You can download as many copies as you'd like for your personal use (pop your email address in at the top or bottom of this post and it'll come right to your inbox). You're also welcome to print out copies of this countdown till Halloween for your neighbors, your classroom or your library – as long as you're not selling it, we love to see it get used!
You can print it whatever size you'd like! I have a soft spot in my heart for the 36×48 engineering print which costs about $7 to print (instructions for printing engineer prints here).  But it's also terrific at a 24×36 size and if you want something a bit smaller, I love an 18×24 because it fits beautifully on the back of a door. You can even print it on a regular sheet of paper with your home printer!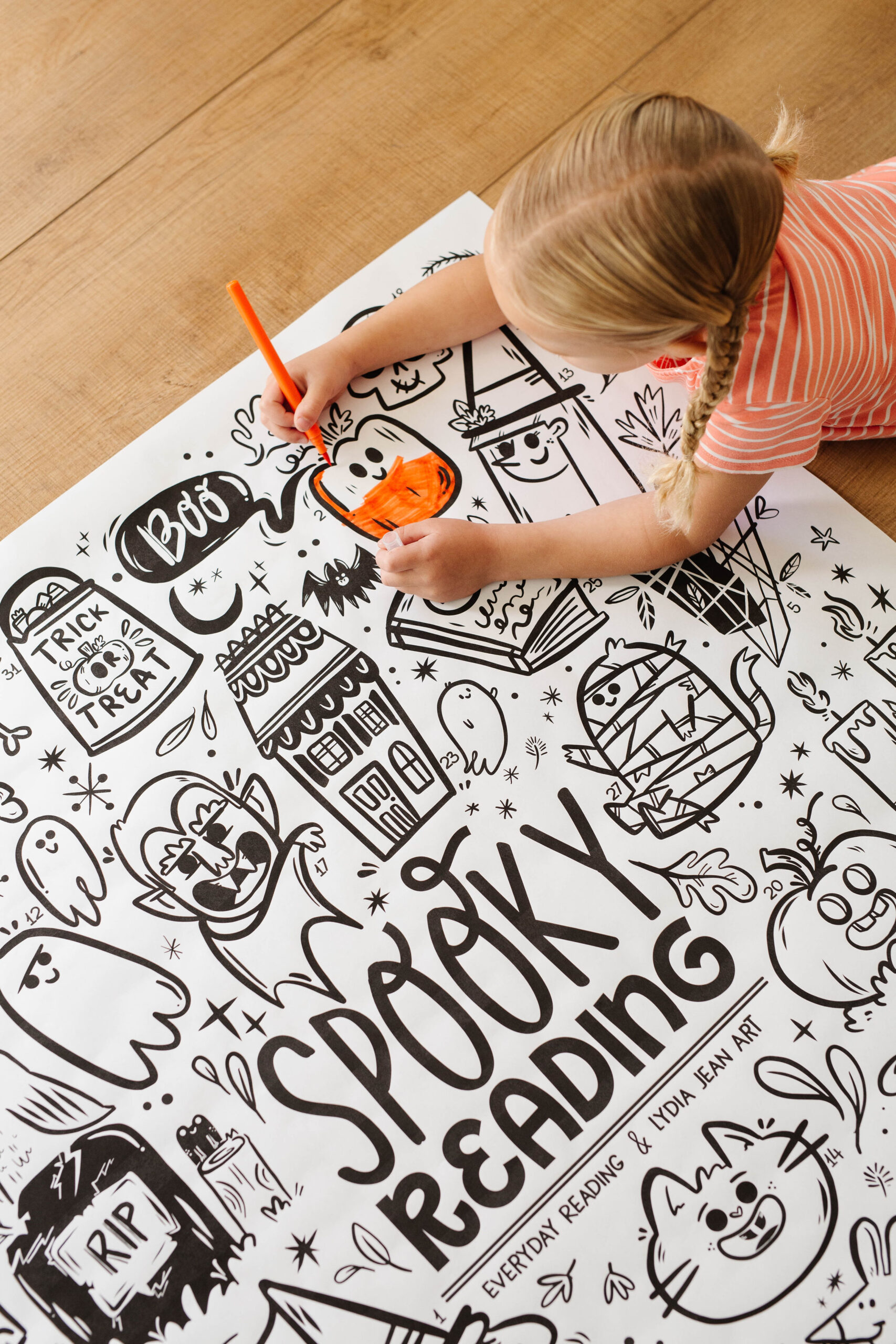 It's the best of all Halloween coloring pages! Grab crayons or markers or colored pencils and go to town – there are so many delightful details and it's so much fun to color. You can color it all at once at the beginning of the month or do a Halloween countdown and color a bit every day as you read along!
There is a reading activity every day from October 1 – October 30 Obviously the highlight of the advent countdown calendar for Halloween is reading daily with your children or students. At the bottom of the Halloween countdown calendar there is a suggested activity for each day – you can do them in any order you'd like and if you need some book ideas, here is a huge list of my favorite Halloween picture books.
The numbers 1-31 are hidden in the calendar. Can you find them all?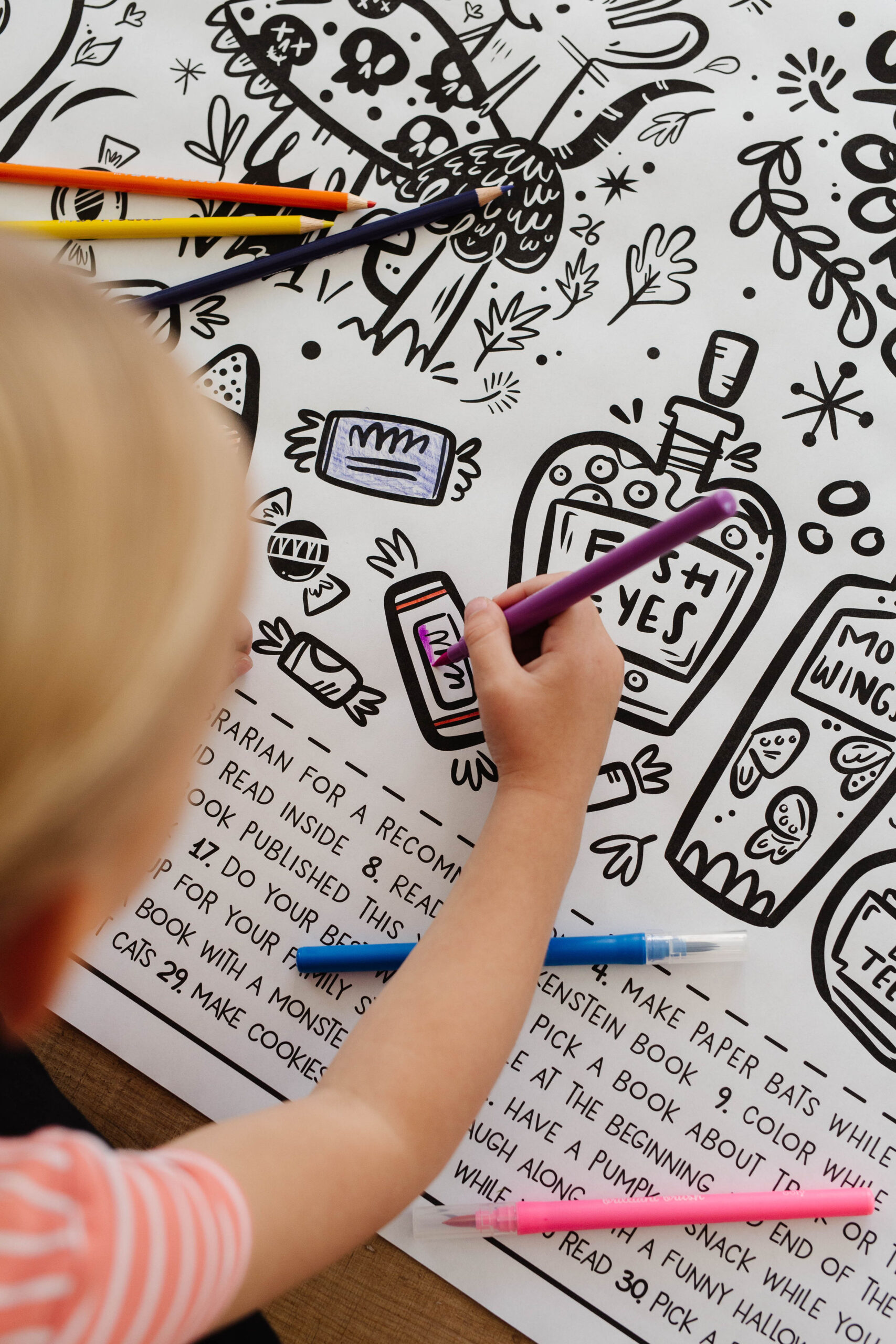 I hope you love using this as much as we loved creating it – just pop in your email address below and a printable copy will come straight to your inbox!
P.S. There are two previous countdown to Halloween calendars still available for free too – this one by Rad & Happy and this one from Pippi Post!
If you liked this halloween countdown calendar
, you might like these posts too: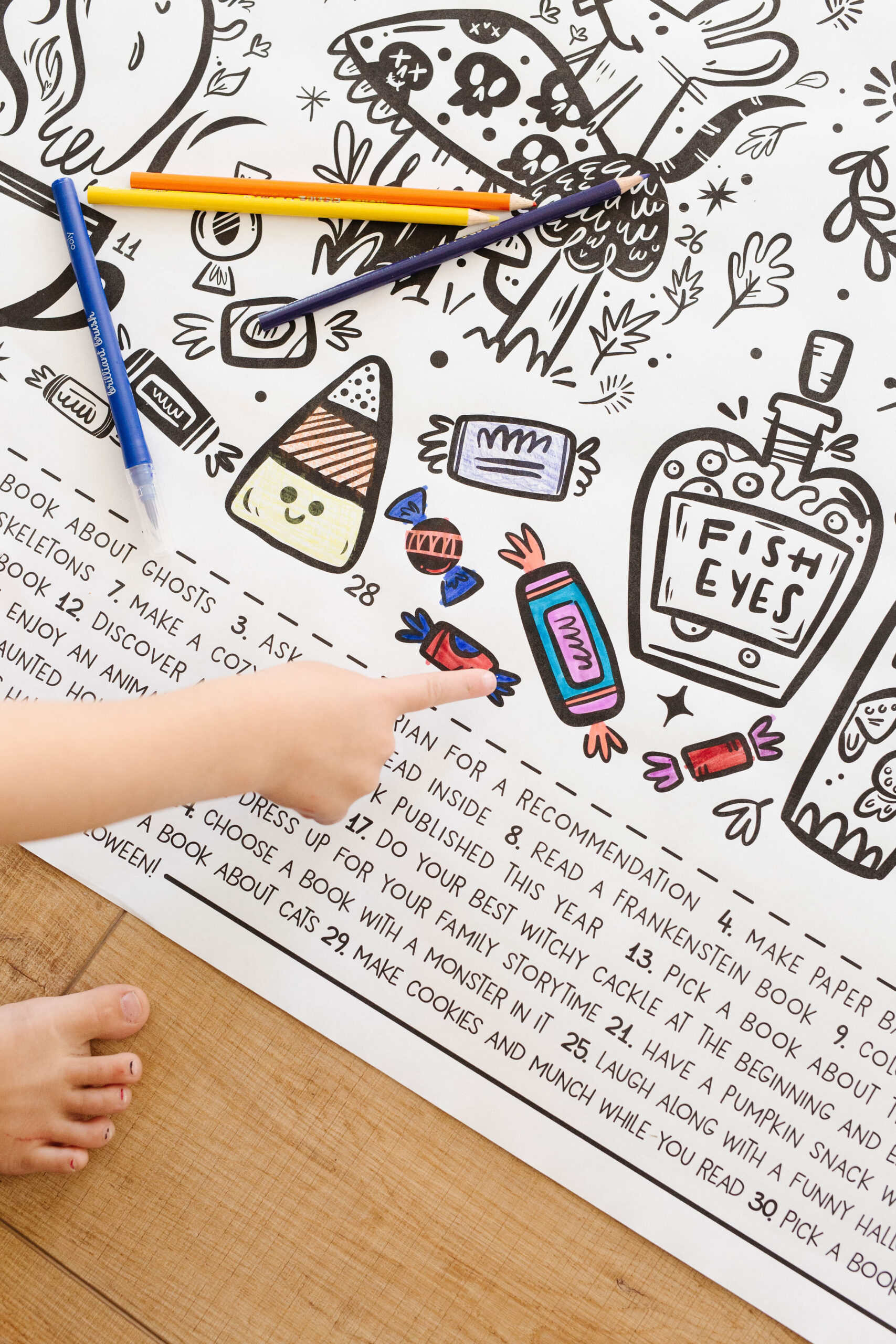 Photos by Heather Mildenstein