This post isn't sponsored, Decorist has no clue who I am or that I'm writing this Decorist review and I don't get any sort of incentive if you use them. Consider yourself disclosed and prepare yourself for a long post.
Every time we've talked about house decorating over the past five years, Bart has said, "We should hire someone to help us do this."
And I always said something like, "No, it's too expensive/too much of a pain/I have no idea where to start/etc."
Then my friend Alex of AVE Styles did a master bedroom makeover in collaboration with Decorist and that room was AMAZING.
I seriously couldn't stop looking through her post and then thinking about our sad, orange master bedroom.
I'd already been in talks with Joss & Main about working together on our master bedroom overhaul, but I was starting to feel a little nervous about getting things that all worked together and made for a room I was really happy with. Because we were getting rid of EVERYTHING in that room and starting from scratch, I felt a little adrift and didn't even know where to start.
Suddenly, Bart's long-time idea of hiring a designer didn't seem so crazy. I looked at Decorist, and their least expensive package was $299. And they happened to be having a sale, so it was only $199 (I've since learned that they are ALWAYS having sales. We got our living room package for 50% off).
To have someone with a designer eye give us some direction for the room seemed well worth $200, since I didn't want to end up with a bunch of furniture that didn't really look right together or no ideas of how to finish the room off.
We filled out the questionnaire which asks things like "what's your budget?" and "what pieces do you want to keep?" and "what stores do you like to shop at or browse?" You also put together a Pinterest board of inspiration, snap some photos of your room, and send in the dimensions of your space. Bart is not crazy about this part, but it doesn't take all that long.
Once you've submitted all that, you are matched with a designer (you can look through the profiles and request one, or you can just have them match you, which is what we've done).
Within 5 business days, your designer sends you back two different designs and you get to give alllllllll the feedback you want.
Here's are the two concepts she worked up: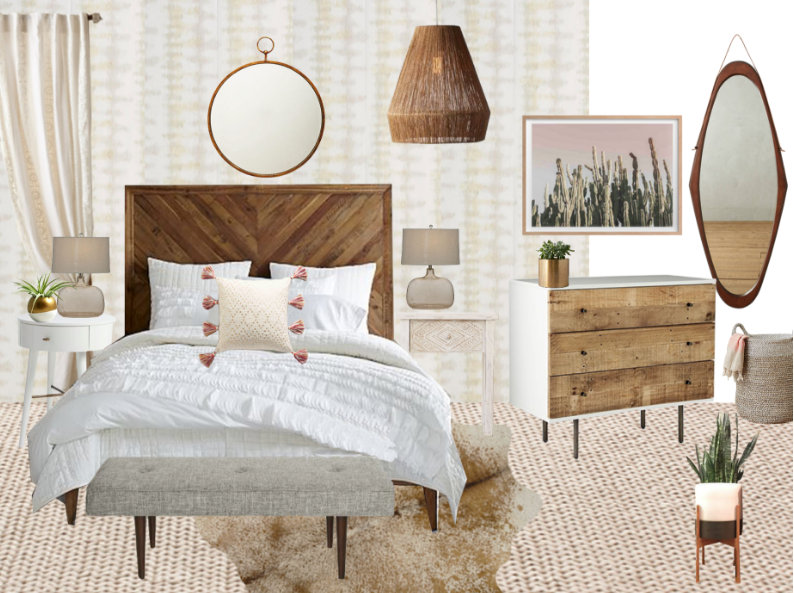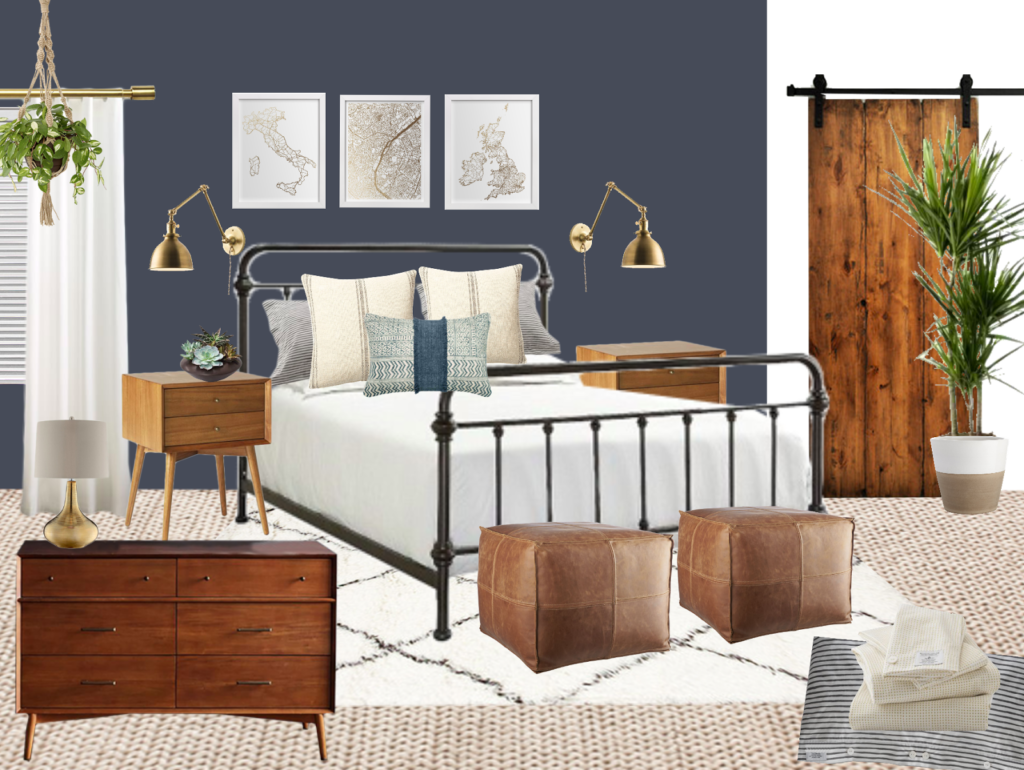 I loved both of them and could have been more than happy with either one, but Bart strongly preferred the second, so we went with that.
Neither of us cared for that metal antique style of bed (I wanted something that looked a little more substantial and Bart wanted something that he could lean against without leaving indents on the back of his skull), so we asked for a couple of different options, and I didn't care for the poufs at the bottom of the bed, but we loved the one dark wall, the mix of traditional and modern elements, and the soothing feel of the whole room.
Once our final design came back, it included a little more color, different bed and bench suggestions, and the links to all the products (you can order all your products at once through them, which I'm sure means they get a kickback and is the reason the pricing for the design is low), plus a layout for where things should go.
I'd always worried that working with a designer would mean that it was just someone else's style in my house, but I found that wasn't true at all. Instead, it was a really great way to have someone help me solidify the things I already knew I liked into one cohesive vision and then I could tweak endlessly within that framework.
For instance, I wasn't at all wild about the leather director's bench at the bottom of the bed that she suggested, but it did make me think that something warm and natural was what the blue and gray needed to keep the room from feeling cold, and so when I was browsing through Joss & Main's bench options, it didn't take me long to settle on this one.
The bed she suggested was from West Elm which had shown up on one of our inspiration photos on Pinterest, but happily, Joss & Main had an identical one at less than 1/2 the price.
The bedside tables were really what gave me the most trouble. Joss & Main didn't have any exactly like the West Elm ones she recommended, and even if they had, I'm not sure I would have picked them. I feel like that style, while one I really like, is just SO popular right now and I wanted something that felt a little more unique. When I found these ones, I felt like they were exactly what I was looking for – something of that mid-century shape, the warm wood color, and multiple drawers – but they had their own not-so-over-Pinterested look.
And I wasn't ready to spend $250 each on the bedside lamps (plus all the mounting required), and we soon discovered that, now that we had drawers in the bedside tables, we didn't leave all that much stuff on the surface of the tables, there was plenty of room for ones that sat on top of the tables. So these ones from Target at 10% of the price of the others were perfect (it brings me ridiculous joy to turn off the overhead light and turn on these lamps at night so our room has a cozy glow to it. Also, I can read in bed now without my book casting a shadow on itself).
I loved the pillow recommendations she made, but. . . I wasn't really feeling like spending $200 on throw pillows, so I just kept my eyes open every time I went to Target, Marshall's, or Home Goods and then stumbled on these ones at Walmart for about $12 each.
And I felt like the room needed a smidge more color, so instead of the prints she'd linked to, I ended up printing off pictures I'd taken from our travels over the last few years (I had them printed through WHCC, and, with the upgraded sheen, they were $6 each for 11×14 copies). I'll tell you what, though, choosing photos that went together was so difficult. Actually, of the three that were in the pictures when I showed our master bedroom, only one of them is still up there. The cactus one came out too blurry, especially compared to how sharp the other two were, and as we tried to find a replacement photo, it became quickly apparent that the framing on the Public Market shot was making it too difficult to make it work with other photos, so we ordered two different ones.
The planter she picked was pretty bland, I thought, and also $150 for basically a white bucket. Of course, it turned out to be surprisingly hard to find a good looking planter that didn't cost hundreds of dollars, so I ended up buying this basket at World Market that mirrored the bench material and then jerry-rigging a double bucket inside so that I could get drainage for the plant roots without rotting the basket or staining the carpet (this sounds like I know anything about plants. Rest assured that I'll almost certainly be taking advantage of Home Depot's 1-year guarantee on all their plants).
But it made it SO much easier to pick things out when I had an overarching vision for the room, instead of picking out things at random and hoping they all blended together.
Also, Decorist has a 100% happiness guarantee, so if you end up with a design where you're all, "What is this baloney? Did a monkey put these suggestions together?" they'll give you a full refund. So it's low-risk, which I care a lot about.In fact, when we did our living room design with them (which is still in progress), the original designer assigned to us did a really mediocre job. Both of the initial concepts were very similar and very bland. I sent back a lot of feedback, with a ton of examples of things I liked, and when the final design came back, it was almost exactly like the originals and still super boring.I told Bart I was going to ask for a refund and he said, "Well, let me look at them first. Is it really that bad?" And when he looked at the final design, he was like, "Yes, this is pretty lousy." So I sent in an email and within 10 minutes I'd gotten a response apologizing and offering either to refund our money or to try with a different designer first and see if they could come up with something better (they offered to pair us with the designer we'd worked with the first time on our bedroom) and we took them up on the re-do, and so far it's been going fantastically, with both of the initial concepts very different from each other and full of great ideas.
And there is my dissertation on Decorist and working with an interior designer, which I now think is basically the best thing you could spend money on when you're doing any sort of room redecoration.