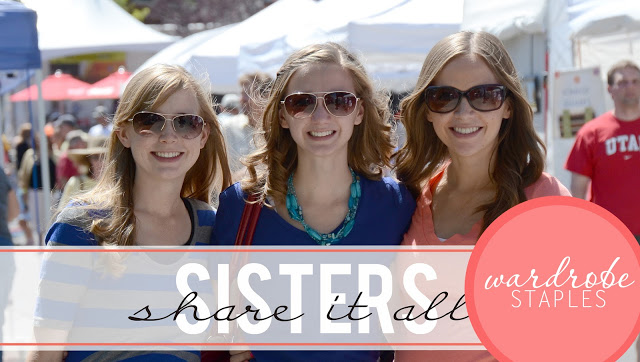 Last week, we shared our list of closet staples. This week, we're showing what our own personal closet staples are.
As you can tell by looking at my picture – my staples are pretty neutral (pink pants aside). I knew I'd picked true staples when I had to pull 80% of them out of the clean laundry pile to photograph them yesterday.
And while I certainly enjoy having a closet with a lot of variety, I think I could dress with these ten items pretty well for a long long time.
Black Shirt – I could happily wear a black shirt every day for the rest of my life. In fact, I own this exact shirt except in the maternity version as well and during my pregnancy I had to wash them both every single week because I never had a week where I didn't wear them both.
Blouse – I love the simplicity of this little cream blouse – the pleats at the neckline and the well-fitting sleeves make it just a little fancier.
Striped tee – I own two versions of this shirt (the other has dark pink stripes), and they are some of my favorites. The fabric is a nice heavy weight, and the neckline isn't too high.
Jeans – I wear jeans pretty much every single day. I'm not really much of a
skirt or dress person for weekdays (despite the fact that I own probably
30 skirts, or possibly more). These ones from Target are some of my favorites – a nice dark wash, slightly heavier denim, and a nice length.  And skinny without being leggings.
Colored Pants – I have been waiting to buy a pair of non-maternity colored pants for MONTHS and I am completely sold on these pink ones. The fact that they are cords make them more wintery, but the color means they work most of the year too. (Also, they are on such big sale right now that I went back and bought a pair in dark grey last week).
Cardigan
– I bought this cardigan for $4 just after Christmas and it's already a work horse. I love the length, the v-neck, the lack of pockets, and the color. Fun but not flashy.
Dress – This dress was on clearance at Downeast Basics last summer and my mom bought me the gray one and Merrick the black one. I think we both wear them frequently. It's so basic that it goes with anything, but it's not so boring that it doesn't look great by itself (and a pair of fabulous shoes).
Pencil Skirt – I love this pencil skirt with the buttons on the
front. I bought it from Ross about four years ago for seven dollars. And
it still looks fantastic (except not in this picture because I couldn't
get it to hang straight). I always feel like a million bucks when I
wear it. 

Leopard Flats – I bought these shoes on a whim and have worn them nearly to death (although they've held up surprisingly well for shoes that cost less than $15). They also feel like slippers on the inside. I think they instantly make any outfit look better.
Black Wedges – I love these shoes so much. I bought the red suede version first and then after wearing them more than I'd ever imagined, I realized that one of the huge holes in my closet was dressy black shoes. I immediately ordered these and have worn them a million times since.
Check out Merrick and Landen's items (by the way, we don't share our posts with each other before they go live, generally, so it's always a fun surprise to see what fun takes they have on the same topic. I love my sisters):