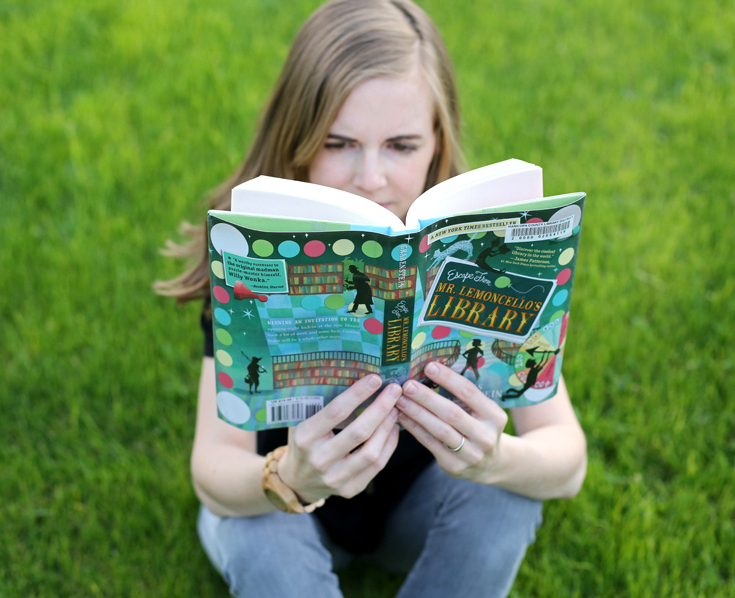 Escape from Mr. Lemoncello's Library was the February book for Tell Me What to Read (what's that, you say? It's April? La-la-la, I hear nothing).
I've actually been done with it for a few weeks, but I've procrastinated writing about it because I still wasn't quite sure how I felt about it.
Sometimes, I avoid reading reviews of books after I've finished a book because I don't want to be swayed before I write a post.
Other times, I feel like I need to read a ton of reviews to help me sort out exactly what I think of the book.
I felt like this book had killer reviews (on Amazon, it's sitting at a 4.7 stars with 567 reviews, while on Goodreads, it has 4.1 stars with 16,000 reviews), but when I finished it, I felt like "oh, that was fine."
So when I finished the book and thought it was cute, but not AMAZING, I wasn't sure what the problem was. Maybe I'd just missed the boat because I listened on audio?
Happily, just as I finished up, Amy from Sunlit Pages wrote a review of it and she had some of the same feelings I did. She actually read it with her son who is about 8, and he loved it and she said his enjoyment of it made it way more fun.
I guess I just need an 8-year-old.
Anyway, 35 paragraphs about my ambivalence toward Escape from Mr. Lemoncello's Library later. . .
escape from mr. lemoncello's library by chris grabenstein
The hero of the story is Kyle Keeley who loves all games, especially those developed by Luigi Lemoncello.
The town library was torn down twelve years ago and now has just been rebuilt and for the grand opening, twelve kids (all aged 12) have a chance to win a spot at a sleepover at the library.
Of course, Kyle isn't much of a reader and so his interest is zero until he finds out that Mr. Lemoncello is the brains behind the construction of the new library. It's too late to enter, but that doesn't stop Kyle from putting in a late entry and he manages to win a spot despite the fact that his entry is possibly the stupidest entry on the planet, not to mention late.
And then the sleepover turns out to be a giant game with puzzles and clues to find the secret escape route and they're all locked in until they can find it.
I could barely keep track of the characters because none of them were at all memorable and the library itself was more technology and screens and special effects than actual books (there were about 100 classic children's lit titles mentioned in the book, but I don't know how many kids would catch most of them, and it wasn't like it made you want to go read those books because there was nothing more than the title used as a pun most of the time).
I also feel like I'm always a little sensitive to library stories and librarians – half the time (or possibly more) it seems like the whole point of the librarian being in the story is for the author to be all, "Hey, librarians! See how much I like you? And how you should buy my book for your library?"
I read a review of this book on Goodreads that said, "The whole enterprise just seemed so CYNICAL, a naked ploy to sell books to librarians by sucking up to them while actually pulling the beeping/flashing/green-screened wool over their eyes. It depressed me. It name-dropped a zillion book titles without ever conveying the transformative joy of simply READING."
Amen, sister.
(And then I read all the responses to her review which told her what an idiot she was and also how this book moved them to tears so. . . a reader for every book and what have you).
This sounds like I hated Escape from Mr. Lemoncello's Library, and I really didn't. It was fine and there were some fun parts. But I think my expectations were too high and it just didn't live up to it for me.
I also think that middle-grade novels, aimed at 3-6th graders, are just not my favorite favorite books (I remember when I was shadowing a middle school librarian back in grad school, and she was like, "These are obviously the books you love." And it's true – I really love those older middle-school and young adult books more than novels for younger kids).
Anyway, if you read and loved Escape from Mr. Lemoncello's Library, you should tell me what I was missing here.
If you liked this review of escape from mr. lemoncello's library, you might also like these books: