Looking for a copy of this list of books like the Magic Tree House books? Pop in your email address below and it'll come right to your inbox!
There are some book series that really catch the interest of young readers and one of the most beloved ones is the Magic Tree House series!
If you have a child who has blown through the whole series and is looking for something new to suck them in, try one of these series!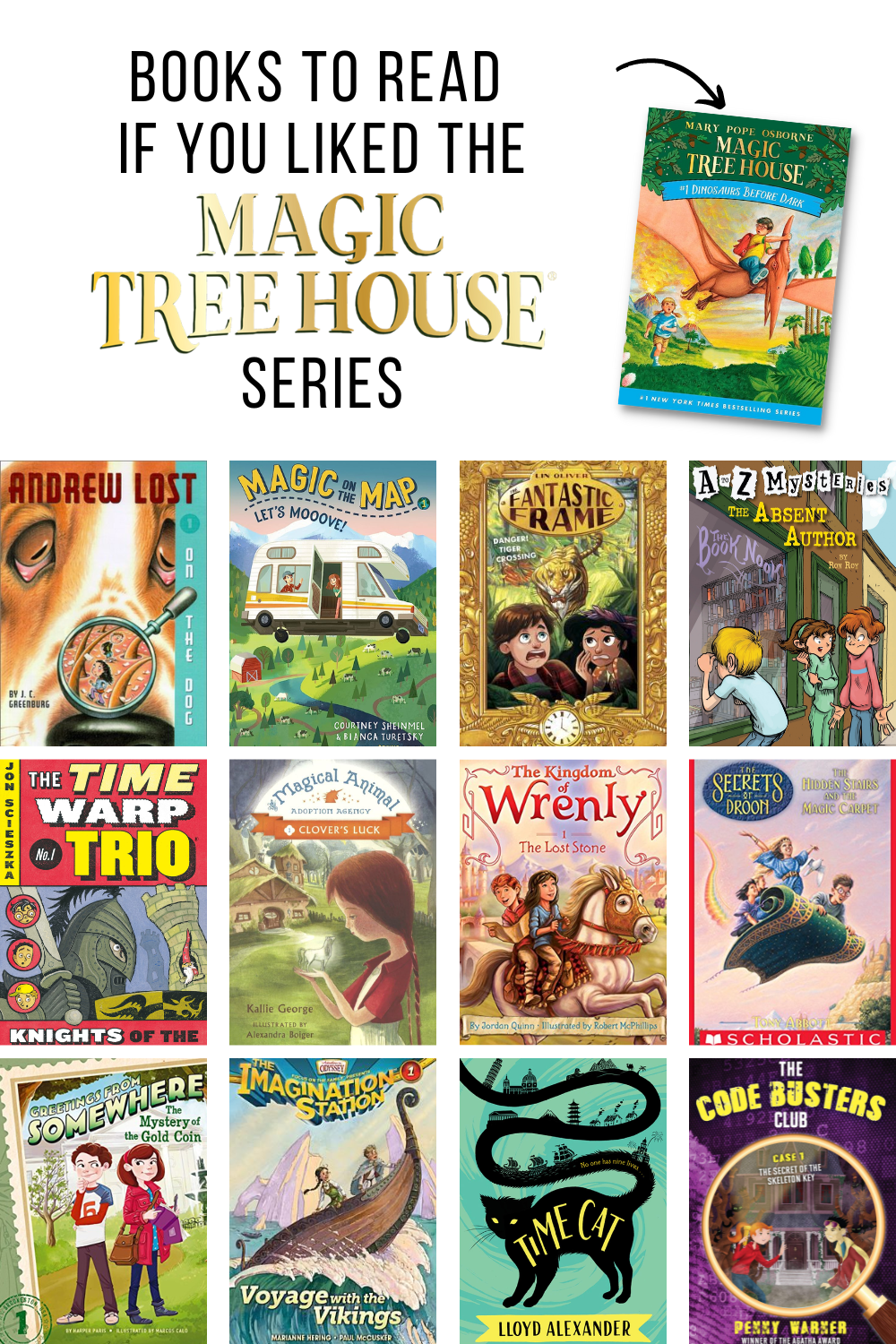 books like the magic treehouse book series
Greetings From Somewhere by Harper Paris, illustrated by Marcos Calo
With their mother as a travel writer for a newspaper, twins Ethan and Ella find themselves in a new location in every book. And naturally, each new location has a mystery for them to solve. (10 books in the series)
The Time Warp Trio by Jon Scieszka, illustrated by Lane Smith
Three boys travel through time with the aid of a mysterious object known as "The Book". With a heavy dose of weird and a dash of history, this series is short, high-interest, and funny. (16 books in the series)
The Secrets of Droon by Tony Abbott, illustrated by Tim Jessell
Eric, Julie, and Neal discover an enchanted stairway in Eric's basement that leads them to the magical and troubled world of Droon. Their days in Droon lead them on the greatest adventures! (36 books in this series)
Magic on the Map by Courtney Sheinmel and Bianca Turetsky
Twins, Maggie and Spencer, come home to find a magic camper van that can take them to every state in the United States. They learn about culture and history, and return safely home without their parents knowing. (4 books in the series)
Magical Animal Adoption Agency by Kallie George, illustrated by Alexandra Boiger
Clover stumbles across the Magical Animal Adoption Agency in the woods where she is hired as a summer helper to care for fairies, horses, unicorns, and a fiery young dragon. Will she be brave enough to keep these magical animals safe? (3 books in the series)
Heidi Heckelbeck by Wanda Coven, illustrated by Priscilla Burris
I knew when I picked up the first book in the series for Ella that Heidi turns out to be a witch, but she didn't know that and when she reached the end of the first volume and made that incredible discovery for herself, she went berserk with excitement, leaping around the kitchen as she told me about how Heidi was actually a witch and had magical powers. (30 books in the series)
Isadora Moon by Harriet Muncaster
Isadora Moon is half-fairy and half-vampire. And she loves both parts of herself. But now she has to choose — fairy school or vampire school? (8 books in the series)
Mia Mayhem by Kara West, illustrated by Leeza Hernandez
I read one of the books in this series aloud to my girls in an afternoon and we all loved this fun story of an undercover superhero. Like many series at this level, you don't need to read them in order – each one will catch you up quickly. (13 books in this series)
A to Z Mysteries by Ron Roy, illustrated by John Steven Gurney
This was the perfect mystery book series for Ella. She's gone on to read all of this series as well as the Calendar Mysteries and often revisits both when she's out of new books. (26 books in the series)
The Fantastic Frame by Lin Oliver, illustrated by Samantha Kallis
Imagine moving into a new house with a pretty strange things going on next door. And then you find out that the next door neighbor has a magical picture frame where you can enter famous paintings all over the world. (5 books in the series)
The Kingdom of Wrenly by Jordan Quinn, illustrated by Robert McPhillips
If your child loves a fantasy series, this is a winner, with Lucas, the prince, who becomes friends with Clara, the daughter of the queen's seamstress. Together, they explore the kingdom and, naturally, have all sorts of adventures. (12 books in the series)
Dragon Masters by Tracey West
This fantasy adventure is perfect for any child who loves dragons, kings, wizards, and magic! My girls have listened to this series a million times over the past few years. (26 books in the series)
Imagination Station by Paul McCusker and Marianne Hering
When Patrick and Beth step into the Imagination Station they are instantly whisked away on an action-packed journey around the world and back in time. (30 books in the series)
The Code Buster's Club by Penny Warner
Five super sleuth kids work together to decipher and crack some of the toughest codes. These books will definitely build STEM skills because the mysteries to solve require mathematical and critical-thinking skills. (6 books in the series)
Andrew Lost by J. C. Greenburg, illustrated by Debbie Palen
In this fun science fiction adventure series, Andrew Dubble is a young inventor at heart, but his inventions rarely go as he plans them to. Whether he shrinks down to the size of an insect, or is transported back in time, it makes for great adventures nonetheless! (18 books in the series)
Time Cat by Lloyd Alexander
Gareth is a cat, and not just any old cat – he is a time traveling talking cat! He takes his owner Jason with him on adventures around the world and through time to show him how cats were treated throughout the ages.

And if you'd like a printable copy of this book list of books like the Magic Tree House books that you can take to your library or screenshot on your phone for easy access, just pop in your email address below and it'll come right to your inbox!
if you liked this post about books like the magic tree house, you might also like these other posts: