The BEST pumpkin cookies I've ever made. They're perfectly crispy on the outside and soft on the inside, no cakey cookies here!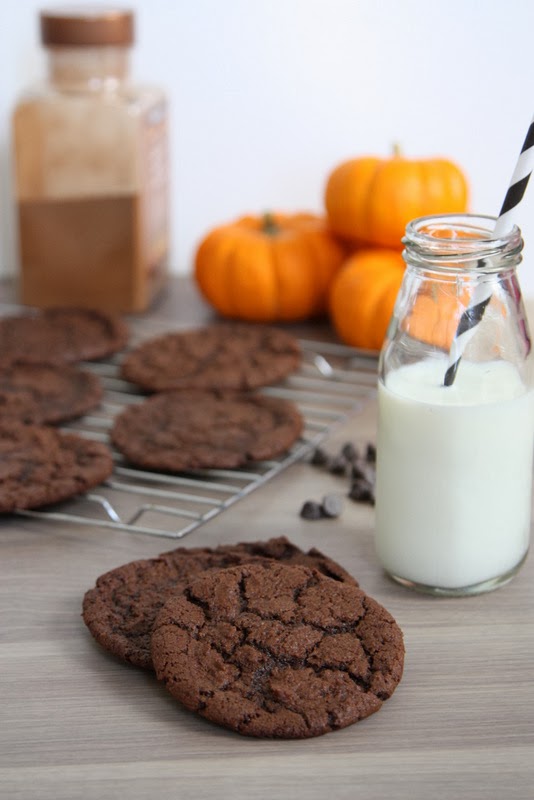 I try to keep things light around here, but today we need to talk about something serious.
(You're looking back up at the title of this post and thinking, "Isn't this a post about cookies? How heavy can we get in a post about cookies?").
Every fall, the Internet explodes with all things pumpkin. Pumpkin soup, pumpkin cheesecake, pumpkin bread, pumpkin cookies.
And I don't really love the flavor of pumpkin.
I know admitting to not loving pumpkin is probably blog suicide.
Heaven help me if word gets out that I don't like Nutella (jar of mouth-burning chemicals, thank you) or browned butter (the quickest way to turn a perfect stick of butter into a greasy, texture-ruining ingredient).
Good thing I do embrace all things salted caramel.
But, I'm happy to let people go on their pumpkin eating way.
Except when it comes to cookies. People. Cookies are supposed to be crispy on the outside, chewy on the inside.
They are NOT supposed to be like muffins. They are definitely not supposed to be like cake.
How are you even eating these things?
And worse, they don't even LOOK pretty. They look like orange lumps. They have zero redeeming qualities. I mean, if a cookie is going to taste bad, it might as well look beautiful. (I told you. Serious talk here on the blog today). I am extremely picky about cookies, and I can't remember ever eating a pumpkin cookie that made me think, "THIS is a really great cookie." The most positive thing I've ever thought about a pumpkin cookie is, "This isn't the worst cookie I've ever eaten."
Pumpkin puree is basically thick wet applesauce. Is it even possible to make a decent cookie with such an ingredient?
(Now you're looking at the title and thinking, "Could any cookie possibly be worth reading through this post?").
In fact, yes. It is possible. These chocolate pumpkin cookies aren't just good by pumpkin cookie standards (low standards, those), but by ANY cookie standards. Or at least my cookie standards, which, if I say so myself, are extremely extremely high.
They are super chocolate-y, they have crisp edges, and soft, chewy centers, they have all the spices of a pumpkin pie, and a mild pumpkin flavor. They are so much better than any pumpkin cookie I've ever had.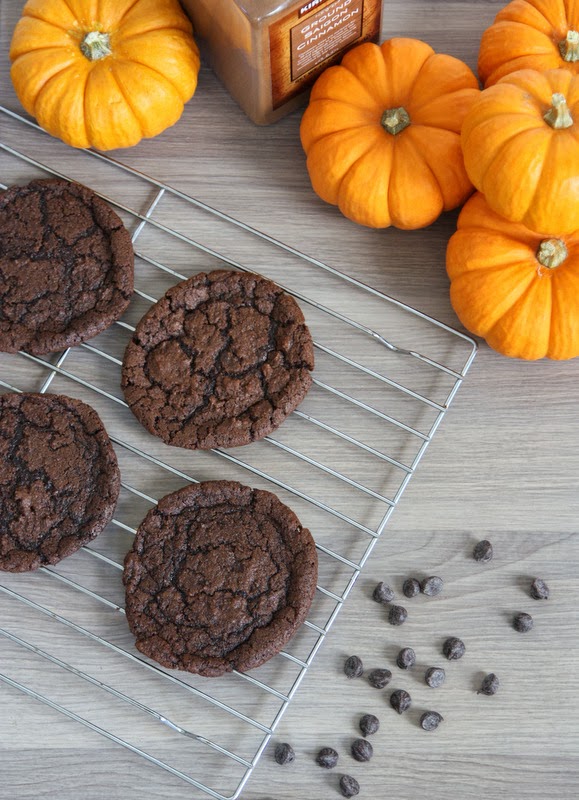 Pumpkin Cookies Recipe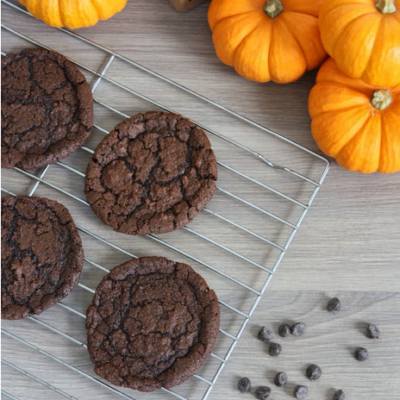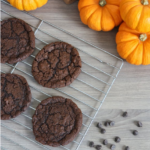 Double Chocolate Pumpkin Cookies
The BEST pumpkin cookies I've ever made. They're perfectly crispy on the outside and soft on the inside, no cakey cookies here! 
Ingredients
1

cup

all-purpose flour

1/2

cup

unsweetened cocoa powder

1/2

teaspoon

baking soda

1/2

teaspoon

salt

1

teaspoon

ground cinnamon

1/8

teaspoon

ground nutmeg

1/16

teaspoon

ground cloves

4

ounces

semisweet chocolate

I just used chocolate chips

1/2

cup

1 stick butter, cut into large pieces

1 1/2

cups

sugar

1/2

cup

pumpkin puree

2

teaspoons

vanilla
Instructions
Preheat oven to 325 degrees.

In a small bowl, whisk together flour, cocoa powder, baking soda, salt, cinnamon, nutmeg and cloves. Set aside.

In a small saucepan (or in a microwavable bowl) over low heat, melt the chocolate and butter together until smooth. Don't let it burn. Set aside to cool for a couple of minutes.

While the chocolate cools, use the attachment paddle on a stand mixer to beat together the sugar, pumpkin and vanilla. Add the chocolate mixture and mix until combined. Add the dry ingredients and beat until evenly mixed.

Line a baking sheet with parchment or a silicone liner (

I use this one

), and scoop golf ball-sized balls onto the cookie sheet, leaving about 2 inches of space between each one (they spread a lot).

Bake for 12-14 minutes, until the edges look dry and the tops are cracked. Let cool for 10-15 minutes on the cookie sheet before transferring them to a rack to cool completely.
If you like this recipe for pumpkin cookies, you might also like these: