I know. I'm just as bad as everyone else. That first can of pumpkin I bought for my Spoonful chocolate chip pumpkin cookies has turned me into a monster (after I made those cookies, I went ahead and put together an entire collection of pumpkin cookies, many of which I'm tempted to try).
Judge away.
And have another pumpkin recipe.
Bart's Fuqua Buddy (does that make them all sound about five years old, or what?) and her boyfriend came over for brunch on Saturday, and when I was perusing my Pinterest breakfast board, these pumpkin cheesecake crepes caught my eye.
Not only do I love crepes in general, I also recently snagged a free crepe maker from Jessica from the Goodwill pile that also delivered me this clock (I would highly recommend that, next time, you offer to take her stuff to Goodwill. Her donate pile is better than my keep pile).
Anyway, this seemed like the perfect time to give the new crepe maker a try (although you can make them in a frying pan, too).
It was actually a little nerve-wracking because I had never made this recipe (this is not the nerve-wracking part – I am one of those people who always ends up making something new when we have people over because I like to live on the wild side), and they had already arrived by the time I started making the batter and then I discovered that there were no spices in the recipe (I do not believe in pumpkin recipes that have no spices to go along with the pumpkin), plus I didn't have 3/4 of a cup of cornstarch, AND when I followed their directions to mix it with beaters, it ended up super lumpy and even my trusty kitchen-aid couldn't get it smooth. Blender time.
Also, it took me about ten crepes to start getting good-looking crepes because there is definitely an art to crepe makers that don't have direction manuals.
Worrisome start notwithstanding, these pumpkin cheesecake crepes turned out fantastically, and I even got a request for the recipe. It doesn't take much to make me your friend for life.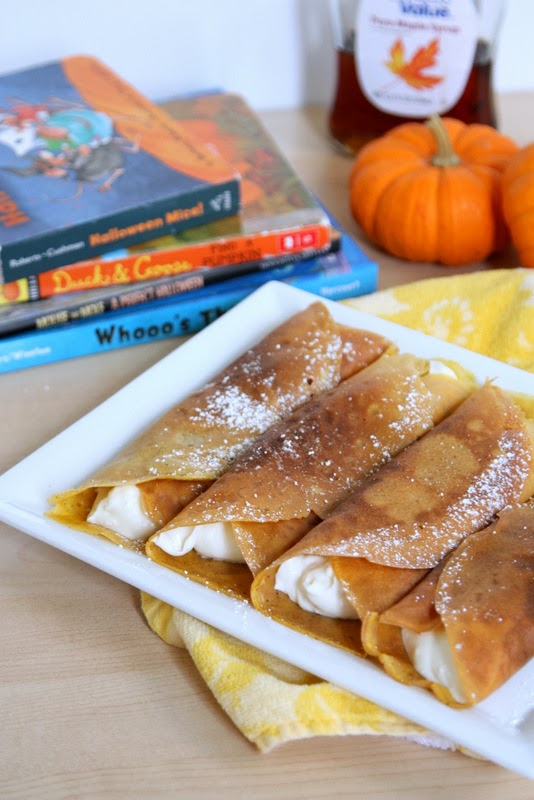 pumpkin cheesecake crepe recipe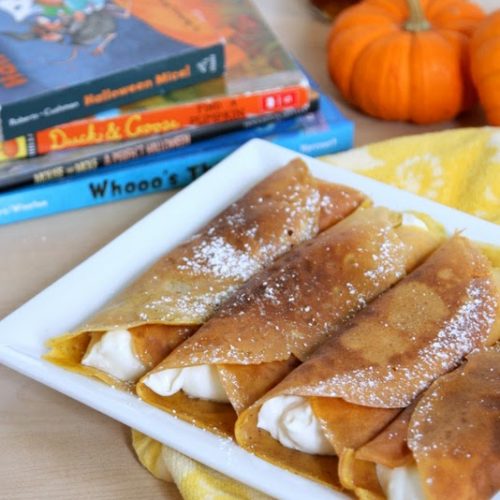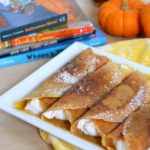 Pumpkin Crepes with Cheesecake Filling
Servings
15
to 20 crepes depending on the size
Ingredients
Filling:
1 1/2

cups

whipping cream

2/3

cup

granulated sugar

2 8-

oz

packages cream cheese

softened

1

Tablespoons

lemon juice

2

teaspoons

vanilla
Crepe Batter:
3

eggs

1

cup

milk

2

teaspoons

vanilla

3/4

cup

all-purpose flour

3

tablespoons

sugar

3

tablespoons

pumpkin puree

1/2

teaspoon

ground cinnamon

1/4

teaspoon

ground cloves

1/8

teaspoon

ground nutmeg
Maple syrup, for serving (optional)
Instructions
In a stand mixer or with a hand beater, beat whipping cream and sugar together until soft peaks form. Add cream cheese, lemon juice, and vanilla, and mix until smooth and well-combined. Place in fridge until ready to use.

Put all crepe batter ingredients in a blender and blend until smooth.

Cook with a crepe maker using manufacturer directions, or, heat a large frying pan over medium-high heat and spray with non-stick spray. Pour about 1/4 cup of batter into the center of the pan and rotate pan, using the handle, until the batter covers the entire bottom of the pan. Cook for about 2 minutes, until the edges are dry, then carefully flip and cook the other side for another 30 seconds until it's completely cooked through.

Place about 1/4 cup of filling in the middle of each crepe and roll up. Drizzle with maple syrup, if desired, and eat immediately.
if you liked this recipe of pumpkin crepes with cheesecake filling, you might also like these other posts: