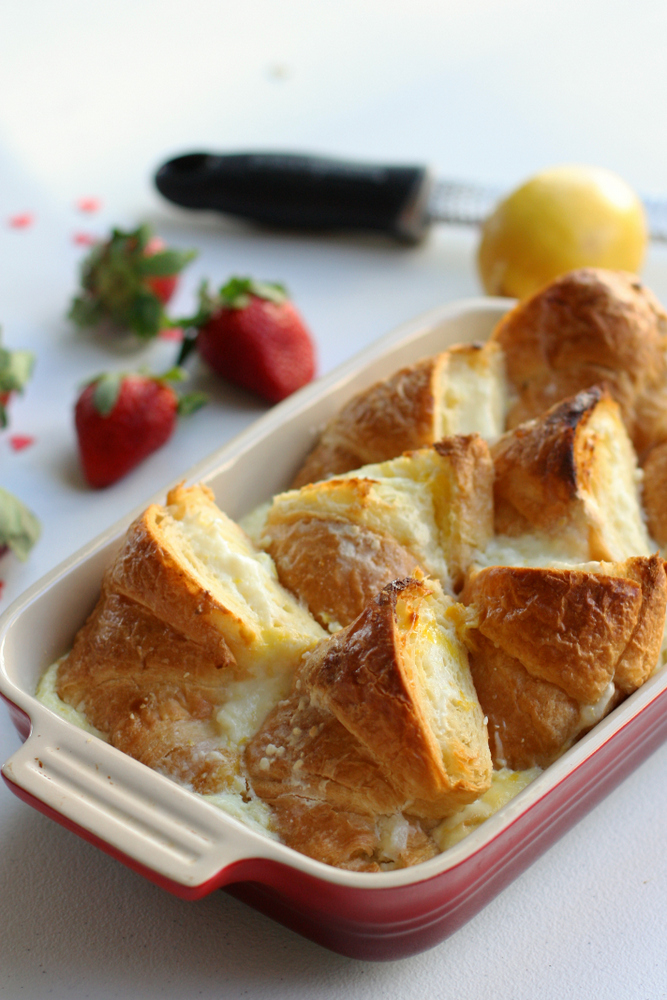 I mentioned in my post yesterday that one of the family traditions we've changed from my growing up is having breakfast during the present unwrapping.
It's nice to take a break part way through the unwrapping festivities for some real food (rather than just eating Reese's peanut butter cups or tic-tacs from your stocking until lunch time and then feeling vaguely ill for the rest of the day).
Of course, my children are always anxious to get back to the presents, and I don't want to spend a long time getting breakfast ready, so I always try to have it be a pretty quick and easy breakfast while still feeling festive.
This make-ahead croissant french toast casserole is PERFECT.
I can get it all ready to go the night before, including making the strawberry sauce and keeping it in the fridge, and then when we start opening presents, I can pop it in the oven and when the timer goes off, I warm up the sauce, pull out some juice and eggnog and breakfast is served.
If I'm feeling very fancy, I might fry up some bacon or make a quick smoothie.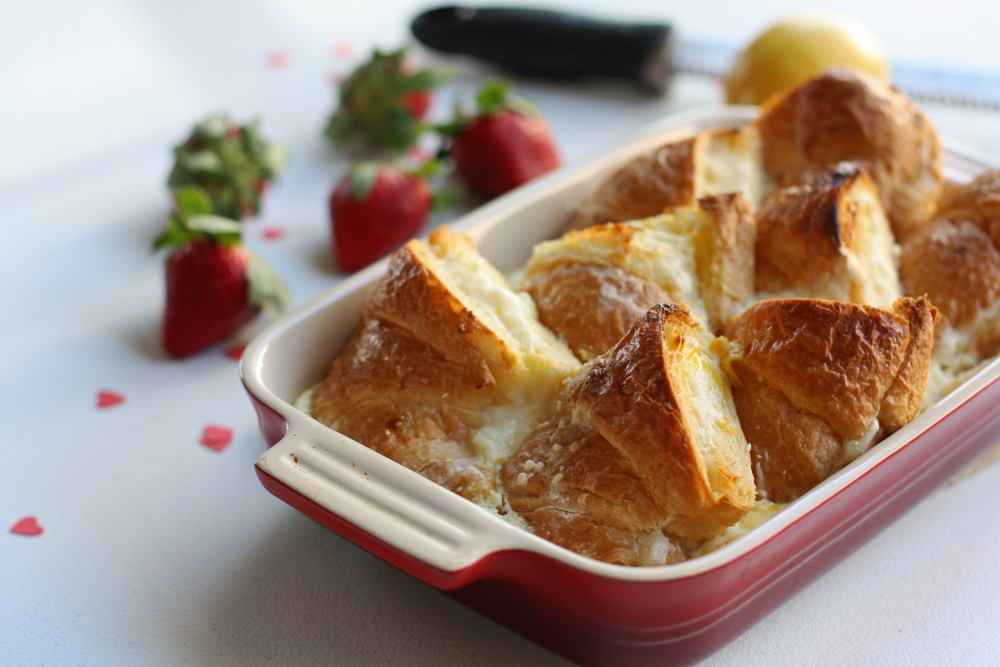 I pretty much never met a croissant in any form that I didn't like, and this is a REALLY good use of them, especially for our family that all loves cream cheese with all their hearts.
Plus, when you can pick a lemon right off your lemon tree, it's even better.
If only we had a strawberry plant that wanted to produce fruit in December (or, you know, a strawberry plant at all).
If you make it for the holidays, I hope you and the rest of your family love it!
But if you'd rather just have a breakfast of stocking candy, I won't judge you for it.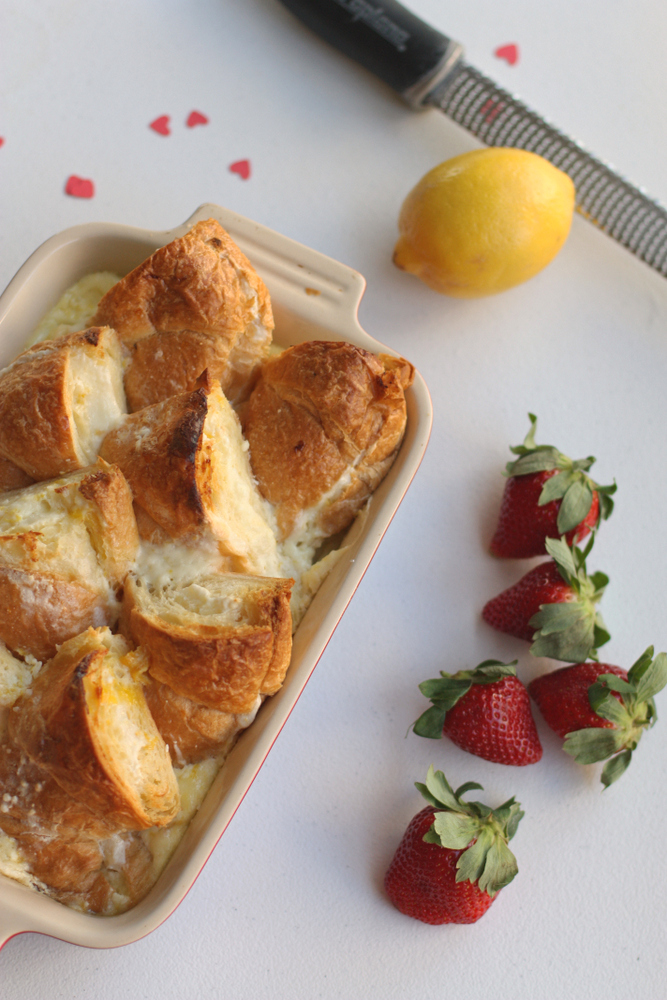 make-ahead croissant french toast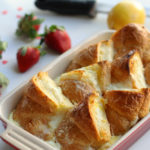 Baked Croissant French Toast with Lemon Cream Cheese
Super easy to make the night before and then pop in the oven for a special breakfast!
Ingredients
French Toast
4

large croissants

if they are a little stale, all the better

4

oz

cream cheese

softened

1

cup

powdered sugar

divided

2

lemons

2

Eggs

1

cup

milk
Strawberry Sauce for Serving
1 1/2

cups

strawberries

roughly chopped

1 1/2

cups

water

1/4

c

sugar

or more to taste
Instructions
Cut the croissants in half and then split open (like you're making a sandwich). Set aside.

In the bowl of stand mixer, beat together the cream cheese, zest of one lemon, strained juice of one lemon, and 1/2 cup powdered sugar.

Spread the cream cheese mixture over each half of the croissants and then put the tops and bottoms back together. Arrange the pieces evenly in a baking dish (mine is about a 5×9).

In the same bowl that had the cream cheese mixture (no need to wash it out first), whisk together the eggs, milk, juice and zest from the second lemon, and remaining 1/2 cup of powdered sugar. Pour over the croissants and cover with foil.

Refrigerate overnight. In the morning, preheat the oven to 350. Bake covered for 30 minutes, then remove the foil and bake for another 20 minutes or until the croissants are golden brown.

Let stand for 5-10 minutes before serving, and top with strawberry sauce.

To make strawberry sauce, combine the strawberries, water, and sugar in saucepan and bring to a boil. Reduce the heat to medium low and let cook 10-15 minutes until the strawberries are falling apart and the liquid is thickening. Add more sugar to taste if desired.
if you liked this make-ahead croissant french toast recipe, you might also like these other recipes: