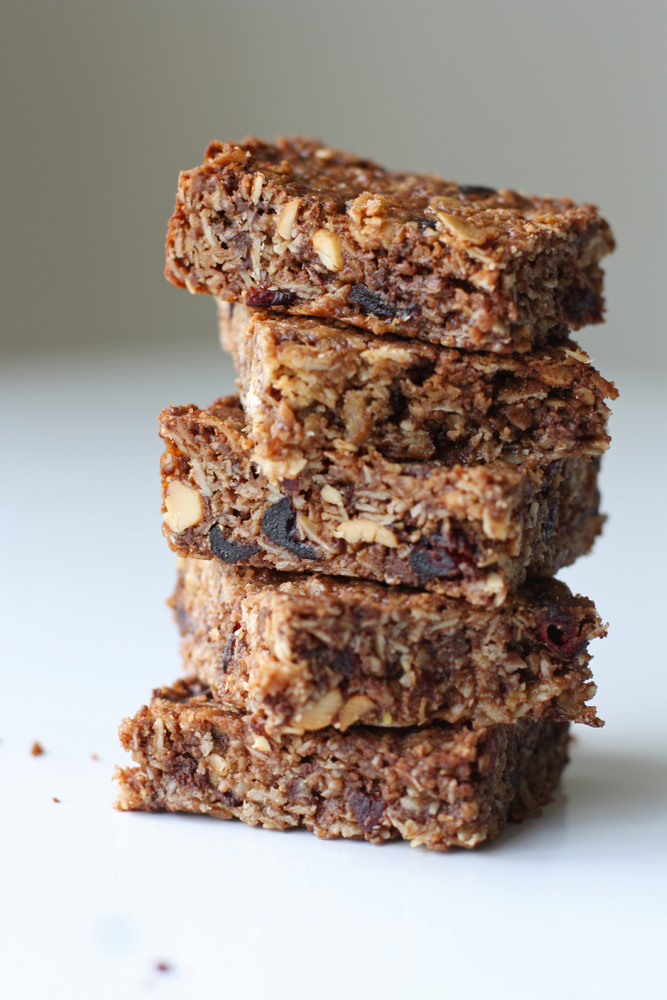 If Pinterest is to be believed, you can't make these chewy homemade granola bars without wrapping them individually in parchment paper and baker's twine.
But, believe it or not, my children will eat these granola bars even without a pretty twine bow.
Also, I didn't have any parchment paper or baker's twine.
When Bart and I lived in Boston and were both working full-time, I made these for our lunches every couple of weeks, but then Ella was born, and we moved, and I only made them once between then and now.
When I finally made them again back in 2015 and took my first bite, it took me right back to my dusty office in my school library, where I ate my lunch every day. I usually could only resist this bar until about 10 a.m., which I always regretted by lunchtime when there was no granola bar left.
This chewy granola bar recipe is even better now I don't have to eat them in a dusty office crawling with spiders.
chewy homemade granola bars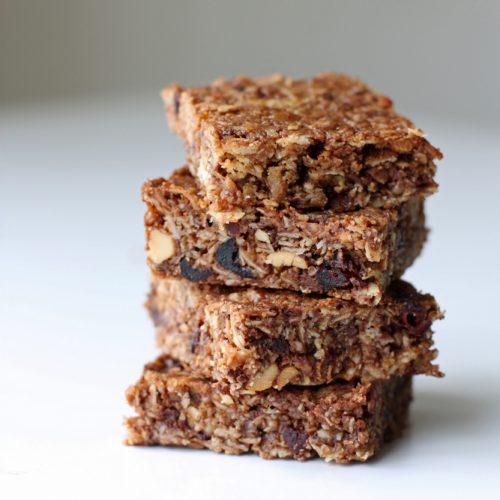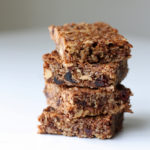 Cranberry, Coconut, and Chocolate Chip Granola Bars
This chewy granola bar recipe is packed with coconut, chocolate chips, and dried cranberries!
Ingredients
2

cups

old fashioned oats

1/3

cup

granulated sugar

1/2

teaspoon

salt

1/4

teaspoon

ground cinnamon

1/2

cup

nuts

I like cashews and almonds best

1/2

cup

dried cranberries

1/2

cup

mini or regular chocolate chips

1/2

cup

shredded coconut

I like unsweetened, but either is fine

1/3

cup

peanut butter

6

tablespoons

melted butter or oil

6

Tablespoons

honey

maple syrup, or corn syrup

1

Tablespoon

water
Instructions
Preheat oven to 350 degrees. Line a 9x9 baking pan with tinfoil, spray with cooking spray and set aside.

Put the oats in a blender and blend for about 5 seconds. The oats on the bottom will be very fine, and the oats on the top will be barely blended.

Pour the oats in a mixing bowl and add the sugar, salt, cinnamon, nuts, cranberries, chocolate chips, and coconut. Stir and set aside.

In a small saucepan, melt the peanut butter, butter/oil and honey together until smooth. Stir in the water, then pour it all over the dry mixture and stir until well-coated.

Press firmly into the prepared pan and bake for 35-40 minutes, until the edges are nicely browned.

Let cool completely, then remove from the pan, peel off the foil, and cut into squares.

These freeze beautifully!
If you liked this chewy granola bar recipe, you might also like these snacks: