I love love love a new year – it feels so fresh with possibility and I love spending a little time thinking through what I want the year ahead to look like.
Because I got so much work done before Christmas break and have been able to take some time off, I've had a lot more time to think through this coming year instead of feeling like I'm barely one step ahead of my life.
Bart and I got a babysitter on Monday for a couple of hours in the morning and went to a cafe and spent nearly three hours talking through our goals for the year both from a big-picture standpoint and also with lots of details. It was such a fun way to spend New Year's Eve and I think we might make it an annual thing!
For the last two years, I've divided my New Year's Resolutions into goals, habits, and projects, and that's been such a good way for me to think about what improvements I want to make to my life, what things I want to accomplish, and what kind of person IO want to be.
For instance, one of my habits from last year was a consistent bedtime and we've made serious progress on going to bed by 10:30 every night. You better believe that's a habit I'm keeping on my list for 2019 because I can't let that one slide.
Last year, I shared 10 of my projects and it was so motivating to me that I thought I'd do it again this year!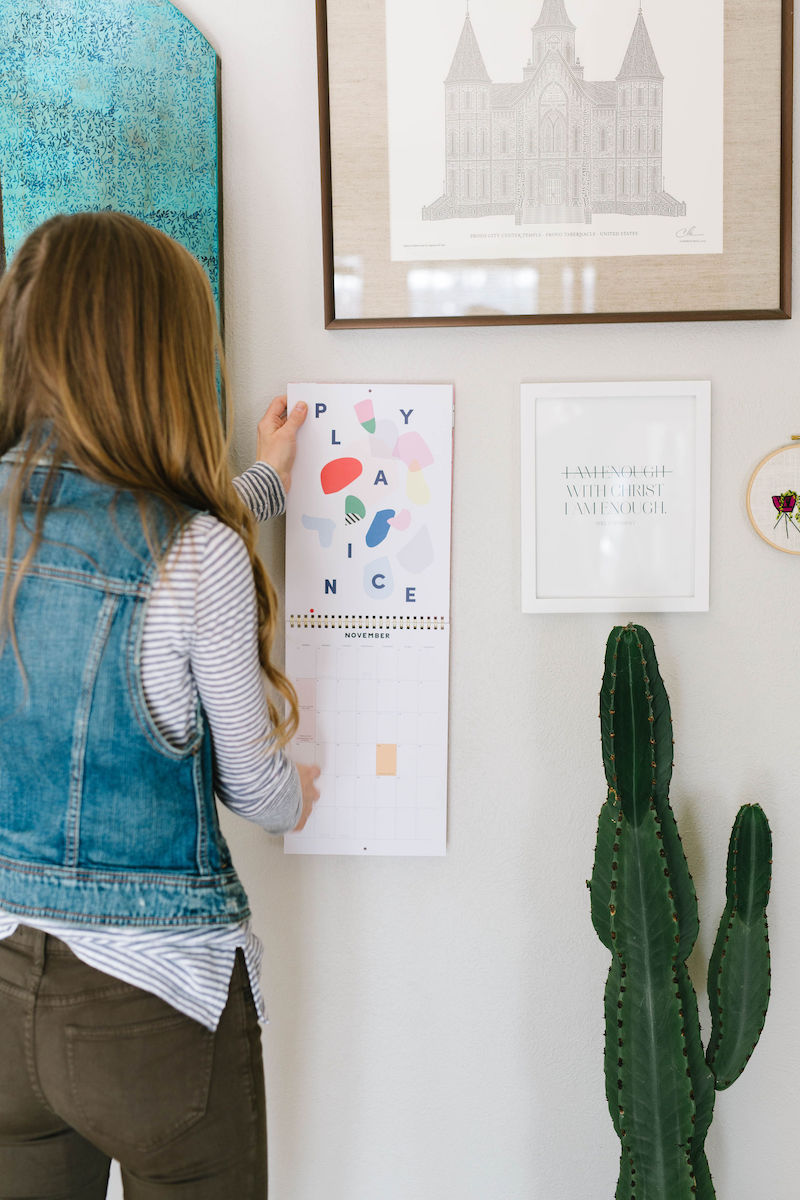 11 Projects for 2019
Read 100 books. I was pretty close in 2017 and then not even close at all in 2018. This year? I'm going to do better. I already know that one of my big problems was that my audiobook listening dropped off almost completely in the last 1/3 of the year, so I'm committed to doing better about having books I want to listen to on hand (I just renewed my Audible subscription, which helps tremendously). 
Finish back porch. This was actually one of my goals for last year, when we had a different house, and I didn't do it because we moved instead, but our new house has a screened-in porch which I'm anxious to use a lot this year. I can't wait to add some seating and plants, some better lighting, and a cozy rug. 
OB-GYN visit. I really know how to make a fun New Years resolution, don't I? Last year, one of the items on my list was to visit the dermatologist for the first time and I felt such a sense of accomplishment when I was able to check that one off. Now that we've moved, I need to find a new OB-GYN.
Do the Provo Freedom Run. I've talked before about how much I LOVE the weight-lifting class I attend several mornings a week, and now that I'm in the swing of that, I'd like to add some running. Provo has a 5k on the Fourth of July and my goal is to run that this summer.
New front door. I love a beautiful front door (I blame my mom who is obsessed with front doors and has passed that along to me) and our current front door is super blah. I'm trying not to overwhelm this list with house projects but this is top of my list – I can't wait to replace our current one with something new and fun. This feels like such a FUN New Years resolution. Now to figure out where you even BUY front doors!
Make 15 recipes from cookbooks. I love to cook, but I don't spend as much time doing it for fun as I have in the past, so this year I picked three of my favorite cookbooks (Smitten Kitchen Every Day, The Pretty Dish, and Joy the Baker) and went through and picked recipes I want to make from each of them this year. I typed them all out in a list organized by recipe type and also noted if they were seasonal, and I can't wait to do some cooking just for fun this year. I listed all of them here, if you'd like to cook along!
Ani & Star's room finished. These girls share a room in this house and right now, it's the saddest room in the house to me. I'd like to repaint it, maybe add some wallpaper, get them a bunkbed instead of the queen bed they currently share (which leads to a fair amount of fighting many nights), and generally just make it a nicer-looking and more functional room.
Do 3 subject studies with the girls. The good thing about not homeschooling is I can just focus on the things I want to learn more about with the girls. I'm dividing the year up into thirds (basically January – May during the school year, the summer, and then the fall when school starts back up)and focusing on one topic for each of those in a reasonably low-key way. We're starting with art and art history and I'm REALLY excited about diving in next week when they go back to school. I've already pretty much maxed out my library holds with every book I can find. Let me know if you're interested and I'll share more details as we go!
Host a Favorite Things party. I've been wanting to host a favorite things party for a couple of years and this year, I'm going to do it. Hopefully in the next month or two.
Paint our bedroom and get a new dresser. Our bedroom looks pretty good, but it could use some new paint (I'm trying to decide if I want to go with the same blue from our old house that I LOVED or try something new this time around) and our current dresser is falling apart and also too small.
Go on 2 camping trips. By "trip," I mean "overnight" but we live somewhere with amazing camping now and our girls are all old enough that there's at least a chance they'll all sleep through the night.
I'd love to hear what kinds of projects you have on the docket for 2019!