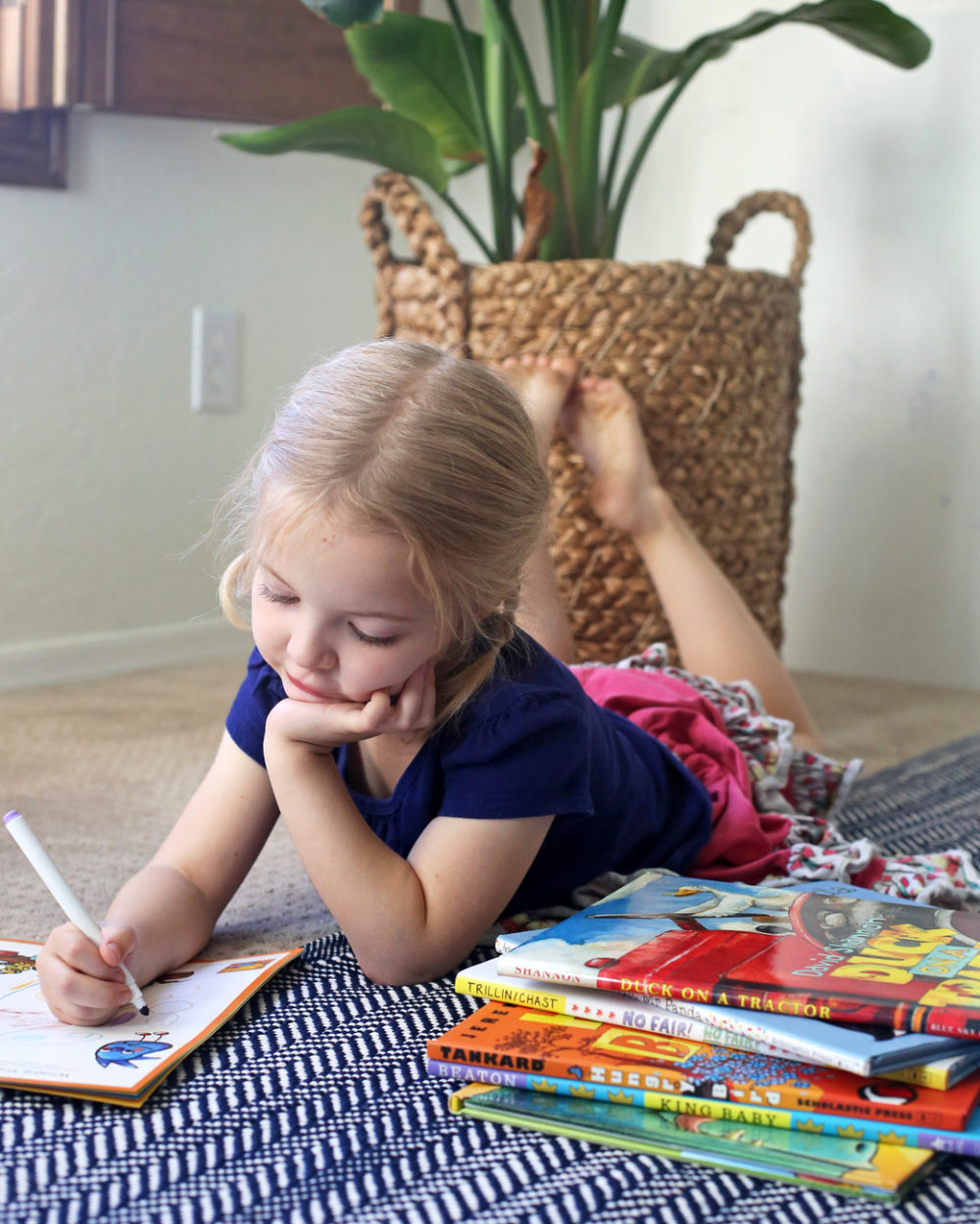 All year, people have been asking if we were planning to homeschool next year or send Ella back to school.
And all year my answer has been, "I have no idea."
This past year has been a good year of homeschool, but it's also been an additional weight on me every day to make sure we got through most of our curriculum and really dedicated the time we needed to keep Ella moving forward academically.
I know some people are pretty laid-back about homeschooling, but that's not my style – if I was going to homeschool, I wasn't going to be happy with reading aloud a little and some mental math problems.
If Ella wanted to keep homeschooling, I was happy to keep it going, but if she wanted to go back to school, it wasn't going to hurt my feelings a bit.
Every month or two this past year, I'd ask Ella what she wanted to do next year, and every time she said she wanted to keep homeschooling. She kept mentioning how bored she'd been in kindergarten and she didn't seem to have any interest in going back.
So we were sort of planning on homeschooling this fall, but also keeping our eyes out for other options that might be a better fit.
We had some friends who sent their child to BASIS and absolutely loved it, and I'd heard good things about it when I read this book, so after doing a little research, we put Ella's name in the lottery and in January, we found out she'd gotten a spot.
Immediately I felt like it was the worst idea ever. BASIS is known for being fairly intense, and I wasn't sure that was what I wanted for Ella. Plus, it was about a 20 minute drive each way, which seemed like a lot of time in the car for the whole family. I couldn't shake the feeling that it wasn't the right fit for our family, and so, two weeks later, when the deadline arrived for accepting or giving up her seat, we declined it and I didn't think about it again. I've had zero regrets about not choosing BASIS.
So it looked like we were back to homeschooling this coming fall.
Then, about three weeks before school ended, Bart and I made the rounds through the district's school options again. Our district is open enrollment, so as long as there is space, your child can attend any school in the district (which means that when Ella went to our neighborhood elementary school, many of the children she attended with didn't live in our neighborhood or even particularly close to us).
Our district has a school with a Spanish immersion program and another one with a Chinese immersion program, and we started talking with Ella about those possibilities, and she suddenly seemed very enthusiastic about attending school.
We also discovered that one of the elementary schools in our district is an accelerated STEM project-based learning school.
One of my friends has a daughter there, a grade below Ella, so I started grilling her about the school and she had nothing but wonderful things to say about it.
The more we talked about it, the more this seemed the right option for Ella. It wasn't too far from our home, it seemed like it'd be better equipped to keep her from being bored, and she's always strongly gravitated toward both STEM topics and projects (which was the hardest thing for me about homeschooling, because projects are SO MUCH WORK).
We weighed the pros and cons of sending her there instead of to an immersion program, and both felt like this was the right place for her. And when we suggested it to Ella, she was THRILLED at the idea. Suddenly, all her previous enthusiasm about homeschooling was replaced with wild anticipation for going back to public school.
Enrollment opens early in the year, so I wasn't sure there would even be spots at this point, but when I called in, they said there were spots in second grade and to come in and enroll her.
Two days later, we went to the school and Ella said, "Could I start today?" (No. I will not enroll you with six days left in the school year). Of course, then we discovered that those empty spots were all taken and she was now on the waiting list.
Fortunately, two days after school got out, we got a call saying Ella had a seat and she's all set to begin at the end of July when school starts back up.
It's going to be a big change for our family to have her gone all day after having her all to ourselves for the last almost two years, and I can hardly think about it without getting all weepy – she's my little right-hand girl and I'm going to miss her like crazy.
But I also think it's going to be a great year for her, with opportunities to really learn and excel, plus make new friends. She is beside herself excited and cannot wait to start up, which thrills me.
And I'm really looking forward to having time to spend with Ani working on reading and math (she'll be attending afternoon pre-K next year too, which I think she'll love).
And, of course, it'll definitely take some pressure off me which I'm definitely relieved about.
It also makes this summer feel extra precious to me because I want to soak up every minute I have with all four girls at home with me.
I have no idea what we'll do in the future – if she wants to come back to homeschool at some point or if the school turns out not to be a great fit, we'll certainly reconsider, and who knows what we will do with each of the next three girls.
But for now, it feels like a huge relief to have things settled for this fall.