Whether you're running a baby and toddler music group or just want some suggestions for baby songs or toddler songs to enjoy with your little one, this post has twenty of our favorite baby songs compiled into a handy toddler songs list!
I recently shared my best tips for setting up a toddler music group.
From inviting your friends to picking a time, setting expectations, snacks and more, that post was all about the nitty-gritty.
Now comes the fun part: the toddler songs!
This may be the part where you suddenly think this was a very bad idea. Especially if, like me, your musical talents are abysmal to say the least.
Oh well, onward! This is why you're doing it with toddlers – most of THEM can't carry a tune or even sing an entire song themselves.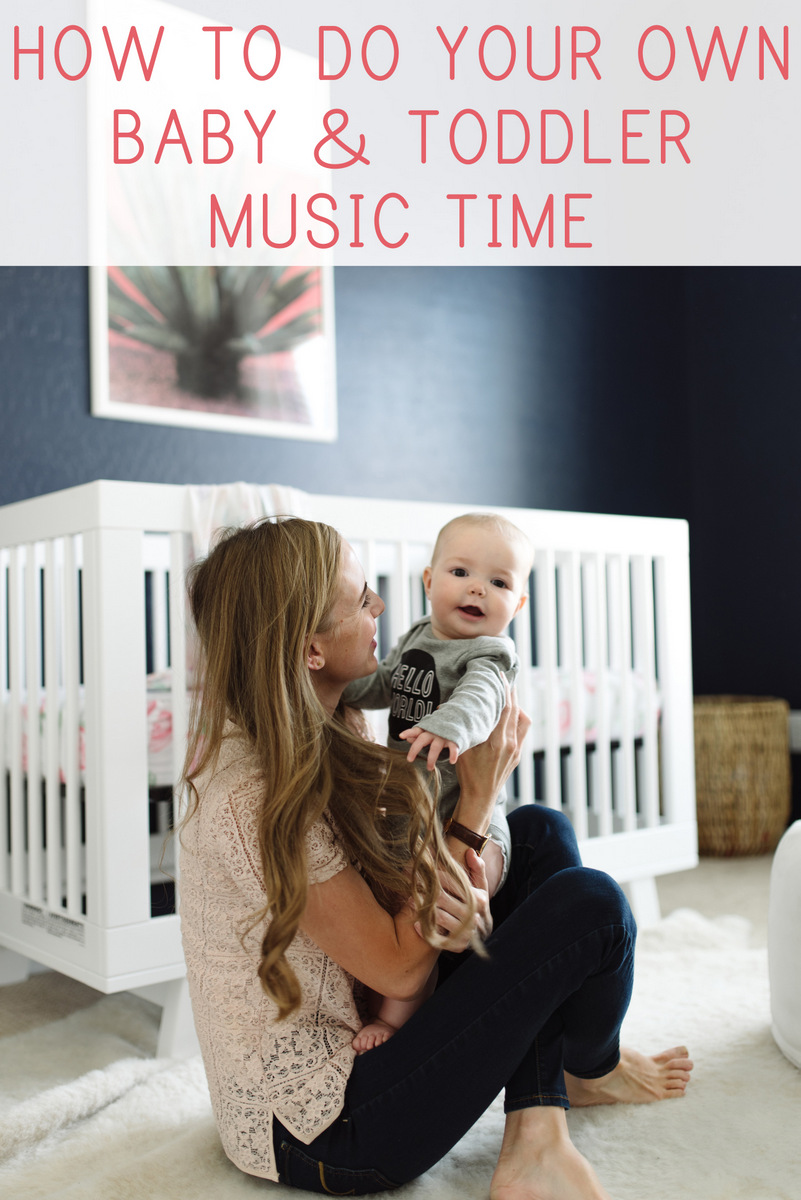 We have our toddler music group in our family room with a blanket spread out in the middle for everyone to sit on/around.
So set-up? Easy peasy.
The previous toddler music group did the exact same toddler songs line-up every time, which Ella loved but some of the older children seemed to get a little restless after a couple of weeks of the same baby songs on repeat.
In our toddler music group, we do about 80% of the same baby songs each week, with a new 20% of songs in the middle each time.
Sometimes they are holiday-themed or songs around a theme like "jungle animals" or "counting songs", and sometimes I ask other moms to volunteer to prepare the new songs with any necessary props.
Here are the consistent toddler songs I'm doing.
With 20 baby songs, plus transition time,  that's about 35 minutes or so of total time, with 5-10 minutes for the new toddler songs in the middle each time:
20 favorite toddler songs
Hello Song – Everyone sits in a circle and you go around to each child one at at time, calling them by name and having them stand at the appropriate time (the song starts at about 0:26 on the link. We'll do it a capella).
What I'm Wearing – Another a capella song where every child, in turn, points out one item they are wearing, "Ella is wearing a white shirt, white shirt, white shirt, Ella is wearing a white shirt all day long."
I Love Colors – You can put paint chips on a ring in the four colors or use Uno cards to hold up when the appropriate color is being sung about in this upbeat baby song.
If You're Happy and You Know It – Sometimes we do this one to music and sometimes we do our own so we can vary the actions.
Old McDonald Had a Farm – If you have stuffed animals or a little barn, let each child pick an animal and then put it back in the barn while you sing the verse of this classic toddler song.
Slippery Fish – A great little action song, where you use your hands to make versions of every animal mentioned. This is probably my all-time favorite baby song.
Ring Around the Rosie – You all know this one, right?
Ribbon Dancing – Just pick a two or three minutes wordless song and let it play while the kids dance around with ribbons.
The Alphabet Song – I set up our alphabet cards and let the kids who are old enough point to them as we sing the alphabet song. With younger ones, give a card to hold and march with.
I'm a Little Teapot – A classic. Nice easy actions and no props.
The Wheels on the Bus – All the kids sit in the middle of the blanket (or a parachute if you have one) and then the parents each hold a part of the edge and walk in a circle so the kids turn around. You can make the blanket jostle (the people on the bus go up and down) or go back and forth (like windshield wipers) or bring the sides up and down (like the doors) as appropriate to the lyrics.
Willoughby-Wallaby-Woo – Each child has a chance to do two or three lines putting a stuffed animal on the appropriate person or object. I do this one without the toddler music so we can put in our own names, but it's helpful to listen a few times if you don't know this baby song already.
The Itsy-Bitsy Spider – You know this toddler song, right? A quick little action song.
The Noble Duke of York – Every mom holds their babies on their knees and lifts them up and down and side to side as the lyrics suggest.
Where is Thumbkin? – A fun classic finger play song.
Head Shoulders Knees and Toes – Do this 3-4 times, getting progressively speedier.
Shake Your Sillies Out  – One last wiggly, jumping, energetic song.
Row-Row-Row Your Boat – Older kids can walk around rowing their own boats, while younger kids can "sit in the boat" on their parent's lap. Active but a little quiet.
Open Shut Them – A sitting song, with some actions to start winding down.
Twinkle Twinkle Little Star – A quiet ending where everyone lies down with closed eyes.
I own CDs with pretty much every song on this list, so I made a play list with them in order so I can just move quickly from one to the next on my computer.
The former toddler music group leader had all her songs on her laptop and did the same thing.
It's also nice to make a chalkboard or poster board with all the songs in order so the parents can see which baby songs are coming up next!
Any other questions or suggestions for running a toddler music group or favorite toddler songs? I'd love to hear!
If you liked this post about toddler songs and running a toddler music group, you might enjoy these posts too: