When I wrote a post last year about the family traditions we do throughout the entire year, I mentioned that one reason I love traditions is that I don't have to reinvent the wheel every time a holiday rolls around.
Maybe eight or nine years ago, we decided that crepes would be our Easter tradition and that every year we'd have an Easter brunch using this crepe recipe and then a whole host of filling options, both sweet and savory.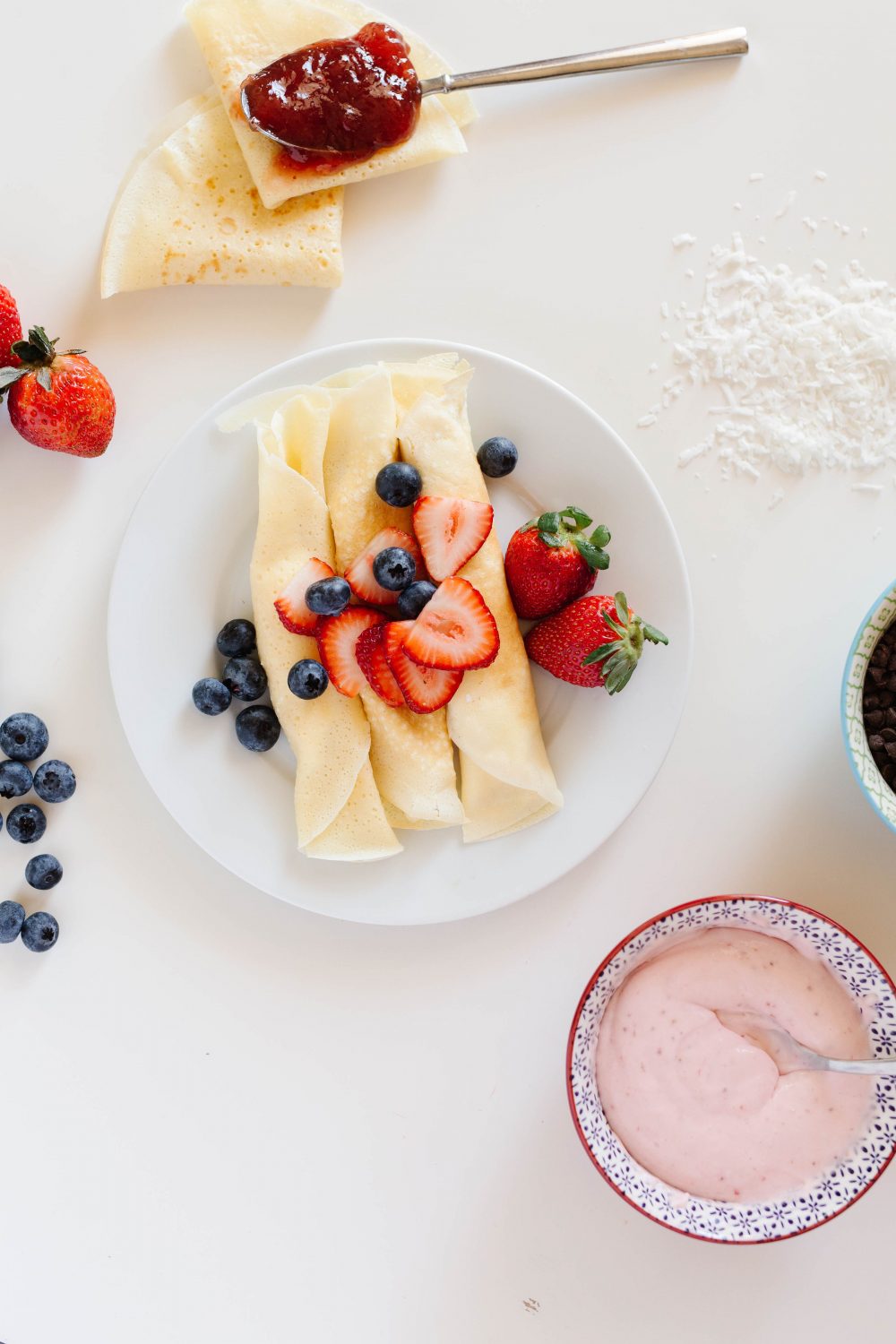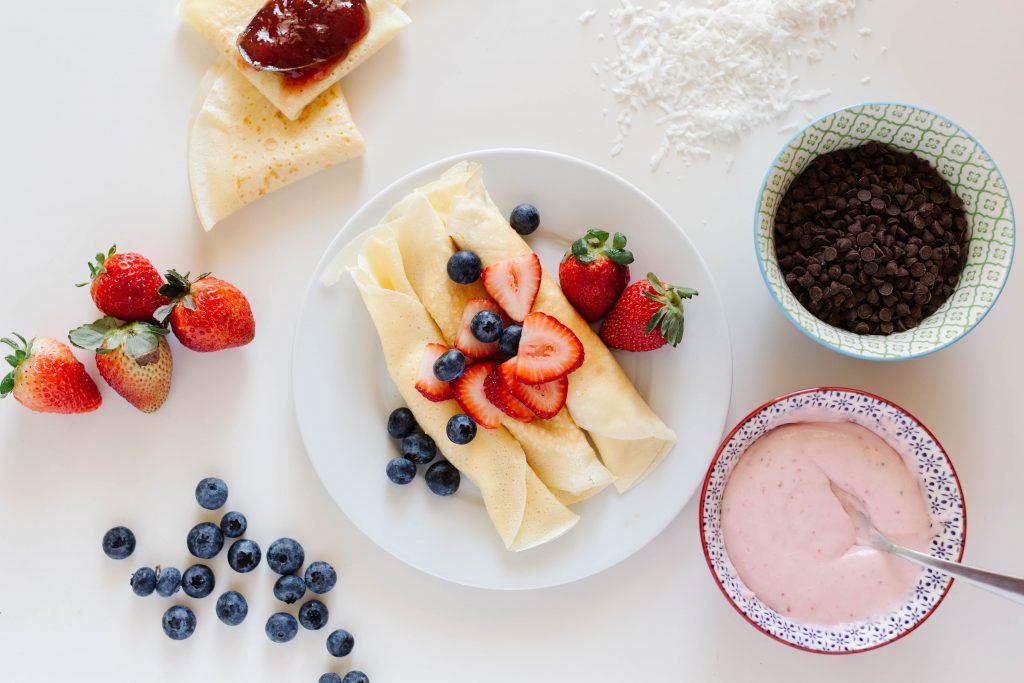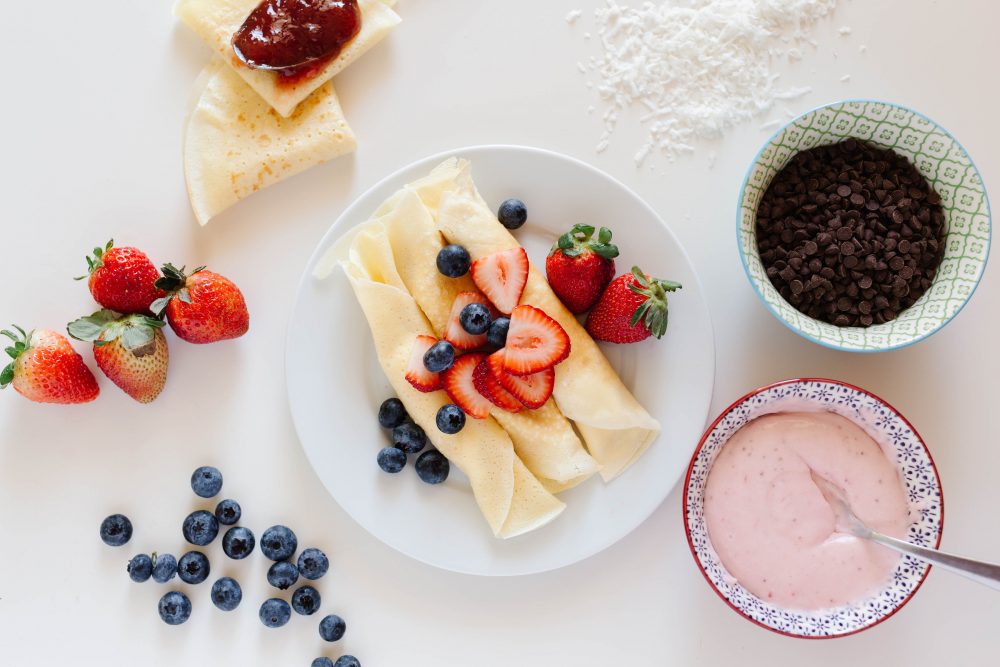 I got this crepe recipe from my sister, Landen, but instead of whisking it by hand for 10 minutes, I just dump all the ingredients in the blender and let it run for a minute or so. WAY easier and I've never noticed any difference (except for a lack of wrist pain).
I also don't think you need to refrigerate it, although you're welcome to if you're so inclined! It's an easy recipe to make the batter ahead and then just store in the fridge for up to 24 hours (covered) before you actually cook them.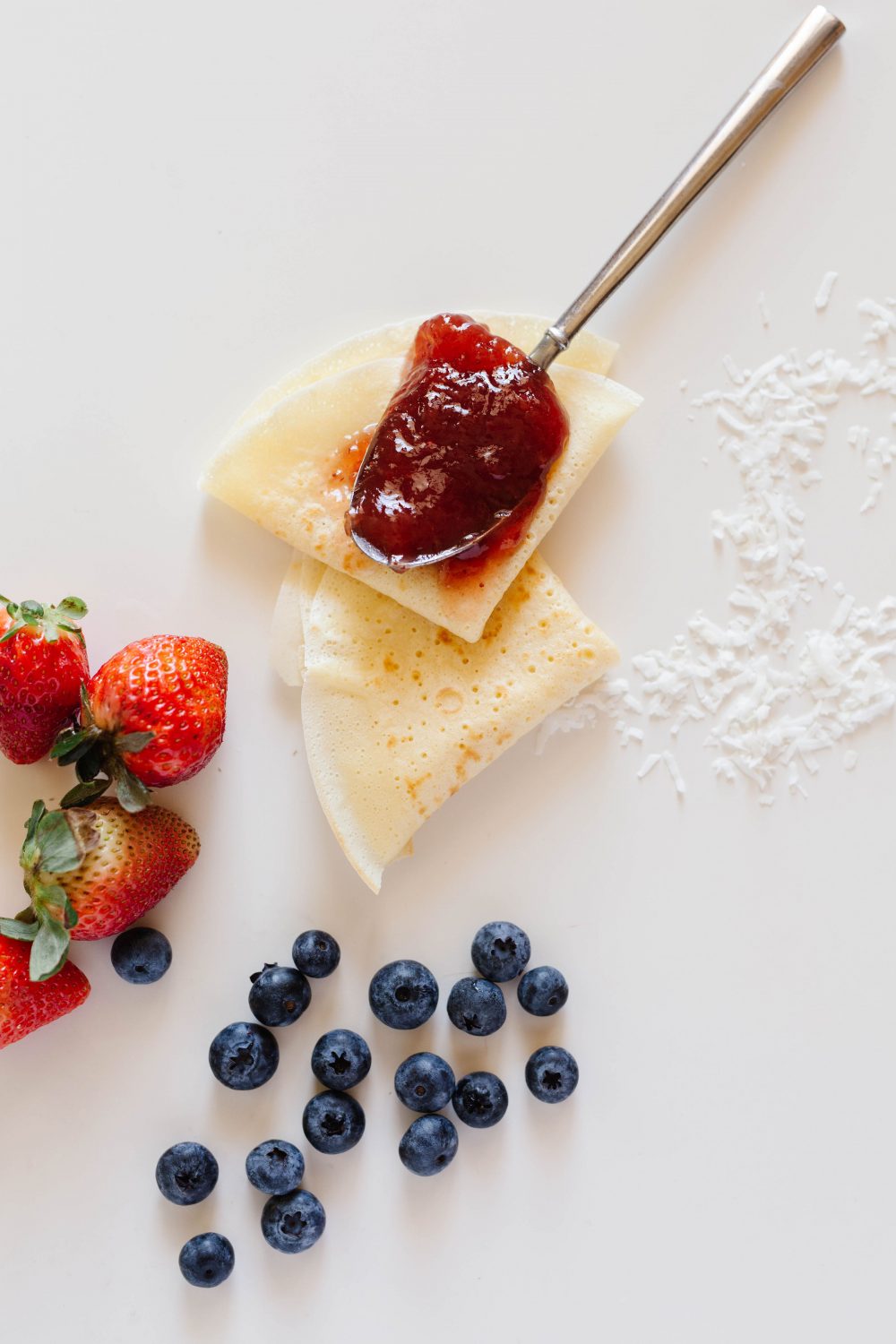 Also, I highly recommend a crepe maker.
I'm not a big fan of single use appliances, but . . . I love my crepe maker.
I obtained said crepe maker when we moved to North Carolina in 2013 and I texted a new friend to tell her I was taking a big load of things to Goodwill and that I'd be happy to take any of her freshly unpacked items. When I picked up a box of things from her, she said I was welcome to keep anything I wanted.
Well, when I saw a crepe maker in the box, it took me two seconds to decide I clearly needed a crepe maker in my life and I've been making good use of it a few times a year ever since.
They're not that big and it's been worth every inch of box and cupboard space in the four homes we've lived in since I got it.
And once you make your crepes, it's time for the fun part – filling up those crepes with delicious toppings!
Some of our favorite toppings for crepes include:
Whipped cream
Fresh berries
Sliced bananas
Fudge sauce
Pesto
Turkey
Honey mustard
One good tip for making amazing crepes at home? Google a crepe restaurant and look at their menu to see what combinations they're doing and pick a few to copy! Here's a crepe menu from our local crepery and another menu from an Austin crepe place.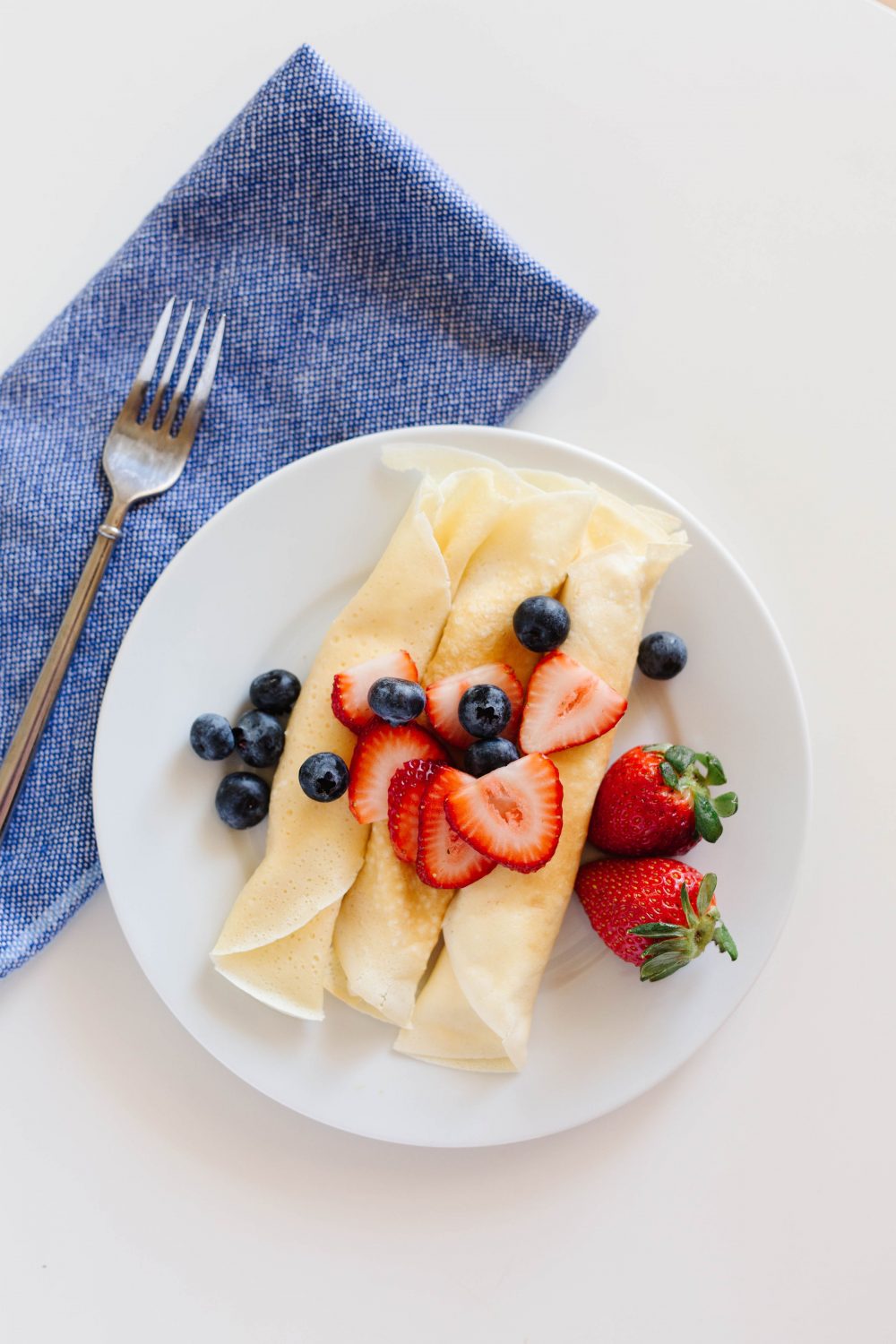 My Favorite Crepe Recipe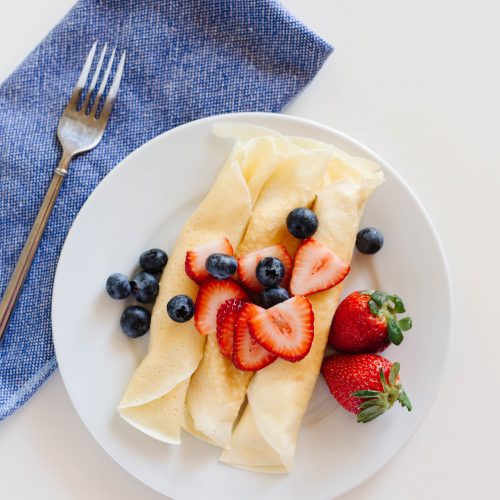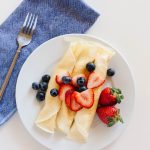 Easy Crepe Recipe
This crepe recipe is super simple to make (just pour everything in the blender!) and taste DELICIOUS.
Ingredients
1 2/3

cup

milk

1/2

cup

water

2

eggs

2

cups

flour

1

tsp

granulated sugar

1/8

tsp

salt
Instructions
Add all ingredients to a blender and blend on medium speed for 30-60 seconds, until the mixture is very smooth.

Pour the crepe batter into the included dish or a shallow pie pan. Let it sit for a few minutes so the air bubbles mostly dissipate.

Place the hot surface of the crepe maker gently into the batter and then flip it right side up and let cook for 45-60 seconds, until the crepe starts to lift on the edges.

With a thin-edged spatula, remove the crepe and flip it over so the other side can cook, 30 seconds or so.

Remove crepe and repeat until batter is gone.
If you liked this crepe recipe, you might like these recipes too: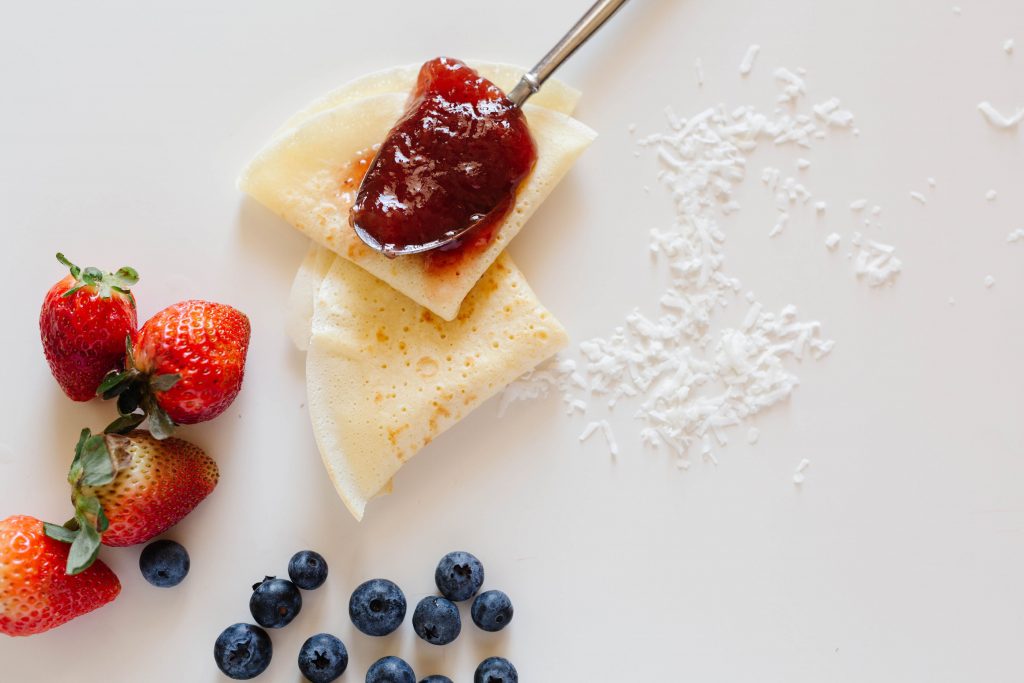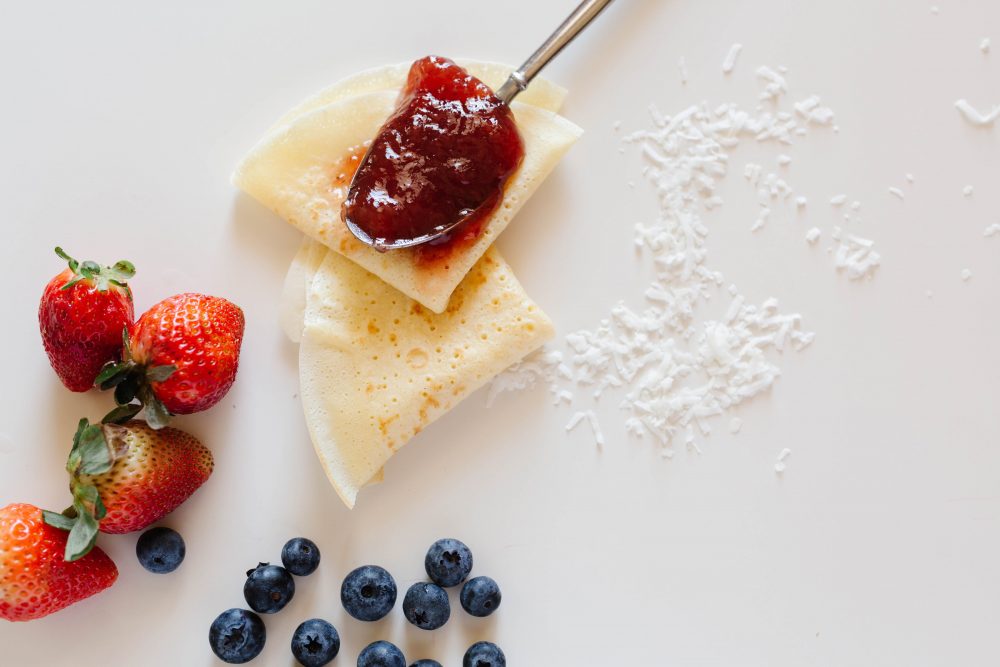 Photos by Heather Mildenstein