I love a good audiobook.
But a full cast audiobook?
That's something special!
I asked a few months ago for recommendations for the best full cast audio productions and there were SO MANY good ones!
Here are some of my favorites to get you started!
(FYI: I'm counting anything with more than one narrator as full cast)
The Best Full Cast Audiobooks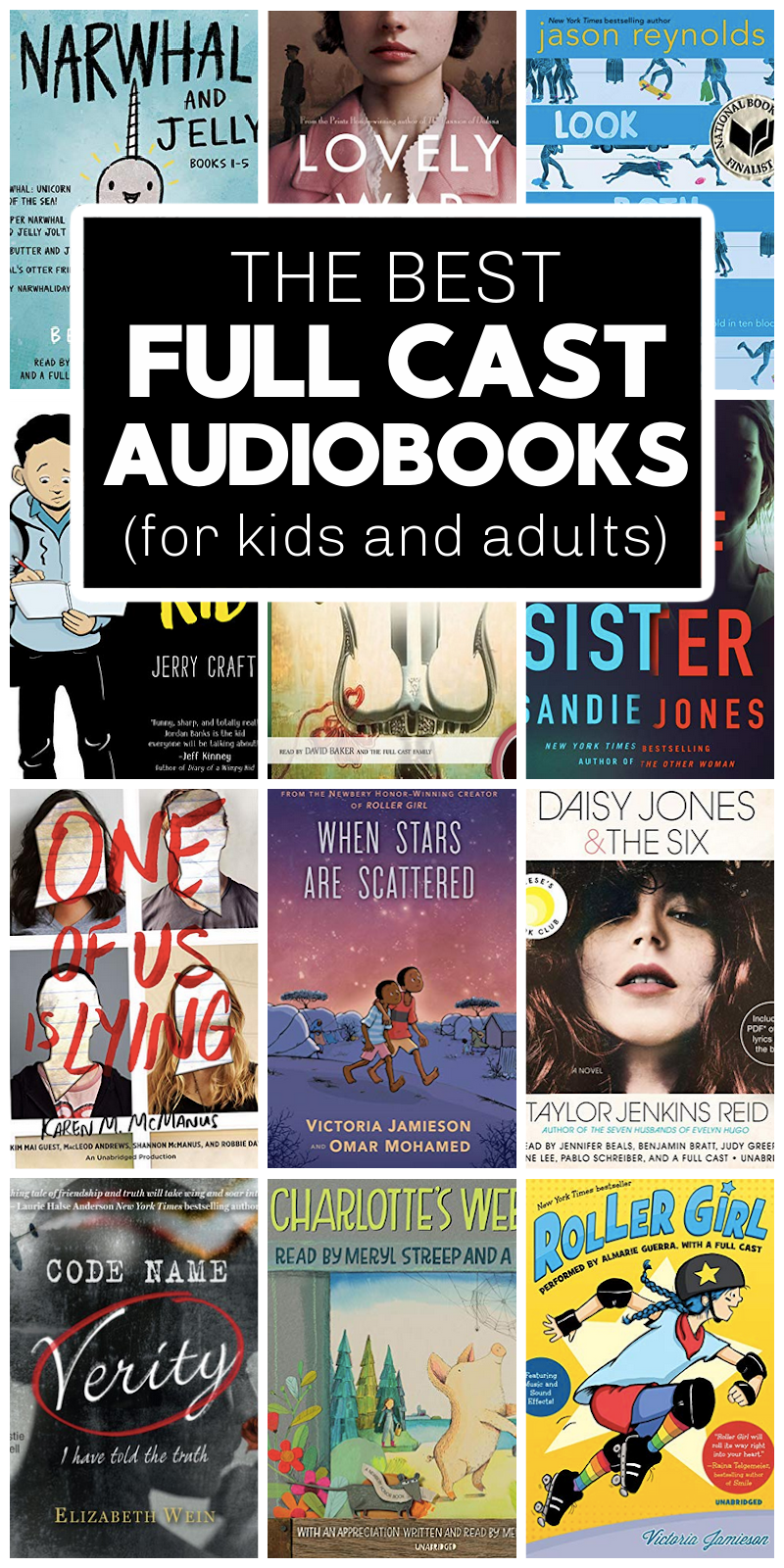 FOR CHILDREN:
Narwhal and Jelly by Ben Clanton
Listening time: 1 hour
I have pretty much never written an entire dedicated blog post to a children's audiobook, but this one was so good that I couldn't resist. This one is SO fun with music and sea creature facts and funny stories – my girls have listened to it non-stop for a year! (Full review here)
Miracles on Maple Hill by Cynthia Bishop
Listening Time: 4.5 hours
I listened to this sweet Newbery winner more than a decade ago and absolutely loved it. Marly's dad has just returned home after being a prisoner of war and he's very changed. Hoping to help him recover, the family goes to Maple Hill, the home of Marly's great-grandmother. So tender and charming.
New Kid by Jerry Craft
Listening Time: 2 hours
I just listened to this one last week (plus the companion book, Class Act) and they're so fun – it's delightful to listen to Jordan's family plus the whole crew of school kids come to life with different voices!
Puss in Boots by Neil Fishman and Harvey Edelman
Listening time: 2.5 hours
You know Jim Dale? Of course you do – he's the narrator that made the Harry Potter books some of the most beloved audiobooks in the world. If you love him, you will love this full-cast production he heads up of this famous fairy tale.
By the Great Horn Spoon by Sid Fleischman
Listening Time: 4.5 hours
We listened to this Gold Rush story on a family road trip and every last one of us – from my four year old to my husband was INTO it.
Riley Mack by Chris Grabenstein
Listening Time: 4 hours
You probably know Chris Grabenstein from his wildly popular Mr. Lemoncello series, but this title is a perfect genre mash-up of mystery, comedy and crime caper. It's included in Audible Plus, so Ella listened to this one at night before bed and she loved this story of Riley Mack who takes the lead from his father – a soldier stationed abroad – to protect those needing help. He's out to thwart the town bullies, including the dishonest chief of police!
Princess Academy by Shannon Hale
Listening Time: 7.5 hours
I've listened to this one multiple times and I never get over how GREAT the production is of this one (my girls loved it too) about a remote mountain town that becomes host to a competition to choose the next Princess who is prophesied to come from this town. (Full review here) 
The Goose Girl by Shannon Hale
Listening Time: 10 hours
This was the June 2020 book for the Everyday Reading Book Club and a PERFECT pick for the whole family to listen to. It's a full-cast audio performance and our whole family loves Shannon Hale's writing. All four books in the series are TERRIFIC. (Full review here)
Redwall by Brian Jacques
Listening Time: 10.5 hours
I grew up on this series (I read some of them at least ten times!) and I was so delighted to discover that they're full-cast audio productions. For your fantasy and animal lovers, these are unbeatable!
When Stars are Scattered by Victoria Jamieson
Listening Time: 3.5 hours
You might think a graphic novel is really best enjoyed when you can see the . . . you know, graphics. But the audio version of this stunning book is out to prove you wrong with a full-cast narration that brings this true story of a young boy living in a refuge camp in Kenya, caring for his non-verbal younger brother and trying to attend school to life in the most stunning way. In fact, people who have listened to this audiobook tell me they feel sorry for people who read it on paper instead of getting to experience the audio version. This is a terrific one for both children (probably about 8+) and adults!
Roller Girl by Victoria Jamieson
Listening Time: 2.5 hours
After reading When Stars are Scattered, there was no way I could pass up listening to this one which scored a Newbery Honor! Astrid falls in love with roller derby and decides to go to derby camp over the summer, while her best friend Nicole – uninterested in  roller derby – heads off for dance camp. It's a huge change for Astrid who has spent her whole life doing things with Nicole.
Winnie the Pooh by A.A. Milne
Listening Time: 4.5 hours
This star-studded audio cast brings one of the most beloved childhood tales of all time to life in the sweetest way. This one is not to be missed.
Look Both Ways by Jason Reynolds
Listening Time: 4 hours
You never know what might happen on the walk home from school. In this full cast audio production, superstar author Jason Reynolds tells ten tales (one per block) about ten different walks home that all intertwine in funny and touching ways.
Echo by Pam Mūnoz Ryan
Listening Time: 10.5 hours
This is one of the books where I feel deeply sorry for anyone who read this book on paper instead of listening. It's just SO tremendously well done with the musical accompaniment really bringing the magic of this book to life.
The Flying Flamingo Sisters by Carrie Seim
Listening Time: 2 hours
This Audible Plus title is performed as a 1930s radio drama, with a full cast and original music. The Flamingo Sisters live with their evil Uncle Freidrich, but when their pilot parents go missing over the ocean, the three girls run away to join the flying circus. Until they discover a map that might lead them a family fortune.  Assuming they can outsmart their uncle who also wants the treasure!
A Series of Unfortunate Events by Lemony Snicket
Listening Time: 2.5 hours
This wildly popular series is even more hilarious when it comes to life as a full cast audiobook – just be warned that when you listen to the first, you'll probably have no choice but to listen to them all.
Charlotte's Web by E.B. White and Melissa Sweet
Listening Time: 4 hours
If you've wondered if this classic could get any better, try adding a full cast lead by Meryl Streep. . . you'll be blown away!
Dealing with Dragons by Patricia C. Wrede
Listening Time: 5 hours
Princess Cimerone is terribly bored. Being a princess is bad enough. Being the SEVENTH daughter in a royal family is worse. Naturally, there is nothing to do but run away from home and face a dangerous dragon. Because dangerous is better than boring.
FOR ADULTS:
Call Me Maybe by Car Bastone
Listening Time: 6 hours
Told in alternating points of view, Vera has spent the last three hours on hold with customer service trying to get her website ready to launch her new business. Kal is the guy who finally picks up and thinks he can help her. As they spend hours together on the phone. . . it's possible that her website won't be the only thing that launches. This one is an Audible Original, meaning it's only available from Audible – if you're an Audible Member, it's included free with your membership (and you can sign up for a free month trial here!) AND there is a sequel, Sweet Talk, which is also free with an Audible membership.
Lovely War by Julie Berry
Listening Time:13 hours
I mean, if you haven't read this book already, I'm probably falling down on my job here, but truly. THIS is the time to pick up a copy. The story takes place during World War I and follows four main characters. Even more fun? The story is framed by several Greek gods who are in a tiff of their own during World War II. I know it sounds weird, but trust me, it works. It's in the top 10 books I've ever read. The audio version is STUNNING.
Graceling by Kristin Cashore
Listening Time: 12.5 hours
I'm usually not even super into fantasy, but this one was REALLY fun, where certain people, called Gracelings, have a specific special power. I gobbled this one up (and I think the prequel, Fire, is even better!).
As You Wish by Cary Elwes and Joe Layden
Listening Time: 7 hours
If you're a fan of The Princess Bride (and who isn't?), this book is a must-read. Written by the actor who played Wesley, there are so many great stories about the making of the movie and the actors and crew, and it made me love this movie even more than I did before. Request a copy of the movie at the same time as the book, because you'll definitely want to watch it when it's over. And the audiobook is read by most of the original cast, so you'll love hearing their familiar voices telling their own stories.
Last Christmas in Paris by Hazel Graynor and Heather Webb
Listening Time: 8 hours
I was SO INTO this book. It's set in WWI and is written entirely in letters (a format I don't normally go for). Evie's brother and his best friend are headed off to the front, but like most people, they assume the war will be over by Christmas and they have grand plans to spend it together in Paris. Of course, it doesn't go that way. IThe narration is so good.
An American Marriage by Tayari Jones
Listening Time: 9 hours
This heartbreaking, gripping story about a marriage torn apart when Roy is accused of a crime he didn't commit and sentenced to 12 years in prison. The three narrators – Roy, his wife Celestial, and Andre – the best man at the wedding – bring this incredible story to life.
The Half Sister by Sandie Jones
Listening Time:10 hours
Told in alternating points of view (with a separate narrator for each sister), Kate and Lauren are sisters who are very close and come from a tightly-knit family that's been rocked by the recent death of their father. But things start unraveling fast when a young woman shows up at a family dinner claiming to be their half sister. And she has the DNA test to prove it. As the sisters try to track down the truth, it becomes clear that MANY members of the family are keeping secrets. This story keeps twisting and turning and the end completely surprised me!
One of Us is Lying by Karen M. McManus
Listening Time: 10.5 hours
This young adult novel is about five students who get stuck in detention together and one of them dies. The one who dies ran a gossip site about his classmates at the school and the other four were all scheduled to have stories about them go up the following day. Which means all of them had motive. Five narrators REALLY make this fun.
Daisy Jones and the Six by Taylor Jenkins Reid
Listening Time: 9 hours
Within 10 minutes of turning on the audiobook, I was ALL IN and basically started running at night just so I could listen to another 30 minutes. It's the story of a rock music in the seventies, and it's hard to remember that it's a novel, not non-fiction. It feels THAT real.It's told through interviews with Daisy and Billy and other members of the band, family members and friends. It could be wildly confusing, but somehow it just WORKS. And the audio version is incredible.
The Guernsey Literary and Potato Peel Pie Society by Mary Ann Shaffer and Annie Barrows
Listening Time: 8 hours
This epistolary novel (all written in letters) is a delightful WWII novel and the full cast really brings it to life because all of the characters are SUCH big parts of the story! (Full review here)
Code Name Verity by Elizabeth Wein
Listening Time: 10 hours
It's sometimes easy to feel a little bit of World War II book fatigue, but this one is so different from any kind of WWII book I've read that I hope you'll give it a chance. Code Name Verity is about two girls, both working for the British Airforce during the war, one as a pilot and one as a spy. And the book opens with the spy being captured by the Nazis and revealing the secrets of her mission and the pilot's death in a plane crash. This book has so many twists and turns that I don't like to give more than that away – just plug in your headphones and let the story whisk you away. And the two narrators? Fabulous.
And if you'd like a printable copy of this list that you can take to your library or screenshot on your phone for easy access, just pop in your email address below and it'll come right to your inbox!
If you liked this post about full cast audiobooks, you might like these posts too: