I've always had a special bit of contempt for ABC books (this makes me sound like a horrible person). I feel like so many of them are thrown together, make no sense, or have WAY too much text for an age group that has legitimate interest in ABCs.
Happily, over the last two years, I've discovered several ABC books that not only don't make me want to die of embarrassment, but also are downright enjoyable.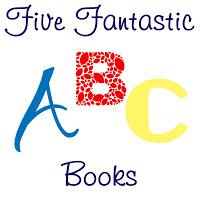 A Long Piece of String –
This is a book from the sixties that just got reprinted a couple of
years ago. There are no words, just white and orange images and a long
black piece of string that winds through the pages, connecting each item
(which each start with the correct letter of the alphabet). Ella loves to name the objects and animals as we read through it.  
LMNO Peas – This was a book I discovered on last year's 2×2 list and we have rechecked it out more times than I can count. It rhymes, which sometimes is horrible, but in this case is clever and snappy, and each page has a ladybug hidden on it which makes this Ella's favorite book to read.
A Zeal of Zebras – I mentioned this one in my picture book gift guide
last year, but it has remained a favorite. Ella loves to find the
letters "hidden" in each picture and she also likes to sing the alphabet
song and point to each letter on the back cover.
Backseat A-B-See
– This one is fairly new and I loved it from the moment I opened it up.
Each page features a road sign and a large simple font letter. The
background of each page is shiny black, with road markings down the
center of the book. Ella loves this book and the many times we've read
it has definitely improved her letter recognition. This is one I'd give
as a baby shower gift in a heartbeat, especially to boys (although
clearly, the girls love it too, if our house is any indication).
Alphabeasties and Other Amazing Types – I stumbled on this because of Cybils
last year (the authors had written a new book that was nominated, and I
went back and looked up their other stuff) and good heavens, I fell in
love with this one. It is just SO ridiculously cool. Each page has an
animal that's name starts with the appropriate alphabet letter and the
animal is made entirely OUT of that letter (in different fonts). And
then in the sidebars, they use different font versions of that letter to
make other animals or objects (like a Z zipper pull or an owl made from
a short squat O). If you know someone interested in design or fonts,
this is a surefire winner.