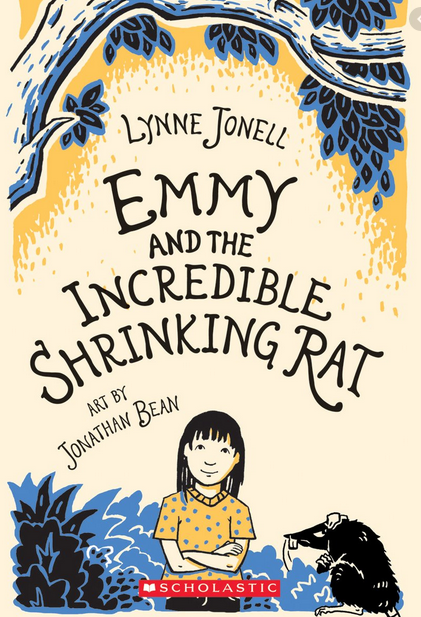 9 of 10: Emmy and the Incredible Shrinking Rat is just the kind of book I'll be recommending to the kids at my elementary school. Funny, magical, clever – I loved every page of it. This is another book from the Massachusetts Children's Book Award list, and I think it's my favorite of the bunch so far. 


A number of people emailed me this Christmas asking for book recommendations for upper-elementary/early middle school readers. I wish I'd read this book then, as I would have been promoting it like mad.
emmy and the incredible shrinking rat by lynne jonell
Emmy tries very hard to be good – she does all her schoolwork, eats her vegetables, doesn't complain, and attends her numerous after school activities. This good behavior is an attempt to win her parents' affection or at least their notice, but so far it has been in vain.
It wasn't always like this. Emmy and her parents used to run a little bookstore, living above the shop, enjoying a cozy, if somewhat poor, life together. And then, unexpectedly, an unknown great-uncle died, leaving a great fortune to Emmy's parents.The family moved into the great-uncle's now-empty mansion, which meant Emmy now attends a new school, where she has no friends and no one seems to even notice her. Despite her good grades, the teacher can't even remember her name.
Worst of all, her parents now seem far more interested in traveling the world than staying home with Emmy, who is left behind for weeks at a time with the somewhat horrible nanny, Miss Barmy.
The only positive thing in Emmy's life, frankly, is the rat in the classroom, who suddenly is able to talk to her (even if he is quite rude).
A talking rat is only the beginning for Emmy, though, as she suddenly discovers that there is far more magic than she might have guessed in the world around her, and, worse that someone is out to ruin her life.
Emmy and the Incredible Shrinking Rat had a bit of the same thrill that Harry Potter had for me, upon reading the first book. The discovery of magic in an otherwise ordinary and dull world was just as exciting for me as it was for Emmy – I loved the clever things that she discovered, the funny and amusing ways things played out, and the diabolic plot that Emmy starts to uncover.
The characters in this book are so well-fleshed out – you love the good guys and love loathing the bad guys even more. This really is an almost perfect novel.
One other clever thing about Emmy and the Incredible Shrinking Rat that I did not catch until I was about halfway through is that if you rifle through the pages quickly, the drawings on the edge of the page act as a flip book. This amusing little touch completely won me over.
Really, I can't say enough good things about this book – I can't wait to read it aloud to my classes this next week; I think they'll love it too!