Once a year, Audible has a big sale on all their titles (as far as I can tell, literally every title in their collection is on sale).
If you're looking to bulk up your audiobook collection, there isn't a better time to buy than now.
Here's what you need to know about the sale.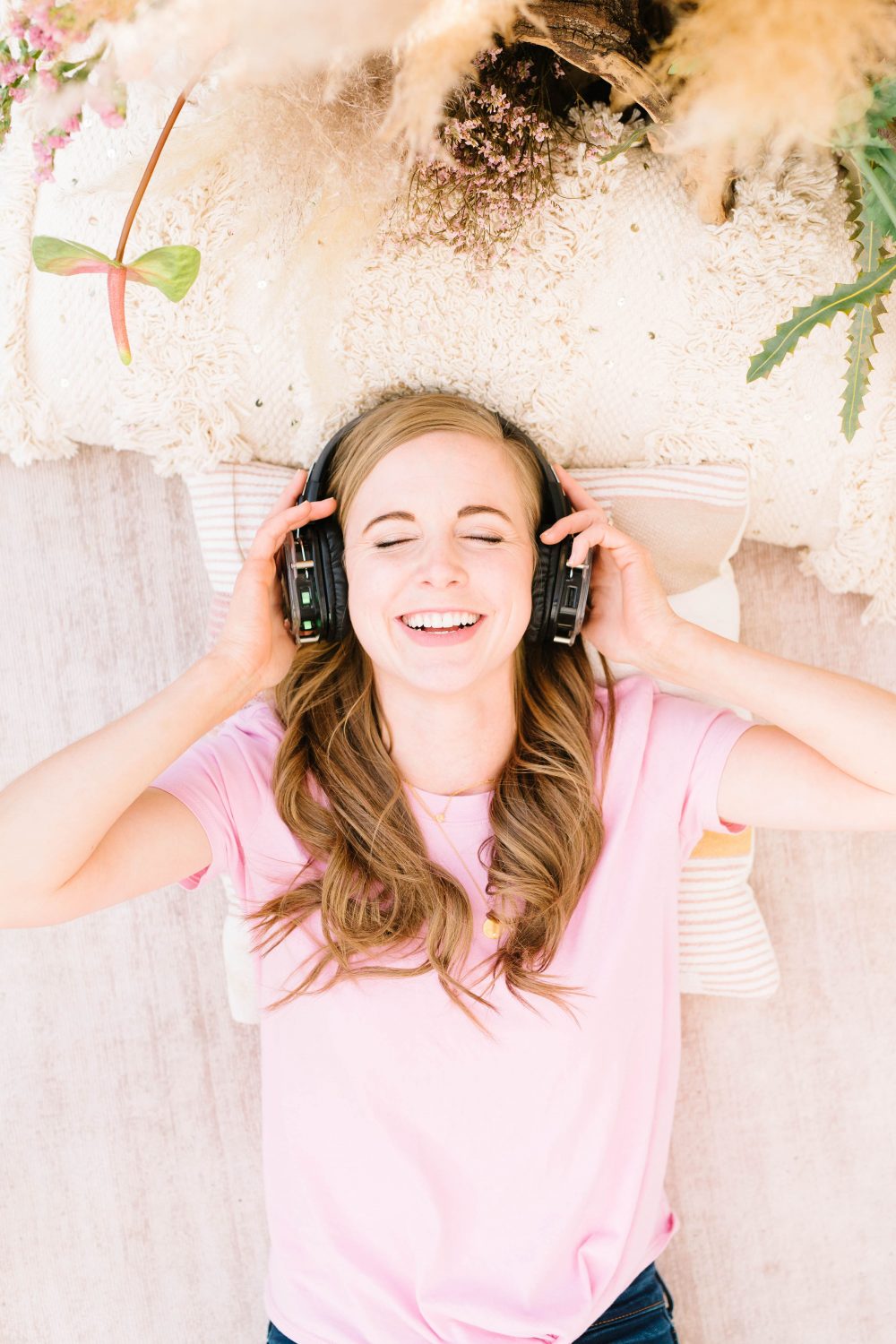 You need to be an Audible Premium Plus subscriber to access the sale prices. If you haven't taken advantage of the Audible Prime Day deal ($6.95/month for four months), this is a TERRIFIC time to sign up. Or you can do a free one month trial here.
The sale ends TONIGHT! Do not wait if you want to snatch up some titles – they'll all go back up at midnight tonight!
Calculate how much your Audible credits cost to decide if a sale price is good enough to be worth it. The most expensive that a monthly credit ever is, is $14.95, so anything under that price is better than using a credit. Anything more than that is probably not worth buying outright.
You'll need to purchase the sale titles either on Amazon or on the Audible.com site. If you are on an iPhone, you won't be able to make purchases within the app unless you're spending credits. If you're on an Android device, you likely will be able to purchase within the app. If you're on Amazon, it's going to default to wanting you to spend a credit, but if you scroll down just a bit, you'll see the option to buy with cash instead. It looks like this:


Anyway, with those things out of the way, here are some of the titles I'm excited about (but truly – take a look at any audiobook you've been eyeing and see if it's on sale!).
The Best Audiobooks in Audible's Annual Sale
Frog and Toad Audio Collection by Arnold Lobel – $6.84
1 hour and 29 minutes
How can you not love these amphibian friends? I bought this audio set during a previous Audible sale a couple of years ago and I'm pretty sure Star listened to it every day during quiet time her entire pre-K year. This collection is perfect for a beginning listener.
The Eloise Audio Collection by Kay Thompson – $5.24
2 hours and 5 minutes
Just when you think Eloise can't be any more epic, they bring in Bernadette Peters to narrate this collection of stories.
Zoey and Sassafras Collection Books 1-6 by Asia Citro – $10.48
6 hours and 11 minutes
We discovered Zoey and Sassafras when there was only an audio version for the first book, so I'm SO happy to see that not only are there audio versions for more of the series but that you can get the first six of them as a single purchase. This magical/science series for young readers is SO good.
Ralph S. Mouse Audio Collection by Beverly Cleary – $5.13
6 hours and 40 minutes
I love all things Beverly Clearly and this three book collection about a little mouse who rides a toy motorcycle is DELIGHTFUL. My girls have listened to the whole series on repeat for years.
Felicity: An American Girl by Valerie Tripp – $4.20
6 hours and 27 minutes
I LOVED the American Girl books growing up and I love seeing the collections available for such a low price (most of the collections are discounted right now for under $8!)
Clementine, Friend of the Week by Sara Pennypacker – $2.73
1 hour and 56 minutes
This upbeat series is so fun for little listeners and they're all under $8 (with some as low as $3!).
The Never Girls Audio Collection by Kiki Thorpe – $6.51
8 hours and 6 minutes
My girls have listened to this series a bazillion times in the last few years. It's a series by Disney about four best friends who get whisked off to Never Land with Tinkerbell and her fairy friends. This collection includes the first six books and Volume 2 contains books 7 – 12 for $5.98.
The Candy Shop War by Brandon Mull – $2.44
10 hours and 26 minutes
My girls listened to this non-stop from the library a few months ago and this price means we can own it ourselves now! Fablehaven – his most popular series – is also on sale for under $7.
Miracles on Maple Hill by Cynthia Bishop – $6.99
4 hours and 41 minutes
I listened to this sweet Newbery winner more than a decade ago and absolutely loved it. So tender and charming.
The One and Only Ivan by Katherine Applegate – $5.13
3 hours and 46 minutes
I read this one the year it won the Newbery and then we listened to it together a few years later. My girls were ENTRANCED. (Full review here)
Ways to Make Sunshine by Renée Watson – $8.62
2 hours and 51 minutes
I read this aloud to my girls last summer and we all loved this story that felt like a Ramona Quimby book in the best possible way. (The sequel, How to Grow Love, is also on sale for the same price).
Gooney the Fabulous by Lois Lowry – $2.95
2 hours and 4 minutes
This was one of the first audiobooks Ella listened to when she started getting into them as a four year old. The whole seris is delightful.
Wayside School Gets a Little Stranger by Louis Sachar – $6.30
2 hours and 55 minutes
When these books were on Scribd, my girls listened to them on repeat. They're totally wacky and the stories are weirdly memorable. I mentioned it to my brother last week and he pulled details of several of the stories from his memory after having not read them for easily 15 years.
Ghost by Jason Reynolds – $7.08
3 hours and 29 minutes
This 2021 Summer Reading Guide pick is terrific (and the other three books in the series are also seriously discounted right now!).
The Adventures of Nanny Piggins by R.A. Spratt – $5.38
4 hours and 7 minutes
If Ella had to pick a favorite book, I'm pretty sure this is the one she'd choose. It was so funny that she requested I read it and then I promptly included it in the 2017 Summer Reading Guide. 
The Green Ember by S. D. Smith – $5.98
7 hours and 55 minutes
This is one of the few books on this list that I haven't read, but it's been raved about SO MANY TIMES that I had to mention it here.
From the Mixed-up Files of Mrs. Basil E. Frankweiler by E. L. Konigsburg – $7.96
3 hours and 45 minutes
The girls and I listened to this Newbery winner a few years ago and it absolutely BLEW me away.
Before the Ever After by Jacqueline Woodson – $8.75
2 hours and 14 minutes
This book – told from the point of view of a son watching his football star father struggling with concussions – is so touching and sobering. I really think this book is best in audio form!
I Survived the Destruction of Pompeii, A.D. 79 by Lauren Tarshis – $2.80
1 hour and 29 minutes
Ella is obsessed with this series and pretty much all of them are listed at under $3 through tonight! These are a great way to learn about major historical events!
A Single Shard by Linda Sue Park – $9.96
3 hours and 12 minutes
I've listened to this stunning Newbery winner twice (once on my own and once with my girls) and it is absolutely terrific. (Full review here)
Houdini and Me by Dan Gutman – $7.00
3 hours and 18 minutes
This was one of the most popular read-alouds for our family this year and I've heard RAVE reviews from other families since I included it on the 2021 Summer Reading Guide.
Skulduggery Pleasant by Derek Landy – $9.60
7 hours and 15 minutes
This audiobook was so terrific that after ten minutes of solo listening, I turned it off and then restarted when Bart was with me so we could enjoy it together. (Full review here)
Whatever After by Sarah Mlynowski – $6.12
3 hours and 20 minutes
My girls have listened to this fractured fairy tale series dozens of times over the past couple of years.
Midnight for Charlie Bone by Jenny Nimmo – $7.99
7 hours and 9 minutes
Ella blew through this whole fantasy series on audio while she did endless jigsaw puzzles in 2nd grade.
The Wednesday Wars by Gary D. Schmidt – $6.30
7 hours and 27 minutes
Oh my word. If you've been around for any length of time, you know how deeply obsessed I am with this book. (Full review here)
Bloody Jack by L. A. Meyer – $8.99
7 hours and 22 minutes
Katherine Kellgren is my all-time favorite audiobook narrator – she is just SO GOOD. I absolutely loved this whole ridiculous series. (Full review here)
All Thirteen: The Incredible Cave Rescue of the Thai Boys' Soccer Team by Christina Soontornvat – $10.14
4 hrs and 4 mins
Of all the books I hoped would be majorly discounted in this sale, All Thirteen is the title I was MOST excited to see. (Full review here)
The Anne of Green Gables Collection by L.M. Montgomery – $6.93
73 hours 
I was SO HAPPY to see this audiobook collection – it includes books 1 – 6 of the Anne of Green Gables series, including Anne of Green Gables, Anne of Avonlea, Anne of the Island, Anne's House of Dreams, Rainbow Valley, and Rilla of Ingleside. All the Anne with an E you could ever hope for.
The Downstairs Girl by Stacey Lee – $6.30
10 hours and 22 minutes
I LOVED this historical fiction book on a topic I knew nothing about – highly recommend! (Full review here)
Shadow and Bone by Leigh Bardugo – $5.98
9 hours and 21 minutes
If you watched the Netflix show and are ready to read the source material, this is your chance!
The Disreputable History of Frankie Landau-Banks by E. Lockhart – $6.29
6 hours and 9 minutes
This held a spot in my top ten for a LONG time – it's so fun and smart and interesting. (Full review here)
Finnikin of the Rock by Melina Marchetta – $9.00
12 hours and 22 minutes
I don't generally go in for fantasy but this one was staggeringly good. (Full review here)
Code Name Verity by Elizabeth Wein – $5.24
10 hours and 3 minutes
This is a WWII story like you've never heard before. I almost had to pull over when I was listening to this in the car because I was sobbing so hard. (Full review here)
Angus, Thongs, and Full-Frontal Snogging Confessions of Georgia Nicolson by Louise Rennison – $3.88
5 hours
This is the most ridiculous British YA series ever and also one of my favorite things I've ever listened to. (Full review here)
A Curse So Dark and Lonely by Brigid Kemmerer – $9.60
14 hours and 51 minutes
I LOVED this Beauty and the Beast retelling so much – this might have been my most recommended book last year! (Full review here)
On the Jellicoe Road by Melina Marchetta – $5.24
8 hours and 52 minutes
This Printz winning book is a little bit of a bet at the beginning when it all feels confusing, but it's SO GOOD and worth hanging on for.
Float Plan by Trish Doller – $9.44
7 hours and 18 minutes
I included this one on the 2021 Summer Reading Guide and I loved this chick lit book with some more substance!
Project Hail Mary by Andy Weir – $8.98
16 hours and 10 minutes
I loved this new book from the author of The Martian – it's clever and funny and fascinating.
Edenbrooke by Julianne Donaldson – $5.60
9 hours and 8 minutes
I read regency romance . . . never. But this one delighted me (and her other book, Blackmoore, is the same price!). (Full review here)
One True Loves by Taylor Jenkins Reid – $10.50
8 hours and 5 minutes
I've read all of Taylor Jenkins Reid's books and this one is my favorite – I stayed up WAY too late reading it and didn't regret it for a second.
The 7 ½ Deaths of Evelyn Hardcastle by Stuart Turton – $6.30
17 hours and 4 minutes
This is the October book for the Everyday Reading Book Club so I'm SUPER excited to see it for such a low price. Grab it now and listen along with us this fall!
Between Sisters by Kristin Hannah – $6.29
11 hours and 40 minutes
You probably know Kristin Hannah for her bestselling historical fiction but before that she was most well-known for her women's fiction. This is the perfect price point to try one of them out (and the reviews are stellar!)
The Good Sister by Sally Hepworth – $9.44
8 hours and 19 minutes
This is probably my favorite book on this year's Summer Reading Guide. It's just SO GOOD.
The Accidental Beauty Queen by Teri Wilson – $8.50
7 hours and 30 minutes
This was probably the most popular pick on my 2020 Summer Reading Guide Chick Lit category last year. It's DELIGHTFUL and 100% closed door.
The Forgotten Garden by Kate Morton – $6.00
20 hours and 39 minutes
You cannot go wrong with a Kate Morton book. Her mysteries always have a surprising twist at the end and are SO GRIPPING.
The Premonition: A Pandemic Story by Michael Lewis – $10.48
11 hours and 26 minutes
My gym instructor is a huge reader and suggested this book to me a few days ago, so I was STOKED to see it so discounted!
More Than Enough: How One Family Cultivated a More Abundant Life Through a Year of Practical Minimalism by Miranda Anderson – $4.48
4 hours and 22 minutes
I LOVED this smart, practical and kind look at what a minimalist life with kids and a dog and a house could really look like. I included this one on the 2019 Summer Reading Guide.
The Radium Girls: The Dark Story of America's Shining Women by Kate Moore – $8.98
15 hours and 52 minutes
This story was new to me but it's been recommended to me by SO many people!
Endurance: Shackleton's Incredible Voyage by Alfred Lansing – $7.48
10 hours and 20 minutes
If you need some great non-fiction, this story is mind-boggling. Perfect for a couples read!
Born a Crime: Stories from a South African Childhood by Trevor Noah – $7.48
8 hours and 44 minutes
Whenever I ask about really really great audio productions, this one gets mentioned at least one thousand times.
I Like Me Anyway: Embracing Imperfection, Connection & Christ by Brooke Romney – $4.48
3 hours and 37 minutes
I read this book last fall and absolutely LOVED it. Brooke is such a terrific writer and so warm and real. I only let myself read one chapter a day because I didn't want to blow through it too fast!
The New Jim Crow: Mass Incarceration in the Age of Colorblindness by Michelle Alexander – $9.45
16 hours and 57 minutes
This has been on my to-read list for YEARS (ever since I read Just Mercy) and I'm excited to finally listen!
Maybe You Should Talk to Someone: A Therapist, HER Therapist, and Our Lives Revealed by Lori Gottlieb – $10.48
14 hours and 21 minutes
I was GRIPPED by this book (and then promptly included it on the 2020 Summer Reading Guide). Do not miss this one.
As You Wish: Inconceivable Tales from the Making of The Princess Bride by Cary Elwes – $10.50
7 hours and 1 minute
If I had to recommend ONE audiobook, it might be this one. It's just SO fun and absolutely 10000x better on audio because most of the cast members tell their own stories.
And if you have questions about the Audible sale, please let me know – I'm happy to help!