This week Audible has a big sale going on (pretty much all their audiobooks are on sale right now!).
If you're looking to bulk up your audiobook collection, there isn't a better time to buy than now.
Here's what you need to know about the Audible sale.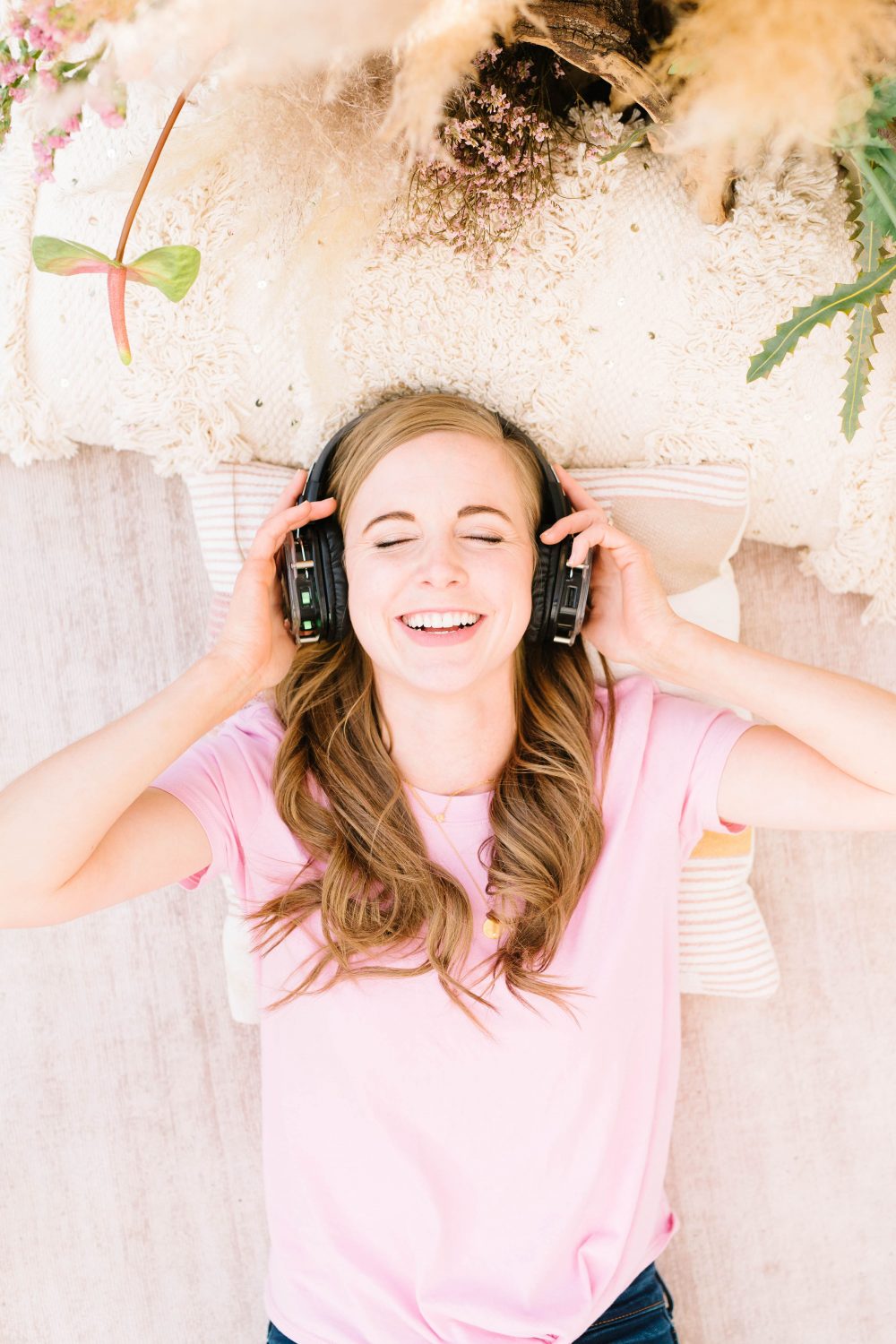 You need to be an Audible Premium Plus subscriber to access the sale prices. If you aren't a current member, you can sign up for a free one month trial here.
The sale ends Friday night! Do not wait if you want to snatch up some titles – they'll all go back up at midnight on Friday night!
Calculate how much your Audible credits cost to decide if a sale price is good enough to be worth it. The most expensive that a monthly credit ever is, is $14.95, so anything more than that is probably not worth buying outright. If you got an Audible deal, you might have credits that cost more like $10 each. I haven't included any titles on this list that are more than $7.
You'll need to purchase the sale titles either on Amazon or on the Audible.com site. If you are on an iPhone, you won't be able to make purchases within the app unless you're spending credits. If you're on an Android device, you likely will be able to purchase within the app. If you're on Amazon, it's going to default to wanting you to spend a credit, but if you scroll down just a bit, you'll see the option to buy with cash instead. It looks like this:


Anyway, with those things out of the way, here are some of the titles I'm excited about (but truly – take a look at any audiobook you've been eyeing and see if it's worth buying on sale).
The Best Audiobooks in Audible's Annual Sale
For Kids
Frindle by Andrew Clements – $4.15
1 hour 40 minutes
Andrew Clements is just a master of the school story, and this is his most popular one, about a boy who wants to get his whole school calling pens "frindles." Andrew Clements is just a MASTER of the short middle grade novel.

The Land of Stories: The Wishing Spell by Chris Colfer – $5.88
9 hours
I'm pretty sure I didn't see Ella for a month when she blazed through this entire series. Alex and Conner, sister-brother twins, open up a beloved book of stories only to find themselves sucked into the book. In a mysterious land where magic runs rampant, they find themselves interacting with fairy tale characters they've heard about all their lives. The real question is. . . can they ever get home?
The Mouse and the Motorcycle by Beverly Cleary – $4.65
2 hours 17 minutes
Have I mentioned before that I love Beverly Cleary? This one is just as good as any of her other books, but totally different, with a little mouse who meets a boy staying at his hotel and starts riding his toy motorcycle. This is the first of three book in the Ralph S. Mouse series.

Keeper of the Lost Cities by Shannon Messenger – $6.29
12 hours 40 minutes
Ella come home from school saying one of her friends was raving about this series. Happily, I happened to have a copy and Ella devoured this book about Sophie doesn't fit in at school or in her family, in part because she can read minds. Then she meets a boy who has the same powers she does and it turns out there are a lot of secrets about herself and the world around her that she doesn't know. But she's going to find out pretty quickly!

Scary Stories for Young Foxes by Christian McKay Heidicker – $2.56
6 hours 56 minutes
This one snagged a Newbery Honor last year and I've been meaning to pick up a copy since then! At this price, now is the time.

Fortunately, the Milk by Neil Gaiman – $5.59
1 hour
A father is abducted by aliens while picking up milk for his children's cereal. He finds himself on a wild adventure through time and space.

The Last Mapmaker by Christina Soontornvat – $6.56
7 hours 21 minutes
Christina Soontornvat made a big splash by nabbing not one Newbery Honor but TWO – one for A Wish in the Dark and one for All Thirteen, both of which I loved. As soon as I saw she had a new fantasy middle grade novel, I knew it was one I wanted to read to the girls (and it's also one of the books on the 2022 Everyday Reading Book Club list!)
Allies by Alan Gratz – $6.26
6 hours 17 minutes
If you have a child who enjoys reading the I Survived series, Alan Gratz has some amazing historical fiction middle grade books including this one.
The View from Saturday byE. L. Konigsburg – $4.65
4 hours 41 minutes
This is the first book I remember reading as a child and thinking "This is a really well written book." I think my girls were a BIT too young for this one – it'd have been better to wait another year or two because it was hard for them to keep track of the four main characters and how their families and stories intertwined. For my part, I definitely enjoyed reading it again.

Ghost by Jason Reynolds – $5.88
3 hours and 29 minutes
Ghost is a very fast runner – starting with a run from his dangerous father when he was a little boy. Now, he mostly runs away from his problems until an Olympic-runner-turned-coach sees Ghost's incredible raw talent and wants to help him harness it for the Junior Olympics. But Ghost will have to stop running from his past in order for that to happen and that might be the hardest thing he's ever done. Jason Reynolds is a big name in the world of children's literature for good reason – this book is FIRE. Each book in the series is under $7 right now too.
The Candy Shop War by Brandon Mull – $2.08
10 hours and 26 minutes
My girls listened to this non-stop from the library last year and this price means we can own it ourselves now!
Rise of the Earth Dragon by Tracey West – $2.08
48 minutes
Clocking in at almost an hour, this fantasy adventure is perfect for an afternoon at home or a lot of errands around town in the car. Most of the books in the series are this incredible price!
City Spies by James Ponti – $6.86
6 hours and 50 minutes
This is a super fun read aloud and I was hooked by the end of the first chapter. Sara Martinez is a twelve-year-old hacker who landed herself in jail after she hacked into the NYC foster care system to prove that her foster parents are using their foster funds for their own gain. But then a British spy shows up just before her hearing and after posing as her lawyer, springs her free and invites her to come work with four other child spies. Well, she's not going to refuse that offer.
The Wednesday Wars by Gary D. Schmidt – $2.56
7 hours and 27 minutes
Oh my word. If you've been around for any length of time, you know how deeply obsessed I am with this book. (Full review here)
The Adventures of Nanny Piggins by R.A. Spratt – $5.61
4 hours and 7 minutes
If Ella had to pick a favorite book, I'm pretty sure this is the one she'd choose. It was so funny that she requested I read it and then I promptly included it in the 2017 Summer Reading Guide.
All Thirteen: The Incredible Cave Rescue of the Thai Boys' Soccer Team by Christina Soontornvat – $5.12
4 hrs and 4 mins
Of all the books I hoped would be majorly discounted in this sale, All Thirteen is the title I was MOST excited to see. (Full review here)
Zoey and Sassafras Boxed Set: Books 1-6 by Asia Citro – $6.08
6 hours 11 minutes
A series with magical animals, science, and mystery? My girls were INSTANT fans of this book series where Zoey and her cat sidekick Sassafras help a magical animal using science. Plus, you can't beat this price for an entire boxed set!
For Adults
The Storied Life of A. J. Fikry by Gabrielle Zevin – $5.29
7 hours and 2 minutes
This is the September book for the 2022 Everyday Reading Book Club. AJ Fikry is a grumpy bookshop owner who is losing money, has his rarest book stolen, and then finds a baby left on his doorstep. This book is a reader's DELIGHT. (Full review here)
The Four Agreements by don Miguel Ruiz – $5.36
2 hours 30 minutes
A quick listen based on ancient Toltec wisdom which reveals four principles to personal freedom, true happiness, and love. It's spent more than 7 years on the New York Times bestseller list and I've had so many people recommend this one to me!
Angus, Thongs, and Full-Frontal Snogging Confessions of Georgia Nicolson by Louise Rennison – $6.35
5 hours
This is the most ridiculous British YA series ever and also one of my favorite things I've ever listened to. (Full review here)
Code Name Verity by Elizabeth Wein – $3.28
10 hours and 3 minutes
This is a WWII story like you've never heard before. I almost had to pull over when I was listening to this in the car because I was sobbing so hard. (Full review here)
Beauty: A Retelling of the Story of Beauty & the Beast by Robin McKinley – $2.56
7 hours and 5 minutes
I ADORE this magical retelling of Beauty and the Beast. I read it multiple times as a child and then re-read it to my girls. If you haven't read it, fix that immediately!
To All the Boys I've Loved Before by Jenny Han – $3.43
8 hours and 44 minutes
This is one of my most favorite books ever and I love re-reading the whole trilogy any chance I get – especially in the summer. And as you probably already know, Netflix made a full-length movie version of To All the Boys I've Loved Before and it is really well done. So many good things about this one. (Full review here)
I Like Me Anyway: Embracing Imperfection, Connection & Christ by Brooke Romney – $6.37
3 hours and 37 minutes
I read this book and absolutely LOVED it. Brooke is such a terrific writer and so warm and real. I only let myself read one chapter a day because I didn't want to blow through it too fast!
The Downstairs Girl by Stacey Lee – $5.30
10 hours and 22 minutes
I LOVED this historical fiction book on a topic I knew nothing about – highly recommend! (Full review here)
Edenbrooke by Julianne Donaldson – $4.77
9 hours and 8 minutes
I read regency romance . . . never. But this one delighted me (and her other book, Blackmoore, is the same price!). (Full review here)
The Accidental Beauty Queen by Teri Wilson – $6.86
7 hours and 30 minutes
This was probably the most popular pick on my 2020 Summer Reading Guide Chick Lit category. It's DELIGHTFUL and 100% closed door.
And if you have questions about the Audible sale, please let me know – I'm happy to help!
If you liked this post abut the Audible sale, you might like these posts too: