This week Audible has a big sale going on (the majority of their audiobooks are on sale right now!).
If you're looking to bulk up your audiobook collection, there isn't a better time to buy than now.
Here's what you need to know about the Audible sale.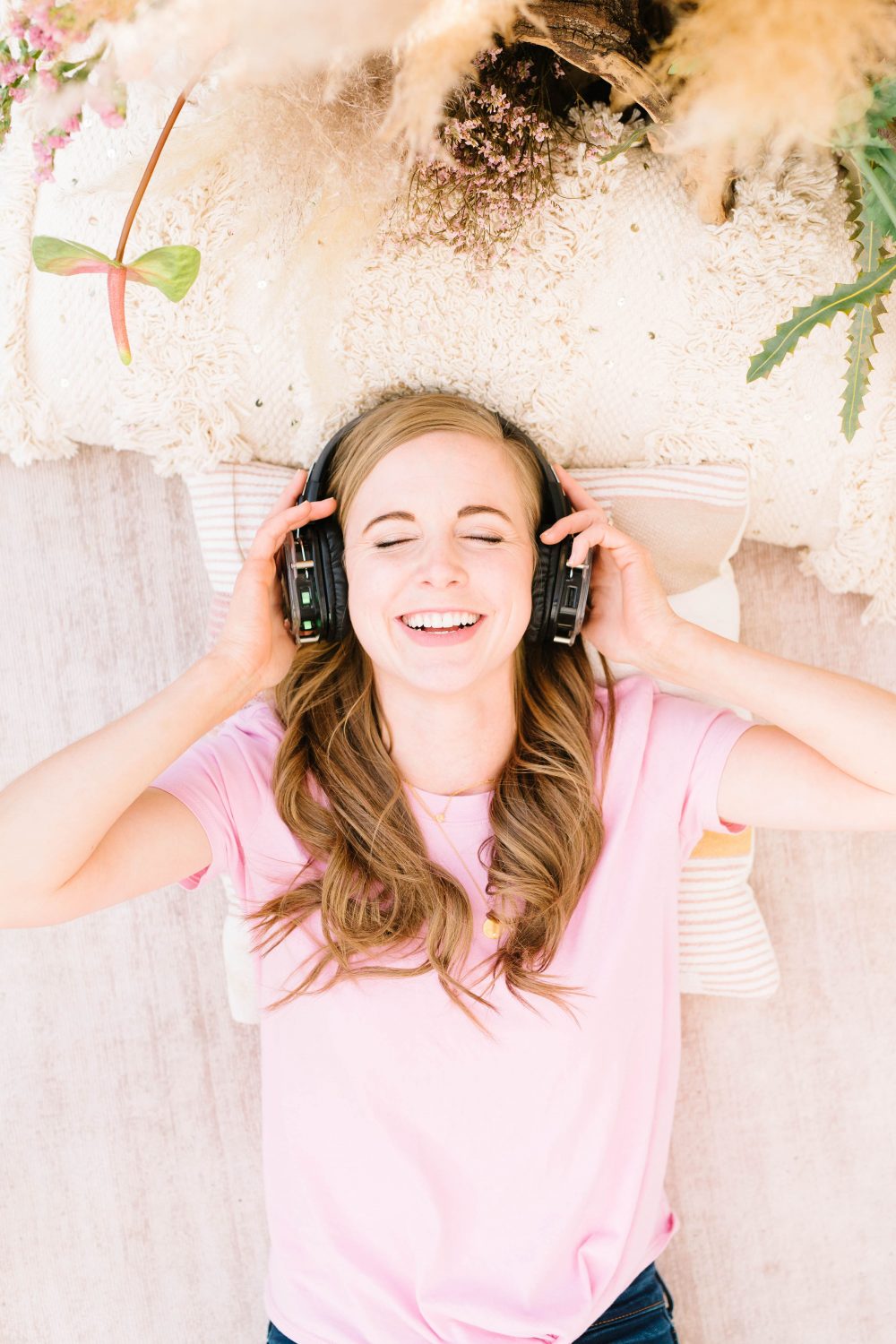 You need to be an Audible Premium Plus subscriber to access the sale prices. If you aren't a current member, you can sign up for a free one month trial here.
The sale ends tomorrow night! Do not wait if you want to snatch up some titles – they'll all go back up at midnight on Friday night!
Calculate how much your Audible credits cost to decide if a sale price is good enough to be worth it. The most expensive that a monthly credit ever is, is $14.95, so anything under that price is better than using a credit. Anything more than that is probably not worth buying outright.
You'll need to purchase the sale titles either on Amazon or on the Audible.com site. If you are on an iPhone, you won't be able to make purchases within the app unless you're spending credits. If you're on an Android device, you likely will be able to purchase within the app. If you're on Amazon, it's going to default to wanting you to spend a credit, but if you scroll down just a bit, you'll see the option to buy with cash instead. It looks like this:


Anyway, with those things out of the way, here are some of the titles I'm excited about (but truly – take a look at any audiobook you've been eyeing and see if it's on sale!).
The Best Audiobooks in Audible's Annual Sale
New from Here by Kelly Yang – $9.44
8 hours and 4 minutes
This book JUST released this week and I'm about halfway through it. It's so good – I read 150 pages of it in one night!
City Spies by James Ponti – $8.50
6 hours and 50 minutes
This is a super fun read aloud and I was hooked by the end of the first chapter. Sara Martinez is a twelve-year-old hacker who landed herself in jail after she hacked into the NYC foster care system to prove that her foster parents are using their foster funds for their own gain. But then a British spy shows up just before her hearing and after posing as her lawyer, springs her free and invites her to come work with four other child spies. Well, she's not going to refuse that offer. This is the first book in a new series and I can't wait for the next one.
Zoey and Sassafras Collection Books 1-6 by Asia Citro – $6.29
6 hours and 11 minutes
We discovered Zoey and Sassafras when there was only an audio version for the first book, so I'm SO happy to see that not only are there audio versions for more of the series but that you can get the first six of them as a single purchase. This magical/science series for young readers is SO good.
Ralph S. Mouse Audio Collection by Beverly Cleary – $5.13
6 hours and 40 minutes
I love all things Beverly Clearly and this three book collection about a little mouse who rides a toy motorcycle is DELIGHTFUL. My girls have listened to the whole series on repeat for years.
Wonder by R. J. Palacio – $3.75
8 hours and 6 minutes
We listened to this in the car as a family and all my girls were SO INTO it. There were so many good discussions that came from listening to it together – everything from how genes work to how we judge others based on appearance to sibling relationships.
Clementine, Friend of the Week by Sara Pennypacker – $2.73
1 hour and 56 minutes
This upbeat series is so fun for little listeners and they're all under $8 (with some as low as $3!).
The Never Girls Audio Collection by Kiki Thorpe – $3.26
8 hours and 6 minutes
My girls have listened to this series a bazillion times in the last few years. It's a series by Disney about four best friends who get whisked off to Never Land with Tinkerbell and her fairy friends. This collection includes the first six books and Volume 2 contains books 7 – 12 for $5.98.
The Candy Shop War by Brandon Mull – $2.44
10 hours and 26 minutes
My girls listened to this non-stop from the library a few months ago and this price means we can own it ourselves now! Fablehaven – his most popular series – is also on sale for under $7.
Belly Up by Stuart Gibbs – $8.50
7 hours and 26 minutes
This is the first book in the beloved FunJungle series. If you're looking for a great middle grade series, you can't go wrong with this one (also, all the books in the series are this same $8.50 price).
Framed! Crime-Fighting Collection by James Ponti – $12.24
19 hours and 16 minutes
I checked out the first book for Ella and she blew through it in a day. This is the three book collection for $12!
The One and Only Ivan by Katherine Applegate – $5.13
3 hours and 46 minutes
I pretty much don't care for animals (I know) and I STILL think this is one of the best kids books ever, Newbery winner or not. When a book is this sweet, funny, and well-written, who cares if it's narrated by a gorilla? Not me. (Full review here)
The Kite Fighters by Linda Sue Park – $5.24
2 hours and 44 minutes
I LOVE Linda Sue Park (if you haven't read A Single Shard, go fix that immediately), and this short book has been on my list for a while. It's set in 15th century Korea and follows two brothers who are incredible with kites – enough so that it snags the attention of the king.
The Adventures of Nanny Piggins by R.A. Spratt – $5.72
4 hours and 7 minutes
If Ella had to pick a favorite book, I'm pretty sure this is the one she'd choose. It was so funny that she requested I read it and then I promptly included it in the 2017 Summer Reading Guide. 
The Candymakers by Wendy Mass – $4.20
11 hours and 36 minutes
The Candymakers is just the kind of book I wish my school libraries had been full of. Funny, mysterious, and clever. Four kids trying to invent a new candy, all of them harboring secrets? This book is a winner. (Full review here)
Ghost by Jason Reynolds – $7.08
3 hours and 29 minutes
Ghost is a very fast runner – starting with a run from his dangerous father when he was a little boy. Now, he mostly runs away from his problems until an Olympic-runner-turned-coach sees Ghost's incredible raw talent and wants to help him harness it for the Junior Olympics. But Ghost will have to stop running from his past in order for that to happen and that might be the hardest thing he's ever done. Jason Reynolds is a big name in the world of children's literature for good reason – this book is FIRE. Each book in the series is this same price.
Young Amelia Bedelia's Audio Collection by Hermin Parish – $3.42
42 minutes
My emerging reader LOVES these young Amelia Bedelia books and this audio collection has 4 of the titles included.

Harold and the Purple Crayon by Crockett Johnson – $0.50
6 minutes
A classic, but I take no responsibility if your child writes all over the house with a purple crayon.

Mighty, Mighty Construction Site by Sherri Duskey Rinker – $0.50
8 minutes
I was delighted to see this wildly popular book available for such a great price. If you've read this one to your child one million times, you'll be glad for someone else to read it aloud instead!

Princess Cora and the Crocodile by Laura Amy Schlitz – $0.73
39 minutes
Ani and I read this together and got a huge giggle out of this tale of a crocodile and a princess who switch places.

Curious George Rides a Bike by H.A. Rey – $0.98
11 minutes
I love an audio book version of Curious George because these books are LONG – I'd much rather have a professional narrate George's naughtiness than do it myself.

The Wednesday Wars by Gary D. Schmidt – $6.30
7 hours and 27 minutes
Oh my word. If you've been around for any length of time, you know how deeply obsessed I am with this book. (Full review here)
The Snowy Day by Ezra Jack Keats – $0.50
5 minutes
This Caldecott-winning picture book is perfect if you need a reminder of how magical snow and winter can be. Bonus, you can also grab Whistle for Willie for 50 cents!

All Thirteen: The Incredible Cave Rescue of the Thai Boys' Soccer Team by Christina Soontornvat – $6.09
4 hrs and 4 mins
Of all the books I hoped would be majorly discounted in this sale, All Thirteen is the title I was MOST excited to see. (Full review here)
The Storied Life of A. J. Fikry by Gabrielle Zevin – $6.08
7 hours and 2 minutes
This is the September book for the 2022 Everyday Reading Book Club. AJ Fikry is a grumpy bookshop owner who is losing money, has his rarest book stolen, and then finds a baby left on his doorstep. This book is a reader's DELIGHT. (Full review here)
The Little House by Virginia Lee Burton – $0.30
13 minutes
This little house is built on in the country, but eventually the city grows up around it and after decades, it's almost forgotten in the middle of the bustling metropolis.

Beauty: A Retelling of the Story of Beauty & the Beast by Robin McKinley – $6.30
7 hours and 5 minutes
I ADORE this magical retelling of Beauty and the Beast. I read it multiple times as a child and then re-read it to my girls. If you haven't read it, fix that immediately!

To All the Boys I've Loved Before by Jenny Han – $3.67
8 hours and 44 minutes
This is one of my most favorite books ever and I love re-reading the whole trilogy any chance I get – especially in the summer. And as you probably already know, Netflix made a full-length movie version of To All the Boys I've Loved Before and it is really well done. So many good things about this one. (Full review here)
The Downstairs Girl by Stacey Lee – $3.15
10 hours and 22 minutes
I LOVED this historical fiction book on a topic I knew nothing about – highly recommend! (Full review here)
Touch & Go by Lisa Gardener – $8.70
14 hours and 29 minutes
This was one of my Summer Reading Guide titles – I read it a decade ago and still remember it so vividly! (Full review here)
Frida Kahlo, Rosa Parks, Marie Curie, Amelia Earhart (Little People, Big Dreams 3) by María Isabel Sánchez Vegara, Lisbeth Kaiser – $4.42
37 minutes
This wildly popular series is growing super fast and each of them tells the story of someone famous (although there are a surprising number of featured people that I've never heard of!), with the story of their childhood and their dream of doing something great.
Rise of the Earth Dragon by Tracey West – $2.44
48 minutes
Clocking in at almost an hour, this fantasy adventure is perfect for an afternoon at home or a lot of errands around town in the car. All the books in the series are this price!
A Wish in the Dark by Christina Soontornvat – $4.51
10 hours and 4 minutes
After I read her book, All Thirteen, and love love loved it, I knew I had to read her other book that won a Newbery Honor (having two books both be Newbery titles in one year is basically unheard of). This one is completely different from All Thirteen, which is non-fiction – it's a retelling of Les Mis set in a Thai-inspired fantasy world and it is SO GOOD.

The Last Mapmaker by Christina Soontornvat – $7.70
Not Yet Known (Pre-Order)
Christina Soontornvat made a big splash last year by nabbing not one Newbery Honor but TWO – one for A Wish in the Dark and one for All Thirteen, both of which I loved. As soon as I saw she had a new fantasy middle grade novel coming out this spring, I knew it was one I wanted to read to the girls (and it's also one of the books on the 2022 Everyday Reading Book Club list!)
Code Name Verity by Elizabeth Wein – $5.07
10 hours and 3 minutes
This is a WWII story like you've never heard before. I almost had to pull over when I was listening to this in the car because I was sobbing so hard. (Full review here)
Angus, Thongs, and Full-Frontal Snogging Confessions of Georgia Nicolson by Louise Rennison – $3.88
5 hours
This is the most ridiculous British YA series ever and also one of my favorite things I've ever listened to. (Full review here)
Lincoln's Grave Robbers by Steve Sheinkin – $6.12
3 hours and 16 minutes 
If you read and loved Bomb by this author last year for Everyday Reading Book Club, this is another one of his that's a winner!
On the Jellicoe Road by Melina Marchetta – $5.24
8 hours and 52 minutes
This Printz winning book is a little bit of a bet at the beginning when it all feels confusing, but it's SO GOOD and worth hanging on for.
Feathers by Jacqueline Woodson – $4.19
 2 hours and 52 minutes
This was on the state book list the year I was a school librarian and it's a terrific book.
Four Thousand Weeks: Time Management for Mortals by Oliver Burkeman – $9.44
5 hours and 54 minutes
I could not put this book down – it's a totally different look at time management than I've EVER read before. If you're tired of feeling rushed or like life is just a race toward more and more productivity, this book is for you!
Edenbrooke by Julianne Donaldson – $5.60
9 hours and 8 minutes
I read regency romance . . . never. But this one delighted me (and her other book, Blackmoore, is the same price!). (Full review here)
Happiness for Beginners by Katherine Center – $3.67
9 hours and 19 minutes
I've read and loved a few of her books, but not this one yet!
The Good Sister by Sally Hepworth – $9.44
8 hours and 19 minutes
This is probably my favorite book on the 2021 Summer Reading Guide. It's just SO GOOD.
The Accidental Beauty Queen by Teri Wilson – $8.50
7 hours and 30 minutes
This was probably the most popular pick on my 2020 Summer Reading Guide Chick Lit category last year. It's DELIGHTFUL and 100% closed door.
Endurance: Shackleton's Incredible Voyage by Alfred Lansing – $7.24
10 hours and 20 minutes
If you need some great non-fiction, this story is mind-boggling. Perfect for a couples read!
That Sounds Fun: The Joys of Being an Amateur, the Power of Falling in Love, and Why You Need a Hobby by Annie F. Downs – $8.74
5 hours and 44 minutes
I definitely gravitate more toward fiction during the summer, but with a title like this, how could I resist? It's a perfect read for the summer and I enjoyed it so much!

I Like Me Anyway: Embracing Imperfection, Connection & Christ by Brooke Romney – $4.48
3 hours and 37 minutes
I read this book last fall and absolutely LOVED it. Brooke is such a terrific writer and so warm and real. I only let myself read one chapter a day because I didn't want to blow through it too fast!
And if you have questions about the Audible sale, please let me know – I'm happy to help!
If you liked this post abut the Audible sale, you might like these posts too: