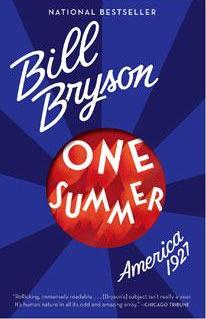 When I picked One Summer: America, 1927 for Tell Me What to Read, I immediately requested the audiobook of it and it came up within just a day or two.
So, even though this was the book for March, I actually finished it back in February, because reading books out of the order I said I would is the kind of rebel I am (that is, a very lousy rebel). And . . . also a little behind on my February book.
one summer America 1927 by bill bryson
One Summer America 1927 is all about the summer of 1927 in the U.S. and that covers a wide range of topics, from Charles Lindbergh's Atlantic flight, to Babe Ruth's quest for the home run record, to Al Capone and bootlegging, and the changing car and movie industries.
Having read a whopping two whole Bill Bryson books now, I feel like I can say that this is a man who loves his details – if there is something to know about one of these events or people, you'll find it out.
In some cases, this is awesome (I loved telling Bart about Babe Ruth who went to baseball training camp when he was super young and had basically no life experience and REALLY no sense of personal space/property, and a few weeks in, his roommate discovered to his horror that Babe had been using his toothbrush since the first day there), and in other cases, it's just . . . long. There are so many people, dates, locations, and events packed into this book, that it's fairly difficult to keep track of them all.
To keep myself from going nuts, I stopped trying to remember all the details and just enjoyed the flow of the story. Because Bill Bryson is also a phenomenal story teller and it was so fun to hear both retellings of stories I was pretty familiar with like Charles Lindbergh and his flight and ones I knew very little about, like Henry Ford and his Model T.
I am a history buff, but I don't think you have to be really into history to enjoy this book. There's just a lot of interesting stuff, and it's the opposite of dry. There are a lot of very funny bits, and the writing is excellent – fast-paced and vivid.
It has been a few weeks since I finished it, and I'm still trying to figure out if it was better or worse to listen to it on audio. Several people mentioned that it could have used some editing (the paperback clocks in at 544 pages, so it's not brief), and because I was listening, I didn't necessarily feel like "wow, this is so long" because, hey, I was doing dishes and wasn't bothered by some extra background about various historical characters.
But the book also jumps around a bit (at one point, I wondered if I had accidentally set it to shuffle (which I don't think is actually possible in Overdrive), because I was losing my sense of narrative in it. With a paper copy of One Summer America 1927, it might have been easier to keep track of who was who, especially because this book has SO many people it is following.
The other book of his I've read is At Home: A Short History of Private Life for book club about 4 years ago, and I loved that one too, so it's probably time to pick up one of his travel books. If you have a favorite, let me know and I'll request it!
If you liked this review of one summer America 1927, you might also like these books: