When someone asked recently for recommendations of books about adoption and foster care, I turned to Instagram for suggestions and got a FLOOD of terrific titles.
I've included all the responses here, if you'd like to see them (they include books outside the scope of this post, including middle grade, young adult, and adult titles).
While none of my children are adopted, reading these titles together has been a wonderful opportunity for us to talk about adoption and foster care together and the many ways that a family can be made.
I hope your family will find these picture books about adoption and foster care helpful too!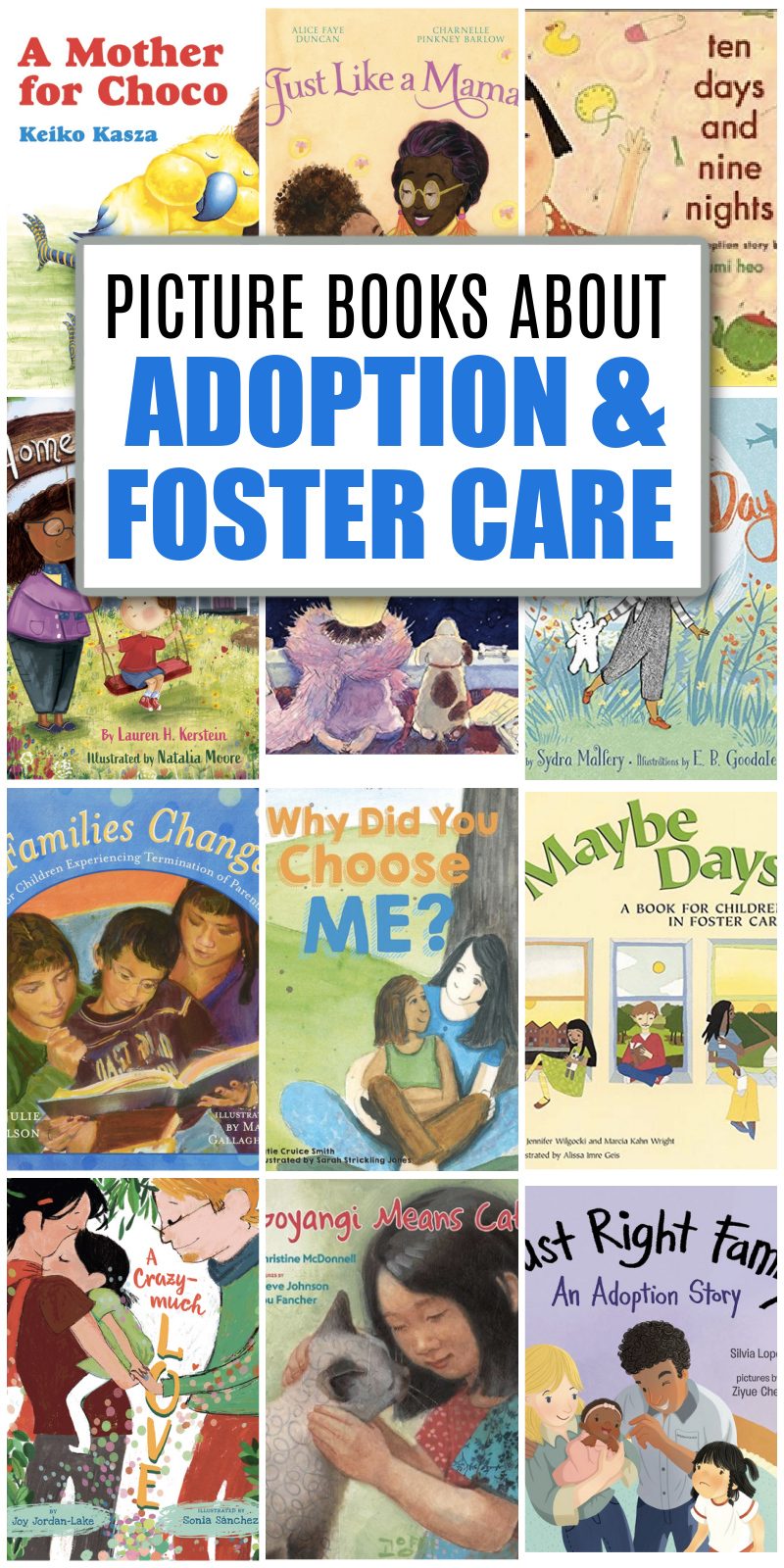 13 Picture Books about Adoption and Foster Care
Tell Me Again About the Night I Was Born by Jamie Lee Curtis, illustrated by Laura Cornell
Most children love to hear stories about themselves as babies or toddlers – moments in their lives that were momentous but that they can't remember. In this sweet book, a young girl asks her parents to repeat the story of her birth and adoption and how they became a family.
Just Like a Mama by Alice Faye Duncan, illustrated by Charnelle Pickney Barlow
This beautiful book showed up on the 100 Picture Books List in 2020 and I love it so much, about a little girl who lives with Mama Rose who isn't her mama but, just like a mama, waves goodbye when she goes to school, makes her eat her vegetables before dessert, and teaches her to ride a bike. It's a perfect book to talk about foster care.
Ten days and Nine Nights by Yumi Heo
This sweet story shows a little girl anxiously counting down the days until an exciting event. And what is that event? The return of her mother with a new baby sister to join their family!
A Crazy-Much Love by Joy Jordan-Lake, illustrated by Sonia Sanchez
This brightly illustrated book follows a family created by adoption from the earliest moments of waiting for that call through their daughter's milestones – first steps, first day of school – and how, through it all, there is just so so much love.
A Mother for Choco by Keiko Kasza
Choco can't find his mother – as he visits other animals, none of them look like him. But when a mother bear finds him and asks what his mother might do for him if she were there, she's more than willing to hold him, kiss him, and dance with him even though she looks nothing like him.
Home for a While by Laura Kerstein, illustrated by Natalia Moore
This book definitely made me tear up, reading it in the library. Calvin is unhappy about moving to yet another home and his big feelings keep bubbling up in unexpected ways. But Maggie calmly helps him deal with those feelings, giving him a chance to work through his fears and anger without pushing him.
Just Right Family by Silvia Lopez, illustrated by Ziyue Chan
Meili loves her family – her, her mom, and her dad. And she really loves hearing the story of how her parents flew to China to adopt her when she was a baby. What she doesn't love? The news that her parents are adopting a new baby sister from Haiti. Her family seems perfect just the way it is – why are they changing it? But when the new baby arrives, Meili realizes that their new family can be just right too.
A Most Unusual Day by Sydra Mallery, illustrated by E.B. Goodale
Caroline is having a strange day. She's forgetful and fidgety, and nothing at school seems to be going quite right. What is going on? A new baby is joining Caroline's family and she's very anxious for the moment she gets out of school and can see her parents and her new baby sister!
Goyangi Means Cat by Christine McDonnell, illustrated by Steve Johnson and Lou Fancher
When Soo Min comes to America with her new adopted parents, it's very different from her life in Korea. The food is strange and her parents speak a different language. But Soo Min immediately falls in love with the family's cat. Until one day the cat slips out the front door and she worries she'll never see him again.
When the Babies Came to Stay by Christine Mcdonnell, illustrated by Jeanette Bradley
This is currently Tally's very favorite book and we've read it at least a dozen times this week alone. On a little island, four babies arrive in different ways, all with notes asking that the child be cared for. The librarian adopts them and they grow up on the island. This book is sweet and delightful without being heavy-handed.
Families change : a book for children experiencing termination of parental rights by Julie Nelson
This is a sweet, simple book about how families change over time – new babies come into families, older siblings go off to college, a parent might leave on a deployment or to get treatment – and those changes can be happy or sad. And if there are problems in a family, it's never a child's fault.
Why Did You Choose Me? by Katie Cruice Smith, illustrated by Sarah Strickling Jones
An adopted child asks "why did you choose me?" and follows up with questions about why they didn't choose a child who looked like them or made the bed or had more skills or didn't pick their nose. And the parent reassures that they fell in love with this child from the first moment and it wasn't a choice at all.
Maybe Days by Jennifer Willgocki and Marcia Kahn Wright, illustrated by Alissa Imre Geis
One of the hardest parts of foster care is the waiting and the lack of answers. This book addresses in a simple, straightforward way all the people involved in foster care and what the job of each of those people is.
And if you'd like a printable copy of this list that you can take to your library or screenshot on your phone for easy access, just pop in your email address below and it'll come right to your inbox!
Any other favorite children's books about adoption or foster care? Please leave them in the comments – it helps make this a better resource for other families, parents and caregivers!
If you liked this list of CHILDREN'S books about adoption, you might like these book lists too:
Reader Interactions