Of course I love reading Christmas picture books during December (and we've been reading these ones on repeat), but I don't want to ONLY read Christmas picture books.
When I need a break from all things Santa, snow, and shepherds, I'm glad to have a few other choices on hand.
These eight have been recent hits in our house (and if you're looking for a good last-minute gift for a child this holiday season, I'll happily vouch for all of these).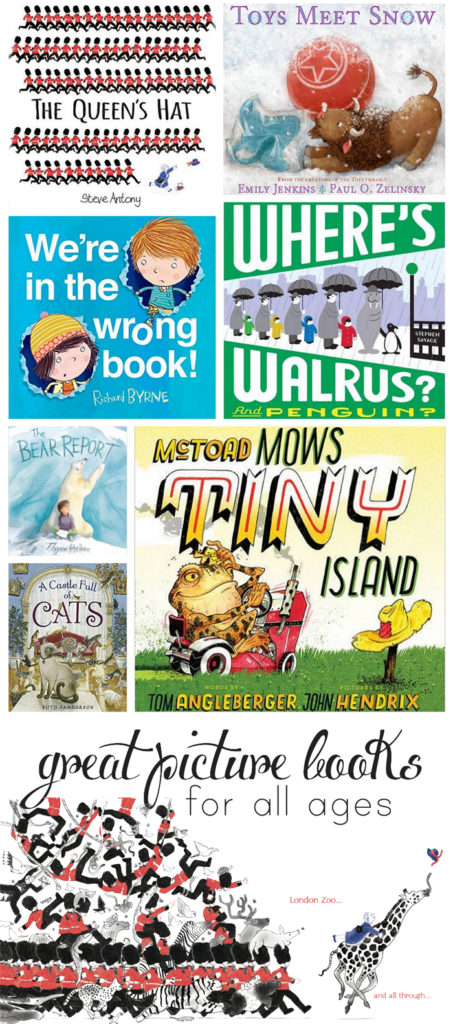 favorite picture books
The Queen's Hat by Steve Antony – Someone recommended this book to me (I already knew and loved Please, Mr. Panda), but I couldn't find a copy at any of my libraries. Then, on a recent trip to Barnes and Noble, I happened to spot it on the shelf and it was just as delightful as one could hope. In fact, I dare say I liked it better than Please, Mr. Panda). The queen's hat blows away and she and her palace guards chase it all through London, hitting all the major sites, from the London Eye to Big Ben to Trafalgar Square. It's all done in black, red, and blue against blank pages and is just delightful to look at. I think I probably need to buy myself a copy of this one – it's just THAT good and I just love London THAT much.
A Castle Full of Cats by Ruth Sanderson – I don't usually go for books with these kinds of gilded, super-detailed illustration but I made an exception in this case for the story of a king and queen who really love each other but find life a little complicated by the fact that the queen also REALLY loves her cats (and has about a bazillion of them). The king is less fond of those cats, despite their efforts to win him over. His solution is to bring home a large dog. How's that going to go?
The Bear Report by Thyra Heder – It's hard for me to put together a list of books we're loving at any given moment without including a wordless book because they are just some of my favorites. In this one, a little girl is working on a report about bears, which does not please her at all. Her abandoned report says only, "They are big. They eat things. They are mean" before she heads off to watch television. But then a polar bear appears in her living room (don't ask questions – just go with it) and in an effort to prove that not ALL bears are mean, transports them both to the Arctic where he shows her all the details of a polar bear's life. And when she returns home, her report has a lot more to say than it originally did.
Where's Walrus? and Penguin? by Stephen Savage – Okay, two wordless books. I've loved Where's Walrus? for YEARS (and Ella and I have watched the book trailer approximately 200 times) and it basically made my month to discover that there is now a sequel. It goes basically along the same lines as the original, with Walrus escaping the zoo and hiding in various disguises from the zookeeper desperate to bring him home. But this time, he has a little pal, Penguin, along with him. I've never met a child who didn't love pointing out the hiding animals in each spread. These two books together make for a terrific baby or toddler gift.
Toys Meet Snow by Emily Jenkins, illustrated by Paul O. Zelinsky – You probably already know these three delightful and bursting-with-personality toys from the chapter book series Toys Go Out. Whether these friends are new or familiar to you, you're in for a treat with their first picture book adventure where the three venture out into the snow (StingRay safe in a plastic baggie, of course, because she's dry clean only). It's so fun to see them
McToad Mows Tiny Island by Tom Angleberger, illustrated by John Hendrix – I hadn't read this one before the girls picked it out for Bart to read to them one night before dinner and after hearing him laugh through the whole thing,  I couldn't wait to read it myself. This is a clever spin on the traditional vehicle books, as McToad enjoys Thursday because instead of mowing Big Island, he gets to mow Tiny Island. Of course, getting his mower to Tiny Island is no small feat and involves almost a dozen different modes of transportation. And once Tiny Island is mowed, it all needs to be done in reverse to get McToad and his mower back home.
We're in the Wrong Book! by Richard Byrne – I got a big kick out of This Book Just Ate My Dog! but I think I like this one even better. In it, Bella and Ben get knocked out of their story into a strange new one. And as they try to find their way back, they meander through all sorts of different books, each of which have their own style of art (it reminds me a lot of David Wiesner's Caldecott-Winning The Three Pigs, which I also love).
Doctor De Soto by William Steig – This is one of my childhood favorites, not least of all because my dad is a dentist (although he never made any teeth for foxes, at least to my knowledge). When mouse dentist Doctor De Soto and his lovely assistant/wife break their cardinal rule of not helping dangerous animals to give aid to a fox suffering from a terrible toothache, it looks like their kindness might be rewarded with them being eaten for dinner (with salt and some dry wine). But fortunately, the De Sotos are as clever as they are kind.
And if you'd like a printable copy of this list that you can take to your library or screenshot on your phone for easy access, just pop in your email address below and it'll come right to your inbox!
if you liked this post about some of our favorite picture books, you might also like these other posts:
Reader Interactions