The other day, Ella and I started reading Caddie Woodlawn together. The copy I own is from my childhood and in the front, in my mom's handwriting, is the date we read it and then later, the date my younger brother read it.
Although I love the library, there's nothing quite like a book from your childhood that you've flipped through ten million times, that never has to be returned, and that you can pass along to your own children.
Picture books are great holiday gifts and if you're looking for something tried and true, these are ten of our family's VERY best books to gift.
Also, if you worry that a book might not be the most exciting gift under the tree (even if you know it'll be the one they keep returning to long after December wraps up), you can add a small gift that relates to the story – I've suggested one or two for each of the books below.
Happy book giving!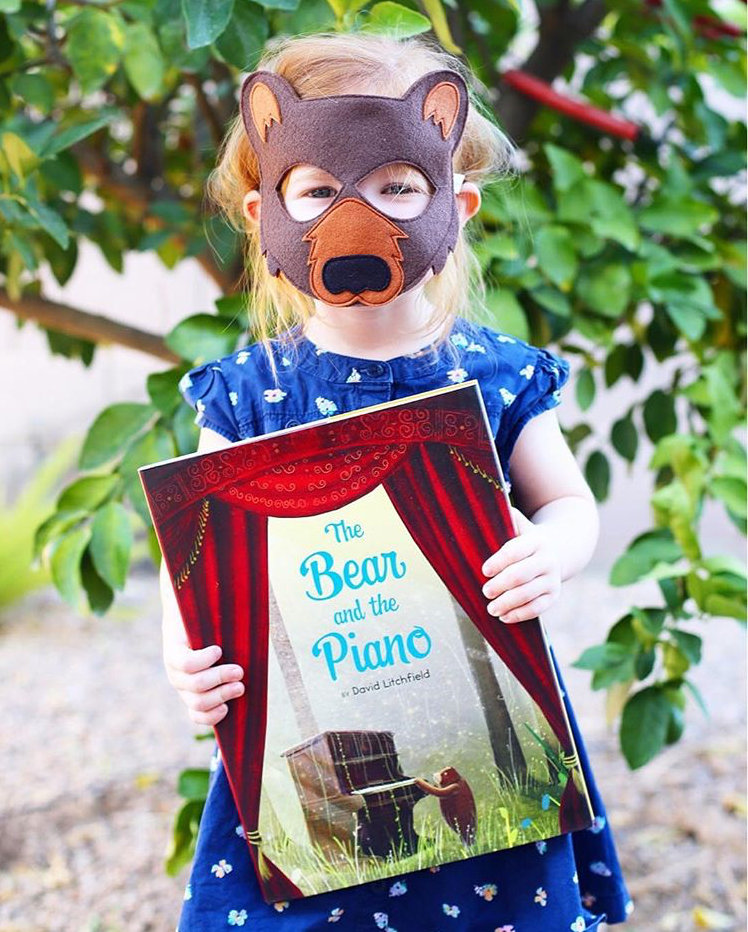 best books to gift
Bunny Slopes by Claudia Rueda
This might be my very favorite picture book of the entire year. I love Rueda's style and sense of humor, plus this one has the interactive quality that made Press Here such a sensation (I'd highly recommend Press Here as a killer gift book too). In this one, a little bunny wants to ski, but he needs help shaking snow down from the skies and then creating a slope by tilting the book. Also there are holes and trees he'll need help avoiding. Pack this up with some hot chocolate envelopes and you're good to go!
It's a Tiger! by David LaRochelle, illustrated by Jeremy Tankard
Somehow we don't own a copy of this, which is ridiculous, since we've checked it out at least a dozen times and my girls love it SO much. On each page, a little child attempts to escape from a tiger, and the story gets more and more hilarious as the tiger keeps reappearing. The ending is particularly darling. I'm secretly obsessed with those giant (and surprisingly affordable) stuffed animals, so obviously I think this book needs a giant tiger to go along with it, but a small one would be fun too.


The Bear and the Piano by David Litchfield
This book is just stunningly beautiful (and maybe makes me a tiny bit teary when I read it). A bear discovers a piano left in the middle of the woods and, over the years, becomes an extremely accomplished performer. Eventually, he ends up in the big city on stage, but when he comes home, he wonders if all his bear friends will have forgotten him. Of course, you'll want a little keyboard to go along with it or a bear mask. Or both.
Backseat A-B-See by Maria van Lieshout
I love so many alphabet books but Backseat A-B-See might be my favorite (this one is also insanely gorgeous and kid-friendly – Star won't stand for reading it less than four times in a row). It's perfect for little vehicle lovers since each letter is associated with a road sign and the whole book looks like a long road. Grab some alphabet magnets or toy cars to finish off the gift.


Bring Me a Rock by Daniel Miyares
This has been a recent favorite – it's just so good! The grasshopper king demands that all his insect subjects bring him a rock so he can make a massive throne to sit on. But when a tiny bug brings a pebble, the king sends him away scornfully. Until, of course, that tiny pebble and bug save the day. Add a dress-up crown or some fun reusable straws to mimic the straw the grasshopper king sips his drink through while he's lounging on his throne. Or, go cheap, and just gather a ziploc bag of rocks.
Mustache Baby by Bridget Heos, illustrated by Joy Ang
This one is endlessly entertaining (and comes in both hardback and board book formats) about a baby that's born with a mustache which, unfortunately, sometimes turns into a bad-guy mustache. The sequel, Mustache Baby Meets His Match, is also hilarious. And you'll obviously need a pack of stick-on mustaches because the only thing better than reading aloud this book is reading it with a ridiculous looking mustache on.


Journey by Aaron Becker
This has got to be in my top 20 picture books of all-time. This wordless book is so magical and gorgeous, about a little girl who uses a red crayon to draw a door on her bedroom wall and opens it to discover a mystical world on the other side. Obviously, a set of colored crayons, markers or chalk is the perfect accompaniment, along with a stern warning not to use them on the walls. And, if you really want to go big, do the whole trilogy (Quest is second and Return is third) is phenomenal.
The Book with No Pictures by B.J. Novak
Probably my children's number one favorite book, this one looks so bland and boring when you unwrap it, but will have everyone in stitches by the end. Sure, there's no pictures, but a grown-up has to say whatever ridiculous things the text says, and B.J. Novak's going to make sure they say some PRETTY ridiculous things. Add a carton of blueberries (or dried ones) and wait for the realization that you've given the best gift of Christmas.
Duck! Rabbit! by Amy Krouse Rosenthal, illustrated by Tom Lichtenheld
You couldn't ask for a more fun introduction to visual puzzles, where a picture is different depending on how you look at it. On each page, the off-screen narrators argue over whether the animal being depicted is a duck or a rabbit and what that animal is doing in each scene. This never fails to get a laugh.


I Want My Hat Back by Jon Klassen
I just love Jon Klassen, and this book never fails to hit my funny bone. I know some parents are a little wide-eyed at the ending (where, spoiler, the bear eats the rabbit), but it doesn't bother me a bit. Obviously, a cute hat would be the perfect accessory for this book.
And if you'd like a printable copy of this list that you can take to your library or screenshot on your phone for easy access, just pop in your email address below and it'll come right to your inbox!
Do you have running list of best books to gift? I'd love to hear!
If you liked this list of the best books to gift, you might also like these posts:
Reader Interactions