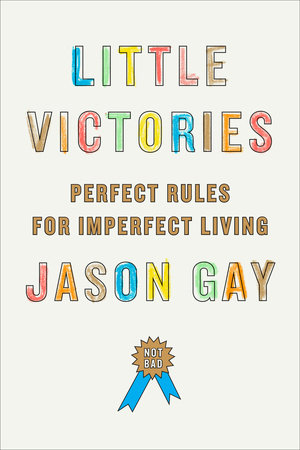 I saw Little Victories advertised on the back of BookPage and it said something like, "Give this to fans of Dave Barry and [another name I didn't recognize and/or can't remember]."
That's all the encouragement I needed.
I am basically the world's biggest fan of Dave Barry. My parents owned many collections of his columns and they'd read them aloud at dinner or on a car trip occasionally, and I have loved him ever since.
Turns out, I also really love Jason Gay too.
little victories by jason gay
I started reading Little Victories and two pages in had to start over and read it all aloud to Bart (but then he went out of town, so obviously I finished it without him, like the kind and selfless wife I am). It is laugh-out-loud funny, which is really the kind of thing I like to read in January when it's dark by 5:45 p.m. and also it just rained for a week.
There were so many thing that made me laugh, like this in the first chapter: "This book does not offer a crash diet or a plan for maximizing your best self. I don't know a thing about your best self. It may be embarrassing. Your best self might be sprinkling peanut M&Ms onto rest-stop pizza as we speak."
Little Victories is kind of a collection of semi-related essays about his life, from friendship to style, his bout with cancer to his dad's death, to struggling with infertility and IVF with his wife. Plus tips for going out to dinner and a quiz to see if you are addicted to your phone (this quiz had me crying with laughter by myself at 9:30 p.m. at the kitchen table).
I always worry about humorous books because often "humor" is code for "sixty-thousand swear words and also a boatload of crass humor." But this one wasn't like that – there were four or five instances of cursing, but basically the whole thing was very clean and just a delight to read.
I could quote you half the book (if it'd been my own copy, I would have highlighted the bejeebers out of it, but it was a library copy, so I restrained myself), but instead I'll just tell you that this is a really fun book that's absolutely worth reading.
You'll laugh a lot, but there are also some pretty profound bits too, which make it even better to read in January when you're thinking about your life and how to improve it and also how to force yourself to put down the tacos and get yourself to the gym (he has a section on that too. You'll laugh and then you'll probably go for a little jog).
And he's just so darn likable which is basically the key to carrying off a book like this. I just picked my copy back up off my desk to look through it again and accidentally read parts of four chapters. I just really loved this book.
It's too bad Little Victories is his only book. I guess I'll have to go read some newspaper columns or something, except mostly he writes about sports and my interest in sports is non-existent.
I guess I'll just have to go read some Dave Barry until his next book comes out.
If you liked this review of little victories, you might also like these books: