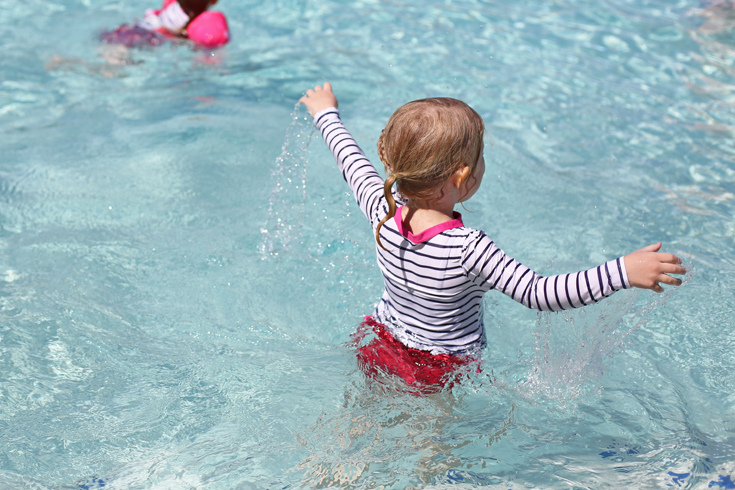 About six months after Merrick moved to California, I mentioned to her that one reason that living near the beach didn't really appeal to me was that the effort involved in taking kids to the beach just seemed way too much hassle to me.
The sand all over everything, the hauling things there and back, sunburns, etc.
Merrick told me she'd felt the same way, but when they moved there, she decided that, while they lived so close to the beach, she was going to take advantage of it and become a beach mom.
"I've got a whole routine now," she told me. "I have all my gear, I know just what I need, and we can go any morning without much prep at all."
Now, some three years later, I've been out to visit her multiple times and we've always gone to the beach, and she truly is a good beach mom. She has it down to a science and she and her boys are out the door and on the sand with almost no stress, and then back home for afternoon naps like they didn't even go.
I thought about all of this a lot this last year when we moved to Arizona.
We'd specifically picked a neighborhood that had a community pool, and I wanted to make sure we took advantage of it.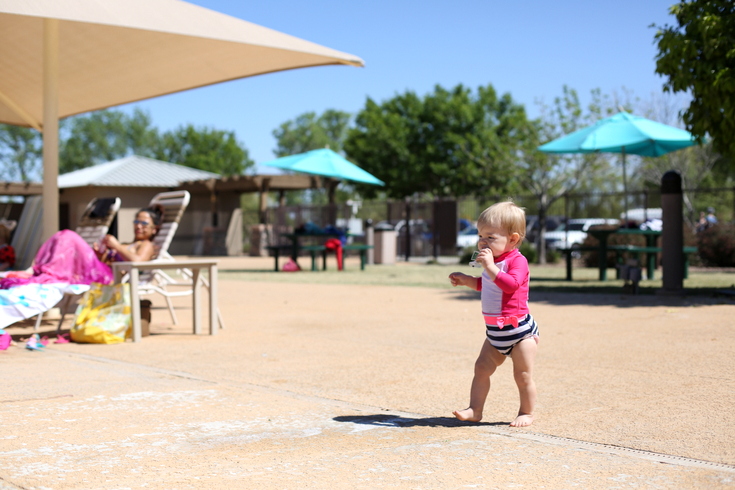 In the summer, when the temperature is soaring to 115 degrees every afternoon, it's important to me that I can take the girls at the drop of a hat, whether one of them asks to go or if some friends invite us to join them.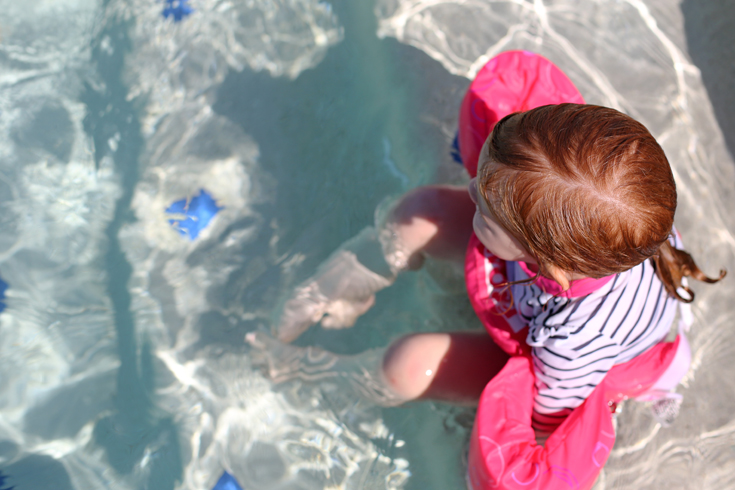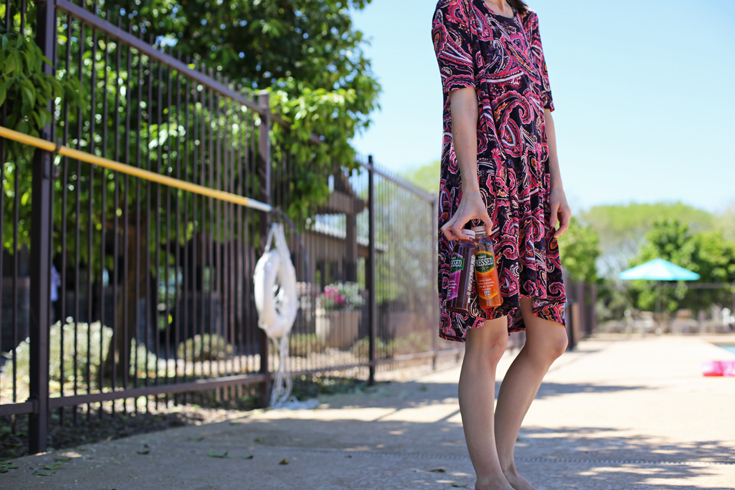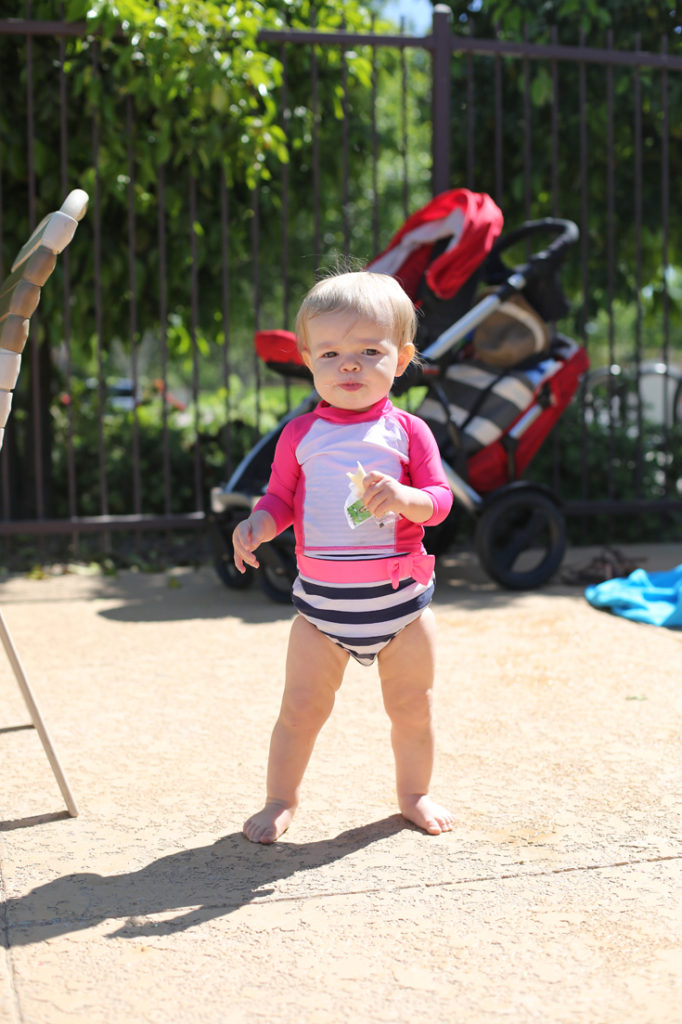 If it feels like a huge ordeal that takes a ton of prep every time, I know it won't happen, but when we made our first trip of the season yesterday, I remembered that over the course of last summer, I'd developed a good routine that made it super easy for us to gather everything up and be ready to walk out the door in less than 15 minutes.
A few things that have worked for us: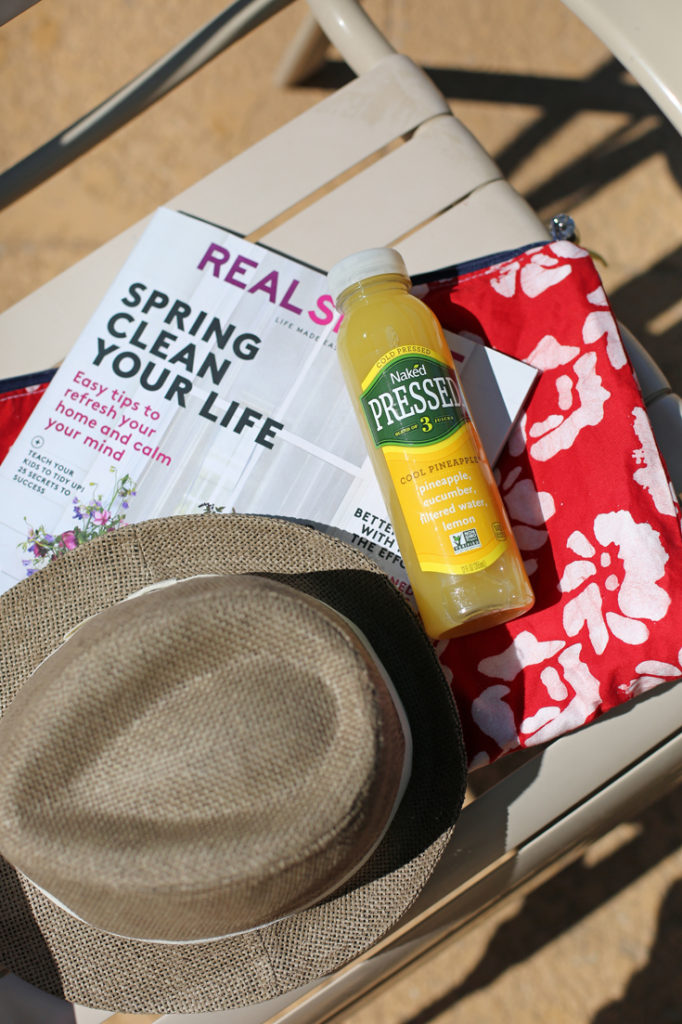 tips for going swimming with kids
A designated pool bag. Last summer, I got a giant striped tote bag and designated it my pool bag. I always keep a bottle or two of sunscreen in it, my pool key, a zippered bag for wet items, a couple of water shooters, a water bottle, an extra diaper and wipes, and the pool towels. I don't have to inventory every time – I just know I can grab the bag and we'll be set to go. I keep it right next to the rack where we keep the girls' Puddle Jumpers and everything is ready at a moment's notice.
Mandatory bathroom trips. There are bathrooms at the pool, but there is nothing I loathe more than taking a dripping child to the bathroom and wrestling with a wet swimsuit. And of course I have to take my other two children with us because they aren't remotely old enough to be left by the pool unsupervised. So I just make everyone go right before they put on their swimsuits and then a bathroom trip is the exception, rather than the rule.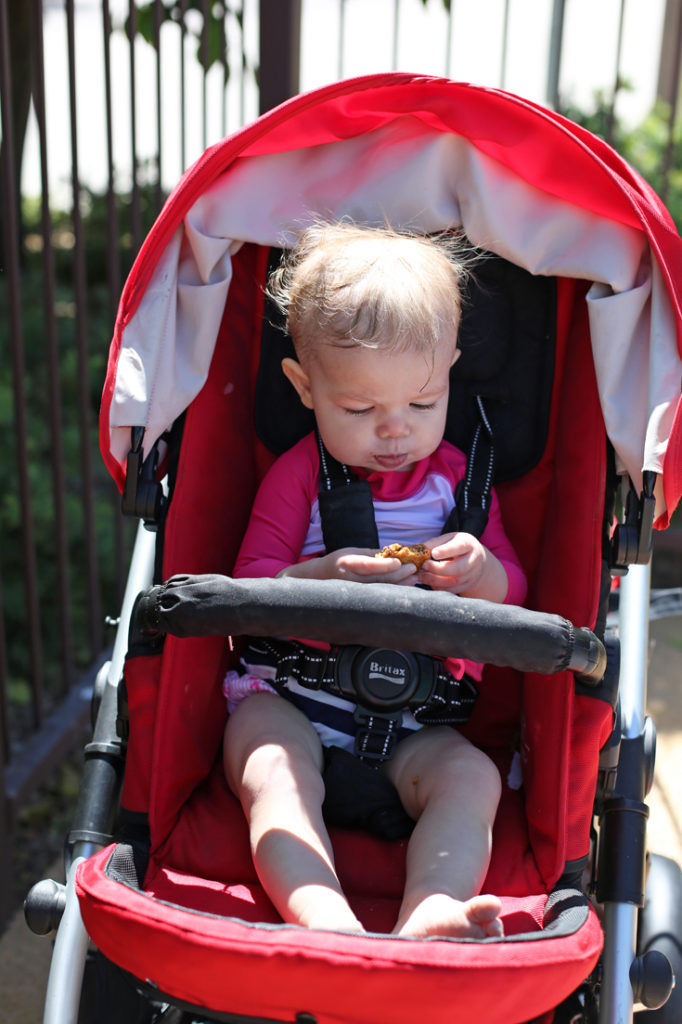 Bring the Stroller. Even if we drive to the pool, I always take the stroller with us because it's so nice to have a place to stash my pool bag and everyone's sandals. Plus, this summer, with Star so mobile, it's very comforting to be able to buckle her in so I don't have to worry about her wandering into the water while I get everyone else ready to go.

Snacks. There's nothing worse than arriving at the pool and then five seconds later someone declares that they are STARVING. I don't like to take a full lunch because it's just so much effort to prep everything and then bring it all home, but I always grab a few easy, healthy things we can eat at the pool like string cheese, fruit bars, and Naked Cold Pressed Juice (it's available at local West Coast stores right now and will be available nationwide later this summer). They have five new veggie-forward flavors and my girls love them. I love that they have no preservatives or added sugar. They're easy to stash in my bag and they help keep everyone hydrated while we're out in the sun. A few snacks take me five seconds to add to my bag but keep us from having to come home 20 minutes after we left the house, which is worth a lot to me.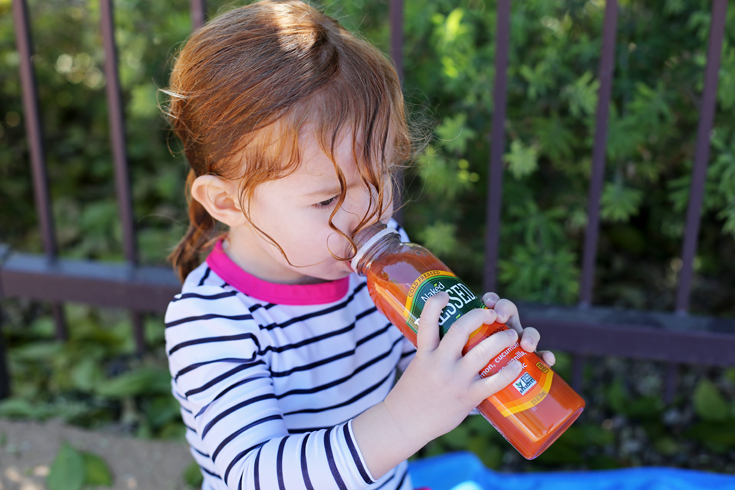 Immediate laundry. We come into our house through the garage straight into the laundry room and as soon as we get in, I undress all the girls and throw their suits and all the wet towels directly into the washing machine. As soon as everything is dry, I roll the towels back up and stick them back in the pool bag, and the swimsuits, swim shirts, hats and swim diapers all go back in the dresser drawer where I keep everyone's swimwear together. It also means I don't have children lounging around in cold, damp swimsuits for hours after we get home from the pool or wet towels hanging all over the house.

Enjoy the post-pool naps. This is my favorite thing about going to the pool. If we go in the morning, everyone welcomes some quiet time after lunch and Star takes a nap like it's her job (which it is), or if we go in the afternoon, everyone goes right to bed without a complaint. The best!
A pool mom might not be as cool as a beach mom, but I'll take what I can get.
And after yesterday's trip, I'm feeling excited about many more pool visits over the next eight months.