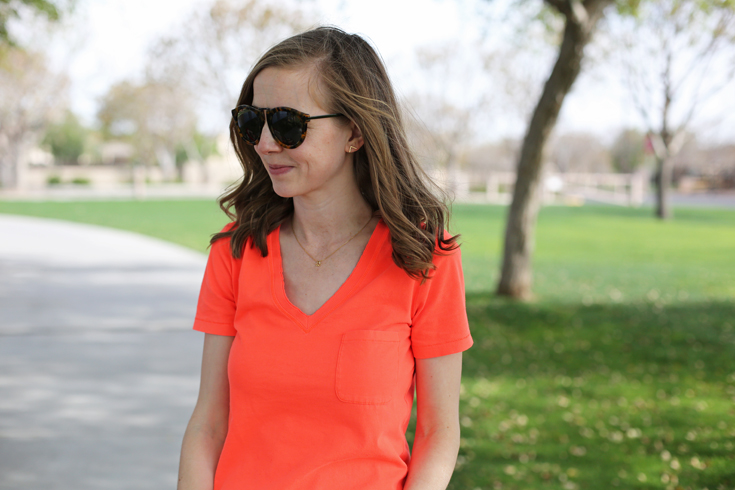 Unbelievably, this post is not about my shirt that is bright enough to burn your retinas through the screen.
Although I do like this shirt.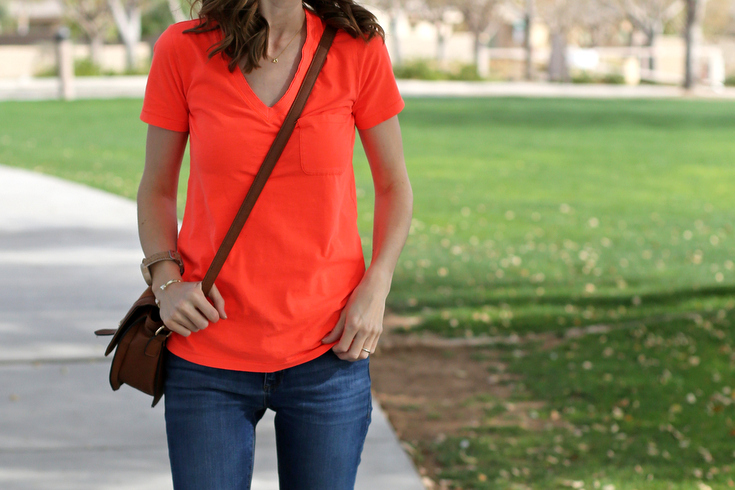 It's about sunglasses (which you already knew from the post title, but humor me here).
I feel like there are about ten million subscription boxes right now – you can get a dinner subscription from Blue Apron, a snack subscription from Nature Box, or a baby hair bow subscription from Little Poppy Co.
I am kind of a mail junkie; I LOVE anticipating something showing up in my mailbox, and I love opening packages.
So I totally understand the excitement about a subscription box.
And when I started getting Rocksbox last year (which I wrote about in way too much detail here), I totally loved it.
But now, after a year of getting jewelry in the mail, it's not quite so exciting anymore. I mean, I still like a new necklace or fun pair of earrings to wear for a couple of weeks, but I'm not anxiously awaiting its arrival anymore like I was for the first six months.
Then Endless Eyewear offered me a sunglasses subscription where you can get high-end sunglasses and swap them out for new pairs as often as you like, and suddenly that was exciting again. (I got a free trial, but this isn't a sponsored post and they have no idea I'm writing this. You can get a free trial yourself with the promo code EVERYDAYREADING and I think I get some sort of store credit, but frankly, I can't be bothered to go look up the details. Feel free to try it out or not, but either way, consider yourself disclosed).
I loved trying out a pair of sunglasses I never would have paid $280 for.
And since I wear sunglasses every single day, I get a lot of use out of them, plus, even though I absolutely love my one nice pair of sunglasses, it's fun to have another pair to switch back and forth between.
I also liked that when I ordered a pair of pink Ray Bans and then quickly discovered that I could NOT keep them from getting smudged on an hourly – or minutely – basis, I could mail them back and get a new pair right away (I also like that when you're ready for a new pair, they send you the new pair WITH the return packaging for your old pair, so you're never without a pair like you are with Rocksbox.
You can also get a prescription glasses subscription (say that three times fast), which is fun if you wear real glasses.
But I kind of feel like for most subscriptions, after six months or so, the excitement kind of wears off and I'm ready to move onto a different subscription box.
With some subscriptions, it makes sense to have an endless supply – snacks or razors, for instance – but a lot of subscription boxes to me are useful so I can figure out what I really like (like jewelry or sunglasses), then buy what I love and be done.
What I'd really like is a house cleaning subscription. Is that called a maid service?
I'd like one of those, please.