My sister Merrick had her sweet baby boy this week, and I'm dying a little that I couldn't go visit her in the hospital and snuggle that little guy.
I've loved having people come visit me in the hospital after my babies are born – you're under no obligation to get dressed, you don't have to clean up beforehand because it's not your house, and it's basically someone you love telling you how cute your new baby is. What's not to love?
One of my very favorite visits was after Ani was born in 2012, and my sweet friend, Ralphie, asked if she could come over.
Nobody loves babies like Ralphie does, plus she's one of my dearest friends, so I knew it'd be fun to have her but she way went the extra mile and showed up with a beautiful little cake.
It was only about six inches across and sat on a small cake stand. She'd also packed a couple of paper plates and some forks, plus a handful of cute festive napkins.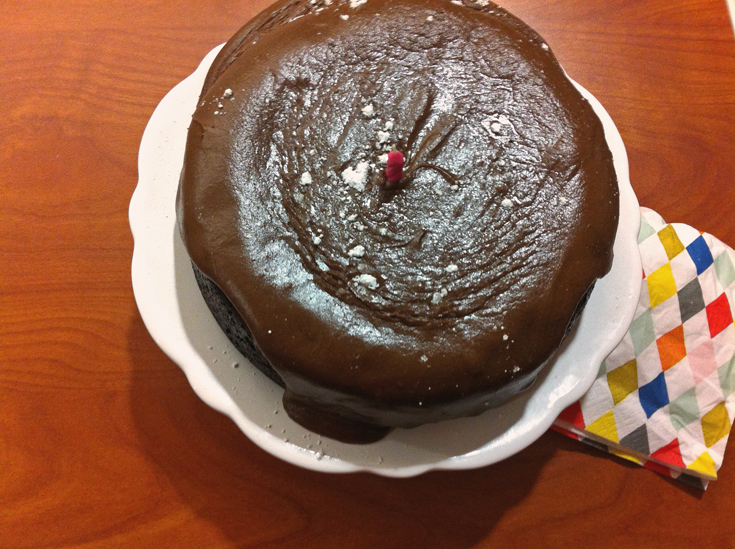 She said, "This is a true birth day cake! This is a moment to celebrate."
Bart had gone home for a few hours to put Ella to bed, so Ralphie and I sat in the quiet hospital room, snuggling brand-new baby Ani and sharing slices of this unbelievably delicious cake.
It was a magical moment.
An hour or so later, Bart and my mom came back to the hospital and they enjoyed some cake too.
That was more than three years ago, and I still think of it frequently as one of the nicer, more memorable things anyone has done for me, and someday, I'll get my act together enough to do it for someone else.
It was such a sweet gesture, a delicious change from hospital food, and a beautiful way to celebrate the excitement and joy of a new baby's birth.
(Bonus! I loved having a few slices left over when we left the hospital to eat in those early post-hospital days where you are STARVING from delivery and nursing and wacky hormones and need something to eat right. this. minute.).