Oh yes. It's back.
Forty more cheap stocking stuffers, teacher and neighbor gifts you can make or buy for $5 or less. Some are useful, some are fun splurges, all of them are awesome.
And if you're buying things online, lots of retailers are on Ebates (you get a $5 credit for signing up and then a percentage of your purchase back in cash), so I highly recommend signing up if you haven't before.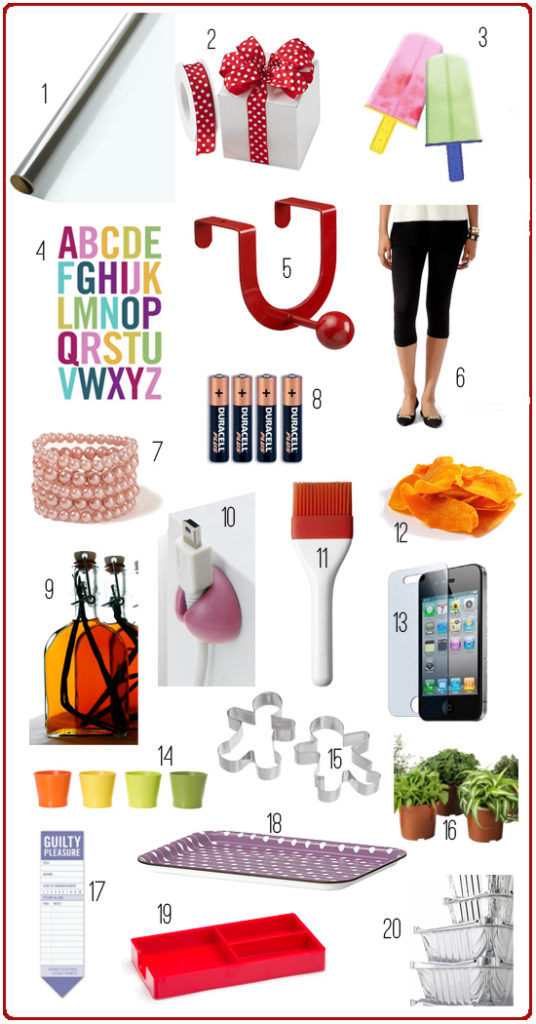 20 cheap stocking stuffers
1. Clear Gift Wrap ($4.00) – This is one of those things I hate to be without, especially around the holidays. A plate of cookies looks a thousand times more festive wrapped in this than in seran wrap. I find Michael's the cheapest place to buy this since I always have a 40-50% off coupon. Also it comes in so many pretty colors!
2. Ribbon ($3.99) – And while you are wrapping up your lovely plate of goodies, you want some ribbon to finish it off. Or to make your presents look just a bit more pulled together.
3. Popsicle Molds ($4.00) – Okay, you caught me. This is just over $5. But the ones at my grocery store cost $2.99 a set, so I'm counting it. This is such a fun little kitchen gadget, especially if you have little kids. (LINK FOR TARGET)
4. Alphabet Print ($4) – I love how you can pick any color combination and how crisp and fresh they look. Add a frame from the thrift store, if you're so inclined.
5. Over the Door Hook ($14.99 for 4) – I love this bright colored, sleek little hook. I can only think of 10 places this could go.
6. Forever 21 Leggings ($7.99) – Okay, you caught me, these are over $5, but I love leggings in the winter, whether its under my jeans on a chilly day, instead of tights with a skirt or dress, or tucked into some boots. I have a couple of pairs from Forever 21 and I like that they are thin without being see-through.
7. Homemade bracelets – I think I'm going to have Ella help me make some of these this year. Pick out some fun beads at Michael's or the location of your choice and some elastic thread. Easy and inexpensive. (Or just buy some. . . )
8. Batteries – It is impossible to not need these at Christmas. Especially if you have children. And hey, who doesn't need a little backup stash of batteries? I'd recommend AAA, AA, or Ds.
9. Homemade Vanilla (about $4.50) – Artificial vanilla is so sub-par to real vanilla, but the cost factor is also so different. Now I make mine at home using these instructions and I'm never going back. All you need is a glass jar that seals (I used a leftover maple syrup bottle), 8 ounces of mega-cheap vodka (I bought a huge bottle for $6), and 3 vanilla beans (I ordered them online and it worked out to about 50 cents per bean). Split the beans open, stuff them in your bottle, pour the alcohol in, and let it sit for two months. Ta-da! Impress everyone you know.
10. Cable Clips ($11.99 for 4) – I need about fifty of these at my desk, bedside table and car to keep my cables from sliding all over the place. So useful and pretty colors!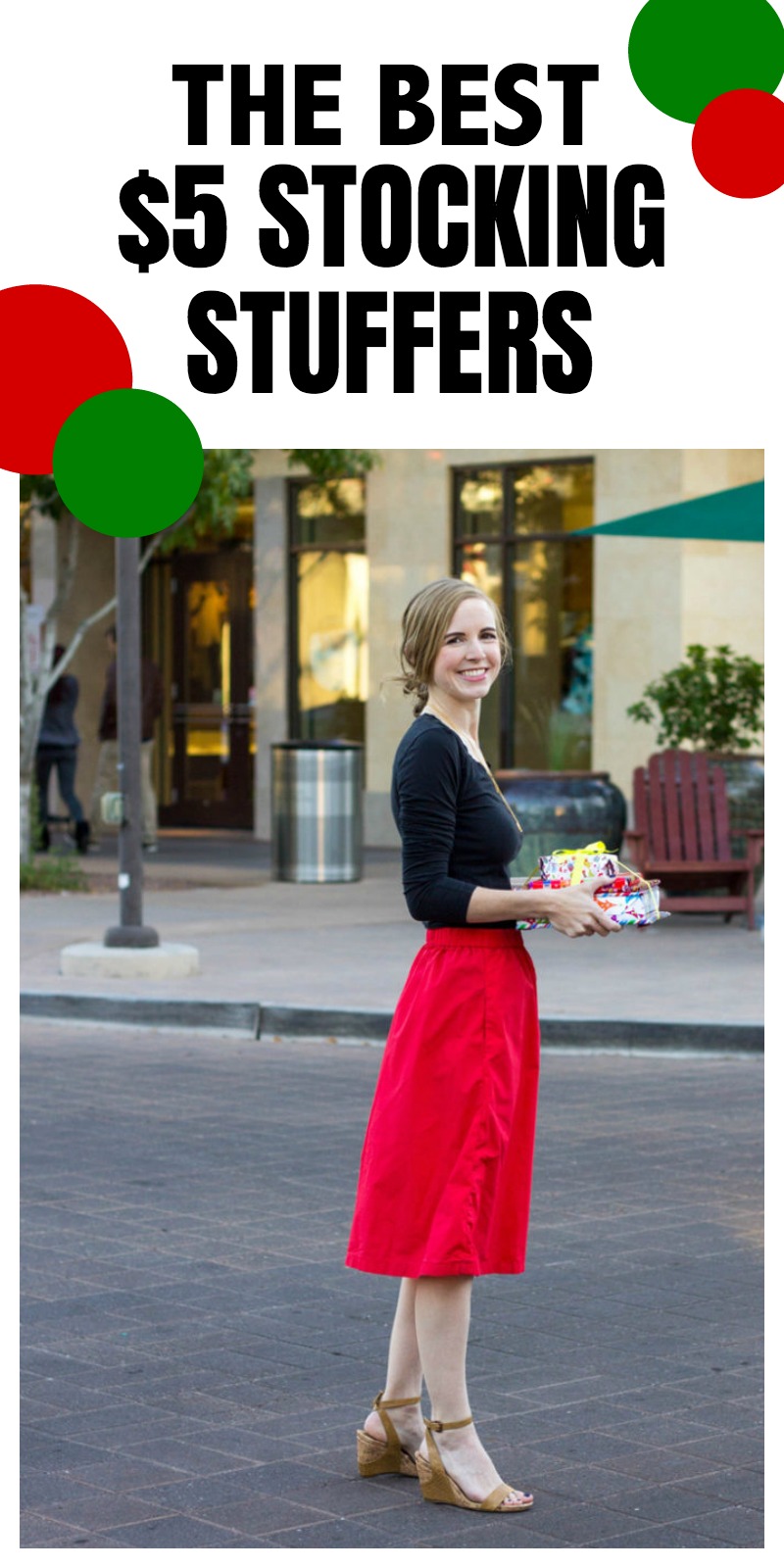 11. Pastry Brush ($1.49) – I don't need one of these ALL that often, but when I do, it's pretty much impossible to find a substitute tool.
12. Dried Fruit ($4.39)– Sometimes you want to give an edible gift, but does anyone REALLY need more sugar around the holidays? This is a nice compromise. Dried mango is my favorite, with pineapple a close second. Check out the bulk bins at your grocery store for the best prices (mango at my local Sprouts runs about $4.99 a pound). Put it in a jar or bag with a bow and voila! (LINK FOR TARGET)

13. Phone Screen Protector (3 for $9.95)
Under $5 (with free shipping!) and one of those things an iPhone user can never have enough of. Or at least I can't (hello, grimy little toddler fingers).
14. Seeds and a pot (seeds approx $1 per pack/pots $2-5 each)
I love the idea of getting a gift that I can tuck away and will seem new and exciting several months after Christmas. Start your seeds inside in February or March and then move them outside once the weather is warm enough. And I love these little pots from IKEA.
15. Gingerbread Cookie ($7.99 for 9)
Some people might already have these, but I don't and I would love to have some so I can pretend that at some point in my life I'm going to be the mom who makes gingerbread cookies with my children.
16. Potted Plant ($3.99)
In the dead of winter, it's really nice to have something growing inside. And these plants are a nice size – everyone has room for one.
17. Bookmark Pad ($3.19)
I'm not much of a bookmark user, but holy cow, I am in love with these ones.  So fun to rip a fresh one off for each new book and then leave it in your book as a reminder of what you read.
18. Serving Tray ($4.99) – Don't you find that around the holidays you are always trying to cart around some plate of goodies and you never have something a) big enough and b) not fragile? Ta-da! I'll take two, please.
19. Bits and Bobs Tray ($5)
I am in love with almost everything from Poppin – I dare you not to want to re-do your entire desk after you look through. This little tray perfect for those odds and ends you can't contain easily comes in nine gorgeous colors. I'd love one of these for my bedside table too. (Also, 20% back on Ebates for Poppin, so definitely sign up for that. . . ).
20. Freezer Meal
Another non-sugar food option, I love the idea of getting a meal that I can stick in my freezer and then pull out at a moment's notice. I'd recommend this Spaghetti Pie for an everyone-pleasing recipe. Just undercook the noodles a bit and don't bake it before you freeze it.
If you need more ideas, check out all of the $5 gift guides!
If you liked my twenty suggestions for cheap stocking stuffers, you might also like these posts: