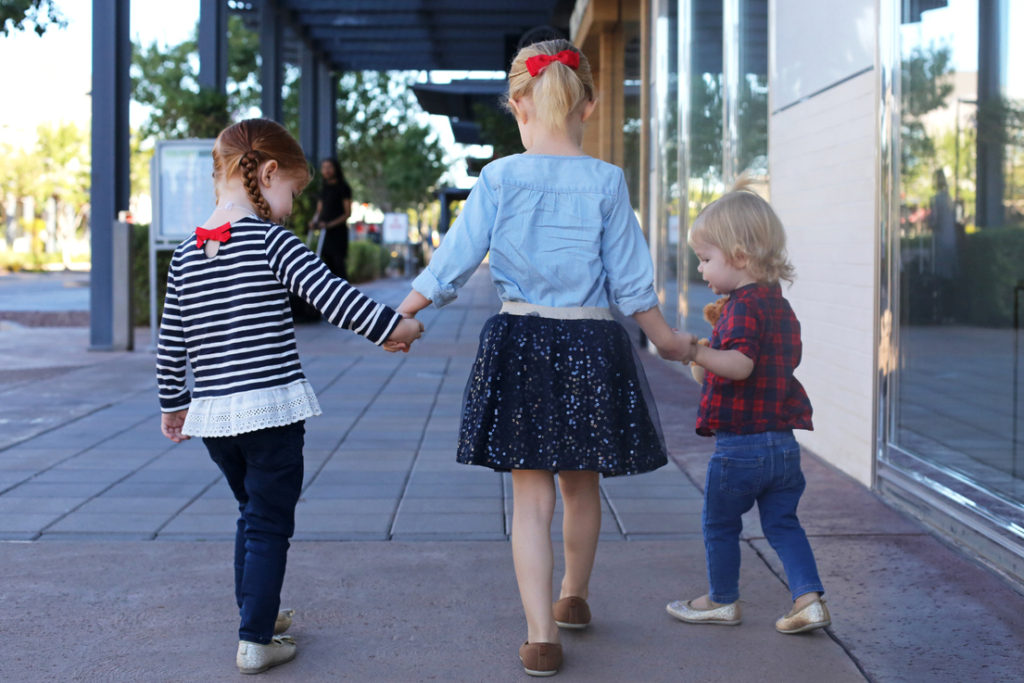 This post is sponsored by Everywhere Agency on behalf of OshKosh B'gosh; however, all thoughts and opinions expressed are my own.
We're deep into the season of photo taking, whether that's professional photos for family Christmas cards or candid snapshots at Thanksgiving dinner.
Of course I want the girls to look cute for these things, but I also want them to be comfortable because nothing looks less candid or sweet than your child tugging at itchy clothing or crying about a tags.
My taste in children's clothing has definitely gotten better over the years (with each baby, I've weeded out more and more things from the early days of dressing little girls), and since we're in hand-me-down heaven here with almost-four girls, I've learned some lessons about what works for all their little wardrobes.
how to shop for kids clothes
1. Pick a general color scheme. Because the girls all look fairly different and have different coloring, many things I bought for Ella don't look that great on Ani. Over the years, I've discovered that I really like all three of them in blues, whites, and reds (and I like that those colors also tend to work well year-round and for many major holidays), so I choose the majority of their clothing in those colors so that things work well together and flatter the next little sister who gets the hand-me-downs, plus it's easy to add a few things in other colors as those show up. Plus, when there are family photos, it's pretty easy to coordinate everyone because the majority of their closets are in similar color schemes.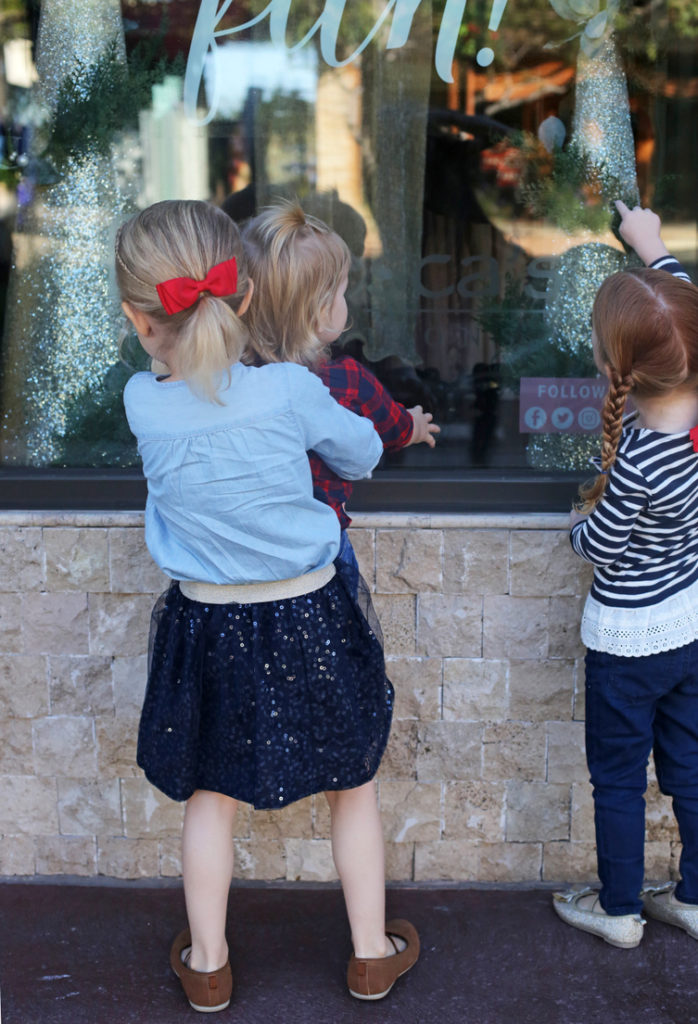 2. Choose fabrics that will hold up to years of washing and wearing. I know that all the clothing I get for Ella (and even Ani) is destined to get a long run with two or three more little sisters to wear it, so I need something that is going to keep looking good over scores of runs through the washing machine and necessary encounters with the bleach pen. I've found that t-shirt fabrics don't hold up well and never look that good after a few washes (sometimes even after that first wash, which is so disappointing), so I almost always go for non-stretchy cottons, even if that means a quick visit with the iron, twills, soft denims and chambrays, and sweater fabrics. I love this little chambray blouse that Ella's wearing because I know it'll still look just as darling in 5 years when Sister #4 is wearing it.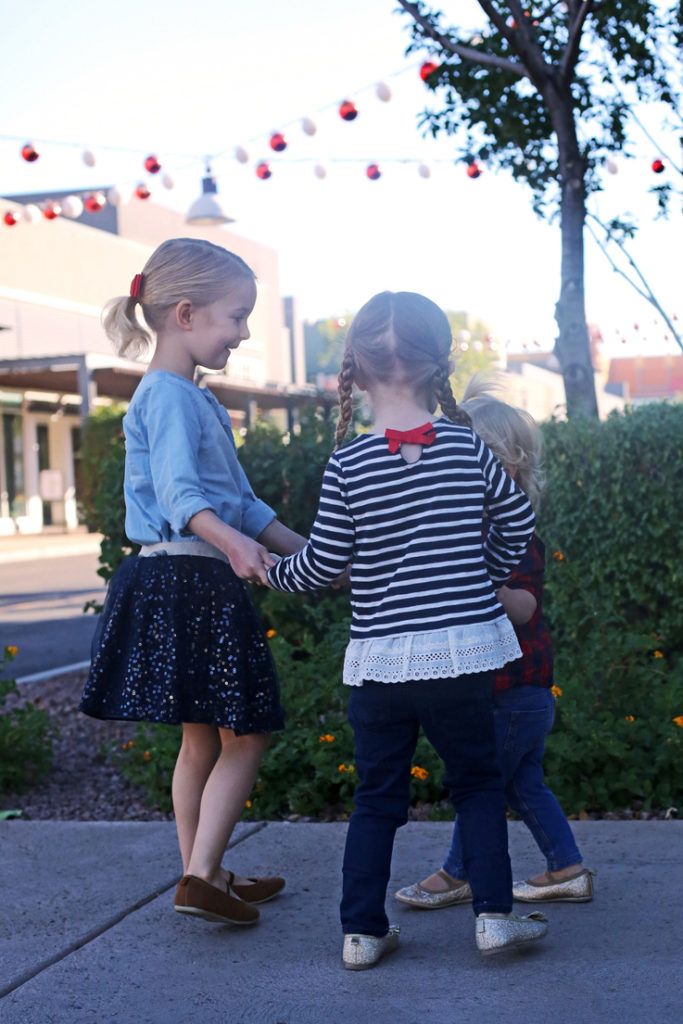 3. Pick classic shapes and patterns with fun details. I try not to pick overly trendy items  so that they don't date quickly (I remember my mom advising us on this when we picked outfits for our senior photos back in high school), but I especially look for items with a fun little extra that makes it special. A basic navy and white sweater isn't anything out of the ordinary, but the little red bow on the back and the eyelet trim on the bottom make this sweater so ridiculously darling. And ballet flats are as ordinary as it gets, but the little cat face on them is just too fun. I feel like this is where OshKosh B'gosh KILLS it – they sell so many basics but with really pretty details that elevate them a lot.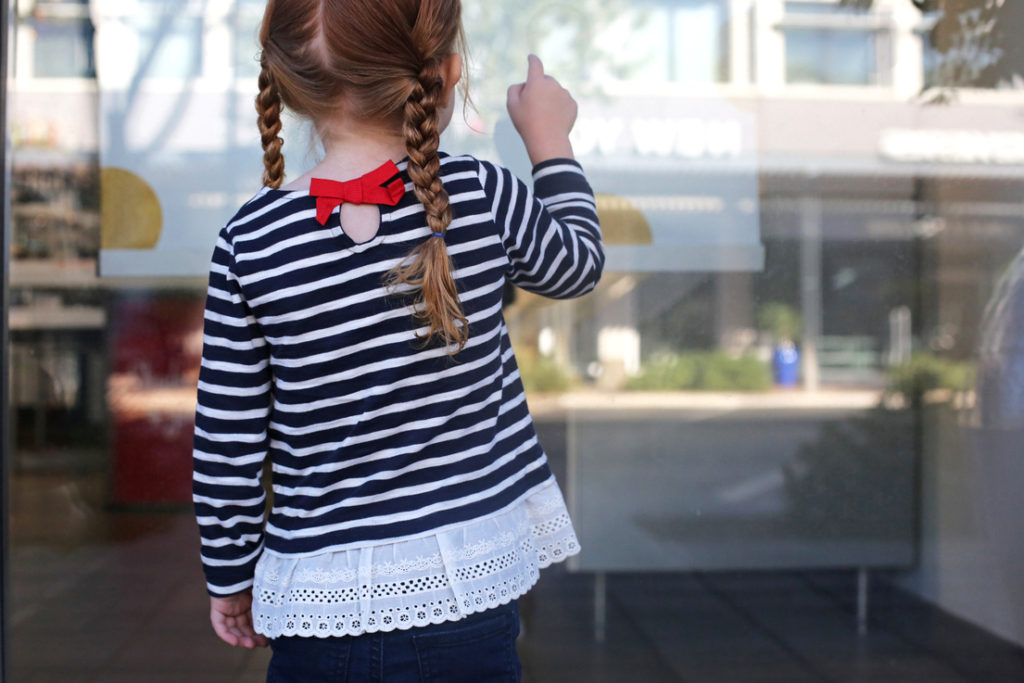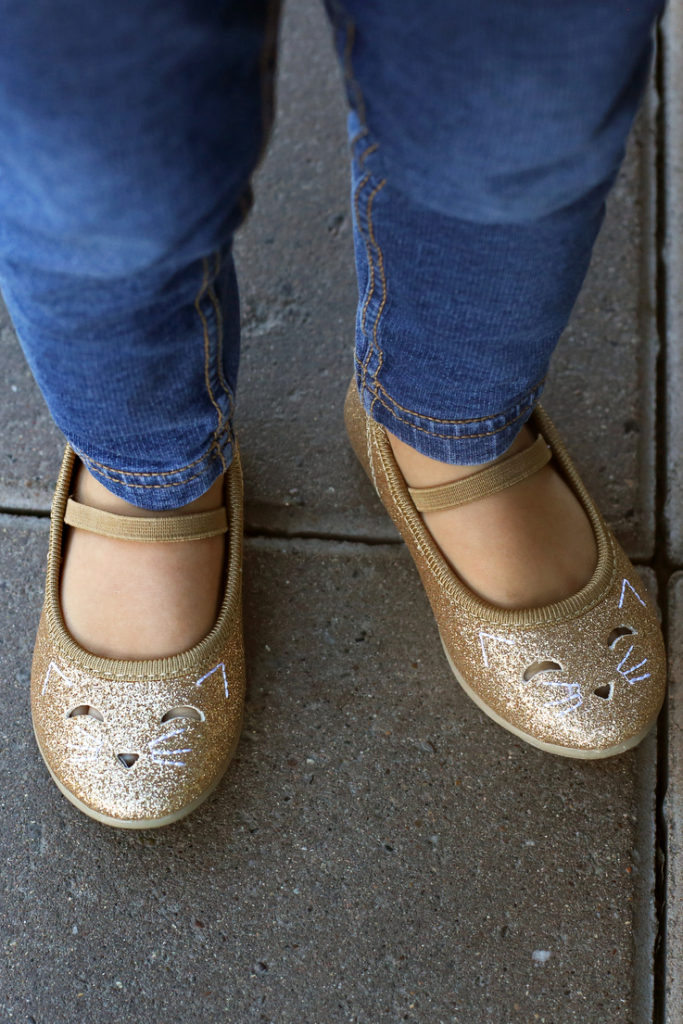 4. Be aware of what they like to wear. Ella is my skirt-lover. She'll pick a skirt, especially a twirly one, almost every day of the week. Ani, on the other hand, lives for "comfy pants" so she has a lot of jeggings and leggings. Although I care about what my girls wear, I don't care enough to make it a big battle, so I try to make sure they have enough clothing that they are happy to wear that still fits in the categories I like too.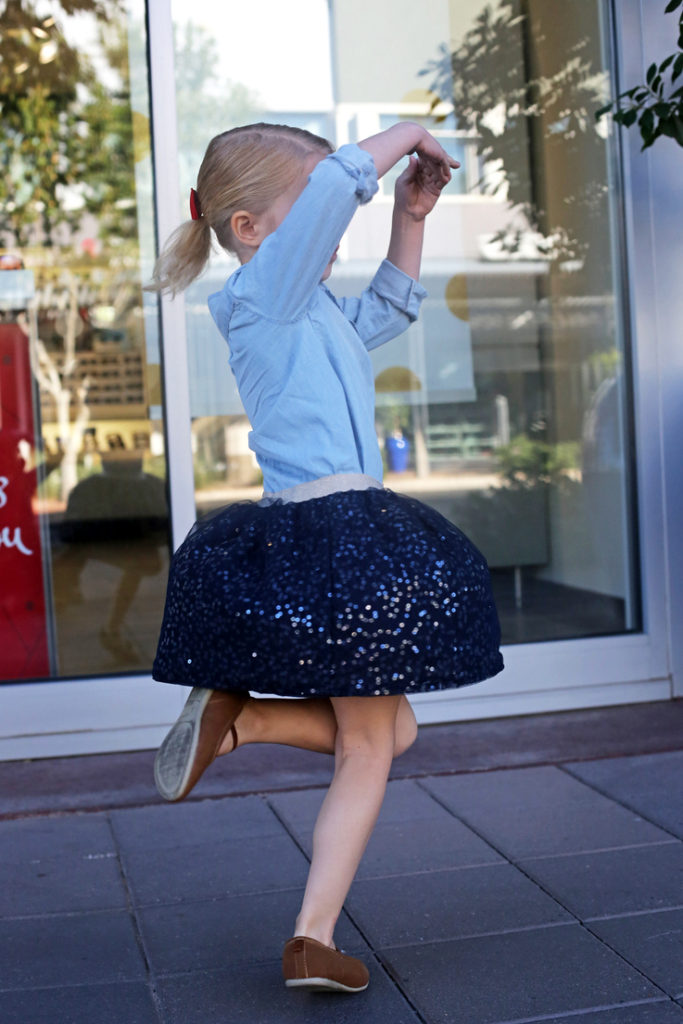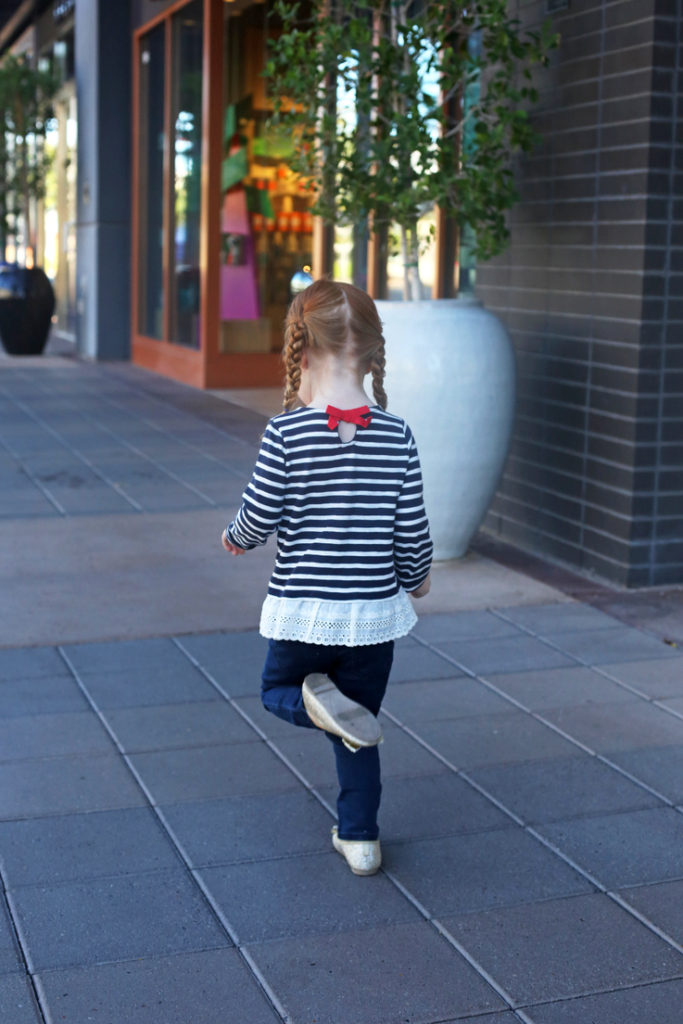 5. Be realistic about what occasions and weather you're shopping for. I love chunky little sweaters or fur-lined boots, but I know that I'm just setting up the girls to melt in Arizona weather in that. I really appreciate that OshKosh B'gosh has festive clothing in all sorts of seasonal weights – that little skirt Ella is wearing could be layered with tights and boots if we lived somewhere cold, but here, when it's 85 degrees on Thanksgiving Day, bare legs and ballet flats look just as good with it. And Ani's sweater is light-weight so it's perfect for our warmer winter weather, but also thin enough to layer under a jacket and then not roast your child when they're in an over-heated house while snow falls outside. And Star's little plaid blouse is ideal for the whole fall and winter season because it's not too heavy. Similarly, if your holiday celebrations are mostly very casual, pick festive items that aren't overly fancy – it might be tempting to go with that super floofy Christmas dress, but if everyone else is wearing jeans to Christmas dinner, pick something holiday-ish that's more laid-back.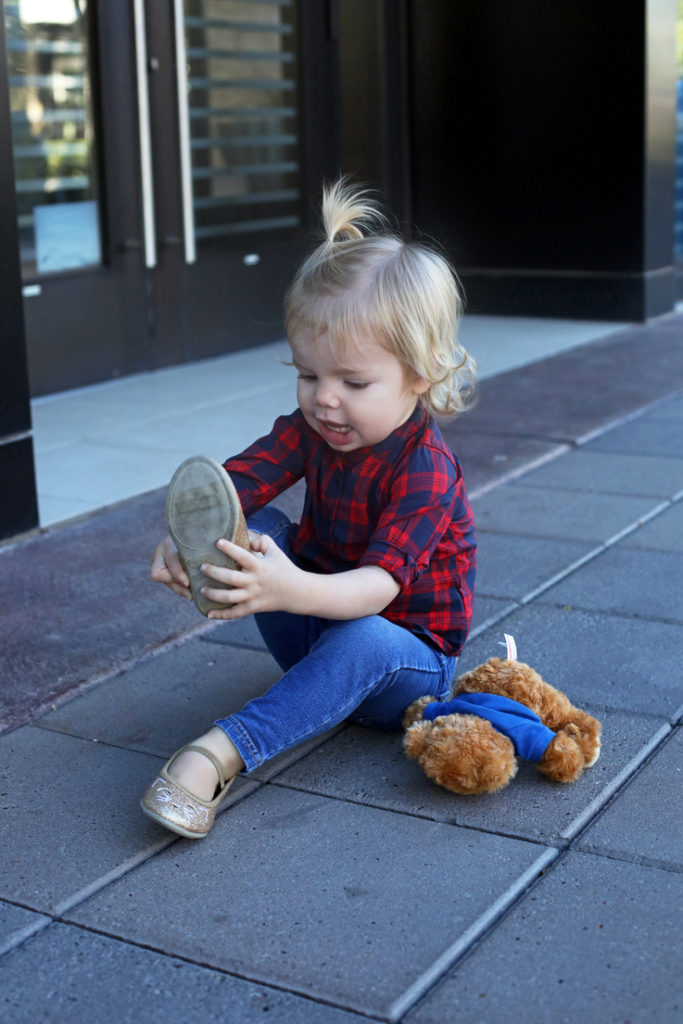 What guidelines do you use for picking out clothing for your child (and do your kids have strong opinions about what they wear)?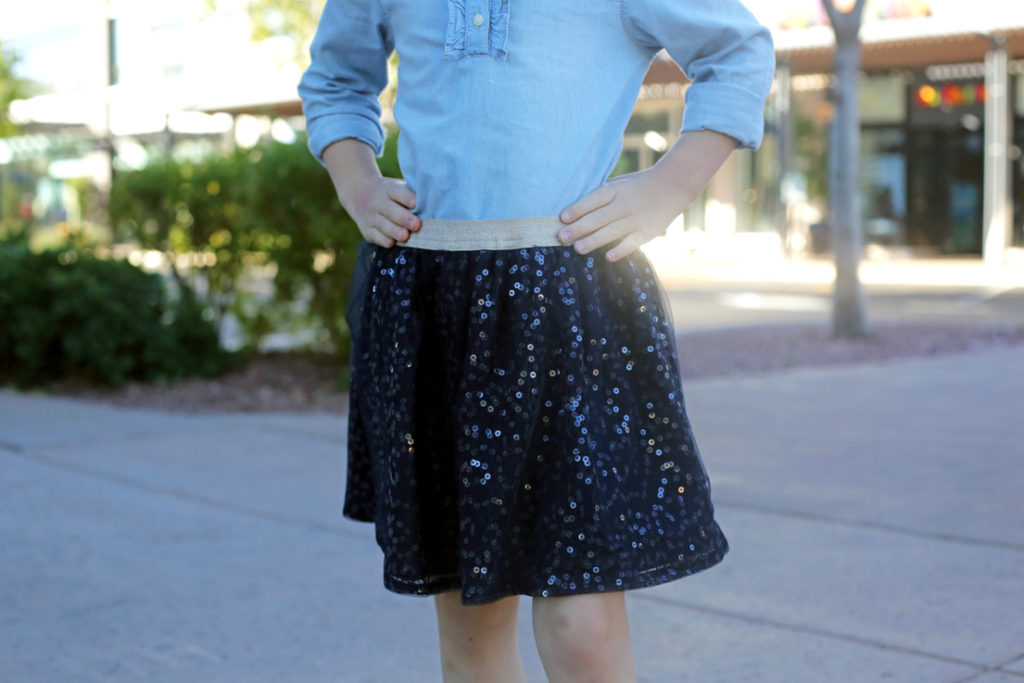 And if you're in the market for some new clothing for the holidays for your little ones, check out your local OshKosh B'gosh and use this coupon or use the coupon code OKBG3223 online for 25% off your purchase through the end of the year.
ELLA'S OUTFIT: Chambray Top • Skirt • Shoes
ANI'S OUTFIT: Sweater • Jeggings • Shoes
STAR'S OUTFIT: Top • Jeans • Shoes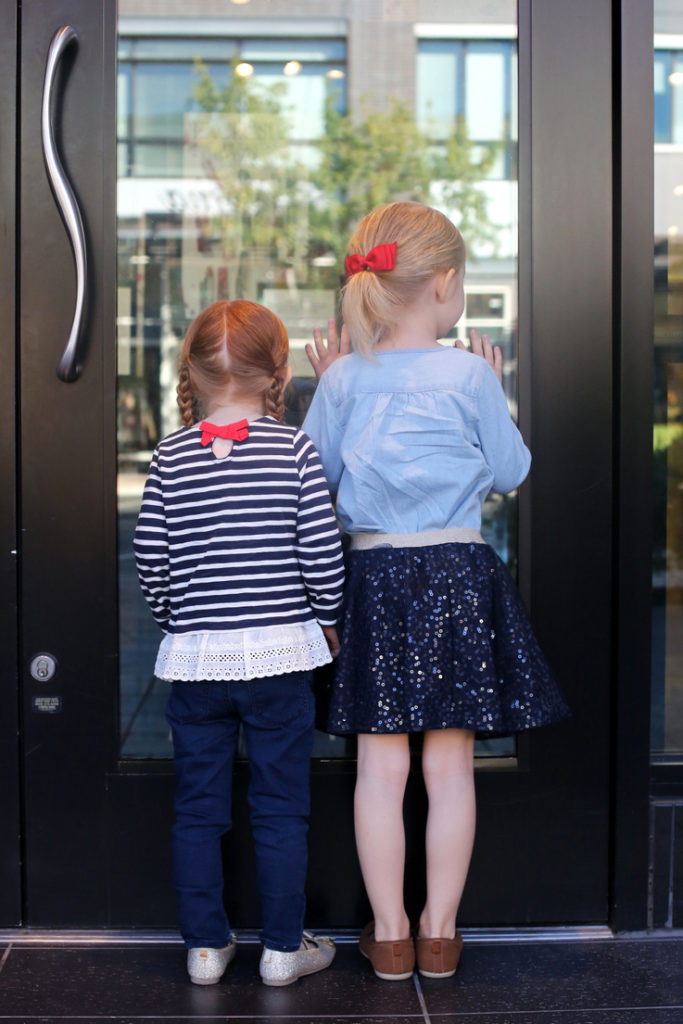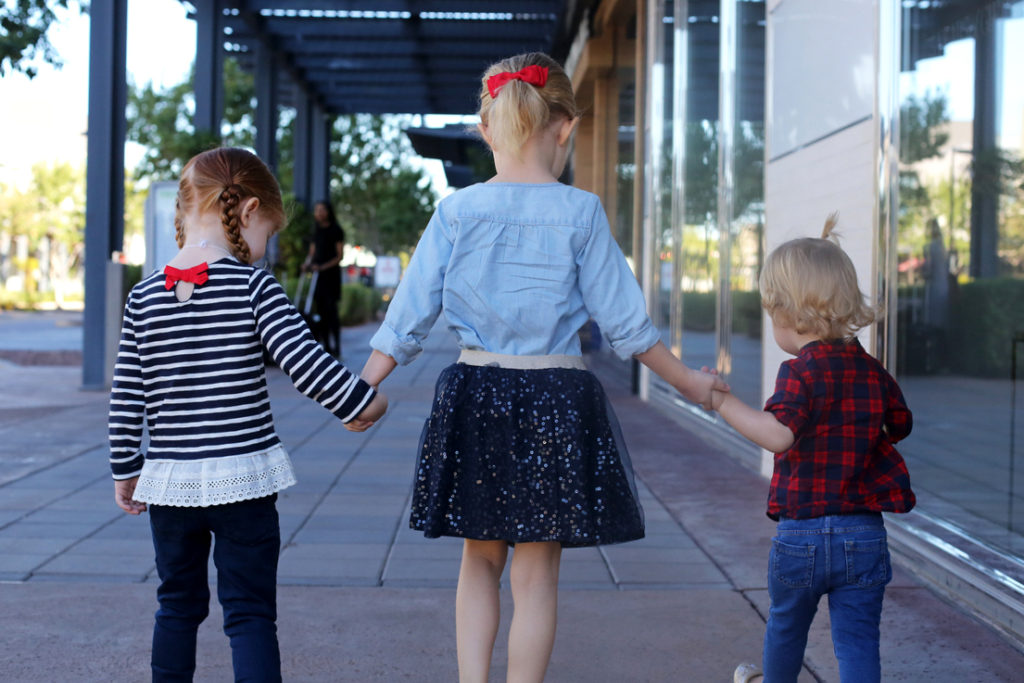 if you liked this post about how to shop for kids clothes, you might also like these other posts: