I love the change of seasons, especially the switch from summer to fall. This may possibly be influenced by having a fall birthday. Possibly.
Right now, I'm prepping for a low-key homeschool pre-K with Ella, so most of my shopping is of the scholastic variety. But, obviously, shopping, even pretend shopping, for myself is more fun. Here's a few things I have my eye on.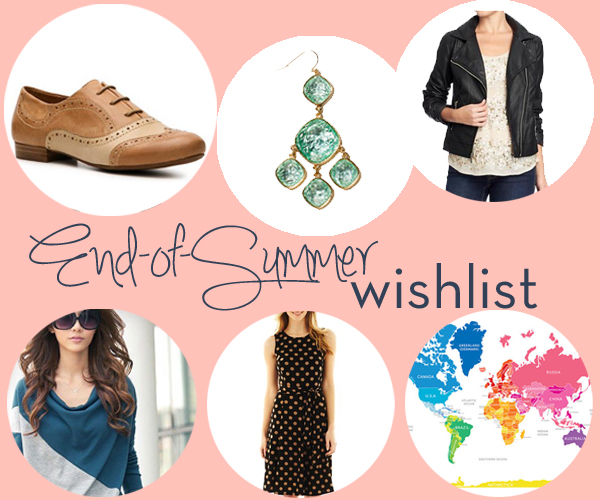 Crown Vintage Alice Oxford. I totally love these shoes (and all the Oxford-style shoes out there). This is highest on my to-buy list. My birthday money will be diverted this way very soon, I can tell. Perfect fall/winter everyday shoe. And I'm an everyday kind of person.

Mint Earrings. I'm tired of all my earrings. I'm in the mood for colorful big earrings (of course, this is in a alternate-life where Ani wouldn't immediately rip them straight out of my earlobes).
Sweatshirt Top. I like comfortable clothing as much as the next person, but I draw the line at comfortable clothing that looks horrendous (say no to harem pants (sorry, Grace)). I was browsing Sammydress for a partnership I'm doing with them and I was all, "sweatshirt that doesn't look like you bought it Walmart for $5. Sold." (It's still only $7, though, so it's not like you're breaking the bank to wear a sweatshirt). (This paragraph has too many parentheses).
Asymmetrical Zip Leather Jacket. We went grocery shopping last week and Ella kept saying, "Mom, you forgot to bring my sweater!" I thought, "It's AUGUST! I shouldn't have to bring a sweater." Seriously, unseasonably cool right now. Bring on the jackets.
Polka-Dot Dress. In my imaginary life where I'm not nursing five times a day and dresses are actually a reasonable wardrobe choice, I'd buy this polka dot dress (I seem to be really into polka-dots lately, if my Pinterest style board is any indication). Actually, this one is on sale, so I might just go ahead and buy it, knowing I won't be nursing for tooooo many more months. Plus, it's a nice cross between summery and fall-appropriate.
Bright World Map. I love maps, but it is HARD to find a world map that I like. And I want a really giant one for the hallway. I wish this one came in bigger sizes.