I'm pretty convinced that there is no person alive with a body that doesn't have at least one tricky feature that makes shopping somewhat difficult (and, let's be honest, most of us have multiple).
One of mine is that I have very narrow shoulders.
And a dress or shirt with shoulders that are too big means you look like you are a nine-year-old wearing your mother's clothing.
(Buying a blazer or jacket is nearly impossible).
I was at
Old Navy
last week and when I was walking through the girls section to get to the little girl section, I noticed these
striped maxi dresses
.
And I thought. . . "I bet that would work for me."
And it did. Thank you, little girls, for having tiny shoulders so I can wear a dress made for you. Also, a maxi dress for little girls means it's a knee-length dress on me. Which I like better anyway.
The dress was also on sale for $10, so that was extra awesome (for reference, this is a size medium. I also tried on a
large with pink stripes instead of blue
, which I also loved, but eventually decided I liked the knee-length more than the midi-length).
I'm planning to wear this all summer long, especially when we visit my parents this summer in Las Vegas and enjoy some cool temperatures of 115.
I also love the circle hem, which is a nice extra touch.
I put together three outfits with this tee shirt dress, but I could have done at least five more. Don't be surprised to see this popping up all summer.
#1: Hat, Flats, Done. 
I really love that this dress doesn't need anything to be a full outfit. That's my kind of summer dress.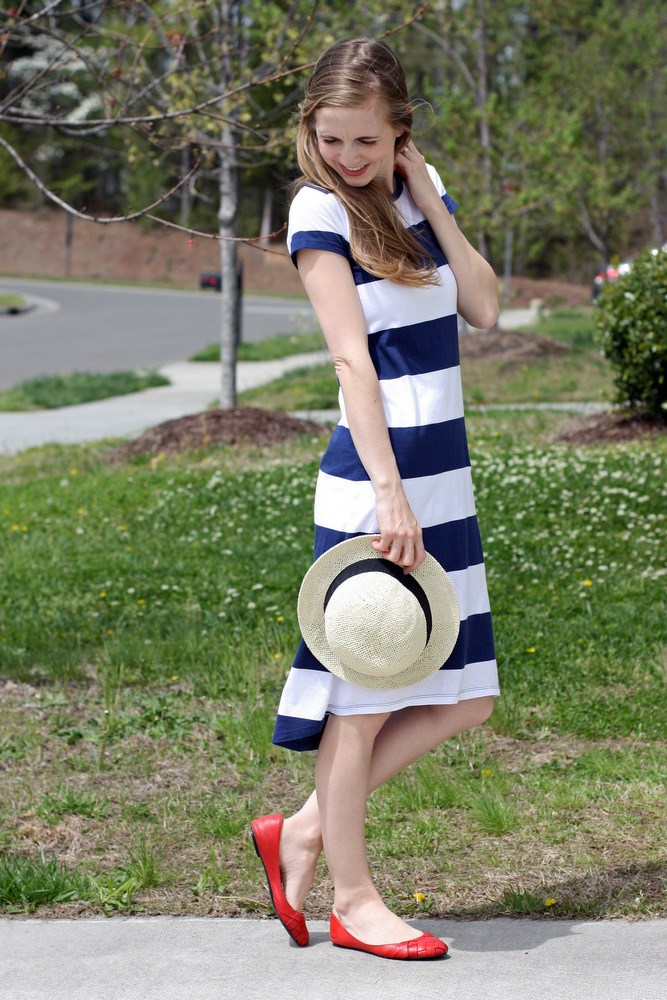 #2: Dressed up with a jacket and wedges
We will be visiting beaches on both sides of the country this summer (yippee!) and I have visions of wearing this dress over my swimsuit during the day and then tossing on a jacket and nicer shoes and going out with Bart when the girls are in bed.
But I think we all know the chances of that happening are zero. More likely, after a day at the beach with small children, we'll all collapse into bed at 7 p.m.
Still, it doesn't hurt to dream.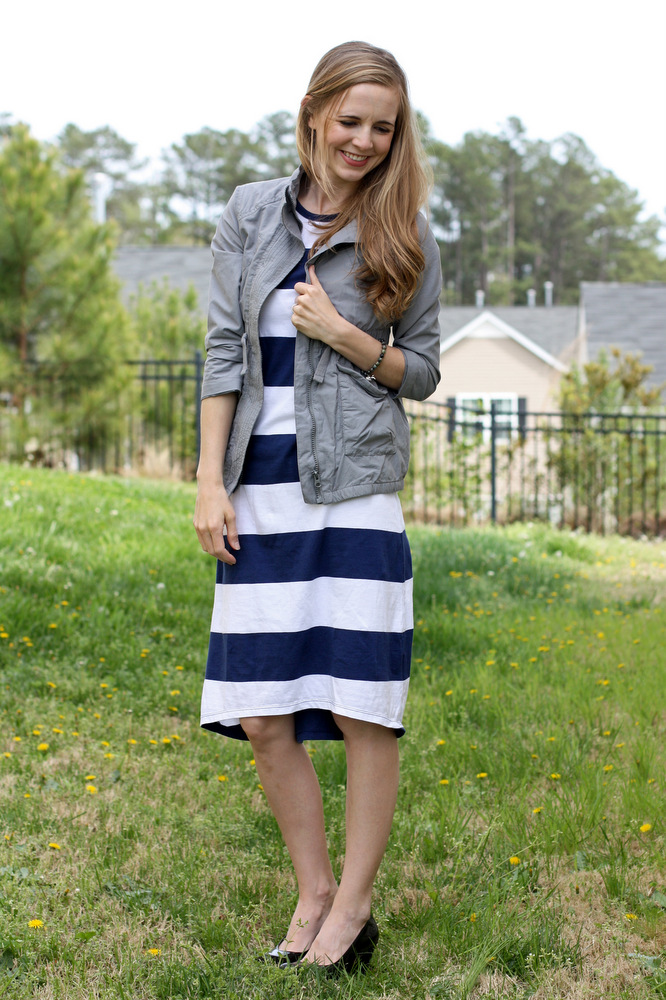 Wedges: Payless // Bracelet: The Shine Project
#3: Top it off with a button-down and belt.
You know I won't be doing this in the summer, but right now, while it's spring and the weather isn't the temperature of the noonday sun? This is perfect.
Also, I bought these wedges (you can
see them more clearly here
) a couple of years ago when Old Navy had a 50% off one-item coupon, and then never wore them, but this year I'm wearing them non-stop. This is why I am afraid to get rid of anything.