Sometimes, it's really convenient to have a whole collection of picture books or stories in a single volume.
Whether you're going on a trip and don't want to pack a million individual books or you want a treasury to read from each night before bed, a picture book collection is the perfect way to get oodles of reading out a single volume.
They also make wonderful gifts – my mother-in-law has given us several and my children absolutely love them!
Here are some of our favorite picture book collections or story treasuries.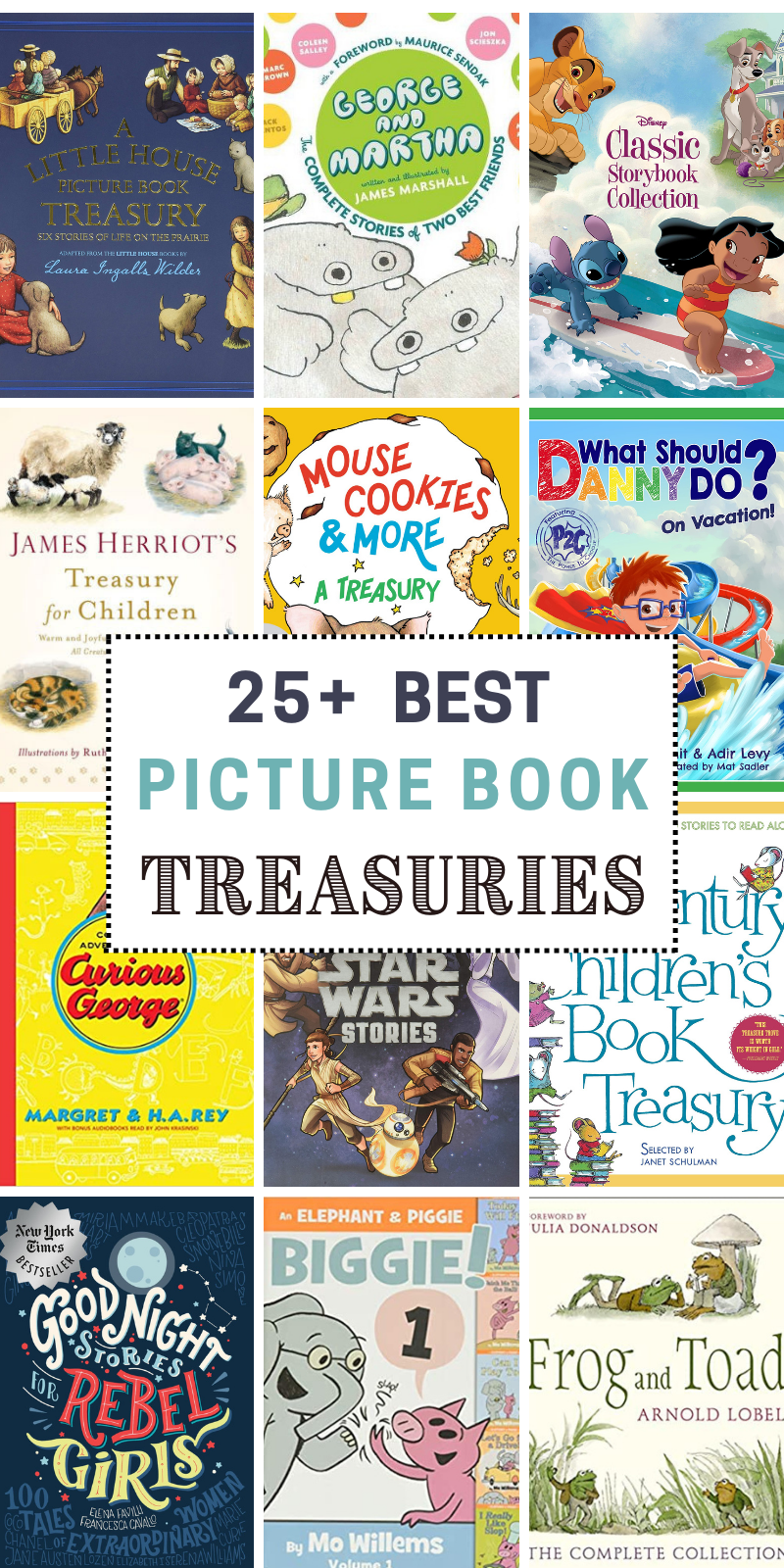 25+ Best Picture Book Treasuries
An Elephant & Piggie Biggie! by Mo Willems
5 stories // 320 pages
With five books in one, this is such a fun story collection. Elephant & Piggie books have been a huge boost for several of my girls as they learned to read independently and I'm super happy that we own so many of them so they can revisit them whenever they want.

Very Short Stories to Read Together (You Read to Me, I'll Read to You) by Mary Ann Hoberman, illustrated by Michael Emberley
12 stories // 32 pages
This is a great collection of short stories that encourages beginning readers to read along with adults. The adult reads one page and then the child reads the next. It's a fun way to read together and has fun stories and cute full color illustrations.
The 20th-Century Children's Book Treasury: Picture Books and Stories to Read Aloud by Janet Schulman
44 stories // 320 pages
If you are looking for a one-size-fits-all book treasury look no further- this is it. This treasury includes 44 different stories that range from wordless picture books to short read-aloud stories. It features classic characters that we grew up with, like Curious George, Madeline and Winnie-the-Pooh, and will be so fun to introduce to a new generation of readers.
The Family Bedtime Treasury: Tales for Sleepy Times and Sweet Dreams by Christelow
16 stories and poems // 288 pages
Here is the perfect book for bedtime. It includes eight picture books and eight illustrated poems that will lull and soothe your kids to sleep. Some of my favorite stories included are The Napping House, No Sleep for Sheep and Tell Me Something Happy Before I go to Sleep. The book also includes a CD with calming, classical music just right for bedtime.
Harper Collin's Treasury of Picture Book Classics by Tegan Katherine
12 stories // 448 pages
If you are looking to read your kids some of the stories that you likely grew up reading, this is the perfect book treasury for you. It has twelve great picture books including Chrysanthemum, If You Give a Mouse a Cookie and Harold and the Purple Crayon. The stories have the original full color illustrations.
Richard Scarry's Best Storybook Ever by Richard Scarry
80+ stories // 288 pages
This book is fun for readers and non readers alike. It includes excerpts from Goodnight Little Bear, I am a Bunny, and The Rooster Struts. It also includes really fun full color illustrations with things like an illustrated alphabet, flower field guides, and a glossary of colors.
Frog & Toad The Complete Collection by Arnold Lobel
20 stories // 248 pages
To me, this is the classic easy reader chapter book series. We have several of them on Audible and Star listens to them almost daily during quiet time. The stories are so clever and fun, even for adults.

Mouse Tales by Arnold Lobel
7 stories // 64 pages
I love Arnold Lobel as an author and Mouse Tales has always tickled my funny bone. This delightful collection of silly stories is always well-loved. Papa's seven little mouse boys ask for a bedtime story, Papa does even better than that—he tells seven stories, one for each boy!
The Complete Brambly Hedge by Jill Barklem
8 stories // 248 pages
A treasury of the enduring Brambly Hedge, bringing together eight much-loved classic stories. This collection is full of sweet whimsical illustrations. Join the mice from Brambly Hedge on their adventures and fun. 

The Complete Adventures of Curious George by H.A. Rey and Margret Rey
7 stories // 432 pages
If you need some naughty little monkey antics in your life, this giant collection has you covered. This edition also includes an original illustrated map of Curious George's world, as well as an access code to download bonus audio read by actor, producer and director John Krasinski.
Uncle Wiggily's Story Book by Howard R. Garis
30+ stories // 247 pages
This one has been around for years! Full of endearing characters and a bunny rabbit who loves to make things right, this book has a high chance of capturing your child's heart.
Beatrix Potter Treasury by Beatrix Potter
10 stories // 192 pages
All the love for Peter Rabbit and company at our house. This collection has 10 of Beatrix Potter's most beloved little animal tales, so it'll keep you in stories for a nice long time.

Mary Engelbreit's Fairy Tales: Twelve Timeless Treasures by Mary Engelbreit
12 stories // 128 pages
Mary Engelbreit tells twelve classic fairy tales like no one else can. Cinderella, Rapunzel, Sleeping Beauty and more come alive with beautiful, colorful illustrations in this timeless book treasury. It will be one you'll read again and again.
Disney Classic Storybook Collection by Disney Books
18 stories // 304 pages
Any kid will love this giant book of Disney stories. It includes eighteen fun stories with familiar characters but different plot lines. They are short and perfect to read before naps or bed.
5-Minute Disney Classic Stories by Disney Books
12 stories // 192 pages
These stories feature all your favorite classic Disney characters from Simba to Peter Pan but the stories are different than the movies. It makes them a little more entertaining to read when it isn't the same as the movie you've seen umpteen times, but it will be sure to delight readers of all ages.
Owl at Home by Arnold Lobel
5 stories // 64 pages
Owl lives in a cozy house where he can't figure out how to be upstairs and downstairs at the same time, makes friends with the moon, and brews himself some tear water tea. Charming and a little quirky, this book is classic Arnold Lobel.

Little Critter: The Original Classics by Mercer Mayer
13 stories // 320 pages
Little Critter books are a classic and it's fun to have so many of these stories all in one great hardcover collection! The well intended, but at times misguided little critter is a heartwarming character with stories that will delight over and over again.
What Should Danny Do? On Vacation by Adir Levy and Ganit Levy, illustrated by Mat Sadler   
9 stories // 84 pages
Danny is going on vacation and learns all about hsi Power to Choose while he is is there. These books are filled with lessons on dealing with personal responsibility, empathy, kindness and much more. They are written in a "choose your own an adventure style" where you can pick which choice and see what the result is of Danny's choice.
Fancy Nancy Storybook Treasury by Jane O'Connor, illustrated by Robin Preiss Glasser
6 stories // 192 pages
These books are super popular at our house. My girls LOVE Fancy Nancy and all her gigantic (that means big) words.  

James Herriot's Treasury for Children by James Herriot, illustrated by Ruth Brown and Peter Barrett
8 stories // 272 pages
I grew up on James Herriot – my mom is a huge fan – and she introduced my girls to his sweet stories about being a farm vet. She gave us this CD collection that's meant especially for children and it's just wonderful. 
Paddington Storybook Collection by Michael Bond, illustrated by R. W Alley
6 stories // 192 pages
You can't go wrong with a classic collection about a bear found in a train station who loves orange marmalade and  is always accidentally getting into a sticky situation.

A Little House Picture Book Treasury by Laura Ingalls Wilder, illustrated by Renee Graef
6 stories // 208 pages 
The Little House on the Prairie books are a classic beloved by many! This book treasury includes six picture book story adaptations from those chapter books and puts them with beautiful full-color illustrations. This is a really fun way to introduce younger readers to Laura Ingalls and her exciting life on the frontier.
Mouse Cookies & More: A Treasury (If You Give…) by Laura Numeroff, illustrated by Felicia Bond
4 stories // 224 pages
If You Give a Mouse a Cookie is such a fun book for any age and it is included in this collection with three other "If you give…" stories, plus recipes, songs and activities for kids and parents to enjoy.
The Little Bear Treasury by Else Minarik
3 stories // 190 pages
I love all of the Little Bear books and they're a great value because they have several little chapters. They're just some of the best stories for kids! This is a good one to read along with beginning readers and test out their reading skills. 

George and Martha: The Complete Stories of Two Best Friends Collector's Edition by James Marshall
35 stories // 368 pages
If there was ever a book that could make me laugh, it's a George and Martha book. These two hippo friends are hilarious and their stories and (mis)adventures make me chuckle out loud.

The Alfie Treasury by Shirley Hughes
7 stories // 128 pages
Alfie, a young boy, navigates his way through real-life experiences, learning how to express compassion, independence and kindness. Shirley Hughes tells timeless and charming stories in this beautiful treasury with full page colorful illustrations. These stories appeal to a wide audience and the literature is truly quality work.
5-Minute Star Wars Stories by Lucasfilm Press
11 stories // 176 pages
Calling all fans of a galaxy far far away… Read about all your favorite Star Wars characters from Luke Skywalker, to Yoda and Rey to Darth Vader. These stories will delight children and parents alike- all in an action-packed five minute story. Which is a little easier to take than the entire Star Wars video saga.
Goodnight Stories for Rebel Girls: 100 Tales of Extraordinary Women by Francesca Cavallo and Elena Favilli
100 stories // 224 pages
If you love a story collection where you can read just one or two a night, this is the PERFECT collection. The audio version is also read by a seriously impressive cast.
And if you'd like a printable copy of this list that you can take to your library or screenshot on your phone for easy access, just pop in your email address below and it'll come right to your inbox!
Any other favorite children's book collections? I'd love if you left your suggestions in the comments! 
if you liked this post about children's book collections, you might also like these other posts: