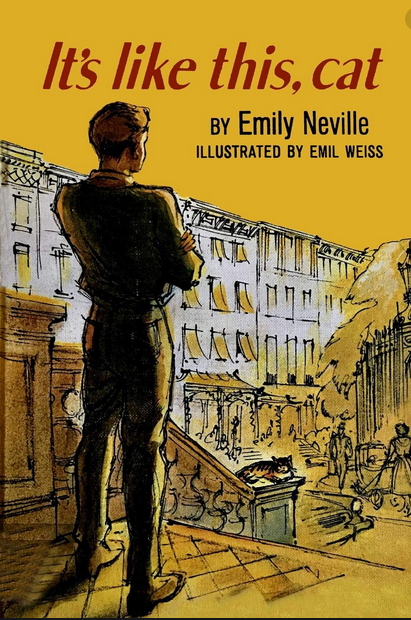 I didn't mention that one of my goals this year is to read one Newbery book every month. Um, hey, one of my goals this year is to read one Newbery book each month.
This month's was It's Like This, Cat which I knew exactly nothing about, but it looked shortish. That was enough for me.
it's like this, cat by emily neville
There's really not loads to say about this It's Like This Cat – teenage boy, Dave, takes a cat home from his crazy cat-lady neighbor, despite his dad's complaints, and then the cat runs into a basement and he meets another older teenager skulking around down there. They become friends. He meets a girl at the beach. They become friends. He has a childhood friend who thinks the cat is a hassle and he just wants to pick up girls. They become un-friends. He and his dad clash a lot, but Dave matures a little. They become sort-of friends. The end.
I felt like the cat was a bit of a device – it didn't seem necessarily like the cat was the driving story thread the book flap and title were promising (not that I cared; I'm not much of an animal person, in books or in real life). Frankly, the book could have lost the cat character and it would have been almost the same.
That isn't to say It's Like This Cat wasn't a good book – I actually quite enjoyed it. It reminded me a bit of a Beverly Cleary book; there wasn't a strong central plot, but more a collection of related episodes focused on one character. Sometimes, that's just the kind of book you need, right?
Life-changing it's not, but it was a pleasant enough way to spend a Sunday morning.
So, what Newbery book should be next on my list?
If you liked this review of It's like this cat, you might also like these books: