Have you read any illustrated chapter books?
Probably the best known ones are the illustrated Harry Potter books done by Jim Kay. They're still the full-text editions (no abridgments here!) but they also have illustrations throughout the book, bringing a whole new magic to a beloved book.
They're definitely not a picture book version of the originals but illustrated chapter books are wonderful for children making the transition from picture books to longer chapter books and I've heard from many families who say they've made for magical read alouds, especially for very visual learners!
I've loved the trend of beloved books (both classics and newer titles) being released as illustrated chapter books!
Here are more than 15 of delightful options: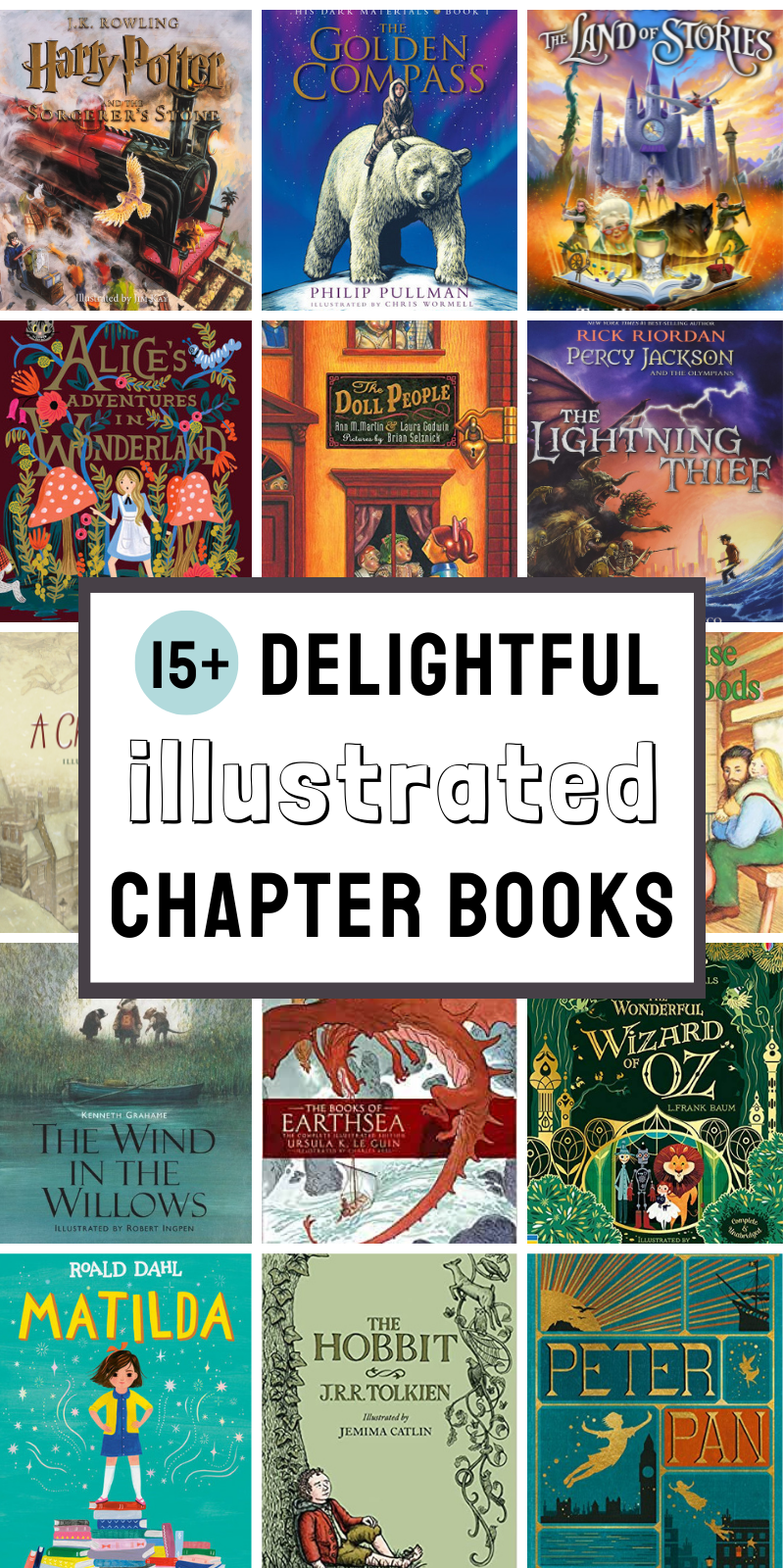 15+ Delightful Illustrated Chapter Books
Harry Potter: The Illustrated Edition by J.K. Rowling, illustrated by Jim Kay
This might be one of the most well-known illustrated chapter books and I'm all onboard for anything Harry Potter. They are 100% magical and these illustrated versions really help when you are trying to imagine things that don't truly exist! I also wrote a whole post on my thoughts about when to start reading Harry Potter with your kids if you are interested. 
His Dark Materials: The Golden Compass Illustrated Edition by Philip Pullman, illustrated by Chris Wormell
The Golden Compass is the story of Lyra and her dæmon and their journey to the cold, far North. This edition has more than 100 full-color illustrations and makes this mysterious and suspenseful novel really come to life.
Anne of Green Gables Illustrated Novel by L. M. Montgomery
When I read this book as an adult, I hadn't read it in decades, but I'd seen the movie about a million times. We've now watched the movie as a family along with reading the books together. I can only imagine how much more these illustrated ones add to the experience.

The Books of Earthsea: The Complete Illustrated Edition by Ursula K. Le Guin, illustrated by Charles Vess
This stunning illustrated novel combines all the books into one volume, including early short stories and a never before printed story. It includes fifty illustrations and will delight new readers and returning readers alike.
The Land of Stories: The Wishing Spell: 10th Anniversary Illustrated Edition by Christopher Colfer
I'm pretty sure I didn't see Ella for a month a few summers ago when she blazed through this entire series. Alex and Conner, sister-brother twins, open up a beloved book of stories only to find themselves sucked into the book. In a mysterious land where magic runs rampant, they find themselves interacting with fairy tale characters they've heard about all their lives. The real question is. . . can they ever get home? I'm so delighted to see an illustrated edition for the 10th anniversary!
The Hobbit: Illustrated Edition by J.R.R. Tolkien, illustrated by Jemima Catlin
Bilbo Baggins rarely leaves his hobbit home, but is suddenly bombarded with visitors who want to take him on a treacherous journey. The Hobbit is full of adventure and would be extra fun to enjoy it with beautiful illustrations.
Matilda by Roald Dahl, illustrated by Sarah Walsh
Bart read this one aloud to Ella when she was about four and a half, and they both loved it. It was one of my childhood favorites too, about a little girl who loves to read and finds herself at odds with her television loving family, not to mention the awful headmistress at her school. You may be used to Quentin Blake's illustrations for Roald Dahl books, but Sarah Walsh's delightful full color illustrations bring a whole new flavor to this beloved book.
Peter Pan: MinaLima Edition by J. M Barrie, illustrated by Minalima
The MinaLima editions of all sorts of classics are wildly popular and when I asked for recommendations for illustrated chapter books, so so many people suggested these (readers especially love the interactive elements!). Aside from Peter Pan, there are also Harry Potter editions, Alice in Wonderland, The Little Mermaid, and Beauty and the Beast, to name a few.
The Invention of Hugo Cabret by Brian Selznick
This Caldecott winner is a wildly unique book that's more than 500 pages long, but about 70% illustrations (stunning illustrations, I might add). It follows Hugo Cabret, a young orphan who lives in a little apartment inside the walls of a Paris train station and he keeps all the clocks in the station running smoothly and on time. In his spare time, he is also working on a secret project, for which he must steal parts from the mechanical toy shop in the train station. But when he's caught by the grumpy toy shop owner and loses his notebook full of instructions for his secret project, he joins forces with the owner's goddaughter, Isabelle, to get it back and complete his project.

The Little House 5 Volume Set: Full Color Editions by Laura Ingalls Wilder, illustrated by Garth Williams
I grew up on these books (I lived in Wisconsin until I was almost 7 and we went to the rebuilt Little House in the Big Woods which I still remember very clearly) and waited my whole life to have children of my own to read them to. When Ella was in kindergarten, we read the first four books together – I wish we'd had this set with Garth William's beautiful illustrations in full color!
The Lightning Thief Illustrated Edition by Rick Riordan, illustrated by John Rocco
This was one of our family's favorite read alouds last year (I enjoyed it much more sharing it with my girls than I did reading it solo) and now I'm wishing we could go back and revisit it as an illustrated chapter book – I absolutely love John Rocco's style! (Full review here).
The Wind in the Willows by Kenneth Grahame, illustrated by Robert Ingpen
When I was young, my mom would let us rotate choosing a book for her to read aloud and I think Merrick picked this one three times in a row. I can only imagine how many times she would have picked it if we had an illustrated version! (Robert Ingpen's also done a Robinson Crusoe illustrated edition, Gulliver's Travels, A Secret Garden, and Treasure Island)
Alice's Adventures in Wonderland by Lewis Carroll, illustrated by Anna Bond
This classic tale of Alice in Wonderland has the most beautiful and slightly whimsical illustrations. The full color illustrations are works of art and makes me want to have them framed for a child's bedroom or library. This would be the perfect gift for all ages.
A Christmas Carol by Charles Dickens, illustrated by P.J. Lynch
I love A Christmas Carol and I particularly love this illustrated version by P.J. Lynch – I love bringing out my copy each Christmas and discovering new details in the gorgeous artwork. 

The Doll People by Ann M. Martin & Laura Godwin, illustrated by Brian Selznick
The dolls have been sitting in the dollhouse for nearly a hundred years, with nothing changes. Until one day, a new doll family arrives. This one was an illustrated chapter book from the beginning and Brian Selznick's black and white illustrations really bring it to life. 

The Wonderful Wizard of Oz by L. Frank Baum, illustrated by Lorena Alvarez Gomez
Since The Wizard of Oz movie is famous for bringing the story to life in full-color after it's black and white beginning, it's no surprise that an illustrated version of the book would be equally delightful! (There are a whole bunch of Usborne Illustrated Classics, including Little Women, White Fang, and The Odyssey)
Any other favorite illustrated chapter books? I'd love to hear – it can be hard to find them!
And if you'd like a printable copy of this list that you can take to your library or screenshot on your phone for easy access, just pop in your email address below and it'll come right to your inbox!
if you liked this post about great illustrated classics and other beloved illustrated books, You might like these posts: