On Monday morning, the American Library Association will announce the 2013 Youth Media Awards, including the Newbery and Caldecott books.
As you might imagine, this is always QUITE an exciting day for me. You might also imagine that I'm something of a giant nerd. You'd be right on both counts.
Over the last many months, I've been keeping tabs on the picture books that are getting some Caldecott buzz, and I've tried to read as many of them as I can get my hands on. These are some of my favorites here and if one of them does get the gold sticker come Monday, you know I'll be feeling irrationally proud of myself.
And if not, this is still a seriously good list of 2012 picture books.
(There are at least a dozen more that are getting a lot of buzz, but I wasn't personally thrilled by them, so they're not on this list. It's my blog and I get to say what books are awesome).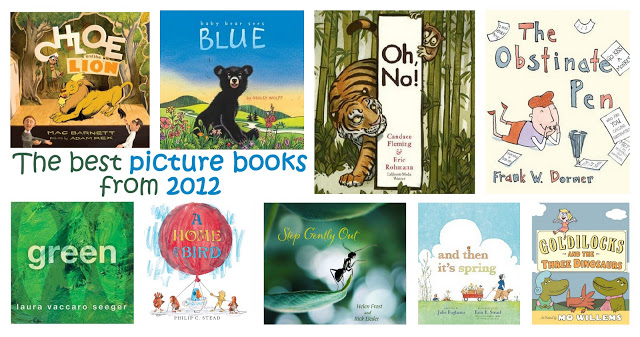 caldecott hopefuls
Chloe and the Lion by Mac Barnett, illustrated by Adam Rex. The illustrator of this story can't draw pictures to the satisfaction of
the author, so the illustrator quits and the author takes over. 
Baby Bear Sees Blue by Ashley Wolff – This one reminds me a bit of Blueberries for Sal, one of my all-time favorite books, but for a much younger audience. The colors are so vibrant and the pictures are gorgeous.
Oh No! by Candace Fleming, illustrated by Eric Rohmann – Who doesn't love animals? (No one in my house). These animals fall
into a giant pit in the jungle, one after another. The text is perfect for reading aloud to small children.
The Obstinate Pen by Frank W. Dormer – People keep telling the pen what to write, but the pen writes whatever it wants, like "You have a huge nose." Hilarious.
Green by Laura Vaccaro Seeger – I mentioned this one in my Picture Book Gift Guide and I still think it's one of the best books ever. So clever with gorgeous illustrations. 
A Home for Bird by Phillip C. Stead – I thought this one might be a bit too text heavy for Ella, but she loved it and we read it many times during the period we had it checked out. So sweet and clever. 
Step Gently Out by Helen Frost, photographs by Rick Lieder – This non-fiction title has the most gorgeous pictures of bugs (a sentence I never expected to write). 
And Then It's Spring by Julie Fogliano, illustrated by Erin E. Stead. I just read this one at the library this week and it deserves all the buzz it's getting. Sweet, gorgeous, and brief, about a little child planting a garden at the end of winter and waiting for spring.
Goldilocks and the Three Dinosaurs by Mo Willems – I'm sorry, is there any child alive who doesn't love Mo Willems? This spin on the classic tale will make you laugh.
And if you'd like a printable copy of this list that you can take to your library or screenshot on your phone for easy access, just pop in your email address below and it'll come right to your inbox!
if you liked this post about caldecott hopefuls, you might also like these other posts: