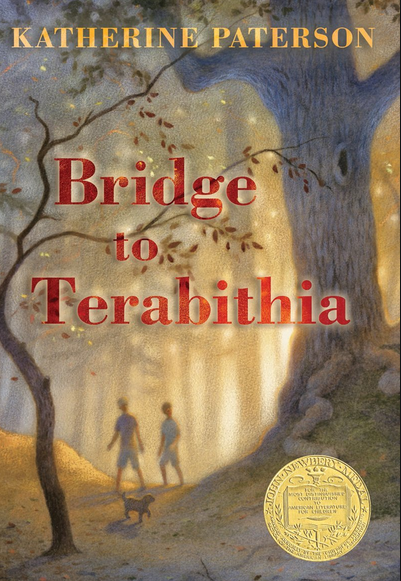 When I read Jacob Have I Loved last year, I was disappointed in it not only because the book itself didn't thrill me, but because it couldn't come close to comparing with Bridge to Terabithia.
I'd read Bridge to Terabithia in the summer of 2005. I remember coming home from church and my roommate and I each lay down on a couch in the living room. She quickly fell asleep and I finished the whole Bridge to Terabithia book. I'd never read it before and I only vaguely knew what was going to happen from snippets I'd heard over the years. I sobbed through the last twenty pages, trying to be quiet so as not to awaken my snoozing roommate.
I'm not a big crier. And I even more rarely cry over books or movies. But, oh, this book did me in. The writing is so simple, so unadorned and then the ending hits you like a ton of bricks. It's just so powerful.
Our last test in my Children's Lit class is in a few weeks and so I've been reading the four assigned books for the exam (Bridge to Terabithia, The Giver, A Wrinkle in Time, and Beowulf: A New Telling).
I wondered if I'd enjoy the Bridge to Terabithia book again, but was quickly sucked into the story. Today, I lay on the couch and I knew what was coming. I wondered if I'd be as affected by the ending this time, since I knew what to expect.
It didn't hit me as quickly as it did last time, but I wept through the last ten pages. I can hardly type this without bursting back into tears.
bridge to terabithia
The story follows Jess Aarons', a fifth grade boy who loves to draw and anticipates being the fastest runner in the fifth grade when school gets back in. He's been practicing all summer in the cow pasture and he's pretty sure he can beat every kid there.
Leslie Burke moves in to the rundown house next door with her parents and, on the first day back at school, she runs in the races (she's the only girl) and beat all the boys. By a lot. Jess is embarrassed by the whole thing and angry at Leslie for ruining the one thing he liked about school.
But, he chooses to befriend her (everyone else is pretty awful to her – she looks kind of like a boy and her parent don't even own a TV, despite being quite wealthy). "He felt there in the teachers; room that it was the beginning of a new season in his life, and he chose deliberately to make it so."
And it is a new beginning for him. His family is poor and there is a great deal of tension in his household. His older sisters both badger their parents for money and are extremely inconsiderate. His younger sisters tag along after Jess, much to his annoyance. Jess wants desperately for his father to show him love and pride, but his father scorns his drawing ambitions and more so his choice to hang around with a girl. He has high hopes for his one son, but Jess doesn't fit into his mold very well at all.
One of the brilliant things about this book, which I didn't notice the first time around, are the depictions of Jess' family. The author gives little flashes of description about the family members when its warranted, but they fade beautifully into the background. They serve only the purpose of illustrating how Jess' life operates and how he views the world around him. They aren't flat characters, they are simply unimportant. You can see that Jess' parents are extremely worried about money, but it's never explicitly said and you don't get the sense that Jess is very involved in that worry. He has other things on his mind. The focus of the story is Jess and Leslie, not his family.
Anyway, Jess and Leslie become quick friends and Leslie takes him to explore the woods behind her house. There, they find a rope hanging over the creek and they swing across to a private wooded area that Leslie declares is the magical kingdom of Terabithia, where she and Jess will rule as king and queen.
Leslie takes the whole thing quite seriously and Jess comes to love going there with her. She tells him stories that her parents have read her or that she has read from her expansive library – Moby Dick, Hamlet, The Chronicles of Narnia – and Jess soaks up this new life, full of imagination and friendship. Jess has been full of fear for most of his life, but even that starts to ebb away under Leslie's tutelage.
At the end of the book, there are a few lines that sum up the story – the change in Jess – so well, that I'll share them here.
"It was Leslie who had taken him from the cow pasture into Terabithia and turned him into a king. He had thought that was it. Wasn't king the best you could be? Now it occurred to him that perhaps Terabithia was like a castle where you came to be knighted. After you had stayed for a while and grew strong you had to move on. For hadn't Leslie, even in Terabithia, tried to push back the walls of his mind and make him see beyond to the shining world – huge and terrible and beautiful and very fragile?

Now it was time for him to move out. She wasn't there, so he must go for both of them. It was up to him pay back to the world in beauty and caring what Leslie had loaned him in vision and strength."
I won't tell you how it ends, although you can probably guess, but even if you do know, it doesn't diminish the power of Katherine Paterson's, Bridge to Terabithia book at all.
If you haven't read this book, you ought to. It is incredibly deserving of the Newbery medal it won in 1978. And if you don't shed at least one tear over this book, I feel completely justified in saying you have no heart.
If you liked this review of bridge to terabithia, you might also like these books: