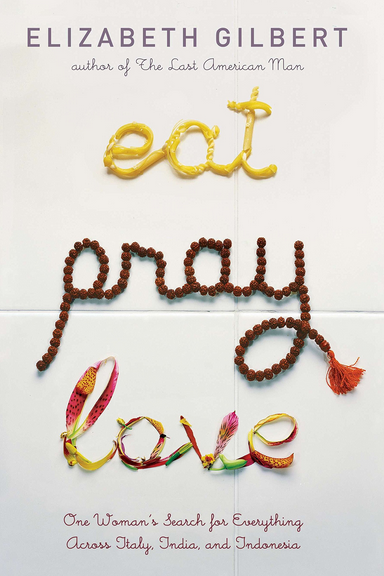 I'm beginning to wonder if I'm the only person who didn't love Eat, Pray, Love: One Woman's Search for Everything Across Italy, India and Indonesia. I'd heard about it here and there and then, last fall, a man at one of the book booths at the Texas Book Festival said if I was only going to buy one book, it should be this one.
Of course, I didn't buy the physical Eat Pray Love book because hello, that would mean my precious money was no longer mine. But I did come home and put it on reserve at the library (hello, fourteen requests ahead of me). Fortunately, I was spared from waiting a year or two by my lovely co-worker who lent me her brand new copy that she'd received for Christmas.
And. . . I'm finally finished, six weeks later. Yuck.
eat pray love
The plot itself sounded pretty fascinating: Liz finds herself in a horrible mid-life crisis, divorces her husband, and sinks into a deep depression. After a second failed relationship, she decides to take a year off. She'll spend it in three chunks – four months in Italy (eating), four months in India (praying), and four months in Indonesia (finding love – awwwww).
Except I found the whole Eat Pray Love book tragically dull. It's longer than I wanted and more about her emotional experiences than what she really did. It's hard to feel all that bad for someone who, after a divorce, gets a big book advance to travel the world.
I don't know. It just didn't do it for me. Once again proving that I have possibly the worst book taste in the world. But so be it. I simply did not love Eat Pray Love. And it certainly did not change my life.
Wow, am I glad I didn't hand over any of my own sweet money for this book.
If you liked this review of eat pray love, you might also like these books: