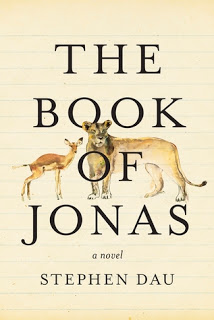 When I finish a book that just completely perplexes me – one where I have no idea quite what happened or what to think about the plot or ending – I run right to Amazon and look at the reviews to see if I'm alone.
The Book of Jonas was one of those books that sent me straight to read other reviews.
And. . . . I apparently am alone on this one. It had only five reviews on Amazon, four of which were five stars and one with a three star.
Feeling a little desperate, I went to Goodreads, where there were 88 reviews. But same story here: seventy-three of which were four or five star ratings. Everyone talked about how brilliant this book was, how amazing, how deep, and sophisticated it was.
I feel like an idiot.
It's not that I didn't like The Book of Jonas, it's that I just feel like I didn't get it.
the book of jonas by stephen dau
It's the story of a boy, Jonas, from a Middle Eastern country (presumably Iraq) where his village is destroyed in a US military raid. He survives and comes to America where his transition isn't very smooth (read: eventual serious alcoholism). He's going to therapy and there, his therapist, Paul, tries to help him work through what happened to him and how he survived.
And it turns out the reason he survived is due to an American soldier who is now missing and the soldier's mother is determined to find out what happened.
The book jumps around between Jonas' present in America and past in Iraq and also some diary entries from the American solider (although it took me ages to pick up that that's what they were).
If you've read The Book of Jonas (which is getting phenomenal professional reviews as well as the aforementioned excellent reader reviews), would you please email me and explain what in the world happened at the end of this book?
I read this book for the BlogHer Book Club and you can read other reviews and discussions at BlogHer. I am paid for my participation in the BlogHer Book Club, but I choose which books to read and my reviews are strictly my own opinions. If I think a book is terrible, I'll say so. If I rave about a book, it's because it's one I'd give to Kayla or my mom.
If you liked this review of the book of jonas, you might also like these books: