One of my favorite things in October is checking out the new children's books for Halloween that have been released.
Some years are pretty amazing (last year there were a BUNCH of great new releases – you can see my post about them here!) and other years are a little sparse.
This year is shaping up to be another good year for Halloween picture books!
I generally like to check out new Halloween books from the library before I add them to my personal collection, so my library holds have been bursting this past few weeks.
Here are some of the new children's books for Halloween that have come out in 2022!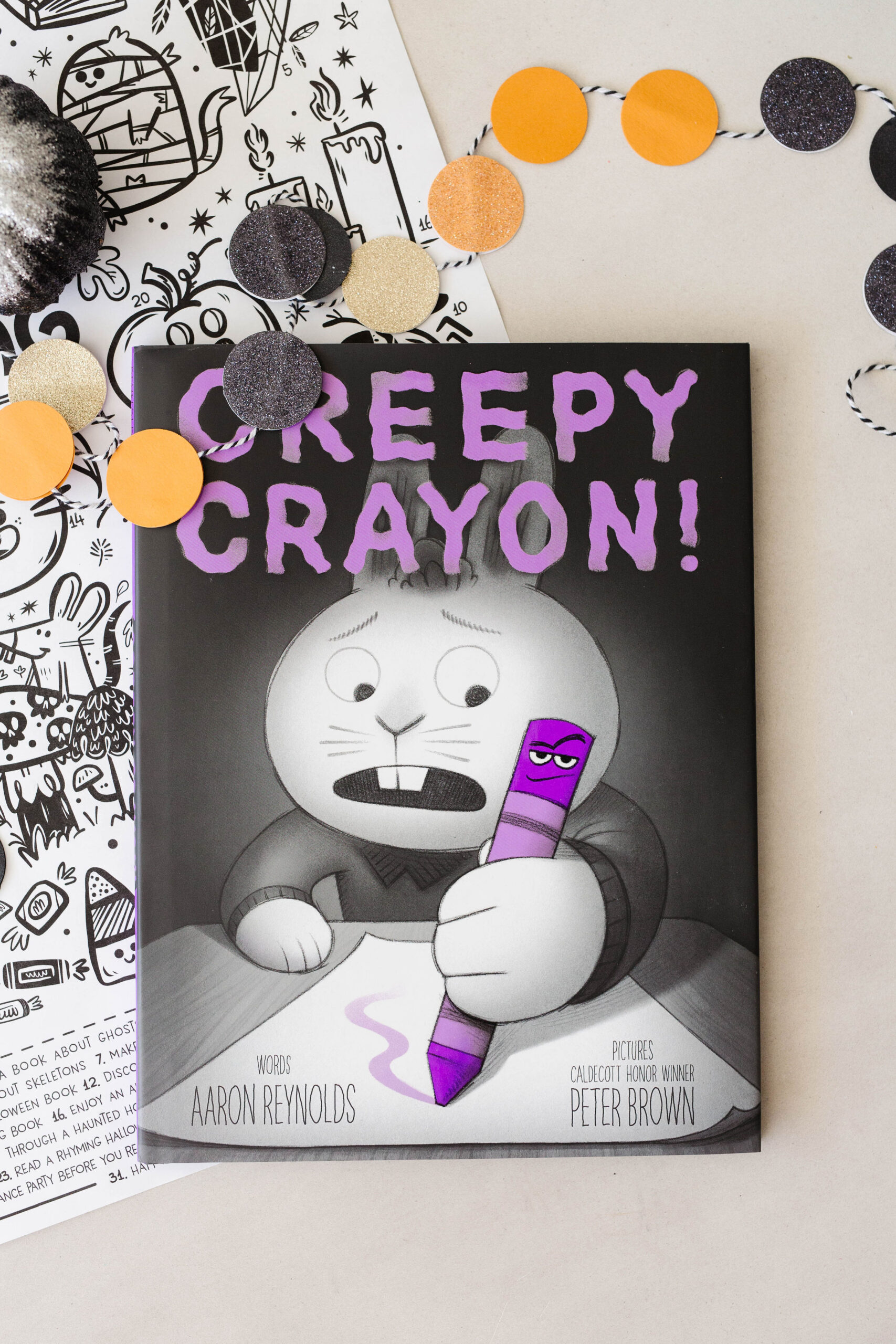 New books for halloween to read with your kids
Creepy Crayon! by Aaron Reynolds
This is the new Halloween book I'm absolutely most excited about! Creepy Carrots and Creepy Pair of Underwear have been some of our top children's Halloween books for the past several years so adding a third to our collection was a delight. And this book lives up the hype – it's so fun!
The Crayons Trick or Treat by Drew Daywalt, illustrated by Oliver Jeffers
The reviews on this one are not great, mostly because people are MAD that this book is tiny. If you're expecting a full size picture book, you'll definitely be surprised. I'd seen that this one was being released and was taken off-guard when I saw it in the store a few weeks ago – it's the size of a board book! But if you love the Crayons books, you'll enjoy this wacky seasonal addition to the series!
A Friend for Ghost by Suzanne Kaufman
Ghost struggles to make new friends since people either get scared or don't see Ghost at all. But then a bright red balloon appears and suddenly Ghost has the best kind of friend. But. . . how long will a balloon last? And what will Ghost do when Balloon disappears?
Beatrice Likes the Dark by April Genevieve Tucholke and Khoa Le
DANG this picture book is gorgeous and one that could be a Halloween book or read all year long. It follows two sisters who love each other dearly AND love different things – Beatrice loves all things dark and mysterious while Roo loves bright sunshine-y days. Together, they work to love each other and respect each other's differences.
If Your Babysitter Is a Bruja by Ana Siqueira and Irena Freitas
When you get a new babysitter on the night before Halloween, it might be a good idea to watch your back because that new babysitter might just be a bruja! (The black hat and cackles give her away!). Fortunately the little girl is quick on her feet in this delightful and surprising  Halloween picture book with lots of Spanish sprinkled into the text.
Happy Owl-Oween! by Laura Gehl, illustrated by Lydia Nichols
This little Halloween picture book is a delight for little readers with bright, retro-looking illustrations and upbeat rhyming text about the Owl family that's planning their costumes and heading out for an evening of family trick-or-treating. Basically, if there is a fun Halloween tradition, it's going to pop up in this book.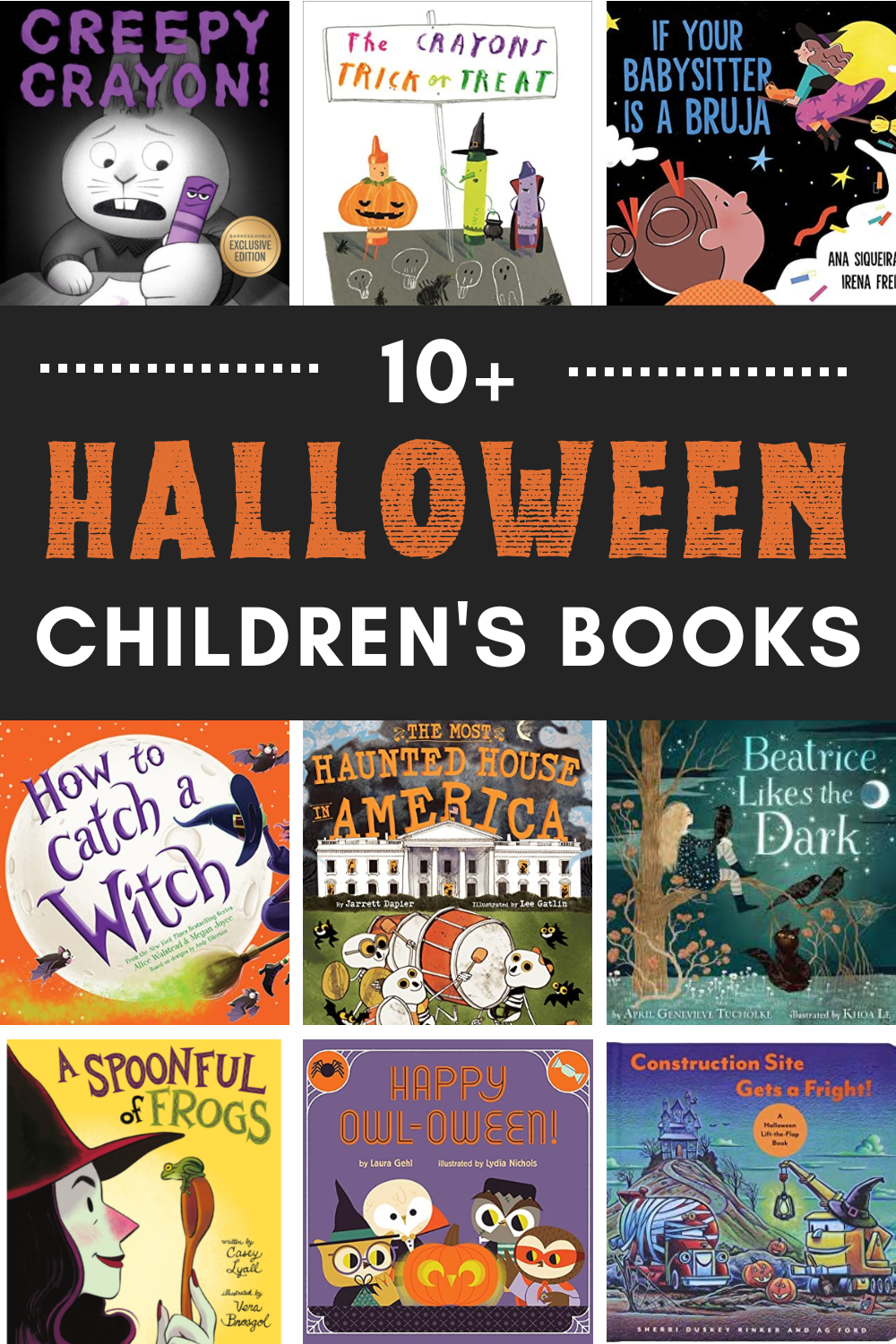 Construction Site Gets a Fright!: A Halloween Lift-the-Flap Book by Sherri Duskey Rinker, illustrated by AG Ford 
For your younger readers, it's hard to beat this lift-the-flap board book with everyone's favorite construction vehicles. In this one, the trucks are settling down for bed on a dark Halloween night and things seem a little creepy. But when you lift the flaps, you'll see that what looks a bit scary by moonlight is actually something familiar and fun!
Spellbound by Jess Townes, illustrated by Jennifer Harney
Willow's world is delightfully magical. And then her baby brother is born and it appears that he's able to enchant anyone he comes in contact with, from his parents to grandma. Now Willow is worried that he's a WIZARD! Is it possible for her Willow to stop his magic or is he too powerful for even her to resist? I loved this cute sibling story!
How to Catch a Witch by Alice Walstead, illustrated by Megan Joyce
The How to Catch series is wildly popular and now there's a Halloween witch version to add to the collection! When the Catch Club Kids venture out for a Halloween night of trick-or-treating, they see spooky creatures everywhere and realize a witch has opened a magical portal to let these spooks out into the real world! Time to set some traps, close the portals, and keep some candy for themselves!
A Spoonful of Frogs by Casey Lyall, illustrated by Vera Brosgol
Do you know what a witch's favorite treat is? Frog soup! And, of course, the most important ingredient is a spoonful of frogs to give it that beautiful bright green color. But . . .frogs are HARD to wrangle. They just want to jump around, hide in the kitchen or escape altogether. This book is so funny – it'll for sure be a hit with preschoolers and early elementary readers!
The Most Haunted House in America by Jarrett Dapier, illustrated by Lee Gatlin
Inspired by the author's invite to play drums at the Obama's White House Halloween party, this rhyming picture book follows the fictional Skeleton Drummers who receive an invitation from the First Lady to perform at the White House's Halloween party. And it turns out the White House is haunted! Not only are trick-or-treaters in attendance, but the most famous house in the US is haunted from top to toe! Such a great book for Halloween!
Leila, the Perfect Witch by Flavia D. Drago
You may remember Gustavo, The Shy Ghost, which came out a few years ago. Now the author/illustrator is back with a fun story of Leila Wayward, a little witch is who is excellent at. . .everything. That is, until she tries to enter a bake off and realizes she's not so perfect in the kitchen. Fortunately, she has three magical sisters who are more than happy to help her with her recipe.
If Animals Trick-or-Treated by Ann Whitford Paul, illustrated by David Walker
This is just a perfectly sweet, not scary Halloween picture book for littler readers who don't want spooky or creepy. These delightful little animals show how they'd decorate, dress-up, and share goodies with their friends in this delightful new picture book.
And if you'd like a printable copy of this Halloween book list that you can take to your library or screenshot on your phone for easy access, just pop in your email address below and it'll come right to your inbox!
if you liked this post about books for halloween, you might also like these other posts: