A month or so ago, I got a note on Instagram from a mom who said one of their family's favorite Halloween traditions is a funny Halloween breakfast.
I was instantly in LOVE with this idea. What a fun way to kick off Halloween!
This year, Halloween falls on a Monday and there are lots of fun breakfast ideas that are simple and easy enough to pull off even on a busy school morning.
I cannot WAIT to do this in a few weeks and I thought it'd be fun to share some simple Halloween breakfast ideas!
Whether you're looking for sweet or savory, homemade or mostly ready to go, there are so many breakfast ideas for Halloween here.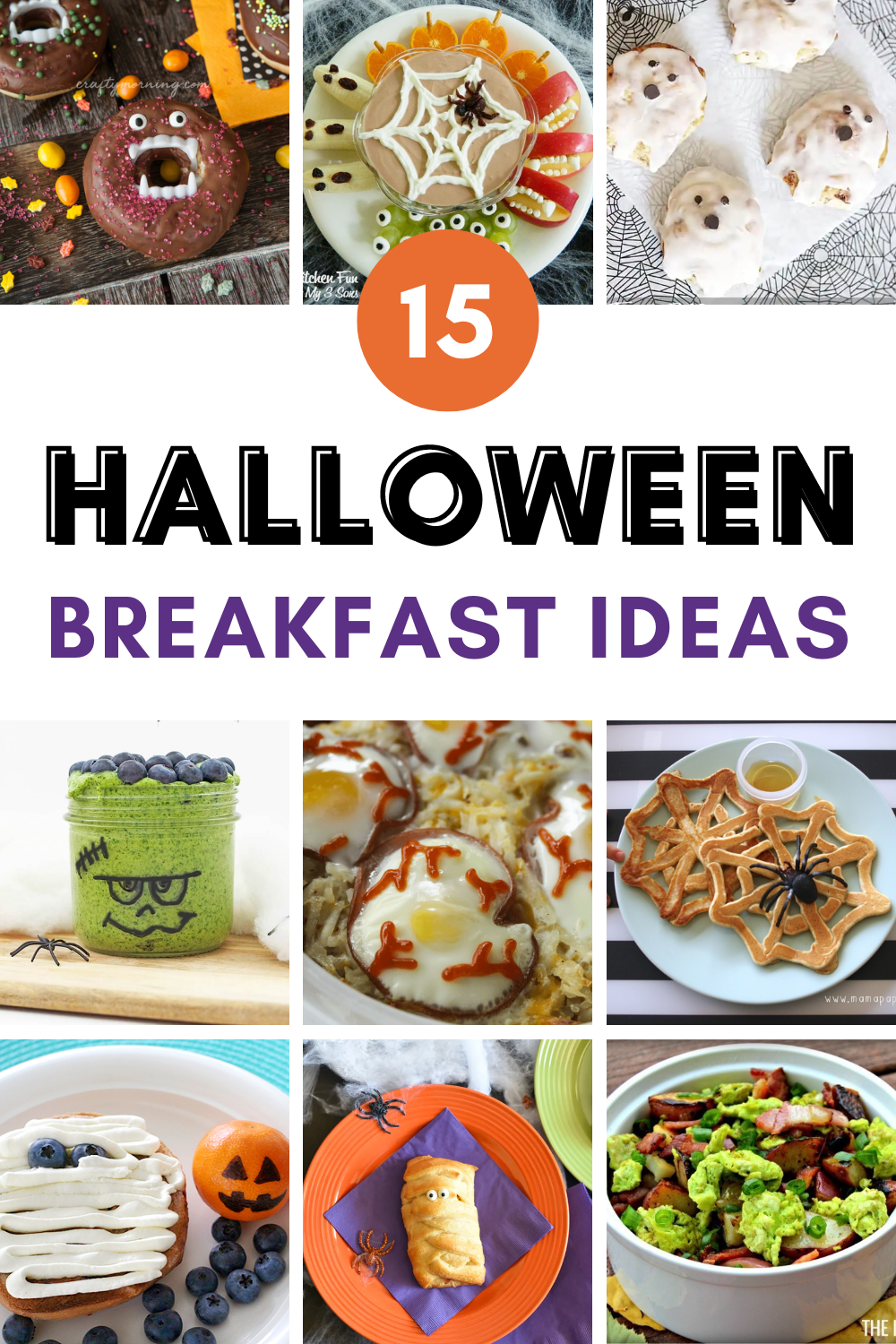 15 Halloween Breakfast Ideas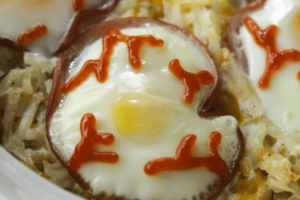 HALLOWEEN BREAKFAST CASSEROLE
I am a huge fan of a savory breakfast and this one could feed the whole family without too much effort. With hash browns, cheese, Canadian bacon, and eggs, this breakfast will keep tummies full while providing a little spooky fun to your morning.
Recipe by Simply Made Recipes

MONSTER MASH HASH
Adding food coloring to anything instantly makes it festive, am I right? This classic breakfast hash includes all the favorites: red potatoes, red onion, eggs, and bacon.
Recipe by The DIY Lighthouse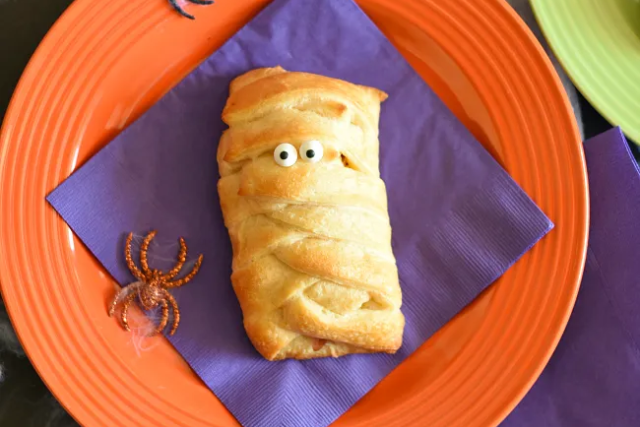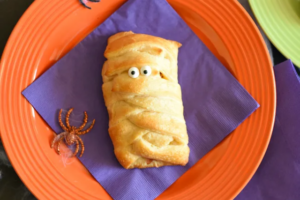 MUMMY BREAKFAST SANDWICH
It doesn't get easier than crescent rolls and these breakfast mummy sandwiches are filled with scrambled eggs, your choice of meat (ham/bacon), and cheese. Wrap up those mummies, bake, and top them off with some little eyes. These can even be made the night before and reheated for a really easy morning.
Recipe by Fun Squared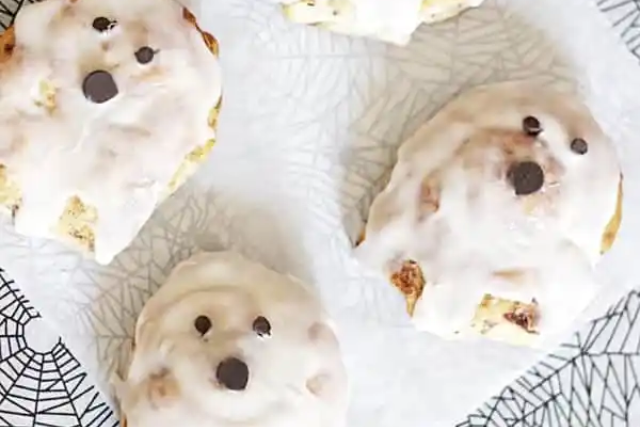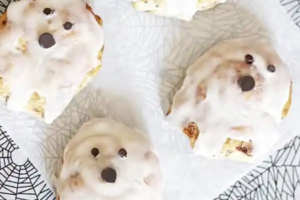 CINNAMON ROLL GHOSTS
Cinnamon rolls are one of my very favorite foods on earth. If you use Pillsbury Cinnamon Rolls, turning them into ghosts only adds a few minutes to an already quick cinnamon roll Halloween breakfast.
Recipe by The Pinning Mama

MUMMY BAGELS
If you are in a pinch, this is one of those breakfasts you might just have all the ingredients on hand already. Instead of smearing cream cheese on a bagel, add it to a ziploc bag, cut off one of the corners, and pipe it as mummy strips. Add blueberries for eyes, clementine pumpkins, and ghost milk. Quick and easy!
Recipe by Eighteen25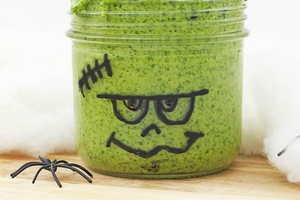 FRANKENSTEIN GREEN SMOOTHIE
My girls love smoothies. I love smoothies. Smoothies are a go-to for any time of the day at our house, breakfast, snacks, lunch, even dinner! This is such an easy way to turn a green smoothie into a festive Halloween breakfast. Draw a face on a jar, add green smoothie, and done.
Recipe by Healthy Little Foodies

HALLOWEEN FRUIT TRAY WITH YOGURT DIP
I can't help but want to dig into this fruit tray, so I can only imagine how wild my girls would go for it. Halloween is so full of sweets and candy, this adds a little healthier sweetness to their morning. I could also see this as a super fun after-school treat. Plus, it would go perfectly on my favorite $20 platter.
Recipe by Kitchen Fun with My Three Sons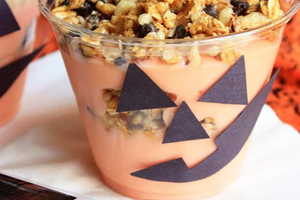 JACK O' LANTERN YOGURT PARFAITS
My girls think sweetened yogurt is a MAJOR treat (we're a mostly unfun plain Greek yogurt family). They can add granola or nuts or mini chocolate chips or fruit or whatever they'd like to it. You could easily make these ahead of time by adding jack o' lantern faces, yogurt, and fruit (I always save the granola till right before serving to keep the crunch).
Recipe by Mostly Homemade Mom

POP-TART GHOSTS
In the past I've given the girls Pop-Tarts in their Christmas stockings as a fun treat. These would be a REAL treat for Halloween breakfast! Add a ghostly face of black icing to the front of a Pop-Tart and enjoy. I do think they look great with the cookies & cream flavor. How spooky and sweet!
Recipe by This Silly Girl's Kitchen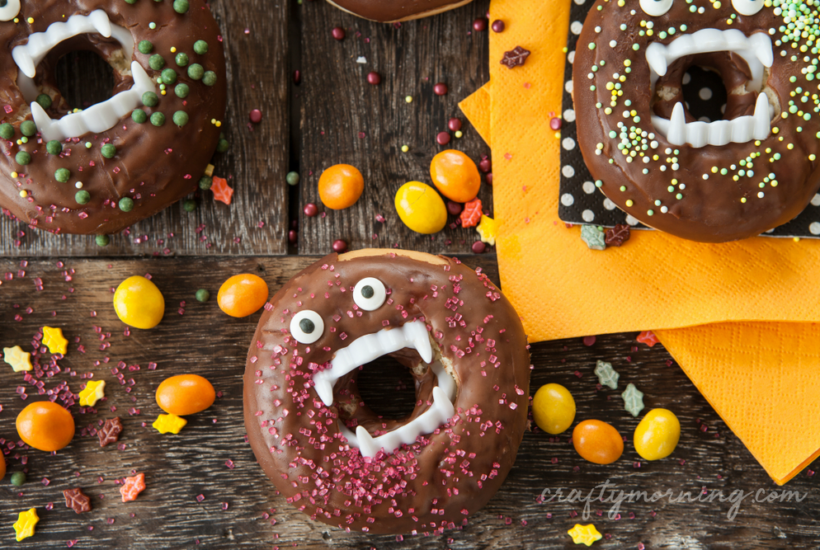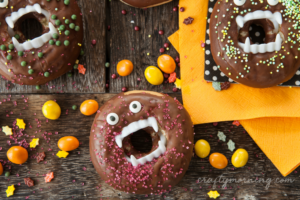 VAMPIRE DONUTS
I just had to laugh out loud when I first saw these! Who knew adding plastic vampire teeth and candy eyes to glazed donuts would make such cute little vampires? The simplest Halloween breakfast!
Recipe by Crafty Morning

SPIDER EGG DONUTS
Another super easy spooky breakfast treat. A container of powdered donut holes and plastic spiders and voila! Now all I can think about is Charlotte's Web.
Recipe by Family Fresh Meals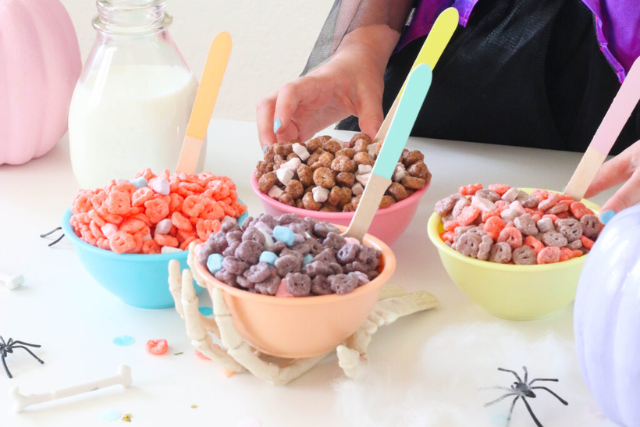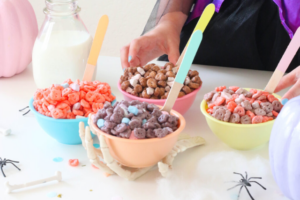 HALLOWEEN CEREAL
This is my kind of special breakfast! If you know anything about my favorite birthday tradition you will know why this is right up my alley. (I wrote a whole post about this tradition here). Plus, it's so easy. And there really is no other time to eat Boo Berry, Franken Berry, and Count Chocula cereal.
Recipe by Twinkle Twinkle Little Party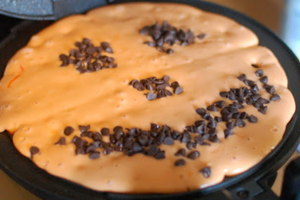 JACK O' LANTERN WAFFLES
We are a waffle family for sure. In our early years, we went through dozens of different waffle recipes, but when I discovered THIS waffle recipe, I haven't made another variation since. Adding orange food coloring to the batter and sprinkling mini chocolate chips in a jack o' lantern face makes them Halloween ready.
Recipe by Random Thoughts of a Supermom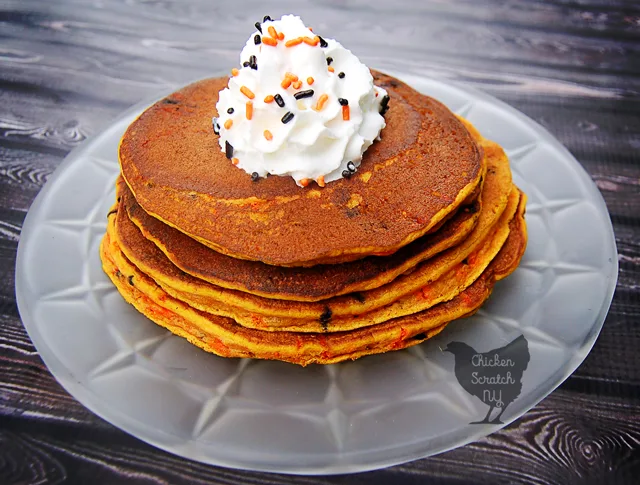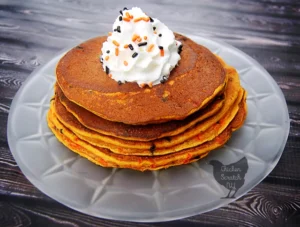 PUMPKIN PANCAKES
If you aren't into monster faces and ghosts, these pancakes still scream fall. They use an entire can of pumpkin and there is a surprise on the inside…SPRINKLES.
Recipe by Chicken Scratch NY

SPIDERWEB PANCAKES
These pancakes look like they take a little bit of artistic skill, but Jen gives easy step-by-step instructions to turn your favorite pancake batter into edible spider webs. If you haven't tried the BEST pancake recipe on the planet, add it to a squeeze bottle and give it a try.
Recipe by Mama.Papa.Bubba
Any other fun Halloween breakfast ideas? I'm all ears! (Green goblin ears, naturally).
if you liked this post about halloween breakfast ideas, you might also like these other ideas: