I love pulling out my beloved Halloween book collection every October.
I ALSO love checking out all the new Halloween picture books that are released each year.
As with any holiday books, some of them are better than others and I usually like to check out the new Halloween picture book releases from the library before I buy any to add to our own collection.
Here are some of the 2021 new Halloween pictures books to enjoy this year!
(If you're curious, here are ten Halloween books that were released last year).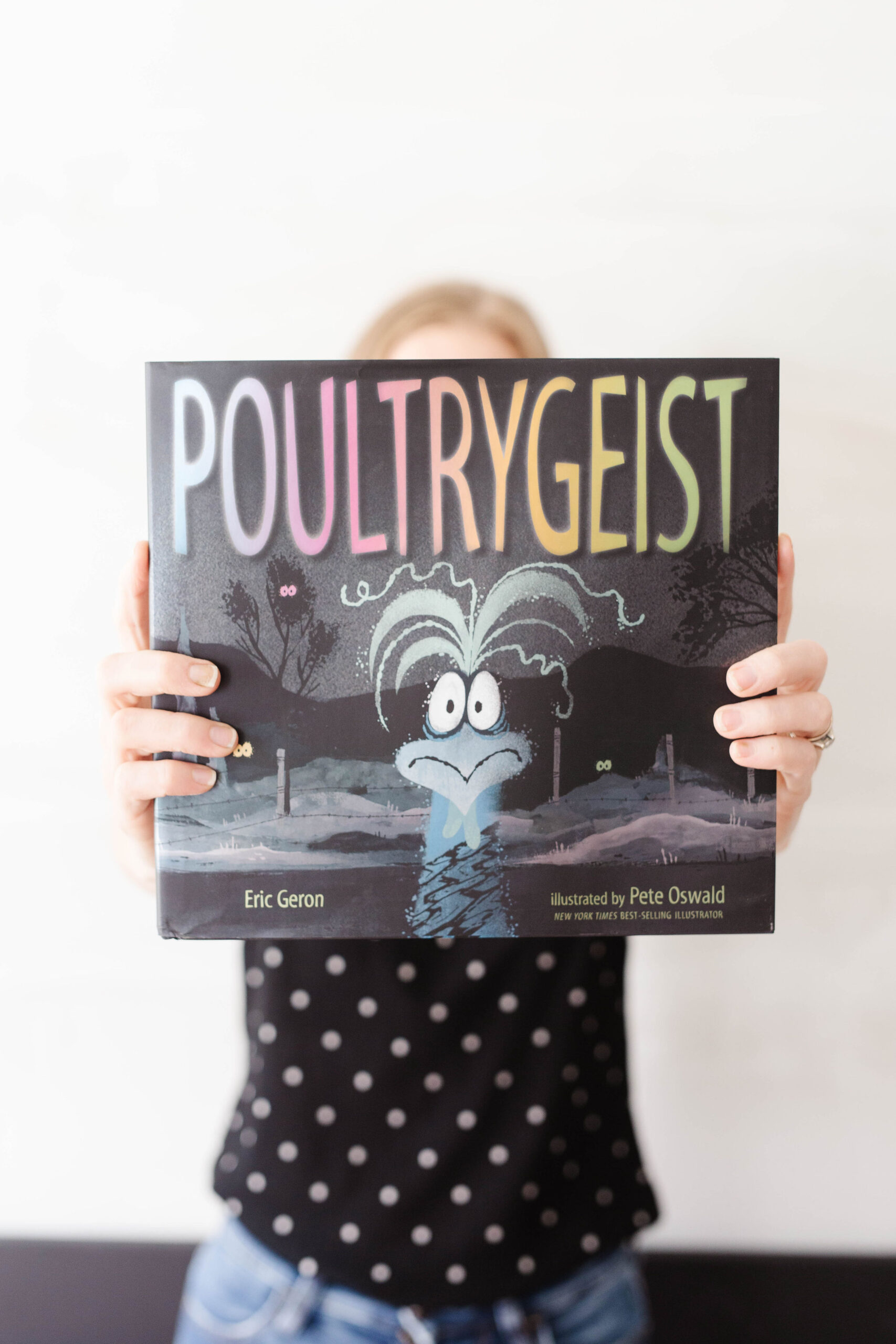 12 New Halloween Picture Books
Poultrygeist by Eric Geron, illustrated by Pete Oswald
This is one of the new Halloween picture books that I'm seeing pop up everywhere. I'll warn you that it definitely veers a little macabre, with a chicken getting squashed on the first couple of pages by a semi truck and becoming a ghost, er, poultrygeist. He wants to be nice, but all the other animal ghosts he meets are urging him to scare the pants off anyone he comes across. This is one of those books that some people will find HILARIOUS and others will find a little much. I'm still trying to decide which side of the fence I fall on.
Frankenslime by Joy Keller, illustrated by Ashley Belote
Do you have a slime-obsessed child? Then this is the Halloween book for you – Victoria Franken is a slime scientist and she loves experimenting to make the most incredible slimes. But then, one night (a dark and stormy night, naturally), things go sideways and suddenly her newest slime is ALIVE. Bonus points to this book for some scientific method snuck in.
The Bad Seed Presents: The Good, the Bad, and the Spooky by Jory John, illustrated by Pete Oswald
You probably already know the Bad Seed from his previous literary appearances, but you can't see no to a Halloween version. In this one, the Bad Seed is anxiously looking forward to Halloween, which is his favorite holiday. But finding the right costume is turning out to be very difficult. So no one is going to get to trick-or-treat until he finds just the perfect getup. (The audio version of this book is only $1.59!)
The Twelve Days of Halloween by Leann Schwandt Lehner, illustrated by Alais Fortier-Meyer
You might think of The Twelve Days of Christmas, but there's no reason Halloween shouldn't get its own 12 day countdown! In this darling picture book, a charming ghoul is on a mission to share spooky gifts to countdown to Halloween.
Trick or Treat, Crankenstein by Samantha Berger, illustrated by Dan Santat
My girls get a huge kick out of Crankenstein and we were all delighted to see a Halloween edition released this year. As you know, most things make Crankenstein grumpy. And this year, his favorite day of the year looks like it might be ruined, first by costume mishaps, then pumpkin-carving gone wrong and then – worst of all – A TOOTHACHE. Is there any chance to save Halloween or will Crankenstein just have to be cranky?
Hardly Haunted by Jessie Sima
You may know Jessie Sima from her wildly popular title, Not Quite Narwhal, and I was delighted to see her release a new Halloween picture book this year (it's one of those that you could read all year long – it's not OVERLY Halloween-y). House desperately wants to be a home for a family, but since she's a little bit spooky, complete with banging pipes, creaky hinges, and scratchy branches, she's pretty worried she's actually a haunted house and no one will ever want to make her their home.
Ten Spooky Pumpkins by Gris Grimly
It's hard to go wrong with a countdown picture book and this one is a perfect Halloween picture book to read aloud to your child or a classroom. It's sweet without being spooky, and you'll be reciting the catchy rhymes long after you close the book. Also, the watercolor illustrations are just so lovely.
Halloween Is Coming! by Cal Everett, illustrated by Lenny Wen
If you love Halloween as a community celebration, a time to visit with your neighbors, or a school parade, this new picture book book beautifully captures that Halloween magic with sweet rhymes and the happiest illustrations. Nothing very scary here – just delightful holiday fun.
There's a Witch in Your Book by Tom Fletcher, illustrated by Greg Abbott
There's not much that I love more than an interactive picture book (I have a whole list of favorites here!)  and when you make that a HALLOWEEN interactive picture book? I'm all in! In this one, a grumpy little witch casts a magic spell on the reader (that's you!) and now you can use your finger wand to make your own magic! But be careful – it's some pretty strong magic!
Vampenguin by Lucy Ruth Cummins
Stumpkin – also by Lucy Ruth Cummins – is one of my very very favorite Halloween picture books, so I was THRILLED to see her come out with a new one this year. In this one, baby Dracula and his family head out on a weekend morning to visit the zoo. Baby Penguin lives in that zoo with her own family. Neither baby Penguin or baby Dracula are the kind to stay where they're supposed to be and so they switch spots, with baby Dracula's family not noticing the switch. Will they take home a baby penguin in place of their actual child? This is one of those ones you could read all year long!
Twitchy, Witchy Itch by Priscilla Tey
If you like a picture book with a lot of details to look at on every page, this book is for you! Itch the witch is prepping for company that's coming for tea and she's in a frenzy trying to clean up before they arrive. Naturally, she turns to magic, but when her guests arrive, all the magic housekeeping starts to fall apart.
Pig the Monster by Aaron Blabey
These rhyming books about a greedy little pug named Pig are a hit with younger readers and this one followed Pig who is bound and determined to gather up all the treats he possibly can on Halloween. And if you aren't forthcoming with the treats, you better believe Pig is going to be ready with the TRICKS!
And if you'd like a printable copy of this Halloween picture book list that you can take to your library or screenshot on your phone for easy access, just pop in your email address below and it'll come right to your inbox!
Any other favorite new Halloween picture books? I'd love to hear!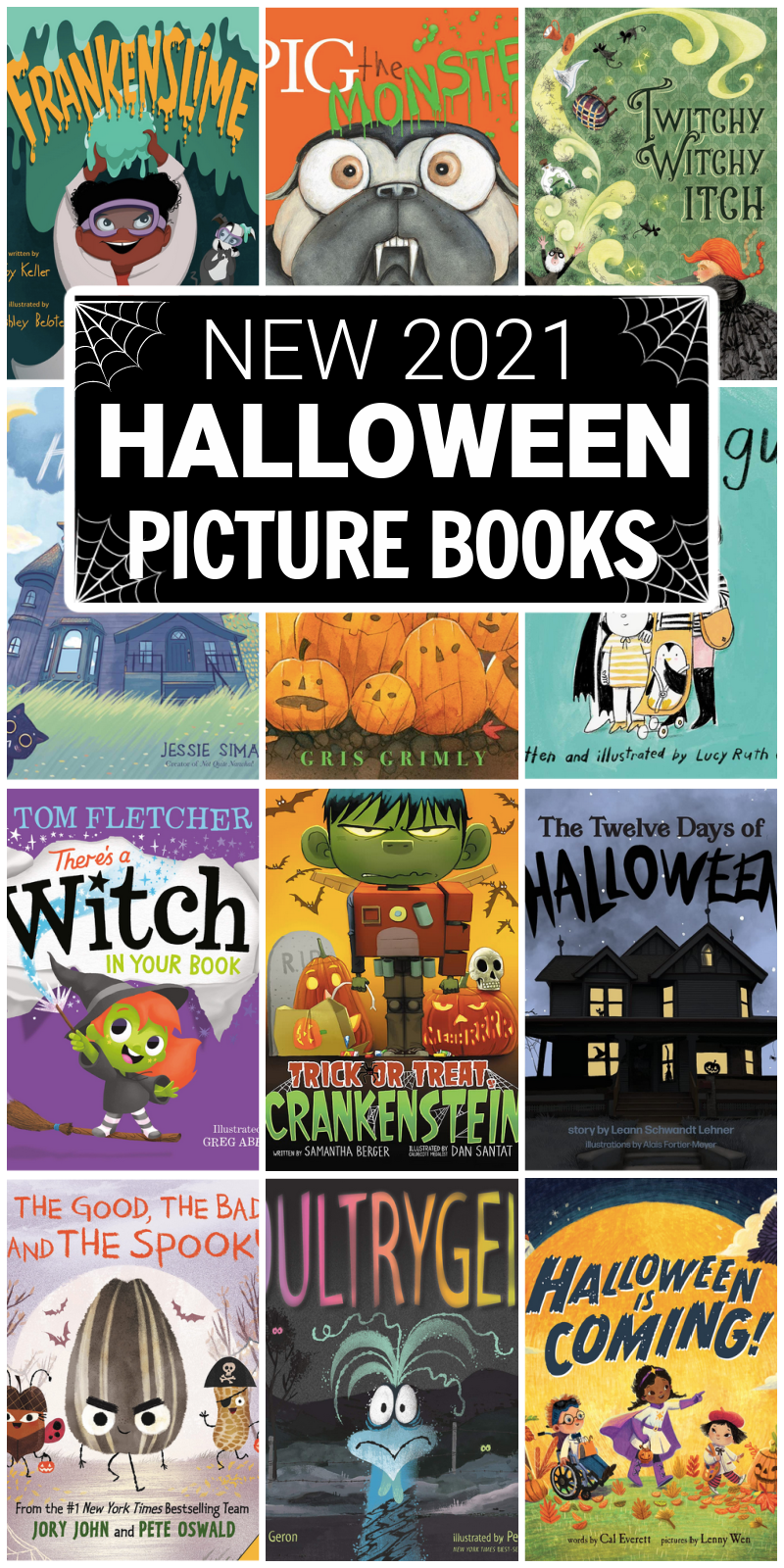 If you liked this post about new Halloween picture books, you might like these posts too: