Toddlers and kids have small bodies, but those bodies can hold some BIG feelings!
And those feelings can be overwhelming for a child just learning to manage those strong emotions.
These picture books address a wide range of big feelings, from worry to anger to sadness to grumpiness, and can help young kids start to recognize and identify those feelings as well as start to learn the skills to cope with those big feelings.
I hope this list will be helpful to you and your children or students – if you have other favorites, leave them in the comments!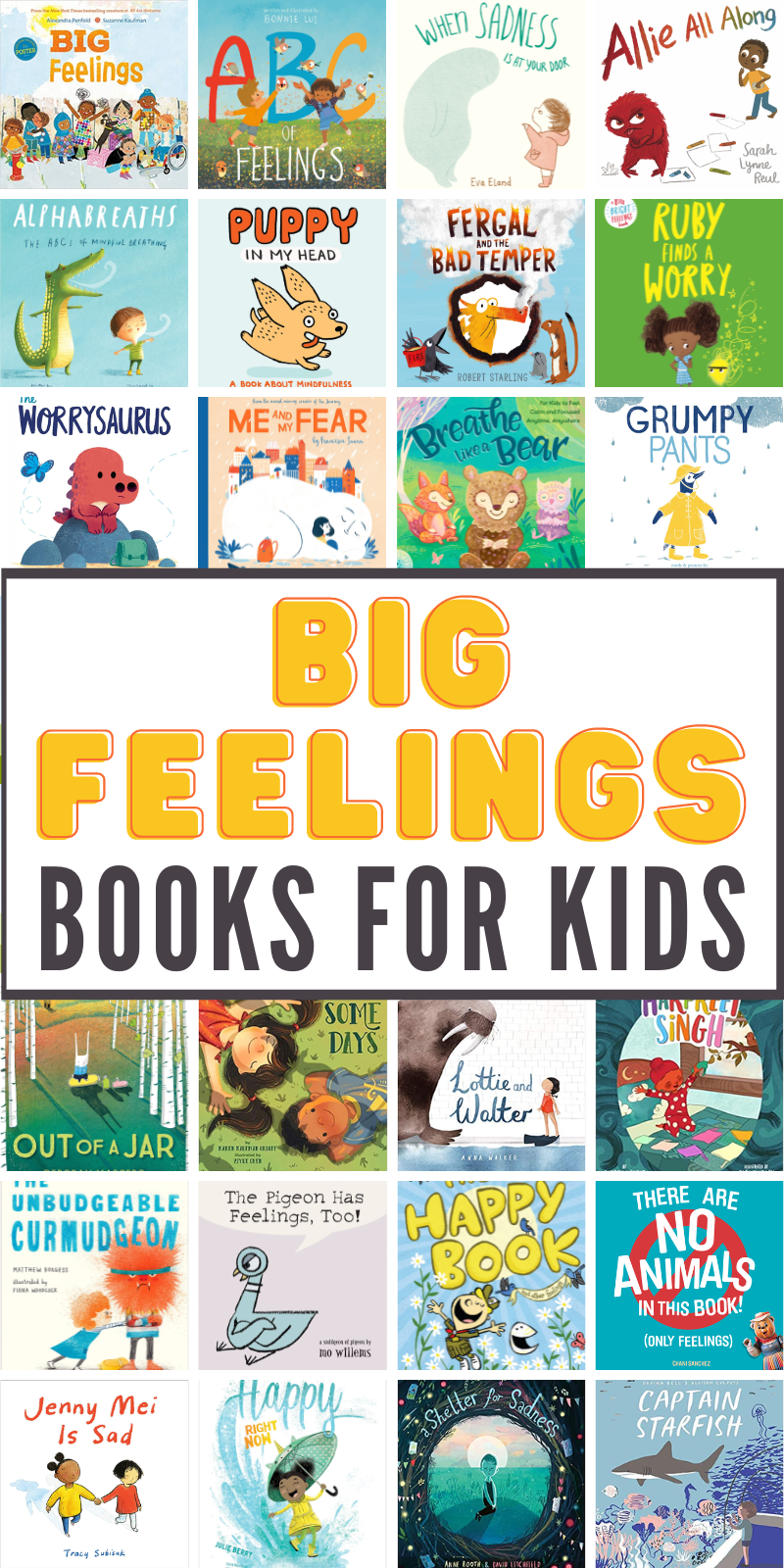 75+ Big Feelings Books for Kids
Kids Books about Feelings
I'm Happy-Sad Today: Making Sense of Mixed-Together Feelings by Lory Britain, illustrated by Matthew Rivera
Feelings can be complicated to put into words- especially when you are feeling more than one, or feeling conflicting feelings. This book does a wonderful job of explaining that you can feel happy and sad, excited but also nervous or frustrated and determined. Mixed emotions are natural and its important for kids to know that and know how to talk about them.
My Blue Is Happy by Jessica Young, illustrated by Catia Chien
This book follows a little girl as she explores the world and compares the colors she sees to the things she feels. It introduces a very creative and unique way to look at the world around us.
I'm Having a Sky Blue Day!: A Colorful Book about Feelings by Maggie Testa, illustrated by Clair Rossiter
In this book, your child's favorite Crayola crayons come to life and illustrate how you can have a sky blue day or it can be screamin' green. Either way it encourages you to embrace all the shades of life.
There Are No Animals in This Book! (only feelings) by Chani Sanchez
The illustrations in this book are actually works of contemporary art by numerous notable artists! The author uses those works of art to talk about feelings and how feelings can be expressed in art all in a fun-to-read aloud book.
In My Heart by Jo Witek, illustrated by Christine Roussey
In My Heart is one of an eight book series that focuses on feelings like happiness, sadness, bravery and shyness. It beautifully articulates how feelings can make us feel physically, like light as a balloon or heavy as an elephant. I really love that this book has a heart cut out that extends through each page and is incorporated into each page illustrations.
How Do You Feel? by Lizzy Rockwell
Lots of emotions can happen on a playground- happy, sad, angry, sorry. Here is another great board book for teaching very young children about feelings. It uses bright, expressive illustrations and simple language to help little kids identify their feelings.
Big Feelings by Alexandra Penfold, illustrated by Suzanne Kaufman
I love the colorful and diverse illustrations this book uses to help talk through feelings like feeling scared, nervous, or angry. It encourages problem solving through compromise and seeing another point of view. This book is by the same bestselling author/illustrator duo that created All Are Welcome and this book is equally wonderful.
My Body Is A Rainbow: The Color of My Feelings by Mallika Chopra, illustrated by Izzy Burton
Your body is absolutely amazing. Wellness expert, Millika Chopra, wrote this picture book to help children not only learn about their feelings, but learn how to manage them with mindfulness and breathing exercises. If you're looking for a book that takes these practices to the next level, check out her middle grade book Just Feel.
Little Red Fox Has Feelings by Didi Dragon, illustrated by Maria Mau
Fox discovers she has feelings and that they can be quite the adventure. She learns how her feelings connect her with the bigger world and that regardless of what she is feeling, she gets to decide how she is going to act. That is a great lesson for kids (and adults) to learn.
ABC of Feelings by Bonnie Lui
There are a lot of feelings- in fact there is a feeling for every letter in the alphabet. Check out this book to learn about the wide variety of feelings. It has adorable illustrations and can appeal to a wide range of readers.
The Monster Parade by Wendy O'Leary, illustrated by Noémie Gionet Landry
I thought this book presented emotions in a creative way by imagining them as playful monsters in a parade. It helps kids learn that we all experience a range of emotions on a daily basis and it's important to acknowledge our feelings so they can pass by. There is even a discussion section and list of activities at the end.
The Crayon's Book of Feelings by Drew Daywalt, illustrated by Oliver Jeffers
If you liked The Day the Crayons Quit or The Day the Crayons Came Home, you will love this one all about the Crayon's feelings. Sometimes they are happy, but sometimes they feel downright blue.
Out of a Jar by Deborah Marcero
Llewellyn, a clever bunny, doesn't like to feel afraid. So he puts his fear in a jar and hides it away where it won't find him. He decides to do this with other feelings he doesn't like either, including sadness, anger, loneliness and embarrassment. After a while though, all of his bottled up emotions refuse to stay contained any longer.
The Pigeon Has Feelings, Too! by Mo Willems
If you've read any of Mo Willems' Elephant and Piggie books or Pigeon books you will like this one just as much! This Pigeon won't be told what to do even if it means he isn't going to be happy.
How Are You Peeling? Foods With Moods by Saxton Freymann and Joost Effers
This book gets pretty creative in the produce department with expressive fruits and veggies. It has really fun pictures and it's a great use of anthropomorphism to teach kids about feelings.
Tiger Days: A Book of Feelings by M.H. Clark, illustrated by Anna Hurley
Some days you may feel like a tiger, other days you may feel like a snail. There are lots of things to feel and this book helps young readers see and understand a lot of them!
Ellie and Her Emotional Dragons by Joseph Goodrich, illustrated by Traci Van Wagoner
Ellie the elephant has some unusual friends that help her get through tough experiences, like her recent move. Her magical friends are her emotional dragons that help her with emotional intelligence, empathy and understanding difficult feelings.
The Way I Feel by Janan Cain
The fun, rhyming verses in this book help kids understand the complex emotions they can feel at different times. It's a delight to read and is a great way to teach kids about their feelings.
Crying Is Like the Rain by Heather Hawk Feinberg, illustrated by Chamisa Kellogg
One day as a brother and sister set out to walk to school, they get caught in a rainstorm and  the older sister tells her little brother all about the rain. The rain becomes a metaphor to talk about sadness, loneliness, fear, frustration and anger. Like rain, and all kinds of weather, our emotions come and go.
Many Colors of Harpreet Singh by Supriya Kelkar, illustrated by Alea Marley
When Harpreet Singh is happy, he wears yellow, when he feels like celebrating, he wears pink. He has a different color for every mood, until they move to a new snowy city and he just feels gray. How will Harpreet be able to make his life bright and full of color again?
Glad Monster, Sad Monster by Ed Emberley and Anne Miranda
Here is a really fun book with cut outs to create different monster's feeling. Each page shows a different emotion on a different monster that can be worn as a mask with eye cut outs. Such a fun book!
Some Days by Karen Kaufman Orloff, illustrated by Ziyue Chen
Follow a year in the life of a young boy and girl in this rhyming picture book. They discover their always changing emotions including joy, fear, anger, excitement, pride, loneliness and more. It includes both positive and negative feelings and offers suggestions on how to cope.
The Boy With Big, Big Feelings by Britney Winn Lee, illustrated by Jacob Souva
This book comes very highly recommended for children with anxiety or other extreme emotions. It is beautifully illustrated and written in rhyming verse. The boy in this books has big feelings. He learns how to cope with them in a healthy way and realizes they can be celebrated, not suppressed.
Smile Cry by Tania McCartney and Jess Racklyeft
This is a two in one book and can be read from both the front and back. The "Smile" Story is read from front to back, while the "Cry" Story is read from back to front. Both stories follow piglet, bunny and cat through their day and how they react emotionally to events in their everyday life.
Even Superheroes Have Bad Days by Shelly Becker, illustrated by Eda Kaban
It turns out that even superheroes can have bad days. But even though they could throw some super tantrums, they don't! This is a cute book written in rhyming verse that teaches kids how to turn their angry or frustrated energy into productive tasks like biking, hiking or helping others.
Little Monkey Calms Down by Michael Dahl, illustrated by Oriol Vidal
This board book is perfect for teaching toddlers how to deal with tantrums. When Monkey is having a bad day he sings a quiet song, cuddles his blankie and takes deep breaths.
Puppy in My Head by Elise Gravel
Puppy in My Head teaches children, especially those that might struggle with anxiety, how to use breath, words and actions to help calm themselves down. It uses a metaphor about Ollie, a puppy running around inside your head.
Belly Breathe by Leslie Kimmelman, illustrated by Lindsey Dale-Scott
This board book is very simple and uses illustrations and text to teach young kids how to relax by taking deep belly breaths. It can help them learn this easy skill to manage stress and anxiety.
Alphabreaths by Christopher Willard and Daniel Rechtschaffen, illustrated by Holly Clifton-Brown
This is one of the most unique ABC books I've ever read. It goes through the alphabet and assigns a breathing exercise to each letter aiming to teach not only the basics of reading, but also the basics of mindfulness and awareness.
Just Breathe: Meditation, Mindfulness, Movement, and More by Mallika Chopra, illustrated by Brenna Vaughan
This is the perfect book for kids that are a little bit older to learn meditation and mindfulness. It is written as a how to book for meditation and has specific exercises, practical advice, breathing techniques and guided meditations for multiple scenarios. It really is the go-to book for medication written by a wellness expert.
Breathe Like a Bear by Kira Willey, illustrated by Anni Betts
We've used this book in our home and it's been so great for my girls to learn the tools to bring calm back into their bodies and minds in a fun, engaging way. I highly recommend this one!

Kids Books about Worry
William Worrydactyl by Brian Moses and Mike Gordon
William the Dinosaur worried about everything until his mom came up with the idea of putting all his worries in a worry box and making them disappear.
Dealing with Feeling Worried by Isabel Thomas, illustrated by Clare Elsom
This book isn't a story, but instead uses an illustrated approach to address worry head on. It answer questions like What is worry?, Is it normal to feel worried?, and Why should I deal with worries?. It includes helpful resources like a glossary and how to make a worry tool box to help cope.
Wemberly Worried by Kevin Henkes
This was probably the most recommended book when I asked for suggestions of books for children with anxiety. Wemberly is a little mouse who worries about everything, all day long. But her biggest fear of all is just around the corner: her first day of school.

Ruby Finds a Worry by Tom Percival
My children REALLY took a shine to this book about Ruby, a cheerful girl with a big imagination who loves life. Until she finds a Worry. And that Worry keeps growing bigger and bigger until it blocks out nearly everything else.

The Worrysaurus by Rachel Bright, illustrated by Chris Chatterton
Worrysaurus was excited to go on a picnic until all his worries settled in- did he pack enough food? What if he gets lost? What if it rains? He works through his worries, with the help of his mom and learns some important lessons about not letting his anxiety get the best of him.
Captain Starfish by Davina Bell, illustrated by Allison Colpoys
Alfie always gets an unpleasant feeling in his stomach when it's time to run a race, or go to a friend's birthday party. It makes him want to hide in his bed under his covers, even though he knows he will miss out on some fun things. When his mom takes him to the aquarium, he watches the fish and learns that he can be brave and come out of his hiding spot sometimes too.
Kids Books about Being Sad
When Sadness Is at Your Door by Eva Eland
This book takes a different look at the feeling of sadness and teaches mindfulness and emotional literacy by giving sadness a face and shape. The author suggests activities to do with sadness,  like going for a walk or sitting quietly and drawing. It teaches respect for all feelings, even sadness.
My Friend Is Sad by Mo Willems
I have to include one more great one from Mo Willems. In this one Gerald is sad, and Piggie doesn't know how he can be happy if Gerald is sad. A must read for any lovers of Elephant and Piggie.
Jenny Mei Is Sad by Tracy Subisak
Jenny Mei is sad, but even though she is sad, she still smiles, shares her oranges, and admires her friend's drawing. This insightful picture book shed light on how complex sadness can be and that sometimes the best thing we can do is be a good friend.
Sad, Sad Bear! by Kimberly Gee
Bear is very sad when his Mommy has to go to work and he has to go to cub care by himself for the very first time. Bear cheers up with the help of some new friends and learns that new experiences don't have to be scary. If you like this book, check out the companion books Mad, Mad Bear and Glad, Glad Bear.
Why Do We Cry? by Fran Pintadera, illustrated by Ana Sender
Mario asks his mother, "why do we cry?" She proceeds to tell him the many reasons we might cry- because we are sad, or angry or even happy. It's a great book that teaches it is okay, and even healthy to cry. The illustrations are beautiful and symbolic and at the end it includes some interesting facts about tears and the important physiological role they play in for our bodies.
A Shelter for Sadness by Anne Booth, illustrated by David Litchfield
This book brings stunning illustrations and a very thoughtful story together to teach a great lesson about emotional wellbeing. A small boy creates a shelter for sadness and visits him from time to time. It teaches children to hold space and allow attention for difficult feelings.
I'm Sad by Michael Ian Black, illustrated by Debbie Ridpath Ohi
Everyone feel sad sometimes- even flamingos and potatoes. That's just the way it is. We all have different things that help us feel happy again, and it's always good to have friends that will just be with you regardless.
Fox and Bear by Lauren Reese and Rebecca Rose Moody
Fox loves to go out on adventures, but one day with something upsetting happens, he is afraid to share it with his best friend Bear. Fox learns that it is safe to share his feelings and memories with Bear, even though it's hard. This is a great book that guides children through talking about difficult or upsetting things.
The Rabbit Listened by Cori Doerrfeld
When something tragic happens, different animals try to help Taylor, offering to laugh or be angry or ignore it or fix it. But nothing helps until the rabbit appears and quietly sits in silence until Taylor is ready to talk and then gently listens to the feelings that come after the tragedy.

Kids Books about Anger
The Big, Angry Roar by Jonathan Lambert
Cub gets angry with his little sister and learns from all the safari animals what they do when they're angry. Zebras stomp, Hippos splash, but maybe baboon has some wise words to help Cub get through his anger?
When I'm Feeling Angry by Trace Moroney
This is one of a nine book series all about feelings. Each book in the series covers a different emotion. In this book kids learn about what to do when they feel like they are going to explode! Teaches great coping skills for kids.
Llama Llama Mad at Mama by Anna Dewdney
Llama llama books are just fun to read. This one is no exception and tells all about what happens when llama llama is mad at mama on a shopping trip that is lasting a little too long in his opinion (especially when he didn't want to go in the first place).
Mad, Mad Bear! by Kimberly Gee
When Bear has to be the first one to leave the park, gets an owie on the way home, and then has to leave his stick outside, he is very, very mad. This is a very relatable book for anyone that has dealt with toddler tantrums. Your toddler, and bear can learn how to make it through the meltdowns.
How Do Dinosaurs Say I'm Mad? by Jane Yolen, illustrated by Mark Teague
I love this addition to the "How Do Dinosaur…" books. Dinosaurs get mad sometimes, but they don't stomp and roar. They learn how to calm down, take a time out and apologize for any hurt feelings.
When the Anger Ogre Visits by Andree Salom, illustrated by Ivette Salom
The Anger Ogre visit everybody, but we can learn to be patient when it arrives. This book encourages children to deal with their anger as a natural part of the life, rather than push it away. It has fun, whimsical illustrations and is written in rhyme, but still teaches a valuable lesson.
When Miles Got Mad by Sam Kurtzman-Counter, illustrated by Abbie Schiller
Miles' little brother Max accidentally broke Miles' favorite toy airplane and it made him so mad. Mad enough that when he looked in the mirror, he looked like a furry red monster! As Miles calms down and uses his words to express his anger, he slowly turns back into himself.
Chill Chomp Chill by Chris Ayala-Kronos, illustrated by Paco Sordo
Chomp, the little T.Rex is learning how to regulate his feelings when things don't go his way. When someone else takes his blocks or he doesn't get a party invitation he wants to chomp! But he uses skills like taking a breath, singing a song and going for a walk to chill instead.
Allie All Along by Sarah Lynne Reul
When Allie's crayon breaks, it makes her so so angry. Her big brother helps her calm down a little bit at a time and slowly Allie turns back into the sweet little girl underneath all the anger. The bold illustrations do a great job of adding an element of emotion and feeling to the story.
Fergal and the Bad Temper by Robert Starling
Fergal, a young dragon, hates being told what to do. It really gets his fiery temper going, which tends to catch things on fire. Can Fergal learn how to cool it before his temper gets the best of him?
Betty Goes Bananas by Steve Antony
Betty is a baby gorilla who goes bananas when her banana won't open! Great book for toddlers who are learning to cope through tantrums.
Kids Books about Being Grumpy
Grumpy Pants by Claire Messer
Penguin isn't sure why, but he is having a grumpy day. He decides that the only thing he can do is wash off the grumpy and start over. Simple text and cute illustrations teach a great lesson about getting out of a grumpy mood.
Grumpy Monkey by Suzanne Lang, illustrated by Max Lang
Jim is a foul mood. His friends can't quite understand – it's such a beautiful day! They keep advising him to smile and promise him that he'll feel better. But it leads quickly to a meltdown for Jim who can't quite seem to snap out of it.

The Grouchy Ladybug by Eric Carle
Eric Carle is another timeless author and if you haven't read this book about a very grouchy ladybug yet, you should. This book has delighted readers for decades and teaches that being grouchy with others probably isn't the best way to interact.
Grumpy Duck by Joyce Dunbar, illustrated by Petr Horacek
Duck's grumpy mood hangs over her like a gray storm cloud- in fact there quite literally is a gray storm cloud over her head and it grows with every unpleasant interaction she has along her day. What's worse is her bad mood seems to be spreading to those around her. What can turn around her bad mood?
Alexander and the Terrible, Horrible, No Good, Very Bad Day by Judith Viorst, illustrated by Ray Cruz
This one is a classic that I remember reading when I was a kid! Even when we have the worst days, sometimes it's helpful to remember that everyone has bad days on occasion.
Three Grumpy Trucks by Todd Tarpley, illustrated by Guy Parker-Rees
It's kind of funny to relate so well to the toy trucks in this book who get grumpy when they get tired, hot and hungry! I mean who doesn't? How will the trucks handle their grumpiness?
Bye Bye Pesky Fly by Lysa Mullady, illustrated by Janet McDonnell
Pig was having a great day, until a pesky fly came out of the blue and buzzed around his head. He has to learn the best way to handle the situation with this pesky fly. Instead of swatting or yelling, Pig and Fly learn how to work through their issues and have a good day together!
The Unbudgeable Curmudgeon by Matthew Burgess, illustrated by Fiona Woodcock
I think curmudgeon is just the best word to describe someone in a bad mood. This book is about a brother who takes the form of an unbudgeable curmudgeon. He won't move even when bribed with peanut butter sandwiches and brownies. What will work in the end to get him out of his curmudgeoness?
Cranky Right Now by Julie Berry, illustrated by Holly Hatam
Everyone has cranky days and that's okay. This book lets kids know that sometimes we're cranky, and that's okay as long as we don't take it out on other people and most importantly we let the cranky mood pass and move on to happy days.
Kids Books about being Scared
Bear Feels Scared by Karma Wilson, illustrated by Jane Chapman
If you've read Bear Wants More or Bear Feels Sick, you'll love this addition about Bear feeling scared. It's a classic rhyming book all about what bear does when he gets lost and scared in the woods. His friends woodland friends come to the rescue to help find Bear and help him feel safe and sound again.
Flamingo Is Brave by Sue Graves, illustrated by Trevor Dunton
Flamingo is Brave is one book of a new picture book series for preschoolers. Each book discusses a different emotion and features a different animal. In this book Flamingo is scared of a lot of things like loud noises, spiders, and the dark. Read it to find how he conquers his fears.
I'm a Duck by Eve Bunting, illustrated by Will Hillenbrand
What happens to a duckling that is afraid to swim? It doesn't seem to matter what any of the other animals say or offer to help, duck does not want to jump into the pond. But he eventually learns how to face his fears all on his own! This is a very sweet rhyming story about facing our fears.
Jabari Jumps by Gaia Cornwall
Jabari isn't a bit worried about jumping off the high dive. Well, maybe a little worried. I love not only Jabari's determination, but also his patient dad who helps him work through his nerves and conquer his fear when he's ready.

Lottie & Walter by Anna Walker
Lottie is quite positive that at her weekly swimming lesson, there is a shark in the pool waiting to eat her. She won't get in the water, until an unlikely friend, Walter, who just happens to be a walrus, appears and helps Lottie conquer her fear of the water. This is a very sweet and imaginative story involving a common childhood fear.
Me And My Fear by Francesca Sanna

A young girl has a small friend called fear. He comes with her everywhere, but when she moves to a new country, with a new language, fear grows bigger and threatens to overwhelm her. She gathers her courage and proves she is stronger than her fears.
Kids Books about Happiness
Happy by Emma Dodd
This is a great bedtime book for your little ones. It's written in rhyming verse and has very sweet illustrations. The paperback version has really beautiful foil embossed pages. Emma Dodd has a really great series of animal books and this is the perfect addition.
Happy by Nicola Edwards
This poetically written picture book is a great introduction to mindfulness practices for children. It has a very soothing cadence that is actually very relaxing to read. A perfect for a bedtime story.
The Happy Book by Andy Rash
Best friends Camper and Clam are happy- a happy camper, and happy as a clam! (Clever right?) But when one friend eats a whole cake without sharing, it creates a very unhappy situation. This funny and thoughtful book outlines their path from sad back to happy and a lot of feelings in between.
Happy Right Now by Julie Berry, illustrated by Holly Hatam
I don't think kids are the only ones guilty of thinking "I'll be happy when _______…" I love that this book teaches kids (and adults) to embrace their current circumstances and be happy despite challenges. It balances this while acknowledging it's okay to be sad and provides some great exercises to move through difficult feelings.
Princess Harper Gets Happy by Molly Martin, illustrated by Mélanie Florian
Princess Harper is so happy that her smile shines and her eyes sparkle. She wants to share her happiness with everyone in her kingdom and thinks of just the right way to do it! (4 book series – Princess Addison Gets Angry, Princess Sophia Gets Scared, Princess Stella Gets Sad)
Layla's Happiness by Mariahadessa Ekere Tallie, illustrated by Ashleigh Corrin
Follow along with Layla to see all the things that make her happy and how she records them in her happiness journal. She embraces family, community, friends, nature and so much more.
And if you'd like a printable copy of this list that you can take to your library or screenshot on your phone for easy access, just pop in your email address below and it'll come right to your inbox!
if you liked this post about feelings books for kids, you might like these other posts:
Reader Interactions