There's nothing like your favorite, truly beloved Halloween children's books.
The ones you read as a child and now share with your own children (for me, one of these is The Widow's Broom).
But it's also really fun to add some new holiday books to your collection each year.
Here are 10 Halloween children's books that were just released this year – whether you're looking to freshen up your own Halloween book collection or just need some new suggestions for Halloween books to request from the library, I hope you'll enjoy these delightfully spooky titles!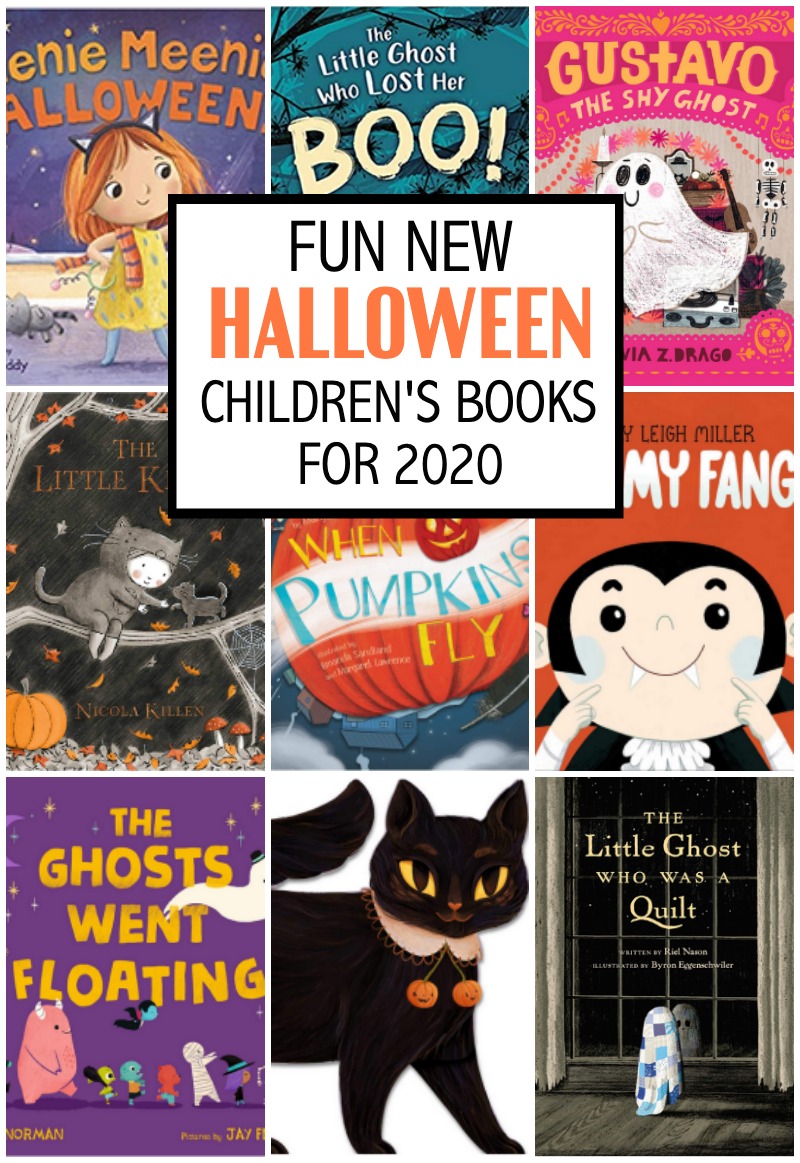 10 Fun New Halloween Children's Books for 2020
The Little Ghost Who Was a Quilt by Riel Nason, illustrated by Byron Eggenschqiler
This Halloween book feels like it could be 50 years old instead of brand-new! Most little ghosts are made from sheets – they can swoop around on every breeze. But our little ghost? He's made from a quilt. Which isn't ideal. Until one chilly Halloween night when a quilt ghost is exactly what one little girl needs.
Eenie Meenie Halloweenie by Susan Eaddy, illustrated by Lucy Fleming
If you love DIY Halloween costumes, this book is for you, as a little girl goes through all the options of costumes she could make from household items and borrowed pieces of clothing.
When Pumpkins Fly by Margaret Lawrence, illustrated by Amanda Sandland
Based on Inuit folklore, this book takes place in the remote community of Sanikiluaq, Nunavut where supplies come in only by cargo flight. This year, pumpkins are delivered for the first time and carving them is a special treat for the children. But when the pumpkins are left outside alone, Halloween takes a surprising turn!
The Little Ghost Who Lost Her Boo! by Elaine Bickell, illustrated by Raymond McGrath
It's no good when a little ghost loses her boo! She goes off to hunt for it and many kind friends offer to lend them their sounds, but no one, not a dove or a cow, has quite the right sound (a moo is close to a boo, but not exactly the same). But then the ghost breaks the fourth wall and asks the reader to give her a nice scary boo!
One Black Cat by Robie Rogge, illustrated by August Ro
This board book is designed in the shape of a black cat and just REALLY fun. Inside the clever book, the black cat goes searching on Halloween night for a witch amid all the trick-or-treaters.
The Ghosts Went Floating by Kim Norman, illustrated by Jay Fleck
My friend Abby the Librarian recommended this new Halloween book and she wasn't wrong. It is DARLING, going along to the song "The Ants Went Marching." My little girls were absolutely delighted by the charming illustrations and the sing-along-ability (I just made that word up).
The Little Kitten by Nicola Killen
Let's be honest – I'd buy this book for the cover alone. But it's equally delightful inside about Ollie who finds a lost kitten and works hard to help that little kitty get home as Halloween approaches. A monochromatic color palette with pops of orange, foil, and die-cuts make this a truly stunning addition to a Halloween book collection.
Gustavo, the Shy Ghost by Flavia Z. Drago
Gustavo is great at being a ghost – he glows in the dark and floats through walls and makes objects levitate. But the thing he loves most is making beautiful violin music and he wants to share that with the monsters around him. But when he's invisible, that's a tricky prospect. Is he destined to be lonely forever?
Runaway Pumpkins by Teresa Bateman, illustrated by Stephanie Fizer Coleman
It's a thrill when you go on a class field trip to the pumpkin patch and each get to pick a pumpkin. It's less of a thrill when the bus hatch accidentally opens on the way back to school and all the pumpkins, except one solitary one, tumble out and smash. But there's a happy ending to this story!
And if you'd like a printable copy of this list that you can take to your library or screenshot on your phone for easy access, just pop in your email address below and it'll come right to your inbox!
Any other new Halloween children's books you're loving? I always like an excuse to check out more Halloween titles!
If you liked this list of new Halloween children's books, you might like these posts too: