I read 20 more books this quarter than I did last quarter. And all those extra books were the Alice books by Phyllis Reynold Naylor. I blame Jessica.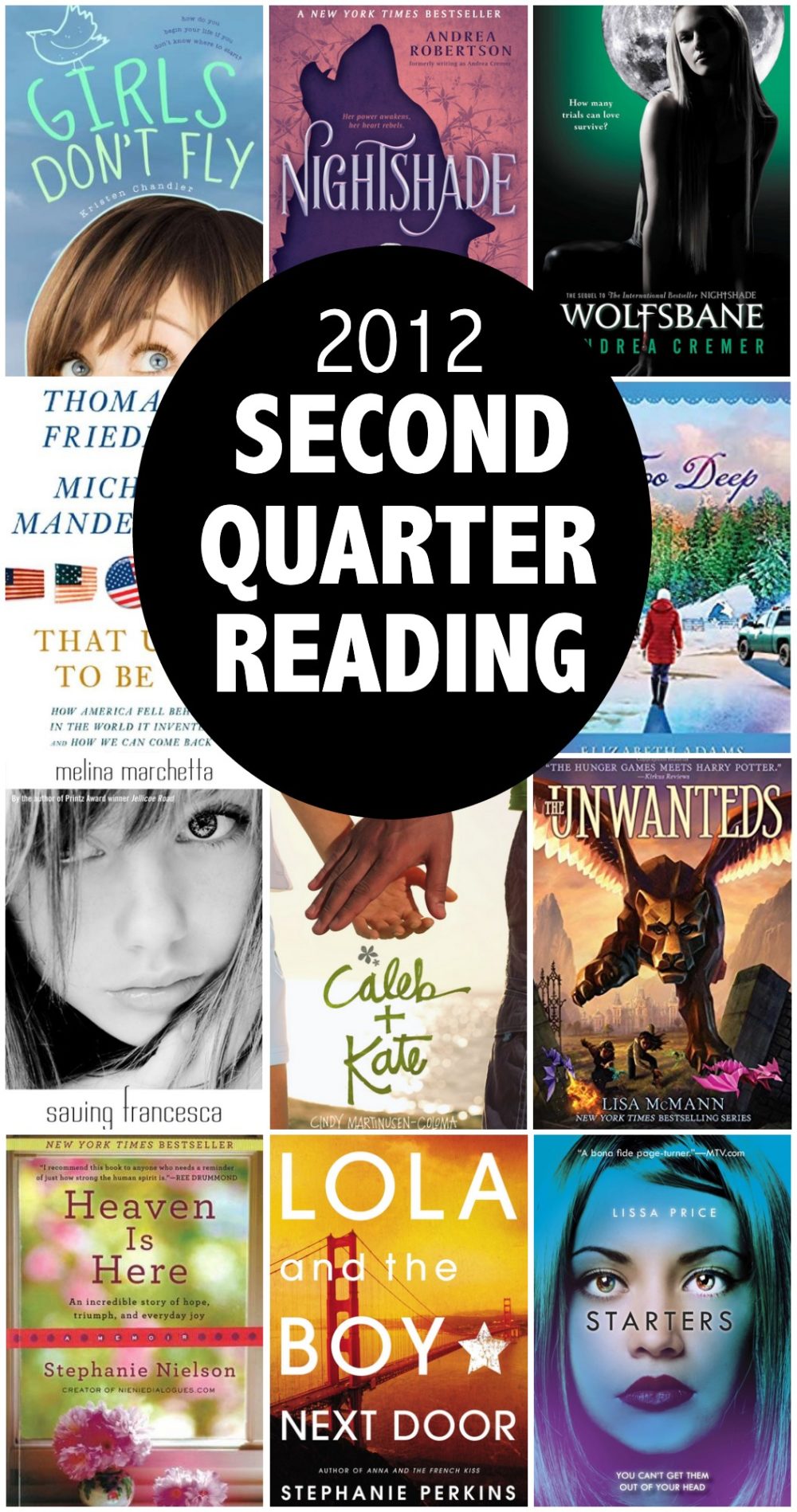 2012 second quarter reading
The No Brainer Wardrobe by Hayley Morgan – I've stopped buying things with the good intentions of fixing them, thanks to this book. My life is much improved.
Saving Francesca by Melina Marchetta – Melina Marchetta, you just never stop wowing me.
Something Like Normal by Trish Doller – Another stellar contemporary romance recommendation from Kelly. We have quite different taste, but she GETS my taste.
Some Assembly Required: A Journal of My Son's First Son by Anne Lamott – I haven't read much else by Anne Lamott, but this book struck me as so ridiculously whine-y. It's your grandchild, not your child! The world doesn't revolve around you!
The Book of Jonas by Stephen Dau – Blah. And more blah.
Unbreak My Heart by Melissa C. Walker – Cute little summer YA romance.
Lola and the Boy Next Door by Stephanie Perkins – I liked this one quite a bit better than Anna and the French Kiss. I have no idea why.
Lucky Fools by Coert Voorhees – Read this on our cruise and immediately forgot about it.
Girls Don't Fly by Kristen Chandler – This was recommended to me by several people that usually I agree with, but this book was only mediocre for me.
Caleb + Kate by Cindy Martinusen-Coloma – Romeo and Juliet retelling. Which means, as usual, a disappointment. Has NO one ever retold that story with any aplomb?
French Kids Eat Everything: How Our Family Moved to France, Cured Picky Eating, Banned Snacking, and Discovered 10 Simple Rules for Raising Happy, Healthy Eaters by Karen Le Billon – Fantastic. Quite a different perspective from Bringing Up Bebe and, I thought, possibly more useful. A review of this coming someday if I can get my act together.
Small as an Elephant by Jennifer Richard Jacobson – Such a great novel.
Heaven is Here: An Incredible Story of Hope, Triumph and Everyday Joy by Stephanie Nielson – I was worried that this would basically be her blog in book form, but it was much better. Better writing/editing, and much more moving to me.
You Have No Idea: A Famous Daughter, Her No-nonsense Mother and How They Survived Pageants, Hollywood, Love, and Loss by Vanessa & Helen Williams – It's hard for me to have sympathy for people who deliberately do things they're told not to do.
Still Alice by Lisa Genova – I don't know if I will ever forget this book. Such a sad, real story about early-onset Alzheimers.
Happier at Home: Kiss More, Jump More, Abandon a Project, Read Samuel Johnson, and My Other Experiments in the Practice of Everyday Life by Gretchen Rubin – It's not as good as The Happiness Project, but it's still really interesting and had some parts that I found extremely thought-provoking. Review to come.
The Agony of Alice (and the other 23 Alice books in the series) by Phyllis Reynolds Naylor – You're welcome for not listing every one of these books separately. I quite enjoyed this series and when I mentioned it on Twitter, I was FLOODED by responses from people who loved them as teens. I didn't feel that crazy love, but it was a fun month of reading.
First Comes Love by Katie Kacvinsky – This book has Printz written all over it. Which means I thought it was pointless.
Three Times Lucky by Sheila Turnage – Fun little middle-grade mystery. Definitely going in my arsenal of books to recommend.
In Too Deep by Amanda Grace – Too depressing for me. And I hate stories that hinge on people being too dumb to open their mouths and say something.
The First Husband by Laura Dave – This was a BlogHer Bookclub book, but I didn't participate in this one since they recruited while I was cruising across the Caribbean. Lisa's review convinced me to pick it up, though, and I read it one day. Quite good.
All These Things I've Done by Gabrielle Zevin – I know some people love this book, but holy cow, it took me MONTHS to get through the audiobook. I will not be picking up the next ones in this series.
Stupid Fast by Geoff Herbach – The Cybils winner for YA Fiction, but it didn't do a lot for me.
Starters by Lissa Price – It was such a relief to read a YA book that I didn't want to put down. Hello, dystopian fiction to the recuse.
The Unwanteds by Lisa McMann – I've meant to read this for over a year, and when I finally did, I loved it. What a great middle-grade dystopian/fantasy novel. Two winners in a row!
Gilt by Kathrine Longshore – A King Henry VIII story. Of course I liked it and blazed through it. But after I read it, I felt like it wasn't as tight as I wish it would have been.
That Used to be Us: How America Fell Behind in the World It Invented and How We Can Come Back by Thomas L. Friedman – Bookclub book. Fascinating (I read probably half the book aloud to Bart) and a great discussion. If you're looking for a good bookclub choice, you won't go wrong with this one.
The Templeton Twins Have an Idea by Jeremy Holmes – I couldn't get over how clever and witty this book was. A complete winner. Definitely will be reviewing this come Fall.
Nightshade by Andrea Cremer – Fun to reread this (this time listening) in order to read the series' finale.
What Alice Forgot by Liane Moriarty – I loved this book the first time and I loved it the second time. Some books just stay good.
The False Prince by Jennifer A. Nielsen – Another one I've meant to read for ages and even better than I'd hoped. The middle grade books are knocking it out of the park for me this quarter.
Wolfsbane by Andrea Cremer – Listened to this one too, prepping for Bloodrose.
7: An Experimental Mutiny Against Excess by Jen Hatmaker – So good – I read it in a couple of days and thought about it constantly. Very religious.
And if you'd like a printable copy of this list that you can take to your library or screenshot on your phone for easy access, just pop in your email address below and it'll come right to your inbox!
if you liked this list of 2012 second quarter reading, you might also like these other posts: