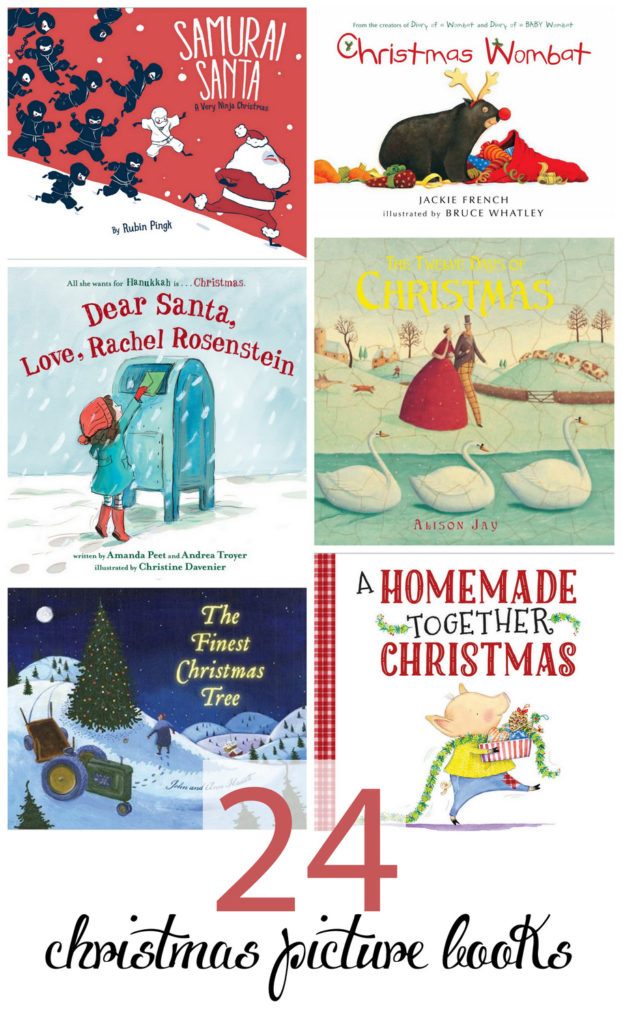 I don't decorate for Christmas or start playing holiday tunes until after Thanksgiving, but you better believe I've got my stack of Christmas books ready to go and we've been scoping out the new releases for the past couple of weeks.
In the past, I've always done a mix of books from previous lists and new books, but this year, every Christmas book on the list is new to my blog.
Oh, there are some good Christmas books here! I'm posting this before Thanksgiving so you have time to order or request ones that you want to add to your rotation. Happy Holiday reading!
24 fantastic Christmas books
Samurai Santa: A Very Ninja Christmas by Rubin Pingk.
The minute I closed this book, I knew it was one I'd be purchasing for our collection this year – the three-color illustrations (red, black, and white) and the high-action story fit perfectly in this tale about a little ninja who only wants a massive snowball fight for Christmas but can't find any takers because they are all afraid it'll land them on Santa's naughty list.
Penny's Christmas Jar Miracle by Jason F. Wright, illustrated by Ben Sowards.
I may have gotten a little teary toward the end of this out-of-print story of a little girl who decides, with her family, to use all the change they've collected during the year to help a fellow neighbor.
Christmas Wombat by Jackie French, illustrated by Bruce Whatley.
The wombat diary books are hysterically terse, and this one is no exception, when a wombat discovers that her favorite treat (carrots) are being eaten by Santa's reindeer.
A Homemade Together Christmas by Maryann Cocca-Leffler.
This book just came out a few weeks ago, and my girls have LOVED it, about a family of pigs that decides to do homemade Christmas gifts. But the little brother can't figure out what he could possibly make.
Olive, the Other Reindeer by J.otto Seibold and Vivian Walsh
This one has been popular for almost two decades, but somehow it never really appealed to me. Then I reread it this year and suddenly I loved it just as much as everyone else. I guess I'm just slow to the party.
Christmas Cricket by Eve Bunting, illustrated by Timothy Bush.
Oh, I loved this warm sweet book about a cricket who feels worthless and unloved until he takes refuge in an indoor Christmas tree and a loving father tells his little child that the cricket's song is a reminder of the songs of angels.
There Was No Snow on Christmas Eve by Pam Munoz Ryan, illustrated by Dennis Nolan.
This quiet story of the first Christmas describes how different Bethlehem was from our traditional Christmases – no snow or warm clothing or roaring indoor fires – but instead desert winds and sandals and barn animals. Oh, I loved it.
The Best Parts of Christmas by Bethanie Deene Murguia.
Fritz loves getting a tree with his family, decorating it, and enjoying its beauty all December long. But then Christmas is over and the dying tree is set out by the curb. Can he still enjoy his favorite part of the season?
Dear Santa, Love, Rachel Rosenstein by Amanda Peet and Andrea Troyer, illustrated by Christine Davenier.
Rachel Rosenstein loves everything about Christmas. Except that her Jewish family doesn't celebrate it. Will Santa bring Christmas to her? I loved this sweet and innocent book about families who don't celebrate Christmas and the other winter holidays.
Star Bright: A Christmas Story by Alison McGhee and Peter H. Reynolds.
I was originally turned off by the cartoony illustrations, but the story ended up being so sweet that there was no question it'd be part of our stack this year.
The Reindeer Wish by Lori Evert, photographs by Per Breiehagen.
I don't think I ever actually read their first book, the wildly popular The Christmas Wish, but now I need to snag a copy because the photographs of this is ridiculously magical. Seriously, GET THIS.
Santa Claus the World's Number One Toy Expert by Marla Frazee.
Who doesn't love a Marla Frazee book? And this one, about Santa Claus, is just darling as he tests toys, makes huge lists, and figures out exactly the right gift for each child.
The Twelve Days of Christmas by Alison Jay.
I was introduced to Alison Jay earlier this year when a sweet reader sent me her book Welcome to the Zoo. This one has the same striking type of illustrations with plenty of clever details to pore over on each pate.
An Invisible Thread by Laura Schroff and Alex Tresniowski, illustrated by Barry Root.
Apparently this is based on a true full-length story about a woman who makes friends with an 11-year-old panhandler and changes his life with her kindness.
The Gingerbread Pirates by Kristin Kladstrup, illustrated by Matt Tavares.
Oh man, this one is just plain fun, about a little boy and his mom who make gingerbread cookies and he wants to decorate them as pirates. Now those pirates need to make sure that Santa doesn't eat them.
The Spirit of Christmas by Nancy Tillman.
This was delightful and just charming Christmas story. And keep an eye out for the Spirit of Christmas image hidden on each page.
The Finest Christmas Tree by John and Ann Hassett.
When Farmer Tuttle's Christmas tree business starts to go downhill, thanks to the rise of artificial trees, he and his wife consider selling the farm. But then they get a letter asking for their very finest Christmas tree. Who would want that for his holiday party?
The First Christmas Night by Keith Christopher and Christine Kornacki.
This version of 'Twas the Night Before Christmas tells the story of Jesus's birth in Bethlehem and it's just gorgeous.
One Splendid Tree by Marilyn Helmer, illustrated by Dianne Eastman.
This one is so different from a lot of picture books, with illustrations that look like a stop-motion animation film. This little family during WWII has moved into a dingy little flat so the mom can work in a factory while their father is away at war. There is an old palm plant that's been left in the apartment and the children decide to decorate it for Christmas.
Angela and the Baby Jesus by Frank McCourt, illustrated by Raul Colon.
You probably know Frank McCourt from Angela's Ashes and this story is about his mother who, as a little girl, is terribly worried about the baby Jesus in the church nativity who she worries will be cold. So she sneaks in late at night and takes him home.
The Tale of Three Trees: A Traditional Folktale by Angela Elwell Hunt, illustrated by Tim Jonke.
We had this one growing up and I love it more every year, about three trees on a hill who all want something different from their lives. Eventually each one is cut down and made into the manager, the boat in the storm, and the cross and somehow each become what they wanted most to be. It is just so touching and beautiful.
The Night Henry Ford Met Santa by Carol Hagen, illustrated by Matt Faulkner.
I loved this clever spin on the Henry Ford story that supposes that the idea of an assembly line came to Henry Ford from seeing the elves in Santa's workshop make toys.
I Believe in Santa Claus by Diane G. Adamson.
This simple story points out the main characteristics of Santa Claus and then similarities with Jesus. It's such a nice cross between the traditional Santa tale and the real meaning of Christmas.
Can You See What I See? Night Before Christmas by Walter Wick
By the same guy who did I Spy, this is a great book for the day before Christmas when you need something to keep your antsy kids occupied.
And if you'd like a printable copy of this list that you can take to your library or screenshot on your phone for easy access, just pop in your email address below and it'll come right to your inbox!
if you liked this post of christmas books, you might also like these posts:
Reader Interactions