I've discovered that I'm extremely picky about holiday books.
This list has been in the works for a while, and I combed through dozens of lists, pulled every book with a Christmas sticker off the shelf at the library, read hundreds of Amazon reviews, and made multiple trips to Barnes and Noble to examine their holiday exhibits.
It's hard work, but someone has to do it (also, my girls love the train tables at Barnes and Noble, so this is pretty much the perfect way to burn up a chilly afternoon).
Some of these books appeared on last year's list, and some are new. Either way, I'm really super excited about this list.
I've tried to make it a good mix of secular and religious, classic and new, silly and still. I wrote a little blurb about each book this year because when I look at last year's list, some of them really run together in my mind. Plus, when I look at OTHER book lists, I much prefer the ones with a little explanation. I figured you might too.
Also, I wrapped each book up last year. This year, I'm skipping that – I want the book to be the exciting thing, not the unwrapping (you can guess which was the most exciting part last year. . .). Also, I'm getting a basket to hold them all so I can keep track of them.
So, ta-da! Here is this year's list of 24 books to read from December 1st to December 24th: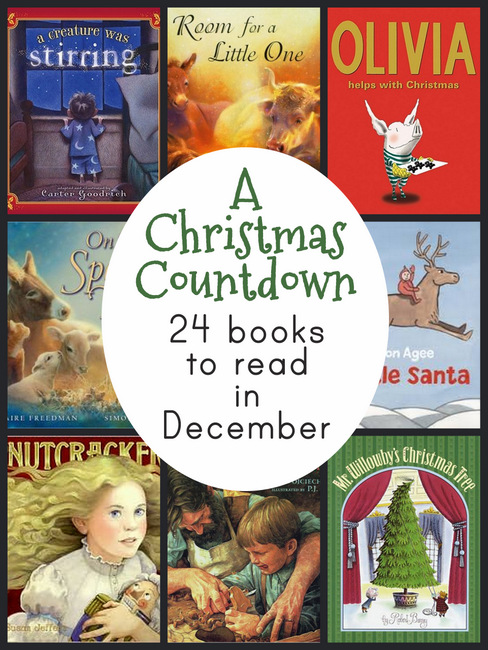 Little Santa – I don't always love Jon Agee's books, but this one, about Santa's backstory, totally delighted me.
Christmas from Heaven – I read (and loved) The Candy Bomber a couple of years ago, so I was delighted to see a picture book version of the story. A WWII story is a nice addition to this collection.
My Pen Pal, Santa – I was dubious, very dubious, about this book. But it charmed the socks off me. A year worth of letters between Santa and a little girl.
Dream Snow – This was probably the very most popular book from last year's list at our house. We read it dozens of times. Of course, I think the little button in the back that played music probably had SOMETHING to do with that.
The Nutcracker – So many Nutcracker retellings are way too long. This one is perfect (in fact, it's the first one I've ever managed to read all the way through).
A Creature was Stirring – There are so many versions of "The Night Before Christmas" but I think this one, about a little boy who sneaks out of bed, is the very best. My mother-in-law and brother-in-law recorded an audio copy for us with each of them reading one part.
Mr. Willowby's Christmas Tree – This book is a classic, about a tree that's too tall. The top is lopped off and it becomes a tree for a smaller house. Where's it also too big, so they chop off the tip-top. And so on and so on, until that tree gives Christmas to many families, human and animal.
Oliver and Amanda's Christmas – I've loved Oliver and Amanda Pig my entire life, but this year, as Ella has become a big fan too, I'm just so enamored with these sweet stories. I can't wait to pull our copy out in a couple of weeks.
Room for a Little One – This was Ella's other favorite last year, and it's so sweet, about the Kind Ox in the stable's inn who makes room for one animal after another, until Mary and Joseph appear, hoping for a little room for them and their expected baby.
Olivia Helps with Christmas – Ah, Olivia. I love you so much. Preparing for Christmas is just the job for this little piggie.
How the Grinch Stole Christmas – I've mentioned before that Dr. Seuss is not my favorite, but this book? I can't help but love it.
Christmas in the Barn – I can't ignore a book by  Margaret Wise Brown. This simple nativity book has bits of familiar carols woven into the text.
The Watchmaker who Saved Christmas – This one I actually haven't read because it's a little hard to procure, but every review of this book about a little deaf boy who gives up his hearing aid to fix Santa's magical watch (which helps him slow down time and deliver all the gifts) have been so glowing that I can't not include it. (And I ordered my own copy).
Mortimer's Christmas Manger – A little mouse goes looking for a new home and thinks the manger looks just right. Until he hears the Christmas story and realizes who belongs in the little creche.
On This Special Night – After a mother cat and her kitten watch many animals travel by, following a bright star, they decide to see where everyone is going for themselves.
Peter Spier's Christmas! – We had his wordless book Rain when I was growing up, and I love having a wordless book in this collection. Plus, his books are just gorgeous.
The Tailor of Gloucester – Ella has really loved Beatrix Potter this year, so I'm excited to pull out this tale of the mice who save Christmas for their sick tailor by making a coat for his customer.
The Year of the Perfect Christmas Tree – If there is going to be a WWII book on this list, there had better be a WWI book. This one is a classic about a little girl who always goes with her father to bring home a tree from the mountains to donate to the town. But this year, he is off at the war.
Finding Christmas – A little girl is on the hunt for the perfect gift for her baby brother, but before she can pick a present from a toy shop, Santa swoops in and takes all the gifts.
A Christmas Goodnight – This is a perfect Christmas bedtime book, as the book bids goodnight to all the members of the nativity story.
Christmas in the Country – A book about old-fashioned preparations for Christmas in the Appalachian mountains.
Auntie Claus – Sophie has always wondered about her aunt, who loves Christmas, but disappears on a business trip every year during the big event. When Sophie smuggles herself along in a box, she discovers some surprising secrets about what her Aunt is up to.
I Spy Christmas – I love the I Spy books (we had tons of them when I was young) and I think this is perfect for those last days before Christmas when little kids are SO WOUND UP.
The Christmas Miracle of Jonathan Toomey – Woodcarver Jonathan Toomey has been silent and cold since his wife and daughter died, but things change when a little boy and his widowed mother ask him to build them a nativity set.