Over the last few months, I feel like I really stepped up my style.
When I first
posted about this shirt in June
, just wearing it with jeans felt pretty far outside of my comfort zone. The shirt was bright! And collared! (Seriously, I sound like the most gigantic wimp).
Now I look at it with just jeans and think, "Mmm, betta not."
I mean, it's not bad. But this shirt doesn't scare me like it used to.
When we decided to do One Piece, Five Ways for this edition of Raiding My Sister's Closet, I easily came up with five different ways to wear it.
(My hair, though? Always the same. I lack hair variety skills. Can't bring myself to care. Long hair is wasted on me).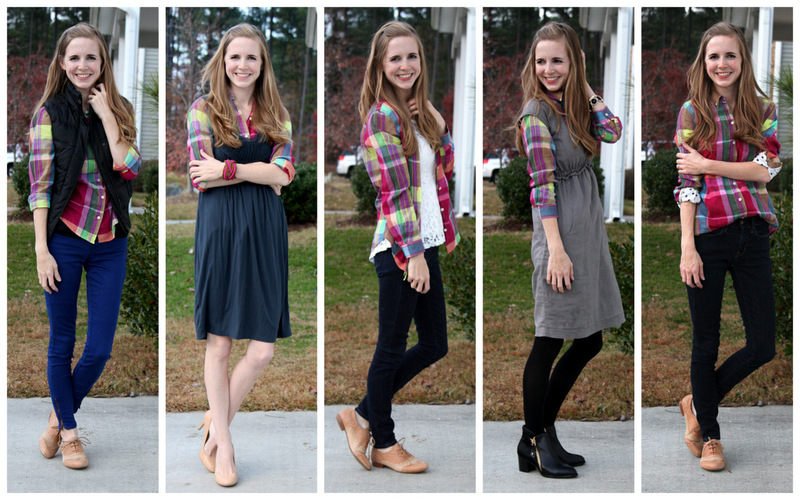 Let's do this thing.
The blue pants make an appearance again! I like the bright pants instead of just blue jeans, and the black vest tones it all down a little.
I love this stretchy dress (it's not maternity, but I can wear it for ages when I'm pregnant), but the solid color means that the colorful plaid shirt helps punch it up a bit. Also, the dressy shoes and big bracelet help counteract the casualness of the the shirt.
Wearing a plaid shirt unbuttoned makes me think 90s!, but pairing it with a fitted lace top keeps it from being too grunge. Plus, the lace adds a little texture.
Also, my shoe is untied. It's hard to be an adult, sometimes.