Looking for simple and sweet advent activities to do with your toddler? Try these 24 suggestions!
After I made a DIY advent calendar (for a whopping $2.50), I needed some daily advent activities to go along with it.
These are the advent activities I've picked out for our advent calendar this year.
There are a lot of easy, small projects because Ella loves doing "art projects," and I thought they'd be fun for her to do a couple of them with my mom while she's out here helping with the new baby, but I didn't want anything too complicated or expensive (aka, something I won't be willing to recycle after Christmas).
I also threw in a few games, one movie, and a few projects that will involve the baby.
Also, Grandparents? The ones that have to do with you, pretend to be surprised when they happen. Many thanks.
I bought and assembled all the supplies earlier this month so that every activity is ready for the day of (you can only imagine the pile of STUFF that is currently occupying the top of my dryer).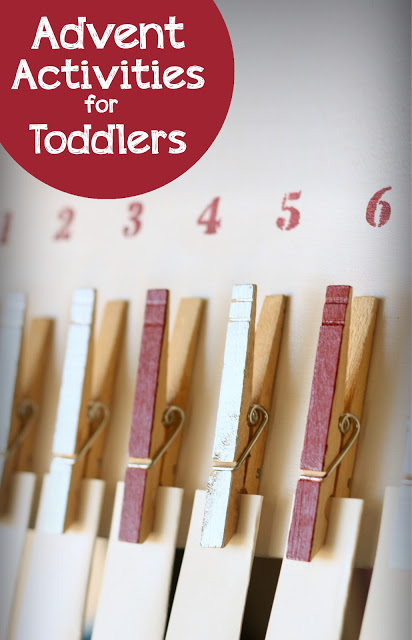 24 Christmas Advent Activities for Toddlers
Make bracelets for grandmas
Make paper snowflakes
Call grandparents and sing Jingle Bells
Watch "How the Grinch Stole Christmas"
Make muffins for friends
Hide objects in a stocking – make her guess by touch
Decorate cardboard gingerbread men
Plant a little herb pot
Make a Christmas Village
If you liked this post about advent activities for toddlers, you might also find these posts useful: