A couple of months ago, I saw this fantastic gold glittery clip on Rockstar Diaries.
And then I promptly forgot about it until I was digging in my bathroom drawer and found an embarrassingly little box of rusty hair clips (WHY do they get so rusty?).
I remembered that there is nothing Bart loves so much in this world as glitter coating every surface of our house, so I thought, "I could make one of those."
And I did: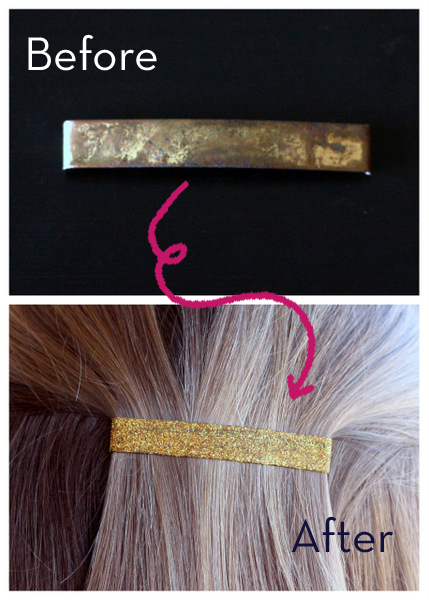 This is possibly the easiest project in the entire world. Drying time aside, it took all of two minutes.
Materials needed:
Hairclip (need not be rusty. . . )
ModPodge (I used the Brilliant one which I really liked because it's so shiny and also very thick)
Paintbrush
Superfine glitter
Using your paintbrush, brush a thick, even coat of ModPodge on your clip. Sprinkle glitter over it and tap to remove excess. Let dry about an hour.
Paint a thick layer of ModPodge over the top of the glitter, making sure to cover the edges. Let dry at least an hour.
Wear daily.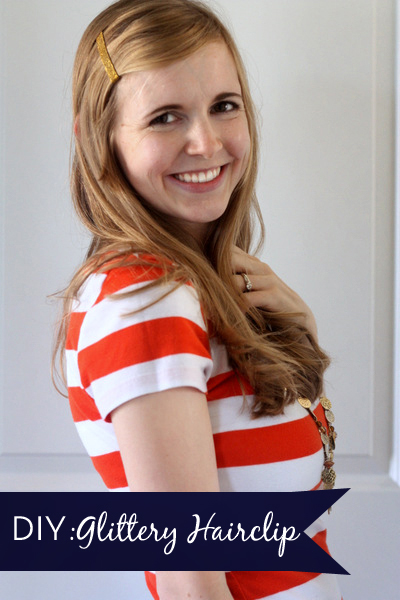 I liked it so much that I did it to one of Ella's hairclips too (you can see it over at Spoonful, Disney's new food, craft, and celebration blog that I've recently started writing for).
And once Ani gets enough hair, I'm sure I'll be making her a couple too. Plus, wouldn't these make a great little fun (and cheap!) gift for kids and adults alike? I'm in love.