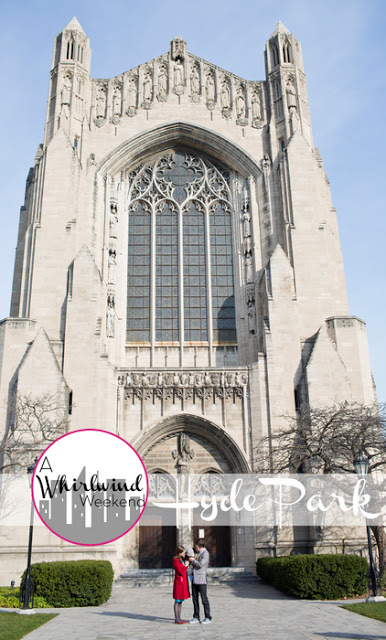 1. I'd
take you out for brunch at
Salonica
, a fun and retro Greek diner on 57th
Street. You can order whatever you want, but I'd strongly recommend getting the
French toast. You will hear people rave about that French toast all over Hyde
Park (and beyond). And while there are thousands of places I could take you for
dinner, you simply
can't
come to
Chicago and not have some deep dish pizza. There are strong opinions about the
best place to get your deep dish, but I've got to go with the classic chain of
Giordano's
. Luckily, there's one right off 53rd street in Hyde Park,
so that's where we'd go.
2. It's
famous for a reason! You shouldn't miss the
Museum of Science and Industry
.
This is seriously my favorite museum in the city, and it's right here in our
own Hyde Park. Not only is it located in the last remaining Neoclassical
building from the 1893 World's Fair, it's right off Lake Michigan and
surrounded by gorgeous parks. If the outside isn't enough to wow you, maybe the
full sized authentic German U-Boat on the inside will. They always have the
best exhibits here, a great place for kids and adults alike.
3. Calories
don't count on vacation, so we'll stop in and grab a treat at
The Medici
on 57th
street. They have a small bakery out front and a full restaurant behind, and
everything is delicious, but I can never go without ordering a chocolate shake.
They are absolute perfection. Best chocolate shake I've ever had, and the only
one I've found that is made with real chocolate, not Hersey's syrup. It's also
a well known fact (advertised on the T-shirts of the employees) that President
Obama enjoyed eating here. We can take our shakes and walk up to 51st
street to see the illustrious Commander-In-Chief's actual home (you know,
before he lived at the White House), although due to the wall of privacy trees
around the property there's really not that much to see. We can still wave to
the poor Secret Service agent that's always stationed outside.
4. The
weather is perfect and getting outdoors is a must. We'll take advantage of the
gorgeous day at the park along Lake Michigan. There's a beach off 57th
Street where we could go swimming (if the water's warm enough), or maybe we'd
rent bikes from the bike shop under the Metra bridge on 55th and
bike the
Lake Shore Trail
six miles up to the City. We'd coast around
MuseumCampus
, then head over to
Millennium Park
(a must for any Chicago tourist) to
grab a hot dog in front of
the Bean
(the best place to get your touristy
Chicago style hot dogs in the city, in my opinion) before biking back down to
Hyde Park.
5. You're
so fortunate to have a Hyde Park insider showing you around. The locals would
stone me if I didn't show you
Powell's Books
on 57th Street. As far as I know, there's no relationship between this Chicago book store and the more famous one of the
same name in Portland, but this little shop is a real treat. I love coming down
here and getting lost in the winding stacks. There are actually several good
used and new book stores along 57th street, and browsing is a must.
6. You didn't ask, but I'll tell you anyway that a
trip to Hyde Park wouldn't be complete without visiting the University of Chicago campus. Built with Rockefeller money at the end of the 19th Century,
the buildings of this illustrious institution hearken back to a time of grander
gothic architecture and academic esteem. They actually modeled many of the
buildings off of Oxford and Cambridge architecture, so it does feel very
European. Once you've spent enough time gawking at the gargoyles and ivy of the
Main Quad (absolutely gorgeous in the Fall), make sure you go inside the Harper
building to see the grand reading room (3rd floor, I call it the
Harry Potter room), and check out the Rockefeller chapel (in the picture). I would also
recommend the Oriental Institute (it's free!) for a taste of the archeological
work this institution is famous for (Indiana Jones, anybody?).