One of the most common questions I got this fall was "do you have recommendations for cozy fall reads?"
Embarrassingly, the answer was no!
Fortunately, we still have lots of weeks of autumn left, so if you're in the mood for something cozy for this season, this list is for you!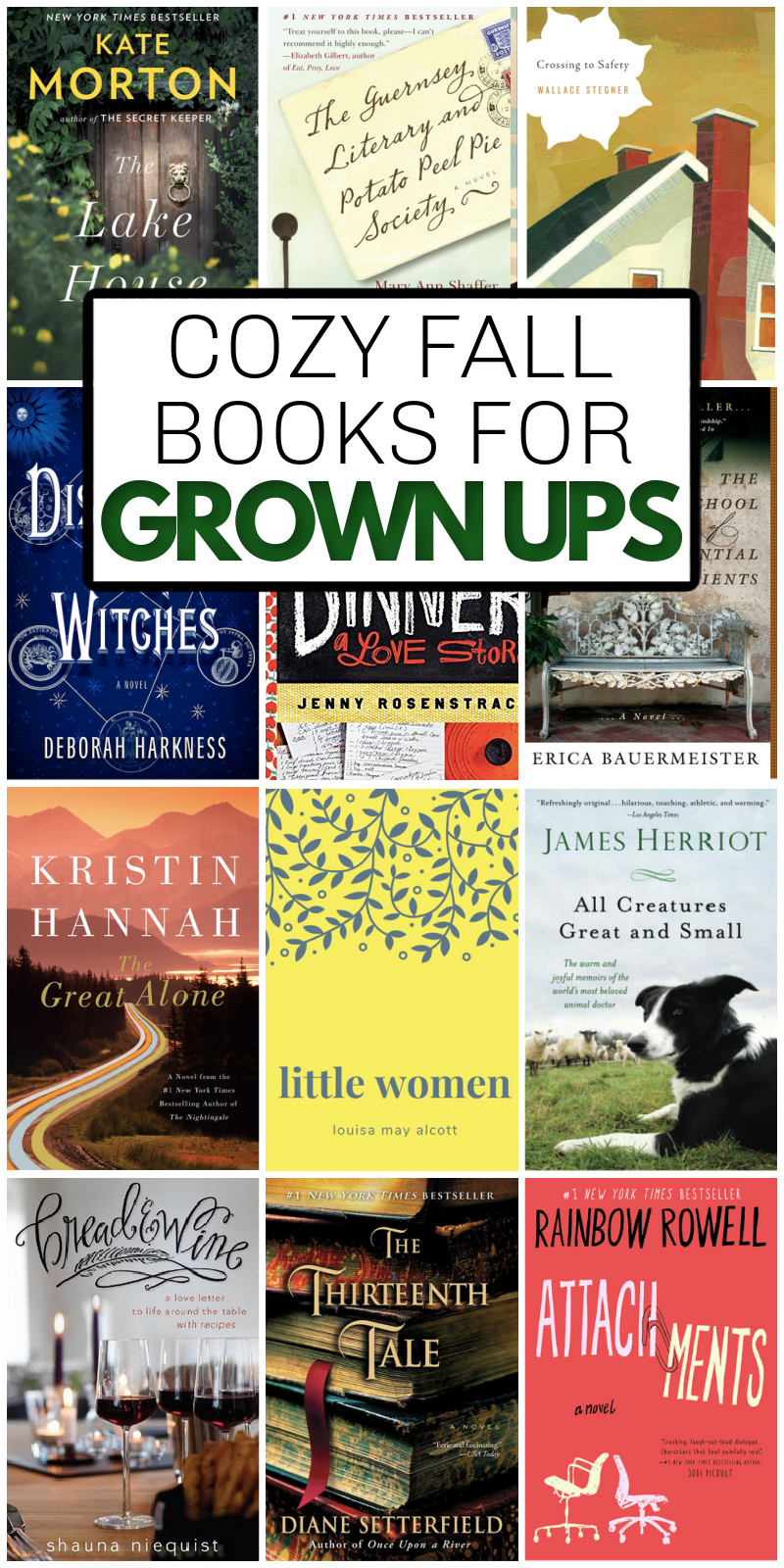 16 Cozy Fall Books for Grown Ups
Little Women by Louisa May Alcott
Let's kick this list off with a classic – Little Women is just the perfect cozy book with lots of sweet (and sometimes not-so-sweet) family moments. And if the soundtrack to the 1994 movie version doesn't make you feel festive, well. . . I don't know what will!
Northanger Abbey by Jane Austen
Any Jane Austen book could work for a fall read, but this one is especially atmospheric about  seventeen-year-old Catherine Morland. She's one of the ten children of a clergyman who lives out in the country and her deep love for Gothic novels, combined with her very active imagination, lead to lots of hilarious scenarios.
The School for Essential Ingredients by Erica Bauermeister
Every month, Lillian teaches a cooking class for eight students in her restaurant. Each of them is learning to cook. . .but they also are looking for lessons beyond the kitchen. Don't miss the sequel, The Lost Art of Mixing.
Flavia de Luce Mysteries by Alan Bradley
If you want a mystery that's not too scary, this delightful series that follows young Flavia de Luce, who loves chemistry and ESPECIALLY is fascinated by poison, is a major crowd pleaser (plus, there are ten books in the series, so if you love the first one, you'll be set for reading material for the rest of the year!
The Great Alone by Kristin Hannah
I blew through 400 pages in three days. It's the story of a teenage girl who moves to Alaska with her mom and her recently-released POW dad who fought in Vietnam and is convinced that Alaska will give him the new start he needs. Spanning more than a decade of Leni's life, she gets a front row seat to her father's inability to handle the darkness that falls over Alaska and the darkness that he's fighting within himself. I couldn't put this one down. Be warned that you'll want your tissues you for this one. (Full review here)
Discovery of Witches series by Deborah E. Harkness
If you like your fall reads with a side of witchiness, this four book series is for you! Diana Bishop is a young scholar and in the middle of her research in Oxford's famed library, accidentally discovers a bewitched alchemical manuscript. Diana comes from a long line of witches, but wants no part of this. But . . . she's not going to be able to avoid it.
All Creatures Great and Small by James Herriot
You cannot go wrong with a James Herriot book, a country vet in England who spends his days caring for farm animals and house pets. These books are sweet and funny and just right for snuggling up with. (P.S. There is a children's version that my girls have loved and the audio is narrated by Jim Dale of Harry Potter audiobook fame – highly recommend!)
Anne of Green Gables by L.M. Montgomery
When I asked for cozy fall book recommendations, you cannot IMAGINE how many people suggested Anne of Green Gables (and really, any of L.M. Montgomery's books). You can't go wrong with someone who penned the famous line, "I'm so glad I live in a world where there are Octobers." Also, the 8 book set is available on Kindle for FORTY-NINE cents.
The Lake House by Kate Morton 
Alice is a sixteen-year-old living at her family's lush estate. Every year, they have a big party on midsummer's eve, and this year, the family's youngest child, a little toddler boy, disappears without a trace and is never found. Decades later, Alice has moved to London where she's become a successful novelist, putting her past behind her. But when she crosses path with a young police detective, the past is going to come unburied.
Bread and Wine by Shauna Niequist
Oh, this might be my number one pick for a fall cozy book – it's just the most cozy, comforting book you can imagine that will make you want to have someone over for dinner, get to know your neighbors and fully embrace your life and community. I couldn't love this book more. (Full Review here)
Dinner: A Love Story by Jenny Rosenstrach
This was my November pick last year for the Everyday Reading Book Club in November, when I like to choose something food related. It's full of fun and sweet stories (but also the realities of feeding a family) and it made me want to go right ot the kitchen. (Full Review here)
Attachments by Rainbow Rowell
I am SUCH a fan of this book about a computer security guy who starts reading the emails between two women who work at the newspaper after their emails get flagged by the filtering software and then falls in love with one of them despite the fact that she has no idea he even exists. (Full Review here)

The Harry Potter series by J.K. Rowling
I love Harry Potter year round, but I REALLY love Harry Potter in the fall. It's just the perfect time to head back to school with Harry, watch the snow fall over Hogwarts and cheer along to a rousing Quidditch game. My almost-nine-year old has been listening to the series this month and she's absolutely engrossed.
The Thirteenth Tale by Diane Setterfield
This bestseller was one of the first books I read after I finished my undergrad degree and started reading in earnest again. It definitely has that Gothic feel to it and so many unexpected twists. Vera Winter is a famous novelist and has never told the real story about her life until her death is approaching and she asks a young woman she doesn't know to be the one to write her real biography.
The Guernsey Literary and Potato Peel Pie Society by Mary Anne Shaffer and Annie Barrows
Why do epistolary novels feel just perfect for fall? This historical fiction one, which takes place during WWII is just a delight. (Full Review here)

Crossing to Safety by Wallace Stegner
I hadn't even heard of Wallace Stegner until my book club in Texas read Angle of Repose and I fell immediately in love with his writing and storytelling. This one – his most famous – follows two couples who move between Vermont and Wisconsin and their friendships and marriages.
I also asked for suggestions on Instagram and so many of you had fantastic recommendations for favorite fall books!
OTHER FALL BOOKS SUGGESTIONS:
Garden Spells by Sarah Addison Allen
I have had people recommending her books to me for YEARS but I haven't yet gotten around to them. Time to fix that! The Waverley family has magical powers, thanks to their mysterious garden.
84 Charing Cross Road by Helen Hanff
Helene Hanff sends an inquiry to a bookseller in England, hoping to find some out-of-print books. This letter sets off an unlikely 20 year love affair between the two via mail.
Rules for Visiting by Jessica Francis Kane

May Attaway prefers her houseplants to people but when she gets some unexpected leave from her job, she decides to reconnect with four old friends, visiting each of them one by one.
The Historian by Elizabeth Kostova
Less cozy and a bit more creepy, this book follows a young heroine who discovers an ancient book and collection of letters in her father's library.
H is for Hawk by Helen MacDonald
Grieving her father's death, Helen Macdonald's book is her story of adopting and raising a hawk, one of the earth's most vicious predators.
A Fall of Marigolds by Susan Meissner
I love Susan Meissner's historical fiction novels and I'm anxious to read this one about a scarf handed down through generations that connects two women, a hundred years apart in New York City.
The City Baker's Guide to Country Living by Louise Miller
After Olivia Rawlings sets the whole building on fire with one of her desserts, the pastry chef flees the restaurant where she's worked as a fame pastry chef and escapes to a tiny New England town where her best friend lives.
The Late Bloomers' Club by Louise Miller

Nora is the owner of a little diner, living a quiet, orderly life until she and her free spirited sister inherit the property of the small town's beloved cake lady.
Mexican Gothic by Silvia Moreno-Gracia
I've had this one sitting on my bookshelf since it came out last year and it's gotten on so many best-of-lists that I've got to pick it up soon! Noemí Taboada heads to High Place, a distant house in the Mexican countryside, after her cousin sends her a mysterious and frantic note begging for help.
The Dutch House by Ann Patchett
This book came up a million times in the suggestions, with STRONG words about how important it was to listen to the audio version read by Tom Hanks.
Inspector Gamache series by Louise Penny
I have had this mystery series on my to-read list for literal years! I'm bookmarking them right now for next fall.
September by Rosamund Pilcher
In Scotland, Violet Aird plans a celebration for September, gathering the people she has known and loved throughout her life. When they all gather together – coming from America and Europe – it will be a gathering like no other.
The Simplicity of Cider by Amy E. Reichert
Sanna Lund is a fifth generation cider-maker who wants a quiet life in Wisconsin on her family's orchard. But her brother is anxious to have their father sell the valuable land.
Prep by Curtis Sittenfield
Lots of people mentioned that their favorite fall books are ones set in boarding schools – it's perfect for that back-to-school season! This bestseller follows Lee Fiora who attends the prestigious Ault School in Massachusetts where her cozy Midwest upbringing is very different from her wealthy classmates.
Enola Holmes by Nancy Springer
This six-book series (now made into a Netflix show) follows the younger sister of Sherlock Holmes who sets off to solve the mystery of her mother's sudden disappearance.
The Lager Queen of Minnesota by J. Ryan Stradal
When a father passes away and leaves the inheritance entirely to the younger daughter, cutting out the older daughter, family drama ensues over multiple generations. T
The Secret History by Donna Tartt
From the author of The Goldfinch, this novel is set at an elite New England college, where a group of misfits gather around their classics professor to discover a new way of thinking and living . . . but you'll be shocked to hear that things aren't as ideal as they're imagining.
Midnight at the Blackbird Cafe by Heather Webber
In the mountains of Alabama, Anna Kate comes back to buy her beloved grandmother and close up the family Blackbird Cafe. But when she returns to the town her mother left decades earlier, she finds that there are mysteries there that she doesn't want to leave unsolved. Sounds like a perfect fall book to me!
Any other fall books you love? Leave them in the comments – it makes these posts more useful for everyone!
And if you'd like a printable copy of this list that you can take to your library or screenshot on your phone for easy access, just pop in your email address below and it'll come right to your inbox!
If you liked this list of fall books for adults, you might like these posts too: